Best New Art: James Jean, Larry Clark, Nate Lowman & More
Including an immersive installation made of 100,000 chopsticks.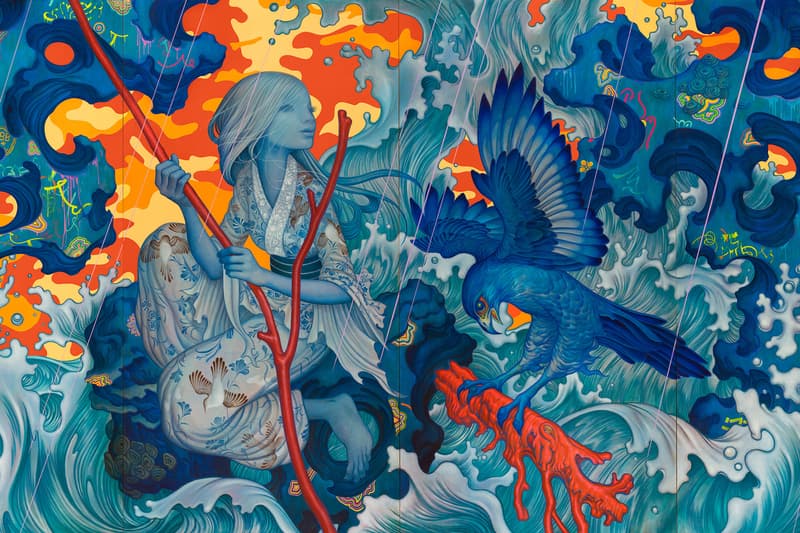 Artists are never short of finding materials to create impressive works. From the surface, a painting may seem to look like it was created from a simple acrylic or watercolor paint. However, there are layers upon layers of materials as well as techniques utilized to produce an intricate piece. Take, for instance, celebrated New York-based painter and sculptor, Nate Lowman. The artist is recognized for his unconventional takes on pop art. He tends to create works that involve a montage of visual elements and everyday objects such as graffiti, print media and even bumper stickers. Indeed, composition in a work of art is key and it all depends on an artist's chosen arsenal of creative materials.
Read on to explore varying artworks alongside shows from visual artists all across the globe.
James Jean's "Azimuth" Exhibit at Kaikai Kiki Gallery
Acclaimed Taiwanese visual artist James Jean is currently preparing new paintings for an upcoming solo exhibit at Kaikai Kiki Gallery in Tokyo, Japan. Curated by Takashi Murakami, the presentation entitled "Azimuth" is wholly inspired by Jean's first son with a reoccurring sun motif observed throughout the works. The show will feature nine large paintings, three stained glass works and small drawings. "The show is centered around the Sun, one of the first images children learn how to draw, as a generative force behind universal narratives and creation," the artist told us.
"Azimuth" will run from April 6 up until May 3, visit Kaikai Kiki Gallery's official website to learn more.
Kaikai Kiki Gallery
2-3-30 Motoazabu
Minato-ku, Tokyo 106-0046
Japan
Larry Clark's "Another Kind of Life: Photography on the Margins" Exhibit at Barbican
The photographic works of legendary American film director and photographer Larry Clark will be part of a new group show at the Barbican Art Gallery in London. Titled "Another Kind of Life: Photography on the Margins," the collaborative presentation touches "on themes of gender and sexuality, drugs and addiction, youth culture and minorities of all kinds," according to a statement by the gallery. Collectively, a total of 20 photographers from the 1950s to present day will have their works displayed at the show.
To learn more, visit the Barbican Art Gallery's official website.
Barbican Art Gallery
Barbican Centre, Silk St
London EC2Y 8DS
United Kingdom
Nate Lowman's "Before and After" Exhibit at Aspen Art Museum
Nate Lowman currently has a solo exhibit titled "Before and After" at the Aspen Art Museum in Colorado. The New York City-based artist produced a new series of mixed-media works including paintings and installations that draw inspiration from American popular culture. For his paintings, Lowman replicates the shape of a particular subject, exploring "the capacity of images to mediate between the personal and the universal in cycles of decay and renewal," the museum expressed.
Visit Aspen Art Museum's official website to learn more about the exhibit. "Before and After" is currently open to the public up until June 10, 2018.
Aspen Art Museum
637 E Hyman Ave
Aspen, CO 81611
United States
Barry Mcgee's Latest Solo Exhibit at Cheim & Read
San Francisco-based artist Barry Mcgee is currently presenting new works at Cheim & Read gallery in New York City. The celebrated visual artist displays a diverse batch of original paintings, installation, sculptures as well as various works made from personal objects. From a stack of vintage surfboards to panel pieces displaying his signature geo-based figures, contemporary art enthusiasts will be impressed by Mcgee's latest artworks. The exhibit is currently open to the public up until February 17.
Visit Cheim & Read's official website for more information.
Cheim & Read
547 W 25th St
New York, NY 10001
United States
Tadashi Kawamata's Nest Installation Is Made of 100,000 Chopsticks
Japanese artist Tadashi Kawamata created a sprawling, immersive installation inside the Kamel Mennour gallery in Paris, France. Titled Nest, the parasitic installation was made using over 100,000 chopsticks. The piece is so massive that it is currently invading the gallery's three exhibition rooms as well as the courtyard. Moreover, smaller wooden sculptures are placed beside the larger piece. The installation marks Mennour's fourth showing at the Parisian institution.
Watch the video above to check out Nest for yourself. The installation is on view up until January 27.
Kamel Mennour
47 Rue Saint-André des Arts
Paris 75006
France