Automotive Prints Are on the Rise Again, Here Are 11 Options for Your Wardrobe
It's not motocross gear.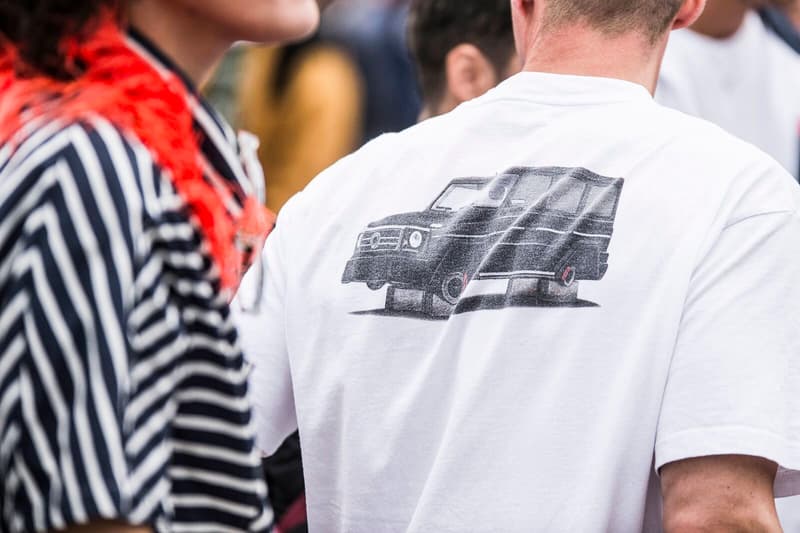 In today's automotive world, the general shift is that e-cars are in and conventional gas engines are out; but on the streetwear scene, old school cars are back on trend. With futuristic vehicles such as the Tesla Model 3 taking on the market, the reality of a greener, self-automated driving culture is perhaps making us all a little nostalgic for the gas-guzzling days of monster trucks and muscle cars. Of course, romanticizing bygone relics of the past is only natural when we enter new phases of technology. And in terms of restoring old classics back to their former glory, there's no industry that does it better than fashion — and in the fashion world, there's no category that retros faster than streetwear.
As with the majority of trends, automotive-inspired fashion is nothing new — motocross/racing-inspired gear was trending just earlier this year, as displayed by 032c's bold merch shirts and the dominant presence of motorsport garments. But this time around, the focus shifts away from racing gear and more on the car itself, specifically old school whips such as G-wagons and vintage American station wagons. Cars are treated as motifs and prints expressed under the same retro theme that other current streetwear trends are upholding.
This cars-on-tees trend could turn out to be as short-lived as the faux phone number trope, or it might be as pervasive as the heavy metal fonts and black lettering. Regardless, below are some previous pieces from Supreme and Palace, some noteworthy collections and projects spearheading the movement right now, as well as options for you to add into your wardrobe.
Past Pieces
As previously emphasized, streetwear trends (and fashion trends in general) are rarely ever brand new. Cars on tees have been bubbling for quite some time amidst streetwear heavyweights such as Supreme and Palace. Automotive motifs have been making regular appearances throughout Supreme's archives with different seasons taking on a different era's aesthetic, yet what stays the same is that the car models stay in the old school category. In the same vein, Palace has also channeled the automotive theme with similar throwback styles. Both labels, which started out as skateboarding imprints, have carved out much of what we define streetwear to be today, and have been subtly championing car graphic tees without over-hyping.
Supreme
Palace
Recent Interpretations
Automobile dealer and artist Arthur Kar is one of the largest proponents reviving the automotive tees trend right now. Kar's dealership company L'art de L'automobile, which translates to "The Art of Automobile," unites the world of fashion and cars with an all-embracing appreciation for good design. His signature T-shirts speak to the brand's vision — retro nostalgia, vintage cars, and '80s garage and gas station flyers — through old-school pastels and eye-catching fonts. His most recent project paid homage to Los Angeles's famous Jon & Vinny's pizza joint.
Taking a slight detour from his signature ultra-minimalist aesthetic, Alexander Wang presented a retro-inspired collection for Fall/Winter 2017. Central to the collection are graphics of vintage car posters, "car babes," motorcycles and automotive motifs all of which emblazoned tees, coach jackets, hoodies and accessories. Other strong streetwear motifs such as lightning bolts and bold red typefaces completed the visually catchy assemblage. You can find pieces from the Alexander Wang Fall/Winter 2017 at HBX.
Emerging skate imprint WAYWARD Wheels has its finger on trending streetwear motifs, having recently dropped a range of essential garments with classic motifs, most notably the vintage car backseat driver tee and hoodie, as well as the "Golden Girls" shirts that feature female figures sitting atop cars. Other highlights of WARWARD's latest collection include the multi-toned and satin-lined Stafford Letterman jacket, plush Le Mans velour pullover hoodie, and a functional Lug Over shoulder bag. You can shop the collection at WAYWARD's online shop.
Arthur Kar's L'art de L'automobile offers us more automotive-inspired gear with this limited edition T-shirt collaboration with Paris retailer The Broken Arm. Set to the tune of a clean monochromatic scheme, the capsule features striking graphics of retro cars on shirts, with notable designs such as the "Saint-Sylvestre" piece. "[The] design is based on an event happening every New Year's Eve in France," explains Kar. "The young thugs in the suburbs never miss this yearly opportunity to set a maximum of cars on fire that night." You can purchase the pieces at L'art de L'automobile's online shop now.
Diamond Supply Co.'s "The Burnouts" 2017 spring collection was inspired by vintage car clubs and racing culture. The Los Angeles-based imprint's seasonal assortment features cut and sew jackets, sweatshirts, and T-shirts boasting various graphics that reference Diamond's fictional raceway and car club chapter. You can shop some of "The Burnouts" collection at Diamond Supply Co.'s web store.
Anti Social Social Club has been pushing the car motif quite brazenly, dropping campaign teasers featuring G-wagons, hosting pop-ups, and releasing a slew of automotive-inspired goods such as this car cleaning kit made in collaboration with Adam's Polishes. The pack boasts ASSC's signature pink, white and black color scheme on useful items such as Detail Spray, Tire Shine and Glass Cleaner that will keep your whip spick and span. Keychains, coasters and towers round out the cleaning kit for the ultimate ASSC fan.
Shop the look: