Arthur Kar on Extending His Car Dealership L'Art de L'Automobile Into a Nostalgic Fashion Label
Behind the man of mystery.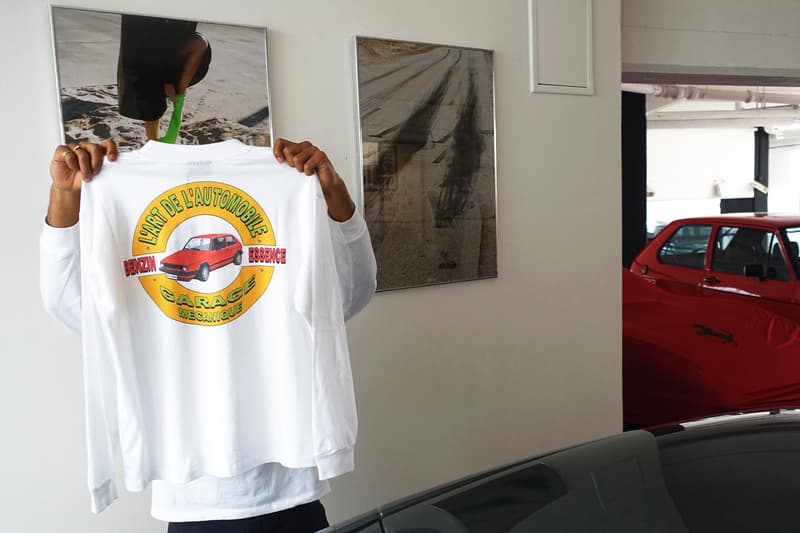 Whenever "car dealer" is mentioned in conversation, it's hard not to assume the conventions of a quick-witted merchant, a wordsmith of sorts, that'll be quick to give you a bargain, but in fact have other intentions. With a penchant for style — evident in the pairing of his Vans Authentics with Kanye's adidas Calabasas line — Beirut-born Arthur Karakoumouchian may hold a similar charm associated with his peers, but his ideas and influences are far more diverse than his title.
Splitting his time between Los Angeles and Paris, where he resides, Arthur is the founder of car dealership and company L'Art de L'Automobile, which translates to "The Art of Automobile." His automotive collection ranges from the Bugatti Veyron, a Porsche 993 Carrera S "Vesuvio," down to the Golf GTI, an unassuming model which Arthur holds close. "I grew up driving a Golf, so it'll always be my favorite even in the sea of options." With his family relocating to Paris in his youth, Arthur lived in the suburbs and entered the business by washing cars at the Posche garage. Grafting his way up the ladder, hip-hop, fashion and good food all became additional interests as his appreciation for quality broadened to other genres.
1 of 2
2 of 2
"Good craftsmanship is timeless," said Arthur as we met at Jon & Vinny's in Fairfax, the hip Los Angeles pizzeria in which everything on the menu he vouches for. Driven by functionality and design, his dealership has amassed a star-studded clientele list, many of which have become close friends of his. Yet more recently, Arthur has extended his brand onto a clothing label. A comment on his experiences and interests (art, fashion and cars), the brand launched as an affordable alternative to quality automotive. "There's long been skateboarding apparel, but why has there never been clothing linked to the automotive genre?" asked Arthur.
Designed with retro nostalgia, vintage cars and '80s garage and gas station flyers are center to the brand's visual direction, while bold font and pastel colors add a tint of romance synonymous with the yesteryears. Aside from quenching his appetite as a budding fashion designer, the clothing brand also caters to young car enthusiast, who similar to the 16-year-old car-washing Arthur, yearn for an unobtainable lifestyle. "I want my brand to also reach kids who might not be able to own a 1980s Ford Bronco but can appreciate a well-designed T-shirt that represents their dreams." We caught up with Arthur to learn more about the extension of his fashion line, and how the brand is built on "moments."
When you were 16, you worked at the Porsche garage washing cars. What lessons did you learn here that can be used in your current projects?
Well, at 16 I just knew I needed to be around cars, and I did everything in my power to get this opportunity to watch and learn about some of the greatest cars ever made. Being a mechanic taught me everything there is to know about a car and to this day, I am able to fix any car if I ever have to. Making it to this point has obviously taught me how to get the job done, take a project from scratch, and bring it to where you want it to be no matter the amount of work involved.
Is Kar-L'Art de L'Automobile a merch line? What made you want to start a clothing label?
Kar-L'Art de L'Automobile isn't a merch line, it's a brand that pulls from all of my life experiences. KAR is a project generated by the three things I love the most: arts, fashion and obviously cars!
Thank God not every car dealer undertakes this kind of project – I am not launching this as a car dealer but really as a translation of my experiences and personality through a creative medium.
Can you explain the meaning behind L'Art de L'Automobile?
My personality through my business.
How have you been able to carry the feeling you have for cars onto the clothing line?
The brand is more of a mix of my inspirations and motivations than just L'Art de L'Automobile's side project.
The initial observation came genuinely. You have fashion brands linked to pretty much any universe (lately the influence of skate and surf on fashion has been colossal) and yet nothing linked to the automotive world, although the car is in everyone's daily life. I just felt that I had to correct that.
1 of 3
2 of 3
3 of 3
Can you explain a bit about the design process of the graphics? Where do the inspirations come from?
My inspirations are quite clear: the street culture that I've always cherished, the fashion industry that I have been quietly evolving in for a few years now, and every single experience linked to cars. Not just the car itself, but every memory around it, every little thing we can identify with these moments spent on our own or with family and friends, in cars, at gas stations, at a car wash, cruising the highway. Moments which are relatable to anyone with a car. Every encounter has some influence on the person you become and therefor becomes inspiration when you create. I am blessed to be surrounded by very talented friends who continue to inspire me on a daily basis.
If you love a beautiful car, you will try to reach the same level of perfectionism in whatever you are making.
Cars are often associated with efficiency and style, how have you been able to transfer these feelings into fashion?
The answer is in the question. If you love a beautiful car, you will try to reach the same level of perfectionism in whatever you are making. Efficiency and style opposed to fast and not lasting. I needed to make sure that the products I sell are as well tailored as a luxury car is designed.
Your logo features the Volkswagen Golf. Why is this a special car for you?
It is special because I grew up in it. I have incredible memories with this car and well, this is the ultimate "people's car."
1 of 2
2 of 2
I hear it took you eight months to source the right T-shirt for you to print the line's graphics on. What's the reason behind this?
The quest for the highest quality. Every detail was established in-house, in our studios, by our team. From the sewing patterns, tailoring, to finding the images we produce. Complete in-house creative process and rigorous business model.
The collection is growing fast and there's a full range of products coming up.
We have collaborations coming up with my favorite stores and brands around the world. I'll keep the names a mystery for now but expect some really exciting news for the very near future.
What's one car that best represents you currently?
Everything on four wheels.