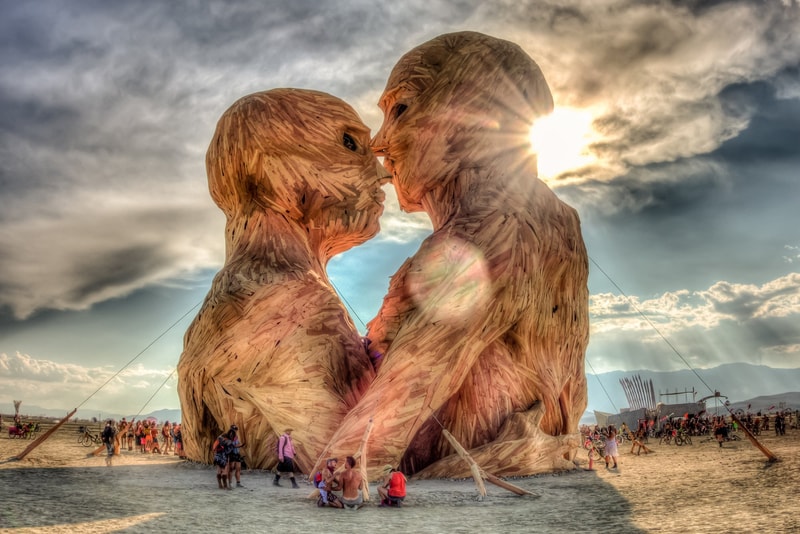 Mutant Installations, Space Sculptures & More Extraordinary Artworks
Including an exhibit by A$AP Mob photographer, Alex Bortz.
---
As cliche as it sounds, passion is the root of all masterful artworks. It took Michelangelo two years' worth of insurmountable dedication and hard work to create his large-scale David sculpture. That same gusto is found in artists today from across the globe. For example, artist duo Lisa and Robert Ferguson created a humongous bear sculpture called Ursa Mater for Burning Man Festival 2017 using 200,000 penny coins. Moreover, Berlin-based creative Trevor Paglen is on track to launch the first installation into outer space for his "Orbital Projector" project.
Check our list of recent and occurring exhibits below that showcase a handful of extraordinary artworks.
Burning Man Festival 2017
Burning Man festival 2017 in Nevada's Black Rock Desert has officially ended. The week-long function attracted over 70,000 visitors from all across the globe. For this year's installment, artists produced large-scale pieces dedicated to the theme, "Radical Ritual." From Mad Max-esque vehicles to humanoid wooden sculptures, a total of 320 structures were commissioned by showrunners at the temporary city.
Visit Burning Man's official website to learn more about the annual festival.
"Pink Floyd: Their Mortal Remains" Exhibit in London
The Victoria and Albert Museum in England has attracted thousands of visitors across the globe for their "Pink Floyd: Their Mortal Remains" exhibit. The showcase is an homage to the British rock band, chronicling their stellar music performances and offering a tantalizing case study on each one of the members: Roger Waters, Richard Wright, David Gilmour, Syd Barrett and Nick Mason.
The exhibit is up until October 15. Visit the V&A's official website to learn more.
Victoria and Albert Museum
SW7 2RL Cromwell Road
Knightsbridge, London
UK
Artist Trevor
Paglen

to Launch Sculpture into Outer Space

Berlin-based American artist, Trevor Paglen, is currently working on a sizable sculpture that will hopefully blast into outer space. Dubbed Orbital Projector, the artist has teamed up with the Nevada Museum of Art to raise funds for the project that has a $70,000 USD goal on Kickstarter. If all goes well, this marks "the first artist-museum team to launch a sculptural satellite into space."

Learn more about the Orbital Projector by visiting its official Kickstarter campaign.
A$AP Mob Photographer Opens "A Melancholic Wet Dream" Exhibit
A$AP Mob and Vince Staples-affiliated photographer, Alex Bortz, has opened an exhibit at Central Studios in Shanghai called "A Melancholic Wet Dream." The presentation featured large portraits drenched in neon alongside motion blur visuals—photographic aesthetics widely used by Bortz. The ongoing show will make its way across major cities in Asia.
Head over to Bortz's official website to learn more about the project.
Burberry London's "Here We Are" Photo Exhibit
Burberry London will launch a new exhibition titled "Here We Are" that will spotlight some of the most iconic social and documentary photographers from the past ten decades. The label's chief creative officer Christopher Bailey and photographer Alasdair McLellan are the co-curators of the showcase with McLellan set to display 70 of his own visuals at the function.
"Here We Are" will commence on September 18 up until October 1 at central London's Old Sessions House.
Old Sessions House

22 Clerkenwell Green
London
EC1