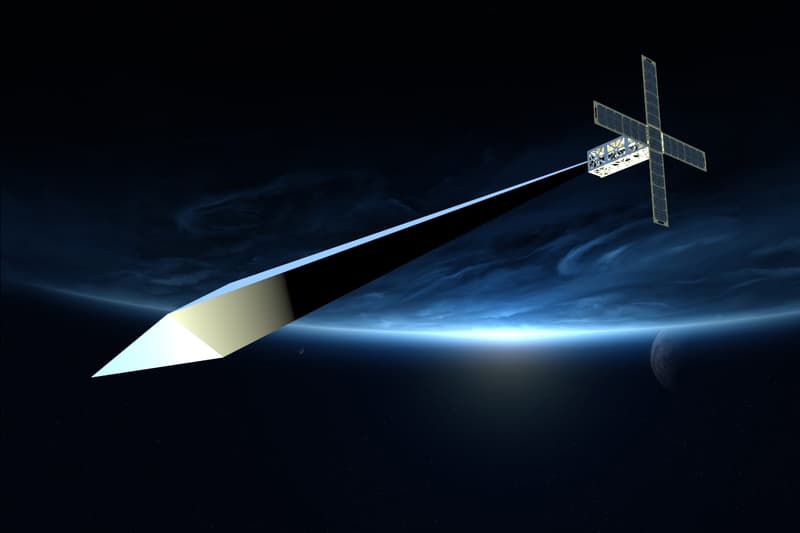 This Artist Is Planning to Launch a Sculpture Into Outer Space
For the sake of art.
---
Berlin-based American artist, Trevor Paglen, has garnered industry acclaim for his innovative artworks that center upon technology, mass surveillance and data collection. With that being said, it shouldn't come as a surprise that Paglen is currently developing a monumental piece that will hopefully blast into outer space. Dubbed Orbital Projector, the artist has teamed up with the Nevada Museum of Art to raise funds for the project that has a $70,000 USD goal on Kickstarter. If all goes well, this marks "the first artist-museum team to launch a sculptural satellite into space."
What's the point of all this? For the sake of art, literally. The sculptural artwork has no ties to commercial, military, or scientific purposes, rather, it serves "purely as an artistic gesture," explained Paglen in a statement. The Orbital Projector is "a long, diamond-shaped kite that resembles an abstract sculpture," reported The Art Newspaper. "[It] is a clear nod to the ideas of artist like Kazimir Malevich and Yves Klein, who both proposed sending art into space."
The sculpture is expected to orbit the Earth for approximately four to five weeks, but it all depends "upon the weather on the sun," Paglen said. Furthermore, Paglen will host viewing parties at museums nationwide before it launches. Learn more about the Orbital Projector by visiting its official Kickstarter campaign.
In the meantime, you can check out Paglen's forthcoming exhibit at Metro Pictures Gallery in New York City called "A Study of Invisible Images" which will run from September 8 up until October 21.
Metro Pictures Gallery
519 W 24th St
New York, NY
10011