Virgil Abloh Breaks Down His Design for Lil Uzi Vert's 'Luv Is Rage 2' Album Cover
"We have an organic way of working together. It's magnetic I would say.."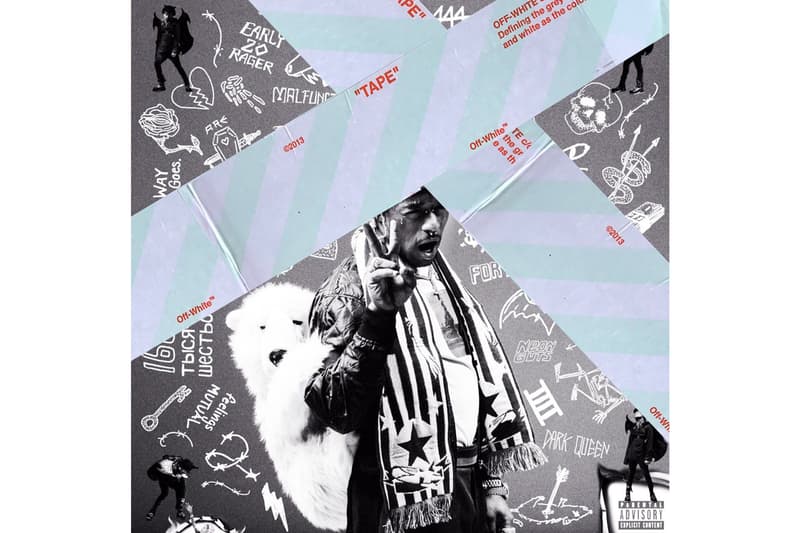 If you've been listening to Lil Uzi Vert's new Luv Is Rage 2 album, chances are you've noticed the infamous Off-White™ tape on his cover otherwise known as the insignia of the Virgil Abloh's renowned brand. Earlier this week, The FADER reached out to the designer himself to talk about his creative process behind the album artwork for one of the game's hottest acts. In addition, Abloh also revealed that he was the director behind Lil Uzi Vert's new animated "XO TOUR Llif3" video that has since garnered nearly 10-million plays in just a month's time.
During the interview, the designer/creative/DJ broke down the design on the cover and even shared a story about the first time he met Lil Uzi Vert at an abandoned artist loft party called "Hamster Dance" saying "What the fuck? This kid is next level." Check out a few excerpts from the piece below.
How did you get to working on his album cover?

Uzi is unique. He is what every generation hopes for. There's always a new genre, and we've seen obviously rap evolve to what it is now, and we've seen different influences have their evolution on artists. He's completely a creative. He's devoid of too many references, he's in his own world. Rapping in his style comes naturally to him, and he's just been a genuine dude. He's been cool since that moment and he's had an appreciation for how we met. Whether we were in conversation or not, we just kept reconnecting and it's literally like effortless. Now I've made a conscious effort to get back into doing music projects. Obviously I've done a bunch in the past and I've recently been focusing on developing things outside of music, but I've always been feeling about getting back into it. Uzi hit me up and was like, I need you to creative direct my project in the final hours.
Unbeknownst to anyone, I directed the video for "XO Tour Llif3" over the last three months. It's a video that will come out soon, but it's shot over three countries, over three months. It's my return to directing videos again. That's dropping very soon. These covers are a prequel to in-depth creative back-and-forth using all of our different assets. He believes in me and I believe in him and it's us doing this crash of things that are in our own head. That Off-White™ tape is an additive to the content and it's emblematic of just how we think

The cover reminds me of your work with brands — making Off-White™ exist right next to the thing we know already. What was the thinking behind that here?

I'm at a point in my career where I'm interested in seeing the consistency across different projects. One of the pillars of my design aesthetic is showing the process. That way a whole generation of kids will see themselves in the work, and do the work themselves too. That cover is pretty much a readymade example. You feel like you can peel it off, and that was important to me. The collaboration reads itself. The same way the Nike shoes — you look at them and you can almost feel like you can do it yourself or you can see the handmade feel in it.
I haven't done an album cover in what feels like six years. It was his idea to wrap his album package in a physical way. I think that in a digital age, album covers are becoming a lost art. His cover sort of embodies our short careers, and it's two people coming together from a long time ago.

Was there any hesitation from him about putting the Off-White™ tape so front-and-center on the cover?

It's always back and forth. Imagine the hours of anticipation for this album. You can only visualize it in the very last second and usually the label is like, "It's due." You can look at Lil Uzi and know he has a strong opinion about his aesthetic. He comes to creative from a whole different place. I pride myself in collaborating and being a creative director, and creative direction isn't putting my opinion first. It's supporting an artist so they get the most out of the project. I think it's a lost art in a way. Many people sort of want to be a creative director, but it's an awesome position to be able to support any artist's vision to get that out. I've been working on Off-White™ pretty productively, and I've decided to get back in that position of supporting an artist's ideas. A lot will come through in the video.
Read the entire interview with The FADER here and in case you haven't already, stream Lil Uzi Vert's Luv Is Rage 2 here.