The Definitive List of New York City's Top 10 Superheroes
Legends who have defended the Big Apple.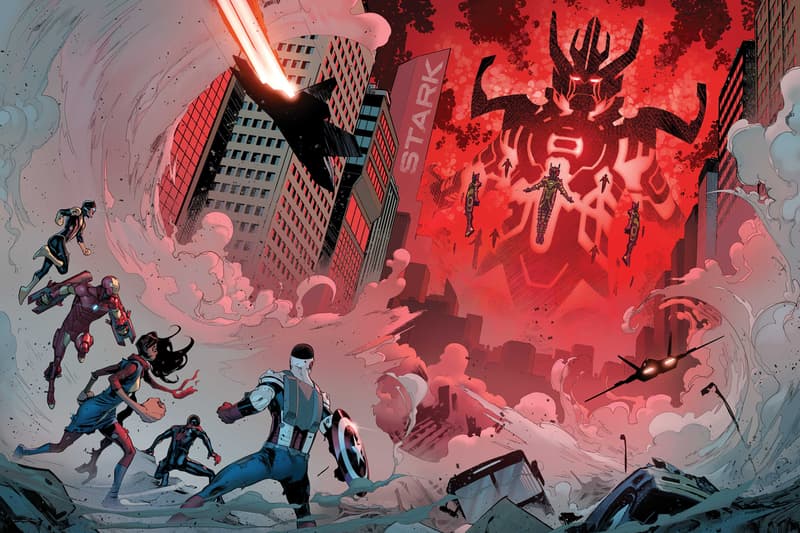 New York City is almost synonymous with superheroes and villains, always serving as a hometown or battleground for super-enhanced battles and spectacles. As the leading financial center of the world, and maybe even the capital of the world, NYC inherently lends itself to being ground zero for a battle of superhero proportions.
Laden with recognizable monuments and buildings, the city is the perfect setting to ground a superhero's story in a familiar location. Meanwhile, the city is so large that it is capable of being home to several different storylines, playing off the melting pot of cultures and vibrancies that inhabit it.
All of these qualities were not missed on Stan Lee, the brains behind many of Marvel's iconic heroes. "I just like to write about a city I'm living in," Lee explains to LAWeekly. "When I created all those other superheroes, I was living in New York. So I had most of them live in New York because I knew where to place them. I could keep things accurate. I could have the Fantastic Four have their headquarters downtown on the west side of 42nd Street, let's say. I could have Iron Man live in a brownstone facing Central Park on Fifth Avenue. I knew if you mention real places, rather than Gotham City, the reader can relate to it much better."
In this list, we cover the 10 best heroes in New York and take a look at the character's relationship with the city. The Big Apple may reflect the character's own ideology, use of powers, relationship with citizens, or hold greater symbolic significance — either in comics or real-life.
Rorschach
Rorschach is the hero New York City deserves in The Watchmen's setting of a 1985 world on the verge of World War III. The focal setting of the graphic novel, New York City, is the living embodiment of everything Rorschach aims to eradicate as a masked vigilante. It's filled with the sort of scum and villainy society hears about on a daily basis, but ignores out of selfishness. Rorschach rejects this way of thinking, doling out harsh punishment in the name of justice while joining forces with The Watchmen to put a stop to crime; which ends in disastrous results. All in all, no hero has more of a love/hate relationship with the city they're protecting than Rorschach.
Captain America
Believing in freedom, justice, and upholding a strong sense of righteousness and bravery, Captain America is heroism manifest. Although known as a Brooklyn native, Cap was born as Steve Rogers in the LES of Manhattan as an Irish immigrant of the 1920s, similar to co-creator Jack Kirby. The LES at the time was where many immigrants began the American chapter of their lives. The fact that Steve Rogers' origins stem from those roots is extremely important to the Captain as a symbol of what America truly stands for, only more nuanced by his deep desire to do good. If Rorschach is the embodiment of the grimy parts of New York, Cap definitely reflects the lighter half.
Daredevil
Daredevil is blind and henceforth able to use a super sonar ability to fight crime along with his expert ninja training. Like his name suggests, Matt Murdock has his fair share of demons, from catholic guilt to clinical depression, but the love for his neighborhood Hell's Kitchen is unquestionable. Unlike most superheroes who aim to save the world or even their city, Daredevil mainly focuses on keeping his neighborhood safe at night. He wishes to uphold the core values the neighborhood instilled in him as a child and takes pride in what its residents have taught him. So much so that he takes ownership of The Kitchen any chance he gets and builds the successful law firm Nelson & Murdock right in his own backyard, proving you don't have to leave your hood after you make it.
Luke Cage
Carl Lucas, AKA Luke Cage, was born on the streets of Harlem to a retired NYPD officer and member of a gang committing petty crimes. He later gave up that life but was subsequently framed and ended up in prison, where experimentations would lead him to become Power Man. Luke Cage was the first African American comic book character to be featured in his own comic. He was also the first relatable black hero, coming from a more common background with a contemporary experience akin to his readership. He has gone on to become a hero, mentor, father and Avenger, demonstrating one doesn't have to be a product of their environment.
Iron Man
Although Iron Man is in-part responsible for the formation of The Avengers and housing their headquarters in Manhattan, he wouldn't have been able to do so unless he was Tony Stark — a man with near limitless resources and technological knowhow. He's been able to reconstruct the city following countless superhuman scraps and has given back to his community in a tangible way. While his company does good (and sometimes bad) works all around the world, his dedication to his city proves that despite all his money and gallivanting about as Iron Man, he hasn't forgotten where he comes from.
The Fantastic Four
What The Avengers mean to New Yorkers now is what The Fantastic Four meant back when they first debuted. As Marvel's first superhero group, they were a symbol of protection to the city, often treating each other like a family rather than teammates (unlike The Avengers). Their mark on the city also stemmed from their lack of a secret identity, as they embraced notoriety and experienced star treatment for their superhero achievements.
Ninja Turtles
As individuals, many characteristics define Michelangelo, Donatello, Raphael, and Leonardo; but as a collective, they represent an era of New York City both in comics and in real life. Their connection to the '80s is apparent amongst all of their catchphrases and city-focused adventures. Meanwhile, their very existence is synonymous with New York to the point that their origin stems from New York native Daredevil. Even the chemicals that made Matt blind serve as the catalyst for the Turtles' mutations.
Misty Knight
Mercedes "Misty" Knight was born and raised in New York City, graduating from the Police Academy with honors and joining the N.Y.P.D. She rose through the ranks, quickly becoming a Lieutenant, before losing her arm in a bombing. Iron Man gives her a bionic arm for her heroism, and she began taking private eye and bodyguard jobs in the city. You can take the woman out of the NYPD, but you can't take the NYPD out of the woman. Misty was indeed a hero before she ever got any physical enhancements. Everyone in this list got powers or a piece of tech before they set out to save lives, in Misty's case, it only made her better at it.
Spider-Man
Born and raised in Queens, a spider bite transformed young Peter Parker into the webslinger we all know. Spidey's powers work best in the city of New York, made apparent in a cul de sac and Washington Monument scene in Homecoming. Swinging around skyscrapers during the day as a ground level hero, unlike Daredevil, allows him to interact more with the people, who fondly refer to him as their friendly neighborhood spider. As a citizen of the city himself, Parker's daily New York trials and tribulations resonate strongly with fans and followers.
Professor X
Charles Xavier is arguably one of the strongest mutants to ever exist. He possesses telepathic powers and a genius intellect while being born to a wealthy Westchester County, New York family. Xavier runs a private school out of his childhood mansion where he shelters and trains mutants from around the world. Xavier's actions as a whole are a means to serve a greater good. He promotes a peaceful coexistence and equality between humans and mutants in a world where zealous anti-mutant bigotry is widespread. Professor X has dedicated his life to uplifting his people and his own ideology. Despite his inability to walk, Xavier has developed one of the most effective superhero teams in the city that take out threats with efficiency only rivaled by The Avengers themselves.