Floyd Mayweather Agrees to Fight Conor McGregor in 8-Ounce Gloves
"Whatever advantage McGregor needs to feel more comfortable in the ring, I'm willing to accommodate."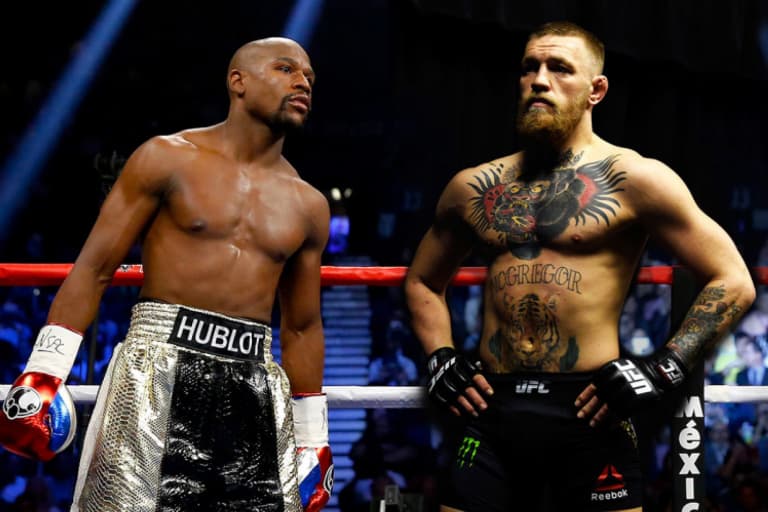 Floyd Mayweather vs Conor McGregor's August 26 date is fast approaching, with every aspect of the fight being heavily debated, not excluding the size of each fighter's boxing gloves. Mayweather has announced that he intends on wearing eight-ounce gloves for the bout. On Facebook the fighter stated:
Don't believe what you hear in the media. Don't believe what you hear on blog sites. If it's not coming directly from me, then it's not true. I'm telling McGregor, "Let's fight in 8 oz gloves." McGregor can fight in any brand he prefers or chooses. I'll be wearing 8 oz Grant gloves. Whatever advantage McGregor needs to feel more comfortable in the ring, I'm willing to accommodate. Let's give the boxing and MMA fans what they want to see.
Dana White, the president of UFC stated back in April that glove weight was one of the contributing factors in reaching a deal on the fight due to the vast difference between boxing and mixed martial arts equipment. A report from Business Insider states that UFC gloves are usually around four ounces with open fingers while boxing gloves often range between eight to ten ounces.
However, NSCA executive director Bob Bennett has stated that the commission would not comply with Mayweather's request whether or not McGregor agrees, as it would go against their rules. Despite this, it is still possible the deal won't be ruled out.
It seems both fighters have come to an agreement to use eight-ounce gloves come August 26 but only time can tell if this will make a difference in the ring.