European Designer Spotlight: Paria Farzaneh
Everything you need to know about the young designer cosigned by Frank Ocean.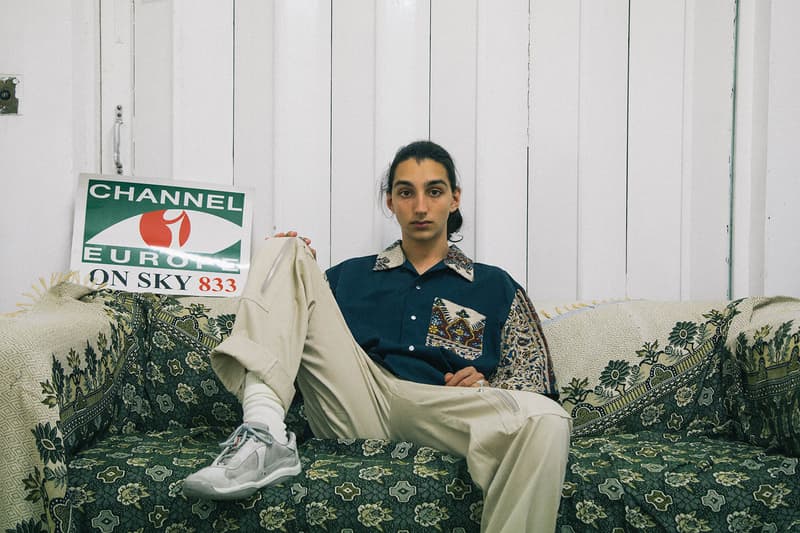 The name Paria Farzaneh probably isn't one too many people are familiar with just yet. After all, the Yorkshire-raised and London-based designer is only 23 and has only recently graduated. Despite that, Farzaneh is beginning to make a name for herself, as her eye-catching designs that mix Iranian and Western references and patterns have turned heads. Farzaneh started designing while still at school, inspired by the idea of making clothes for people who "don't want to be like everyone else, and want to make a change." As her work has continued to evolve and progress, the idea of making clothes that reflect someone's personality have stuck with Farzaneh. "Everyone wears clothes," she explains, "and I've always found it fascinating that certain people dress the way they do, and make stylistic choices based on their personality."
During her early career as a menswear designer, appreciation for Farzaneh's work has continued to grow and, slowly but surely, the designer's name has become more and more respected. This summer, though, saw Farzaneh's work reach a new audience for a very different reason, with Frank Ocean wearing one of her T-shirts onstage at London's Lovebox Festival. Speaking about how the Ocean hook-up came about, Farzaneh is tight-lipped: "it's more of a secret for now," she explains. With the singer's recent sartiorial decisions attracting praise from a number of outlets, it's safe to say that counting Frank Ocean as a fan has helped Farzaneh reach a mass audience with her designs.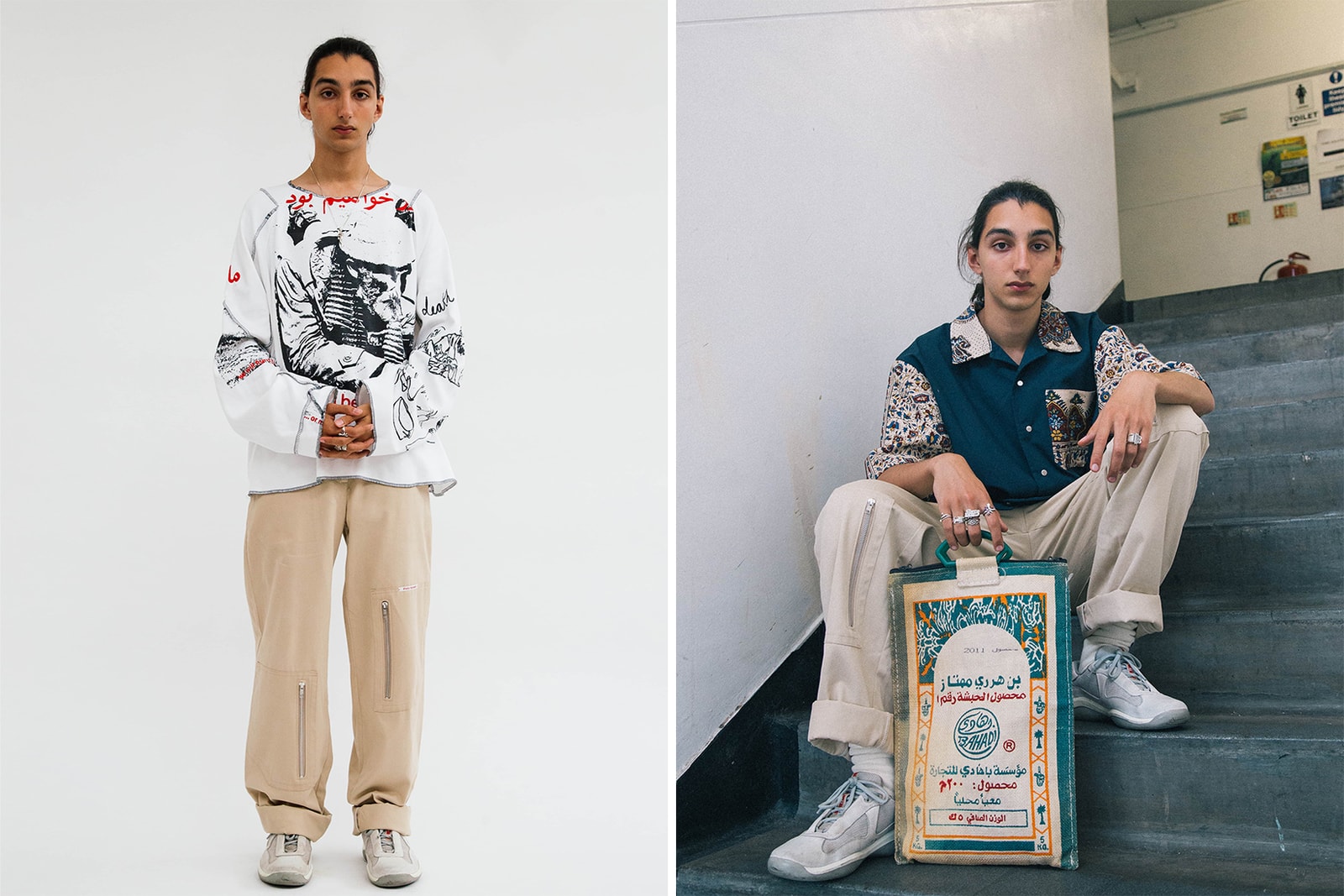 Frank fandom aside, Farzaneh's designs have become known in their own right for their use of different patterns, styles and influences — as has her subtle political message and consistent desire for change. "I guess I'm just trying to tell a story and to make a change in my own way," Farzaneh explains, "I just want to involve and affect as many people as possible. It's never going to be about one person." And, perhaps inevitably, one of the key ways this becomes apparent is in the references to Farzaneh's Iranian heritage. Speaking about the country's perception, she says: "I guess the media always change the way people see things, I'm just trying to bring back the beauty to the West."
Farzaneh's Iranian heritage is a consistent point of reference throughout her work. "Iran is my life, I have been there every year of my life without fail," she explains, "It's one of the biggest inspirations I have, from its imagery to its fabric to its script." It's not the only inspiration that presents itself, however, as Farzaneh's clothes are also heavily informed by their own context in terms of time and place. "It's always good to watch, and especially listen, to what's going on in different social cultures," explains the designer, "and the way they express themselves with clothing."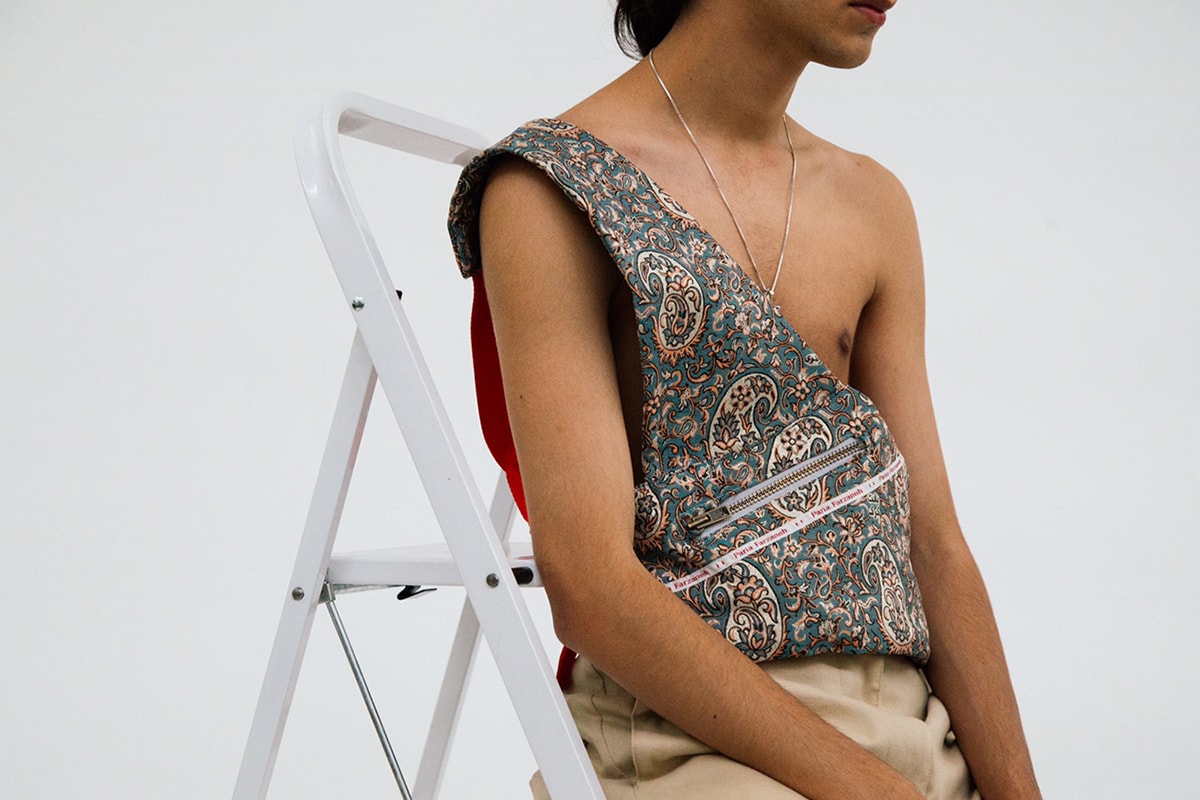 In terms of designers who have shaped Farzaneh's output, there is one name that stands above all the rest. "Rei Kawakubo will always be one of my favorite designers," says Farzaneh, "there's nothing she's done that I didn't like or understand. COMME [des GARÇONS] will always have a place in my heart, and will always continue to influence every collection of mine."
Farzaneh's design process, which she describes as "a bit backward," also sets her apart from many of her contemporaries. "Most people just draw endless designs, then shortlist the ones they feel work best," she says, "but I make the thing in my head first, then create a sample, and then edit it to make it the way I know it should be." This headstrong process, having a clear idea of what you want and doing whatever possible to make it, has played a big role in getting Farzaneh to where she is already, and will continue to be as the designer gets bigger and bigger.
For more information on Paria Farzaneh, head to the designer's website, which will soon also have a web store.
The European Designer Spotlight series is a continuation of our Spotlight series, where we distill brands to their essential points such as origins, key pieces, fits and more, so you can get the full picture without having to scour the web.