NYC Street Art Worthy of a Day Trip
A definitive guide to the 17 best spots in the Big Apple.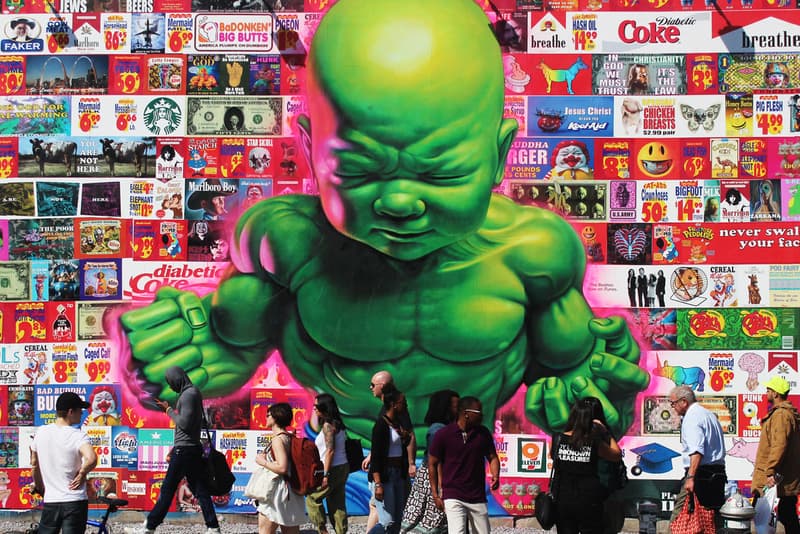 New York City is a treasure trove of street art. From professionally painted murals to gritty graffiti, this artistic form of self-expression initially gained prominence in the early 1980s and since then, visual artists from all across the globe have flocked to the concrete jungle to create urban masterpieces. A head-turning gamut of wheat-pasted posters, pop art, street installations, sculptures and massive wall murals can be observed from all of the five boroughs.
From the world-renowned Bowery Mural in the city's Lower East Side district to Keith Haring's iconic Crack is Wack mural in Harlem, here's a definitive list (in alphabetical order) of the best street art locations in New York City.
Banksy's Hammer Boy Mural
In 2013, the ever-elusive Banksy put up his Hammer Boy piece on 79th Street near Broadway at Manhattan's Upper West Side district. The acclaimed stencil artwork is perfectly positioned near a fire hydrant and portrays a child playing a carnival strongman game.
Banksy's Hammer Boy Mural
Broadway & W. 79th St.
New York, NY 10024
Big Pun Memorial Mural
Big Pun Memorial takes the cake for the most iconic mural wall in the Bronx. The notorious Tats Cru created the elongated mural as homage to the late, Puerto Rican hip-hop artist. Each year, on November 10, the wall is renovated to celebrate the platinum icon's birthday.
Big Pun Mural
910 Rogers Place
Bronx, NY 10459
Bowery Mural
Nearly 40 years ago, Keith Haring placed his artwork on the sprawling Bowery Mural wall in New York City. Shortly afterwards, countless artists vandalized the concrete canvas with their graffiti tags. However, renowned curator Jeffrey Deitch teamed up with the late Tony Goldman of Goldman Global Arts (the company that owns the wall) to enlist acclaimed artists from all across the globe to produce captivating street art on the wall. Os Gemeos, Shepard Fairey, Kenny Scharf and Ron English are just a handful of artists who have participated in the public art program.
Bowery Mural
76 E. Houston St.
New York, NY 10012
Bushwick Collective
The Bushwick Collective has developed an outdoor street art gallery in Brooklyn. Since 2011, curator of the collective Joseph Ficalora has wrangled artists from different parts of the globe to create murals starting on Jefferson Street all the way to Troutman Street towards Saint Nicholas Avenue. Artwork by Sticks, Icy & Sot, Prvt, Nychos, Smithe, Zimad and OG Parisian stencil artist Blek le rat has been featured in the program. To plan a tour, visit Free Tours By Foot's official website.
Bushwick Collective
St. Nicholas Ave.
Brooklyn, NY 11237
Centre-Fuge Public Art Project
Lower East Side natives Jonathan Neville and Pebbles Russell started the Centre-Fuge Public Art Project back in 2011. The pair wanted to transform boring construction sites in the region into canvasses for colorful art murals. Periodically, artists will drench the exterior walls of construction trailers with their spray-painted masterpieces. Visual artists Cycle 21, Julia Cocuzza, Mike Kuhn, Damien Miksza, Col Wallnuts and Kwue Molly are the most recent contributors to the project. Visit the organization's official Facebook page to stay updated with the latest murals.
Centre-Fuge Public Art Project
E. First St.
New York, NY 10003
Coney Art Walls
The historic Coney Island boardwalk is perhaps one of the most visited tourist spots in New York City. Aside from Nathan's Famous Hot Dogs and Luna Park, passersby also frequent the Coney Art Walls organized by Thor Equities. The outdoor space currently spotlights striking street art by Nina Chanel Abney, John Ahearn, Timothy Curtis, D*Face, Jessica Diamond, Tristan Eaton, Eric Haze, Icy & Sot, London Police, Nychos, Pose, Stephen Powers, Tats Cru and Sam Vernon. Head over to Coney Art Walls' official website to learn more about the project.
Coney Art Walls
3050 Stillwell Ave.
Brooklyn, NY 11224
DUMBO Walls
Jonathan Levine Gallery teamed up with the DUMBO Improvement District and Two Trees Management Co to organize the beloved DUMBO Walls street art space. Acclaimed artists such as CAM, DALeast, Eltono, Shepard Fairey, Faith47, MOMO, Stefan Sagmeister and Yuko Shimizu have created murals for the project. The space is comprised of eight walls. Find more information by visiting the DUMBO Improvement District's official website.
DUMBO Walls
20 Jay St. #510
Brooklyn, NY 11201
First Street Green Cultural Park
Founded in 2008, First Street Green Cultural Park is an open art space located in NYC's Lower East Side. A diverse array of artistic styles from both local and international artists can be observed in the public space. Vernon O'Meally, Karlis Rekevics, Jeromy Velasco, Alexis Duque, Emily Noelle Lambert, Justin Rodier, Marc Pelletier, Paul Paddock, Robert Plater, Phlegm and See One have won mural competitions at the East Village park. Visit the organization's official website to learn more.
First Street Green Cultural Park
33 E. First St.
New York, NY 10003
Freedom Tunnel
The Freedom Tunnel located beneath Riverside Park on the Upper West Side is a secret haven for local street artists. Although not accessible to the public, the brazen few who are willing to tread uderground will encounter a striking series of murals. In the 1980s-90s, artist Chris "Freedom" Pape took the initiative to create alluring murals on what would otherwise be boring concrete slabs. His satirical Coca-Cola Mural still stands today–inspired by sensational ads at the time and intended to raise awareness of the displaced homeless in the region.
Freedom Tunnel
Amtrak tunnel under Riverside Park
New York, NY
Freeman Alley
Tucked in the heart of the Lower East Side, Freeman Alley is a hidden gem for perusing street art. Artists such as ASVP, Army of One, as well as Hanksy have added their artwork to the brick facade of buildings in the elusive pathway. The most recent mural is James Goldcrown's Love Wall which features a colorful collage of spray-painted hearts.
Freeman Alley
Freeman Alley
New York, NY 10002
Graffiti Hall of Fame
The Graffiti Hall of Fame in East Harlem is one of the most iconic street art spots in New York City. Activist "Sting Ray" Rodriguez founded the space back in 1980. Since then, thousands of local and international artists such as Dez, Crash, Flight, Delta, Tats Cru and Skeme have added their captivating pieces to the sprawling wall. Seasoned street artist Joey TDS oversees an annual event at the space that commissions new works to paint over old pieces.
Graffiti Hall of Fame
1587 Madison Ave.
New York, NY 10029
Highline Art
The High Line in NYC is an elevated park where you can not only get captivating views of lower Manhattan, but also spot a slew of striking street art. Art collective Friends of the High Line has invited artists from all parts of the world to place their artwork on the walls of buildings located near the walkway. In 2011, French artist JR created a large-scale mural portrait for his "Inside Out Project" and in 2012, Brazilian artist Kobra adorned a wall with a colorful mural inspired by Alfred Eisenstaedt's iconic 1945 photograph dubbed V-J Day.
Highline Art
Linear Park on the West Side
New York, NY 10011
Keith Haring's Crack is Wack Mural
In 1986, Keith Haring illegally painted his infamous Crack is Wack double-sided mural on 128th Street in Manhattan as a response to the crack-cocaine epidemic in New York at the time. Haring allegedly completed both sizable murals in just the span of one day. In 2007, the city's Department of Parks and Recreation restored both murals. Not to mention, the park was officially named the Crack is Wack playground.
Keith Haring's Crack is Wack Mural
E. 128th St. and Harlem River Drive
New York, NY 10035
L.I.S.A. Project NYC
For approximately five years, the L.I.S.A. Project NYC has commissioned artists from all across the globe to create captivating works of street art in Little Italy and nearby localities. In collaboration with the Merchants Association of Little Italy, the nonprofit collective has built an extensive portfolio of public works with the most recent ones created by Sonny Sundancer, Nick Walker, GATS, KaNOkid, Crash and BKFOXX.
L.I.S.A. Project NYC
Mulberry St., Little Italy
New York, NY
Os Gemeos Mural
In 2015, Brazilian duo Os Gemeos created a monumental mural at Second Avenue and First Street in East Village. The mural honors "everyone that has made and continues to keep the real hip-hop alive," they said in a statement. More precisely, the work pays homage to graffiti, rap and the era of 1970s New York break dancing. As far as details go, the cap is embellished with a graffiti-bombed subway train, the boombox plays "Planet Rock" by Afrika Bambaataa, and a Mugsy pin painted by Rock Steady Crew member Doze Green can be found attached to the old school tracksuit top. Head over to Os Gemeos' official website to view more recent projects.
Os Gemeos Mural
Second Avenue and First Street
East Village, New York
Tuff City
This storied tattoo shop in the Bronx is a go-to spot for big-name taggers, bombers and muralists. At the back of the shop is a 45-foot subway car replica that acts as a canvas for artists to throw up their signature pieces. Os Gêmeos, Cope2, as well as the late Iz the Wiz have created murals at Tuff City. Visit the shop's official Instagram account to get the latest updates.
Tuff City
650 E. Fordham Road
Bronx, NY 10458
Welling Court Mural Project
After the tragic demolition of 5Pointz in 2013, the Wellington Court Mural Project has been Queens's number one street art destination. Astoria resident Jonathan Ellis teamed up with Ad Hoc Art in 2009 to create the program and since then, over 100 world-renowned muralists and emerging talents have participated. Artists such as Buff Monster, WERC, Abe Lincoln, Jr., Kid Lew, Praxis, Spazecraft and TooFly have created murals in the space.
Welling Court Mural Project
11-98 Welling Court
Astoria, NY 11102
View All Locations in the Map Below