The HYPEBEAST Guide to the Premier League 2017/18 Season
All our predictions — both positive and not so much.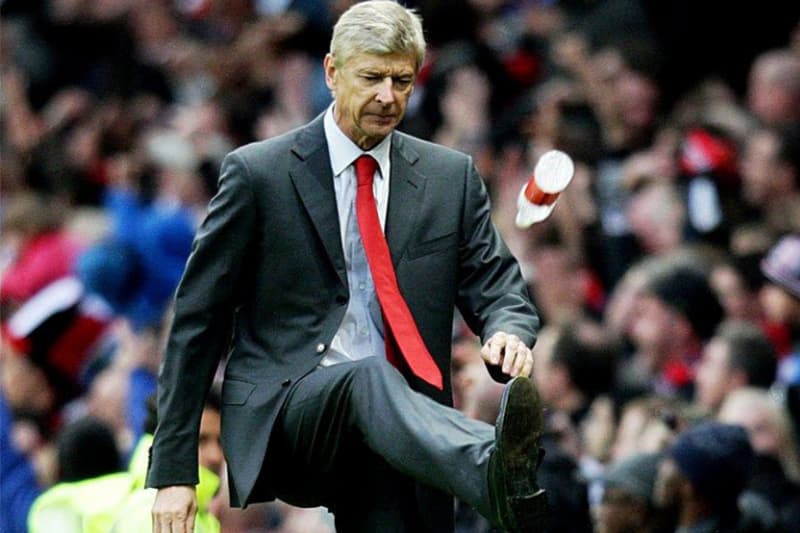 The Premier League is back. The most money laden league in world football returns 11 August with a rare Friday fixture as Arsenal host Leicester City at the Emirates.
If the 2015/16 season was one for the underdog, and 2016/17 was one for the managers, then then the 2017/18 season looks to be one where money is key. With the 2018 World Cup looming, and clubs richer than ever before thanks to the new £8.3 billion television broadcasting deal, the summer of 2017 has been one of the busiest in years, with players, managers and football stadiums all moving about.
Title Winners
Last season saw Chelsea, Tottenham Hotspur, Manchester City, Arsenal and Manchester United break away from the rest of the league to create their own Top Six mini-league of sorts. All of the Top Six clubs possess quality managers, a smattering of good to great player, and most interesting, a few flaws as well.
Manchester City have Pep Guardiola and an electric front six, but are in need of centre back cover. Chelsea are the reigning champions, but there are question marks over how their midfield will handle the added workload of Champions League games, and Eden Hazard will miss the start of the season. Manchester United have Jose Mourinho… but it's unclear if he can correctly use the creative players in the squad and turn draws into wins. Tottenham Hotspur? A fantastic first XI, but there are worries over whether they can maintain their sensational home form following their move to Wembley. In Salah, Mane and Firmino, Liverpool have one of the dangerous front threes in the league, capable of some of the most fluid and complex attacking combinations in Europe. However their squad depth is severely lacking and they are in need of defensive cover. As for Arsenal: they are Arsenal — in theory have all the component parts needed for a proper title challenge, but they can never quite put it together.
Our verdict? Manchester City should win the league. Pep's spent a lot of money this transfer window to build the squad he wants and if everything clicks up front The Cityzens could romp home to the title.
Rest of the Top Four
Manchester United look likely to be the best runners up in the league, if only for the fact Jose loves (hates) coming up short compared to Pep. Providing Hazard hits the ground running upon his return from injury and Kante stays maintains his form, Chelsea should easily finish above Arsenal for the third podium place.
Five into three cannot go and unfortunately signs point to Liverpool and Spurs not making the Champions League places come May. With smaller wage bills compared to their Top Six rivals, Liverpool and Spurs have both struggled to get the sort of 7/10 quality players that thicken out a squad for sustained challenges in both European and domestic competition. Sorry boys.
Player of the Season
Recently the Professional Footballers' Association (PFA) Player of the Year award has gone to a player on the title-winning team. Considering we've tipped City to win the Premier League this season, we're plumping for Kevin de Bruyne to get the gong. The young Belgian has been a creative dynamo for the last two seasons — we reckon he's ready to take the next step this year.
Who Will Be This Season's Breakout Star
In a World Cup year, expect someone to come out of nowhere and dazzle us all with their attacking talent: we think Tammy Abraham could light up Swansea this season. The Chelsea loanee racked up 23 goals for Bristol Rovers in the Championship last season, helping them avoid relegation. The 19 year old plays like an old school penalty box poacher and with Fernando Llorente injured for the beginning of the season, he could get the game time he needs to reach double figures this season.
Who Will End Up Being The Signing Of The Season
Some signings, like Asmir Begovic to Bournemouth, make a lot of sense. Others, like Romelu Lukaku to Manchester United (for £76.23m according to TransferMarkt), make a lot of sense and cost a lot of money.
However, every so often a transfer deal comes a lot that manages to make sense and cost (relatively) not that much money. For that reason, we reckon Mohamed Salah to Liverpool (for £37.80m) might be the signing of the season. Salah never settled during his time at Chelsea, but has evolved since his spell at Roma. After an impressive pre season, he looks deadly as part of Liverpool's new-fangled attacking trident.
Relegation candidates
Unfortunately all signs point to newly-promoted Brighton and Huddersfield to make swift returns back to the Championship. The Terriers look likely to entertain this season, with David Wagner making some interesting signings from the German leagues, but it just looks like an adventure too far.
Brighton have made over a dozen signings this transfer window to improve their squad, but there are questions marks over whether their new personnel will be able to gel in time for the season ahead.
Lastly, Burnley are in danger of relegation. Largely kept up by their performances at Turf Moor last season, The Clarets have since sold their best defender in Michael Keane and are in desperate next of some away wins in the season to come.
First Manager To Be Sacked
As outlined by football analytics expert Ted Knutson of Statsbomb in 2013, Mark Hughes is 'almost the epitome of the average Premier League manager'. The Stoke manager has been treading water for some time now, and with an unforgiving set of opening fixtures (Stoke don't play a home game against a team who finished below them last season until December 2) this season, his time with the Potters may be up.
Who's Winning The Golden Boot
Once again, remember it's a World Cup year: keep an eye on strikers who play for countries rich in attacking talent. Both French (Lacazette, Giroud) and Belgian (Lukaku, Benteke, Origi, Batshuayi) forwards will be looking to gobble up goals in a bid to make the plane to Russia. We expect whoever wins the Golden Boot this year to score at least 25 goals in the league alone.
However, it'd be silly to bet against Harry Kane. Currently holder of back to back Golden Boots, Mr. Kane doesn't have to share game time or goalscoring responsibilities like rivals such as Aguero or Morata will. He's young, fit and can score them from anywhere. Lukaku might run him close again but we think Kane might pull off a treble.
Who's Winning The Champions League
Bayern Munich, Juventus, Paris Saint Germain, Manchester City and Barcelona are all teams with the requisite star quality to put together a Champions League-winning campaign, but let's look at Real Madrid for a moment: Real have one of the best forwards in history in Cristiano Ronaldo. Real have the one of the best centre midfield pairings in world football in Toni Kross and Luca Modric. Read Madrid have one of the most clutch (and dastardly) centre backs in world football in Sergio Ramos. Real Madrid have the best squad in world football. To a historic extent, the only reason Real Madrid shouldn't win the Champions League this season is they've already won the last two and cup competitions are notoriously hard to win back to back. They couldn't pull off a treble. Could they?
And Finally, Some Tips For Fantasy Football
FPL can be hard, so we roped in George Osborne, writer and host of Three Bonus Points podcast for some Fantasy Football Tips. Here's what he said.
In last season's FPL, midfielders ruled the roost. Alexis Sanchez, Eden Hazard and Dele Alli finished as the top three points scorers and seven of the top ten scored their points from the centre of the park.

 But with Hazard injured, Sanchez's future uncertain and the likes of Josh King and Roberto Firmino reclassified as forwards, FPL managers will naturally lean toward high profile strikers in this year's game.

 Manchester United's Romelu Lukaku and Tottenham's Harry Kane are both heavily tipped to score big this season, with both players owned (as it stands) by 48% and 37% of teams. City's Gabriel Jesus and Arsenal's Alexandre Lacazette are both temptingly priced at £10.5m. Even West Ham and Everton boast interesting striking options, with Wayne Rooney and Javier Hernandez tempting at £7.5m and £7m respectively.
However, it's worth weighing up whether the cost of deploying an expensive strike force might deny you premium purchases elsewhere.
Liverpool's Mo Salah may look expensive at £9m, but the midfielder's four pre-season goals suggest he could hit the ground running. And with attacking full backs such as Marcus Alonso, Kyle Walker, Sead Kolasinac and Danny Rose all costing over £6.5m, spending too much on your forwards could cost you points elsewhere.

Fortunately, there is value to be found in the market. Brighton's Mat Ryan and Bournemouth's Asmir Begovic won't keep the most clean sheets this season, but will likely earn plenty of save points for their £4.5m price tag. Newcastle's Matt Ritchie is on penalties, free kicks and corners, which means he's likely to return well for £6m. You may even find Cesc Fabregas an intriguing option. Priced at just £7m despite recording 15 FPL assists last year, his status as a potential bargain needs to be weighed against Chelsea's tricky start.
The main thing to remember is that you're unlikely to make or break your FPL season in the first week. So look at the early fixtures, stuff your team full of players with favourable home games and roll from there. Be active in your transfers and thorough in your research and you'll do much better than you'd think.
Carl Anka is the host of football podcast Talking Tactics. He can be found at @Ankaman616.