This Piece of Original Tinker Hatfield Air Jordan 3 Artwork Is Being Auctioned Off for a Good Cause
"It's a statement that is 'a little' in opposition to the notion that the sneaker itself is such a marvel."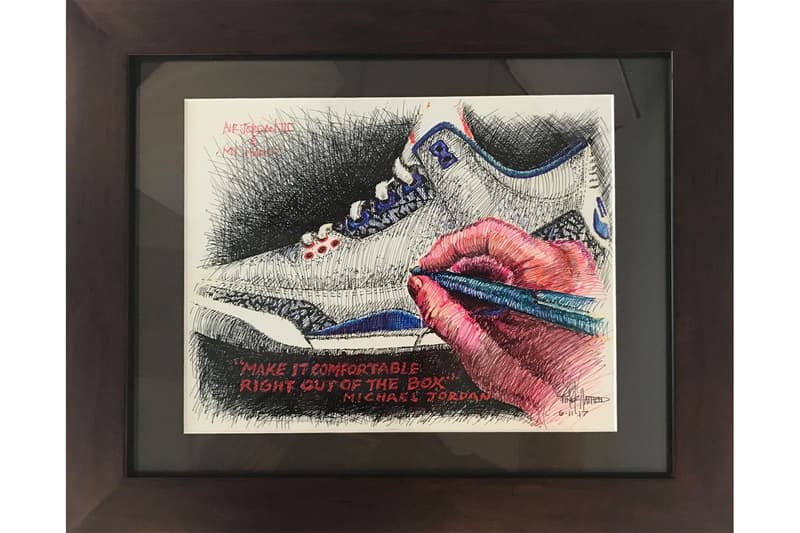 After fulfilling his life dream of visiting the Nike campus in Beaverton, Oregon, 14-year-old Andrew Woodruff tragically passed away after battling bone cancer. In honor of Woodruff, Air Jordan designer Tinker Hatfield has created and will auction a handmade drawing of the Air Jordan 3. The sketch shows Hatfield's hand holding a pen and going over the sneaker, which represents the beauty of creation and art. Tinker had the following reflection:
The hand is more important than the object. The hand euphemistically is the creator. It's a statement that is "a little" in opposition to the notion that the sneaker itself is such a marvel. Maybe the story behind it, and the skill to create something from scratch is the marvel. It's a statement about the importance of collaboration – in this case with Michael Jordan. It's a PRO DESIGN statement.
Hatfield's sketch is currently available for bidding on eBay. At the time of publishing, the highest bid on the piece was $2,800 USD. All proceeds from the auction will go to the Make-A-Wish Foundation.