Inside Tinder Select: The App You're Not Supposed to Know About
Dissecting the impact of the invite-only feature.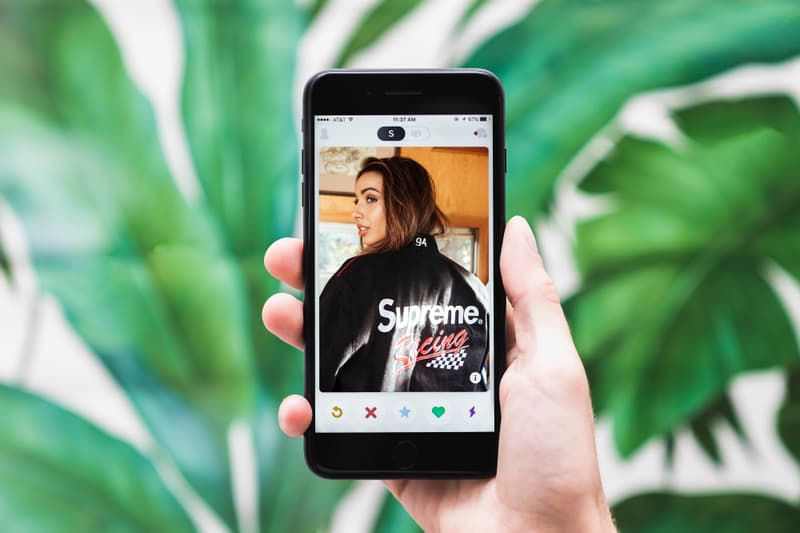 Only a few months ago, news of Tinder's invite-only feature, Select, hit the radio waves. Since then, the operation has been hiding in plain sight, popping up with underground events around four corners of the globe: a speakeasy in Austin during SXSW, a chateau in the South of France for Cannes Film Festival, a takeover of the newly opened The Curtain in London, and most recently, two weekends at a seaside mid-century modern mansion in Montauk.
At every turn was an Instagram worthy snap — white tiki tents, flower-laden lawn swings, an ongoing rotation of live street art, and of course, a pool full to the rim with gold and white swan floats. The influencer candy-land sat on prime Montauk real estate — a house more befit for bumping follower count than actually residing in. For two weekends, a series of daytime and nighttime parties saw crowds of fashion insiders, venture capitalist heavyweights, and the likes of Public School's Maxwell Osborne, artist Lucien Smith, rapper Mike D, and pro surfer Rob Machado pass through.
While Tinder has yet to openly acknowledge the existence of Select, the invite-only feature that caters to the rich and beautiful is very much real. Currently, the user experience is fairly similar to standard Tinder, with the exception of an updated algorithm that pushes other Select-ed users to the front of the line. But without a clear mark to identify the limited pool of Select users, any major difference is difficult to detect. According to the team behind its development, however, the interface is constantly evolving and a new update is expected in upcoming weeks.
Operating as a sort of startup within a startup, the Select team is given their fair share of freedom to experiment with entering the exclusive dating app realm. Coupled with backing from the California-based tech powerhouse that is Tinder, Select has been able to adopt a patient and carefully thought out approach to curate a new user base — even if that means hashing out a quarter of a million dollars for a two weekend event.
The Exclusive Dating App Dilemma
Select is by no means reinventing the wheel here — others like Raya, The League, and The Inner Circle have had similar goals of creating an exclusive space to tap a user base that wouldn't typically be caught on online dating.
One of the biggest hurdles facing the herd of exclusive dating apps is being able to bring in revenue based on a strategy that sells the benefits of small and limited in-crowds. While most of these services have gotten off to a good start, largely catapulted by hype, there comes a tipping point where they're forced to face the reality of opening their floodgates to expand their user base; and in turn diminish the allure they originally built themselves on.
"Tinder faces a permanent tension between fresh blood and exclusive access."
Select, though, is entering the market from completely different positioning, already possessing the largest network of any dating app in the world. Whereas other exclusive dating apps have started from scratch, Tinder's Select approach comes in the form of adding a new layer to the already wildly popular dating service.
However, taking a layered approach actually goes against the natural trend of the internet, explains Clay Shirk, author of Here Comes Everybody, consultant, and professor on the social and economic effects of Internet technologies and journalism, "the grain of the internet tends to low-cost expansion, and since different people have different in-groups, and different people have different preferences for hook-up vs. dating patterns, Tinder faces a permanent tension between fresh blood and exclusive access."
The existence of layers and in-groups, whether online or offline, is an undeniable reality. Select's goal is to make Tinder work for people it wasn't working for before, while still maintaining their original user base. Though, as Shirky identifies, building those layers actually diverges from the common tendency toward low-cost expansion. Indeed, until now, dating apps have rarely taken a multi-layered approach, instead targeting one group or another.
While this tension presents a challenge to Tinder, the Select force is being run with a sense of security thanks to its big brother's support — a luxury other newly-launched exclusive dating services have not experienced. "We're not revenue driven. Our main goal is to provide a community of people with the opportunity to meet others they may not have crossed paths with otherwise, even if those people are within the same networks," explains Paul Boukadakis, VP of special initiatives for Tinder.
If Select's strategy isn't grounded in a revenue-making scheme, this could provide the right fuel to break into unchartered territory, creating layers that work well and actually make everybody happy.
A Stealth Brand Lift
In order to make these layers work, Tinder has to strike the balance between attracting new users while maintaining non-Select users content with the traditional version of the app. One of Select's hardest tasks will be opening up Tinder users to this new way of thinking, making it a place that the upper echelon are comfortable flcoking to.
Indeed, the iconic Tinder flame currently strikes a very specific perception among millennials and others who are familiar with the app. "Tinder is the ultimate introduction app. It introduces you to people successfully around the world. It feels a little cheesy in the vernacular to be cool, but it's incredible," says one venture capitalist party-goer at the Montauk event.
While this is true, the general consensus is that although Tinder can be used to find friends, dates, or even love, it remains in large part a hook-up app. In order to attract a new group of top-tier users, Select will have to in a sense start from scratch, keeping the right distance from its older sibling.
Not surprisingly then, the underground version of the app is strictly referred to as Select, and Tinder's iconic orange has been swapped for a subdued blue. Save the staple torch logo, all branding around the two-weekend Montauk party had no "Tinder" in site.
So far, this stealth approach has been consistent across the board as the Select team partly looks to underground events to onboard new users and build awareness of the venture. "There's so much strategy that goes into the events. We're human beings and we're social by nature. We go to these events one way or another, so we (Select) want to provide the right landscape for people to attend these events," says Josh Metz, director of marketing at Tinder. "People neglect the fact that Tinder connects people. We want to bring that back," adds Boukadakis.
Based on their six month track record, the Select team is capable of putting on a good party, but that doesn't necessarily translate to the success of the app itself, nor does it even mean the party attendees are using Select. The new initiative will therefore also have to reconcile with the psychology that plays into the physical experience of the application.
"People might actually become a bit more thoughtful. They would realize that the pool is finite, and they will search in a more thoughtful way."
"In the Tinder world, there is a seemingly endless supply of people. In an endless supply of people, it is unclear how committed people would be to one person if there is always somebody out there who is more interested, potentially more exciting and so on," explains Dan Ariely, James B. Duke professor of psychology and behavioral economics.
One of the benefits of Select, then, is that a slightly smaller pool might actually mean more people would end up meeting, resulting in a higher success rate and more active engagement.
"People might actually become a bit more thoughtful. They would realize that the pool is finite, and they will search in a more thoughtful way," continues Ariely. As opposed to letting matches enter triple and even quadruple digits for a seasoned swiper, Select users will potentially place more value on those they pair up with.
Rise of the Modern Country Club
Where does this new red velvet rope of exclusivity leave the millions of non-Select users? If crossover is maintained between the multiple layers as it is now, there could actually be some more opportunities in store for the original batch of Tinder users. But realistically, the non-Select users will keep within their own circles, as they would have anyway.
After all, the walls built up by social hierarchy have been in place for centuries — only to recently face disruption at the hands of the rise of social media. The idea of country clubs and debutante societies has become almost foolish, as the standards that long served as community guides to "who's who" have been rewritten by an entire new set of rules embedded in social media clout.
Yet, while this social capital of online media is undoubtedly valuable, there is a noticeable gap left by the demise of country clubs. There fails to be an authority that fully takes advantage of social networking to connect "the best" people trans-globally, cross-industry, and based on something beyond follower count. The right way.
Ultimately, Select's main battle will come in building up a new name while keeping healthy distance from the hook-up centric Tinder. If able to do so, Select could be positioned to build the strongest network of the most intelligent, successful, and yes even attractive people to date, completely redefining how (some) people get together.
Join Our Discussions on Discord
The HYPEBEAST Discord Server is a community where conversations on cultural topics can be taken further.