Berlin Fashion Week Attendees Took a Break From Loud Branding
Style without the logo assault.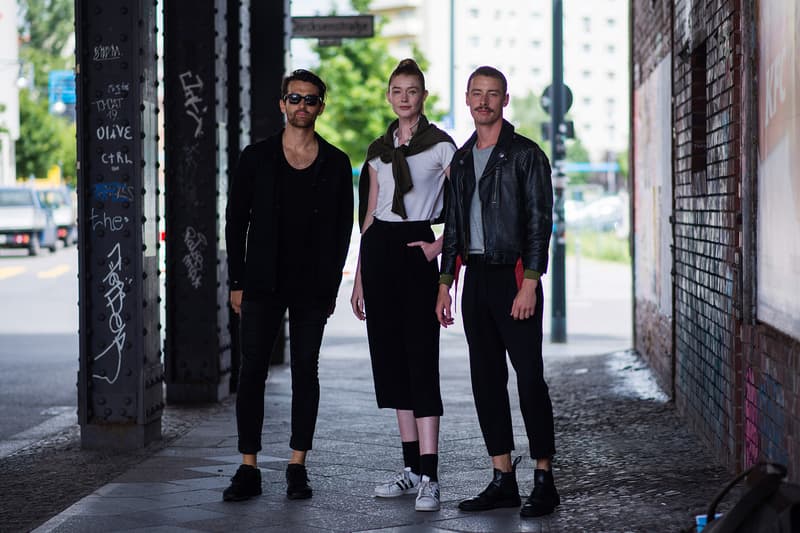 In the hierarchy of fashion weeks, Berlin may not host the most extravagant or high-profile fashion shows, but it certainly boasts the strongest reluctance to logo flexes and trend worshippers. And surely, this conscious dismissiveness of brand names and luxury status is the principle that makes Berlin street style so assertive. In the German capital, sartorial choices are more so a display of personal style than an allegiance to fashion labels. (Except for the case of sneakers, where there's more love to the German Three Stripes than the Swoosh). Outfits generally lean towards a more casual/laid-back approach with a strong countercultural attitude. Even for more dressed-up ensembles, there's a certain grunge ambivalence that comes from a rich background of underground influences, eclectic multiculturalism and graffiti-lined streets.
Although not every look from this week's selection may be your cup of tea, each outfit captures an element of Berlin street style that, while we may not be able to put a finger on it, is inspiring nonetheless. We've loosely sorted the looks into three categories — bold color statements, vintage interpretations and neutral essentials — so that the visual pulp is easier to digest.
Color Statements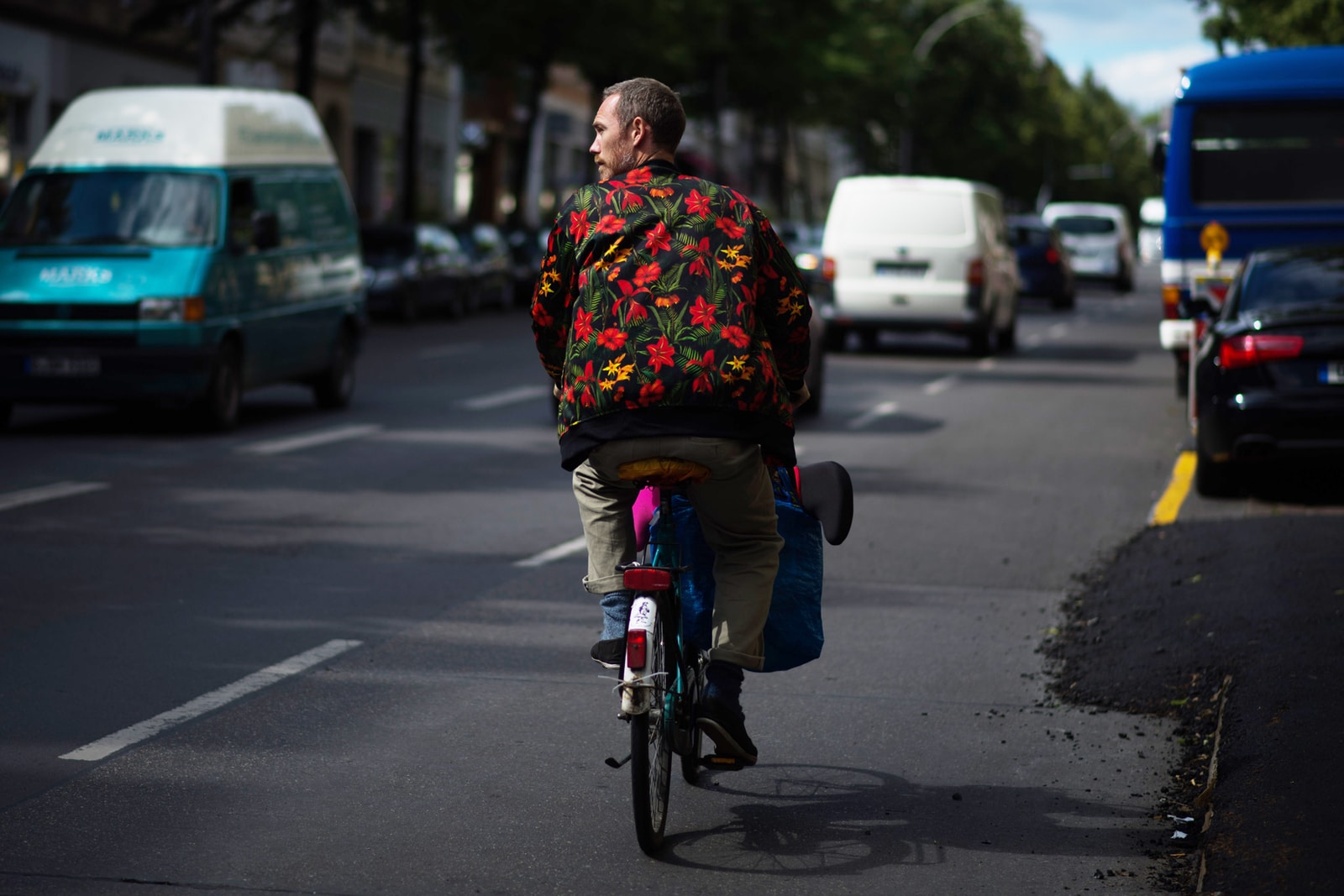 An accessible and familiar silhouette that is amplified by a bold hit of color. This comfortable outfit sees a classic bomber jacket emblazoned with a red and green floral print. The rest of the look is balanced out with rolled-up khaki chinos, grey socks and black suede slip-ons — a solid combination for everyday wear.

Flamboyant and very '70s, this outfit will carry you from day to night, or the other way around. A colorful silk jumpsuit with large dove graphics is layered over a vintage graphic tee. A mullet haircut and horseshoe mustache adds more retro style and toughens up the pastel hues, while well-worn adidas Sambas in the OG colorway round out the disheveled but classic look.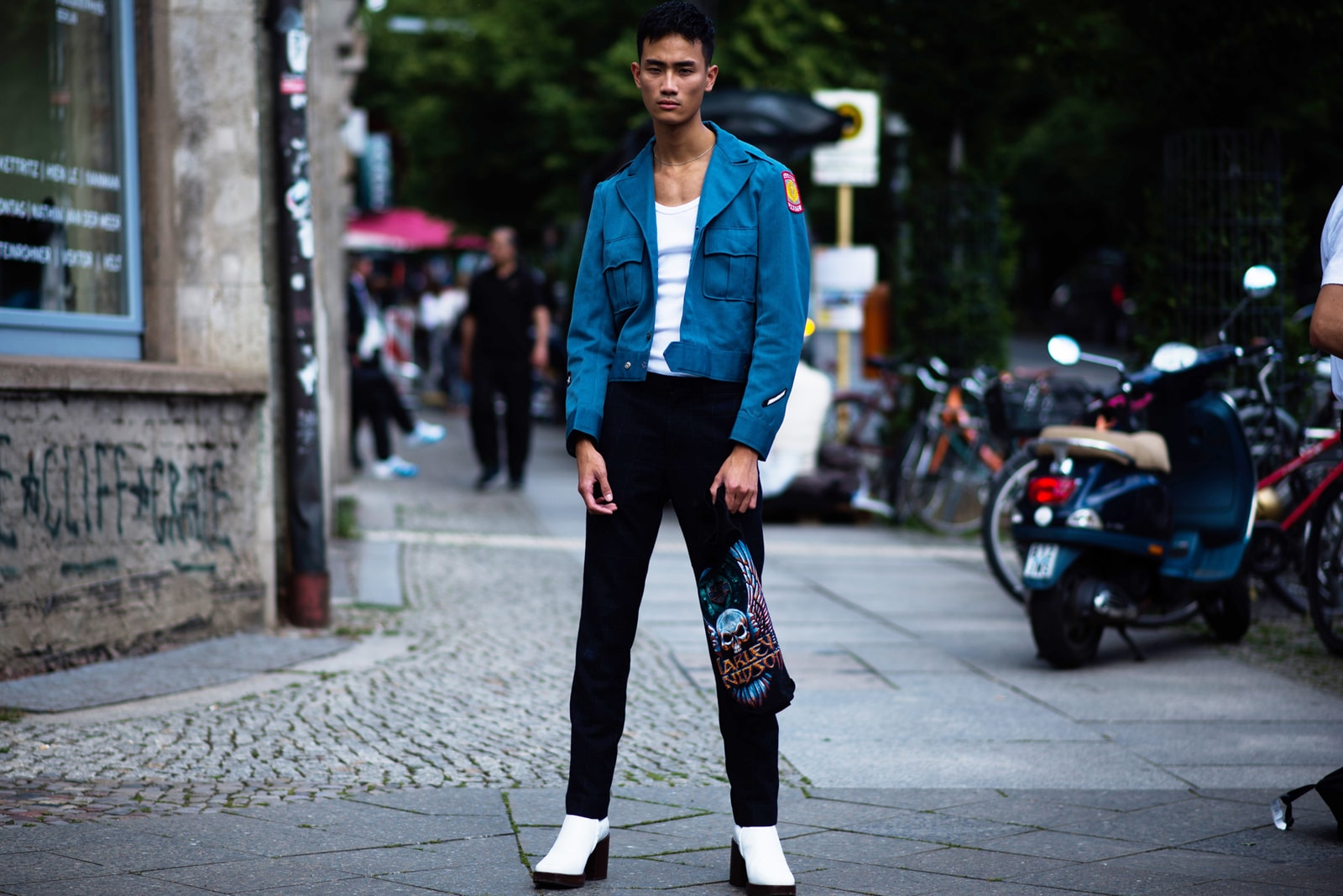 A more polished take on a classic biker outfit that is executed with a balanced eye for color and proportion. The sharp turquoise crop jacket features streamlined biker elements (as seen in the zipper details and waist buckle), while the breast pockets take cues from flight jackets and the lapels borrow from classic blazers. For the base of the outfit, a plain white tank top is tucked into tailored black trousers and paired with white leather boots.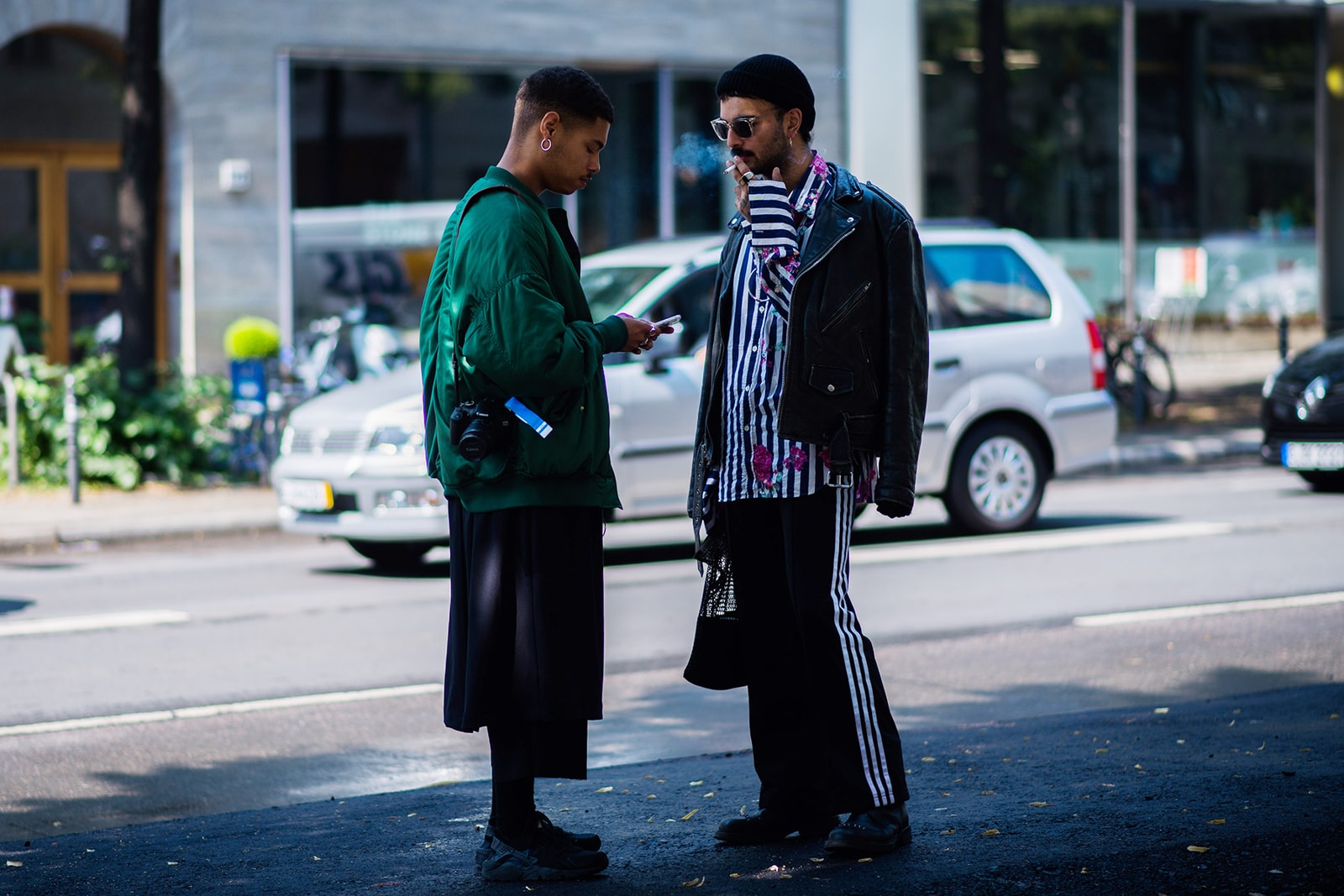 Two looks that go heavy on layering and accessories. The outfit on the left is a play on proportions that features an oversized green bomber worn over a shin-grazing tunic in black. The ensemble on the right channels the stripes theme by pairing a black & white striped button-down with purple floral motifs with a pair of classic track pants. A leather moto jacket, black net-weave bag and beanie round out the look.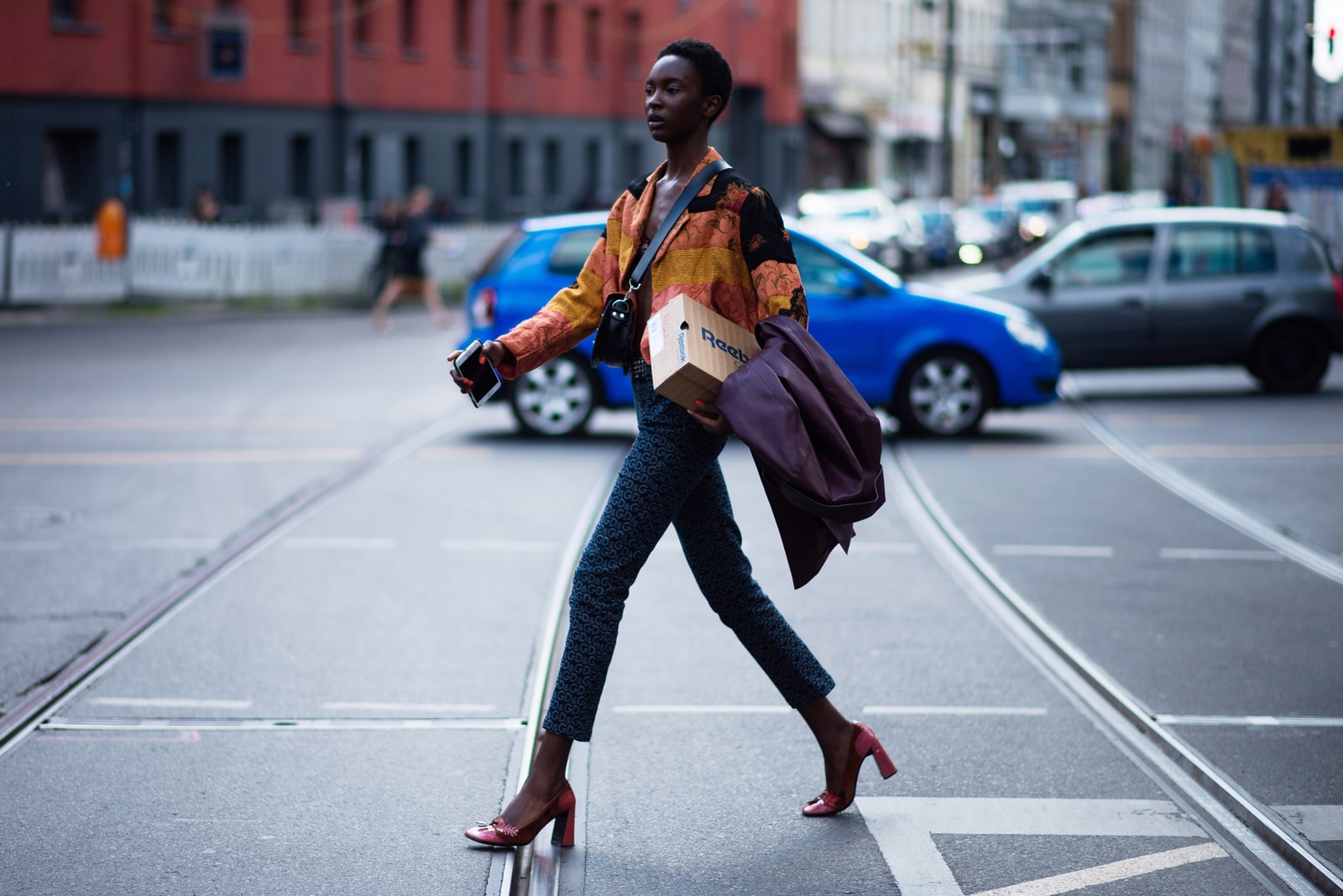 A medley of colors, prints and textures can work seamlessly together if you keep the silhouette clean and tailored. In this look, a cropped jacket featuring orange-hued swatches of kitsch fabrics is worn on top of a pair of Dolce & Gabbana "G&D" print trousers in blue. A slightly boxier top is balanced out by a slim fit on the bottom.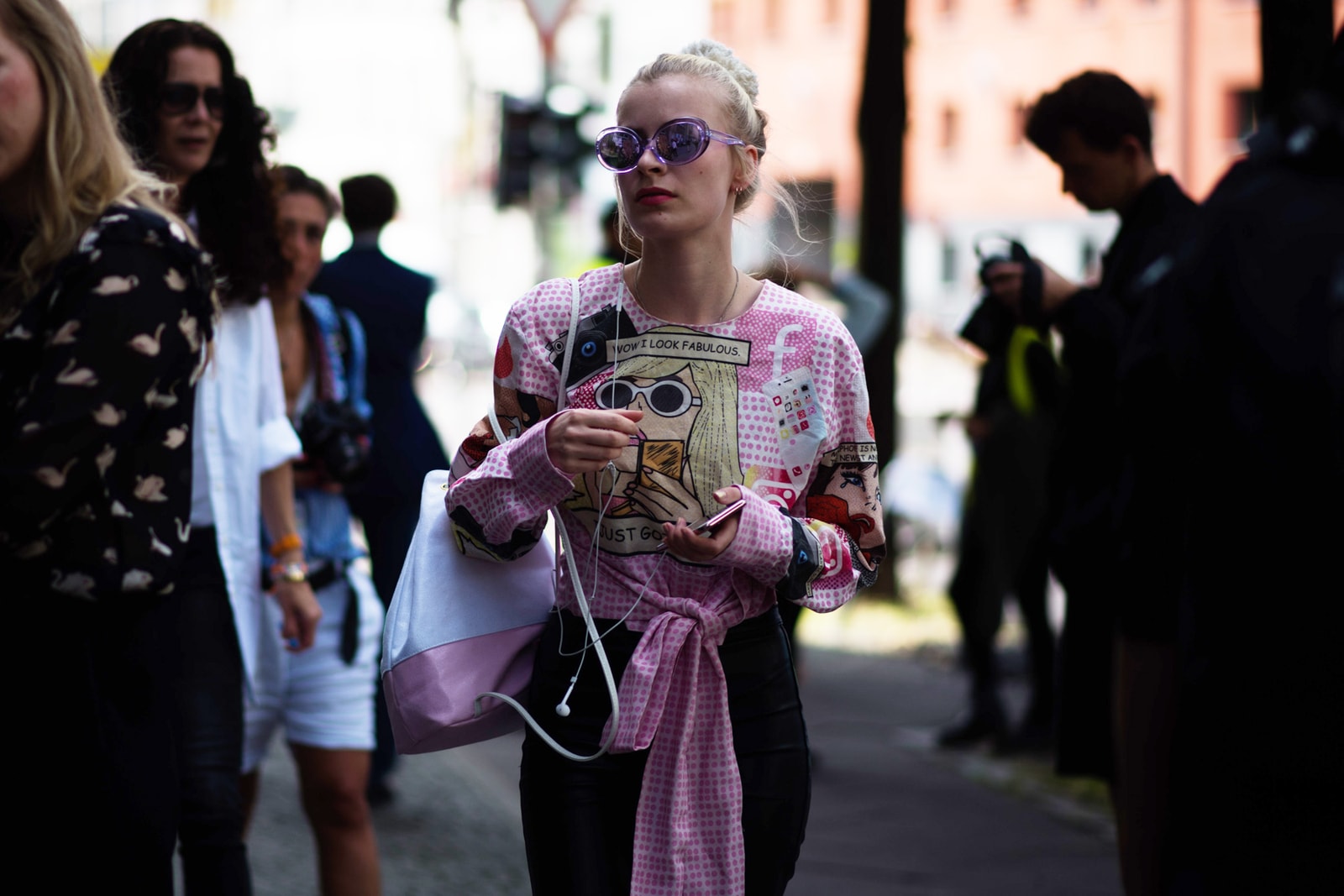 Probably not a look to imitate, but definitely one to appreciate. This outfit is noteworthy for its use of irony and color. The humor comes with the fact that the person wearing the garment is a mirror image of the figure printed on the shirt, which incorporates graphics referencing social media and a Roy Lichtenstein illustration much like the ones featured on the recent Supreme x Thrasher 2017 collection. A leather backpack echoes the outfit's pink theme while the Kurt Cobain-inspired glasses are a trending accessory.
Vintage Interpretations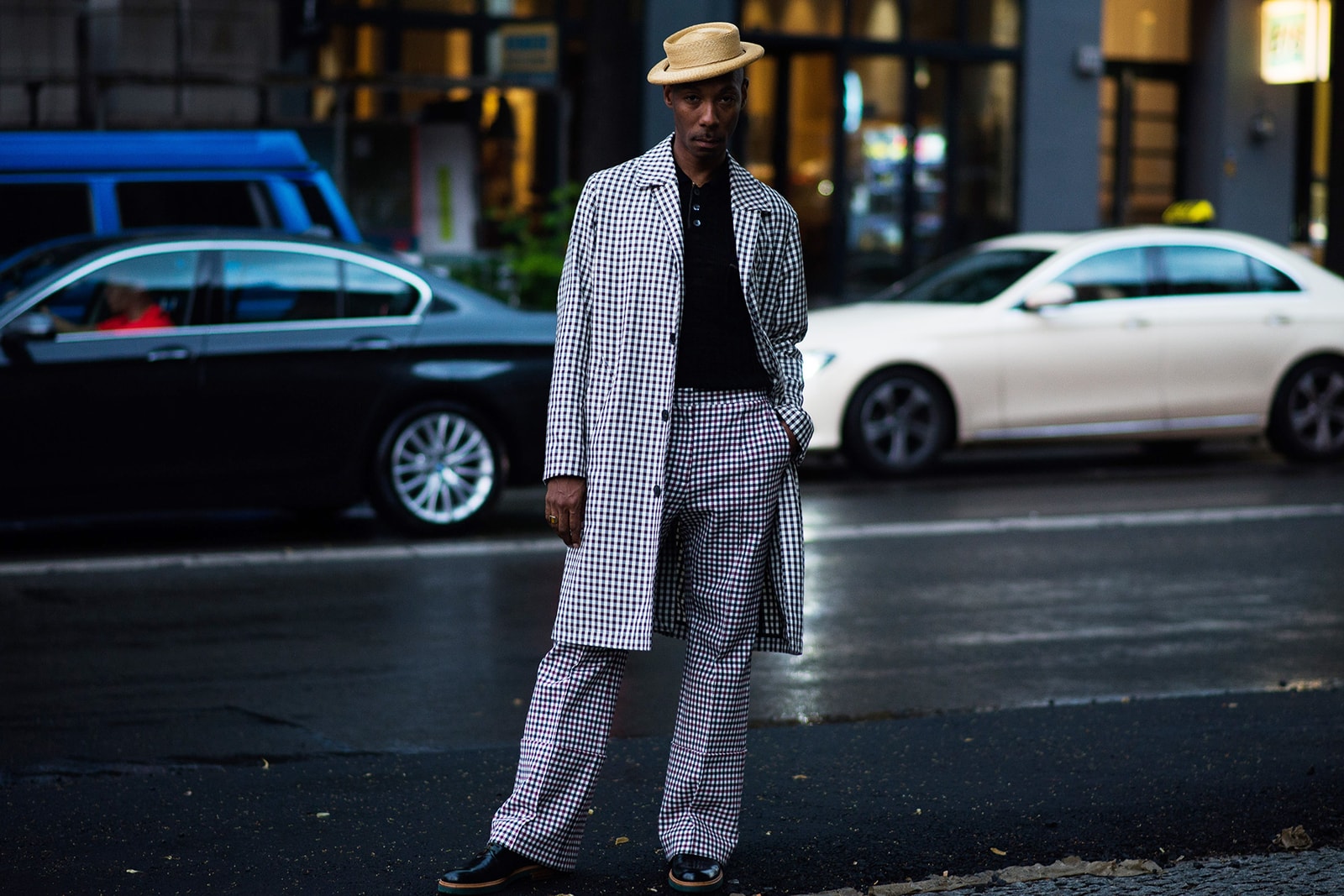 Classic menswear garments, accessories and prints are taken to an avant-garde level with this all-over print look. Here, Gingham plaid covers a traditional trench coat and a generously tailored pair of trousers that bunch slightly over the feet for a modern, oversized cut. A straw porkpie hat and patent leather dress shoes finish off the vintage-inspired ensemble.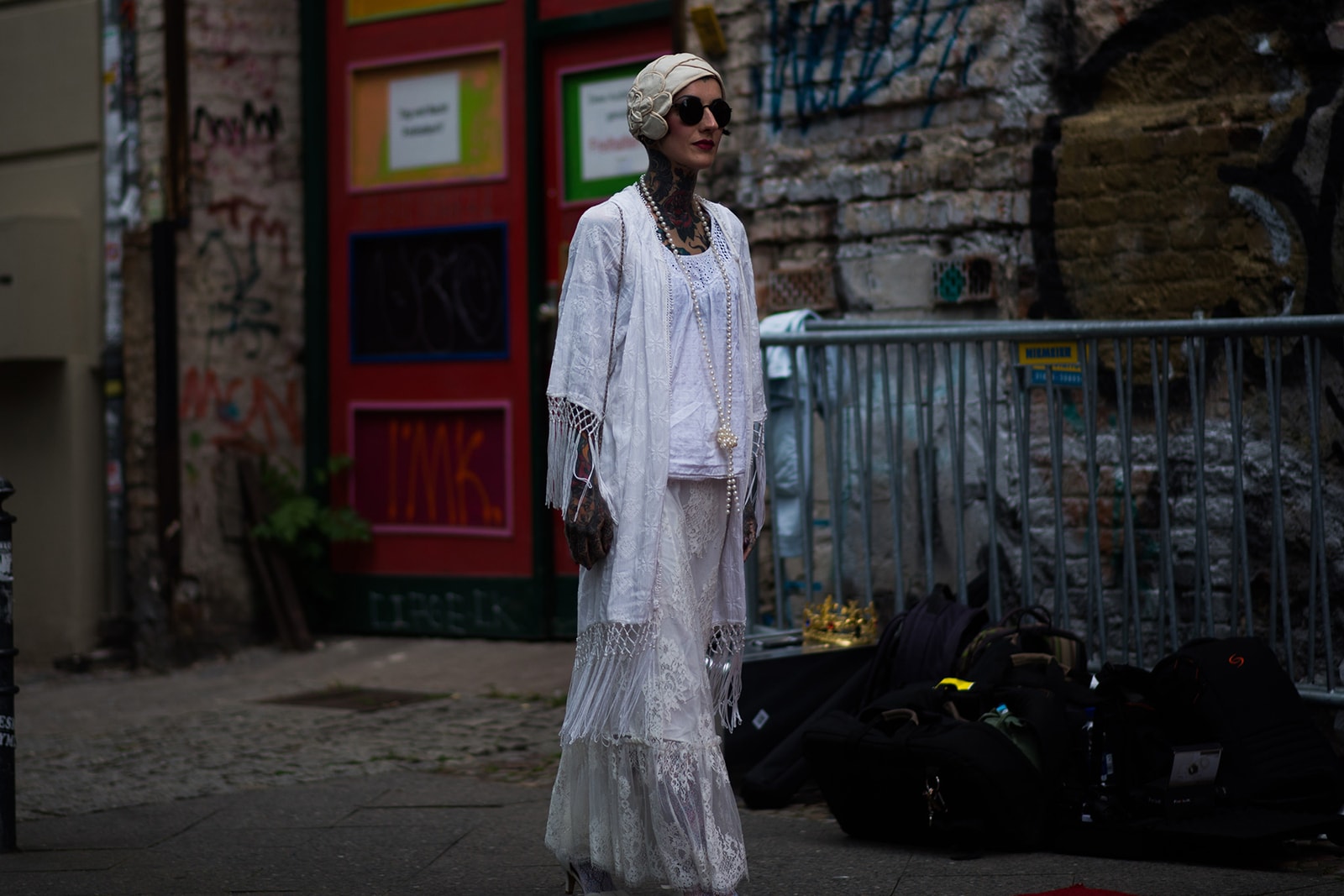 While there aren't any menswear elements in this look, the approach and styling is one that's noteworthy. Specifically, coupling vintage clothing with tattoos is a combination we've seen work in previous editions (such as LFWM street style) that combines proper dressing with a bolder canvas. Body art can transform how garments are styled, as can accessories.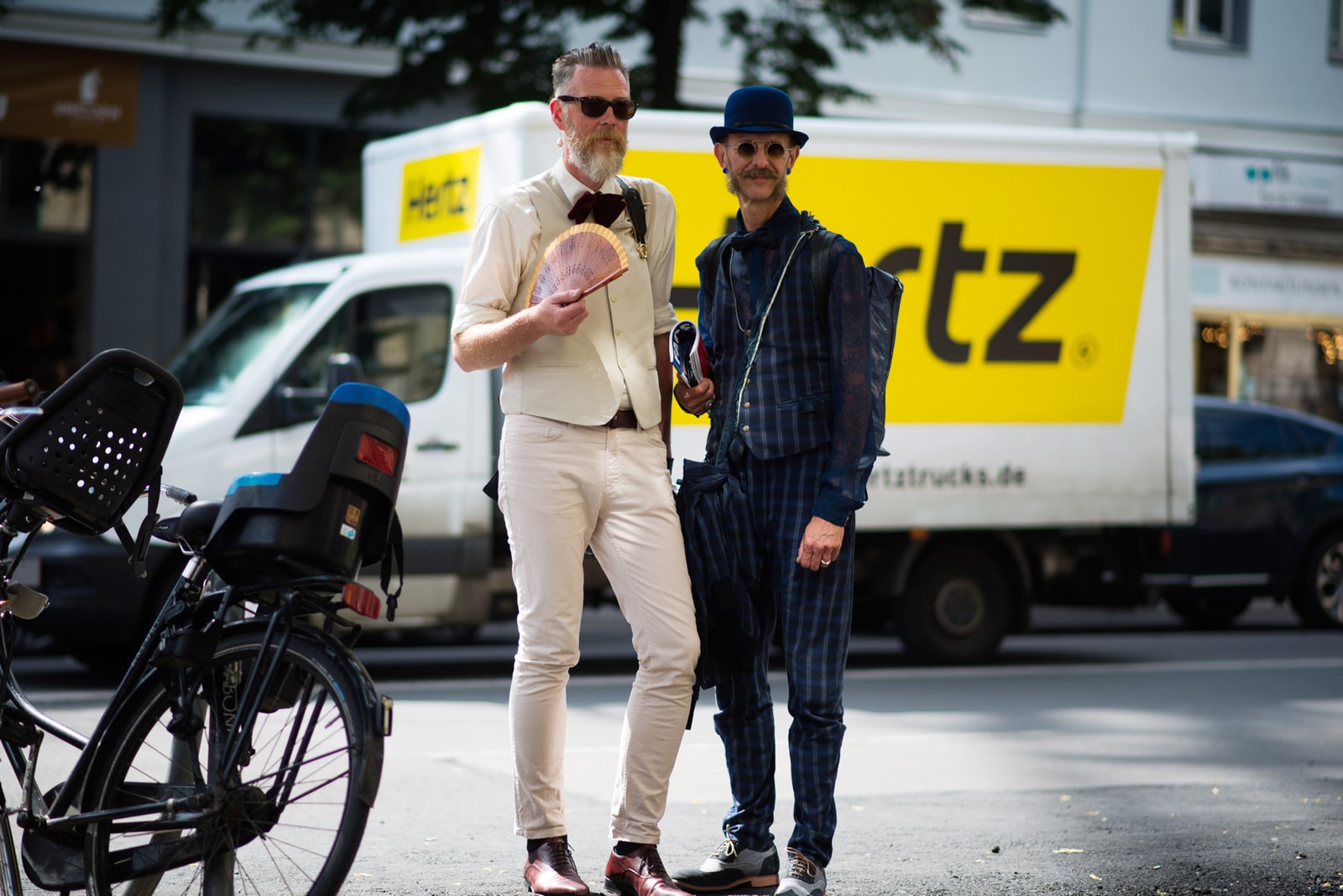 Another statement-making nod to the past that disregards modern trends. These two looks channel the monochrome and all-over print themes via strong vintage outfits that feature old-school bow-ties, vests and dress shoes. Other accessories such as the bowler hat, fan and facial hair complete the antique style, while Ray-Ban Wayfarer sunglasses and black stud earrings bring in some present-day accents.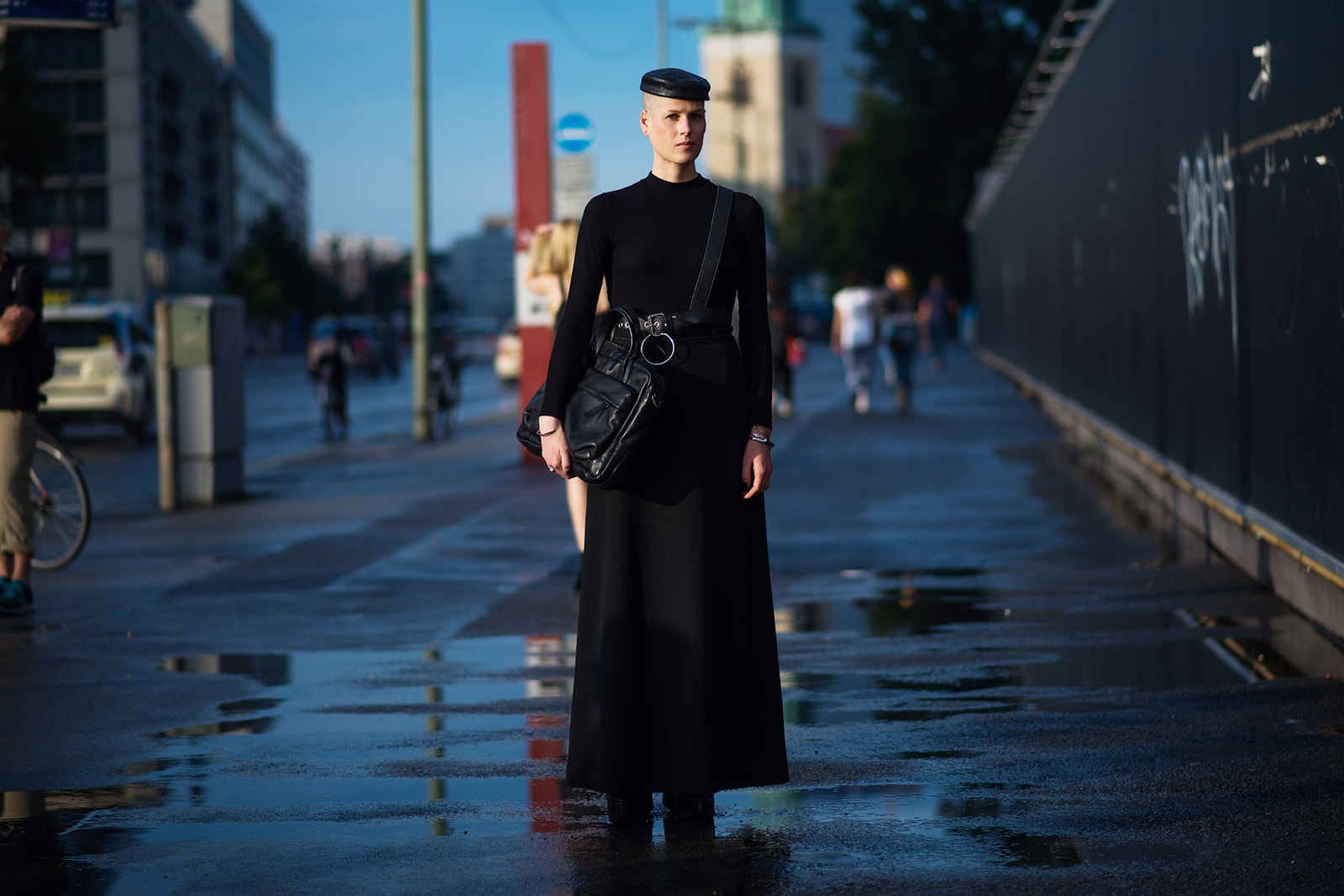 Though we can't place what era this look is from, there's a certain steampunk-handmaiden vibe going on in this all-black look. A stiff, structural material creates a striking silhouette, while black leather accessories with silver metal-wear create subtle contrast and texture while keeping things clean and relatively minimalist.
Neutral Essentials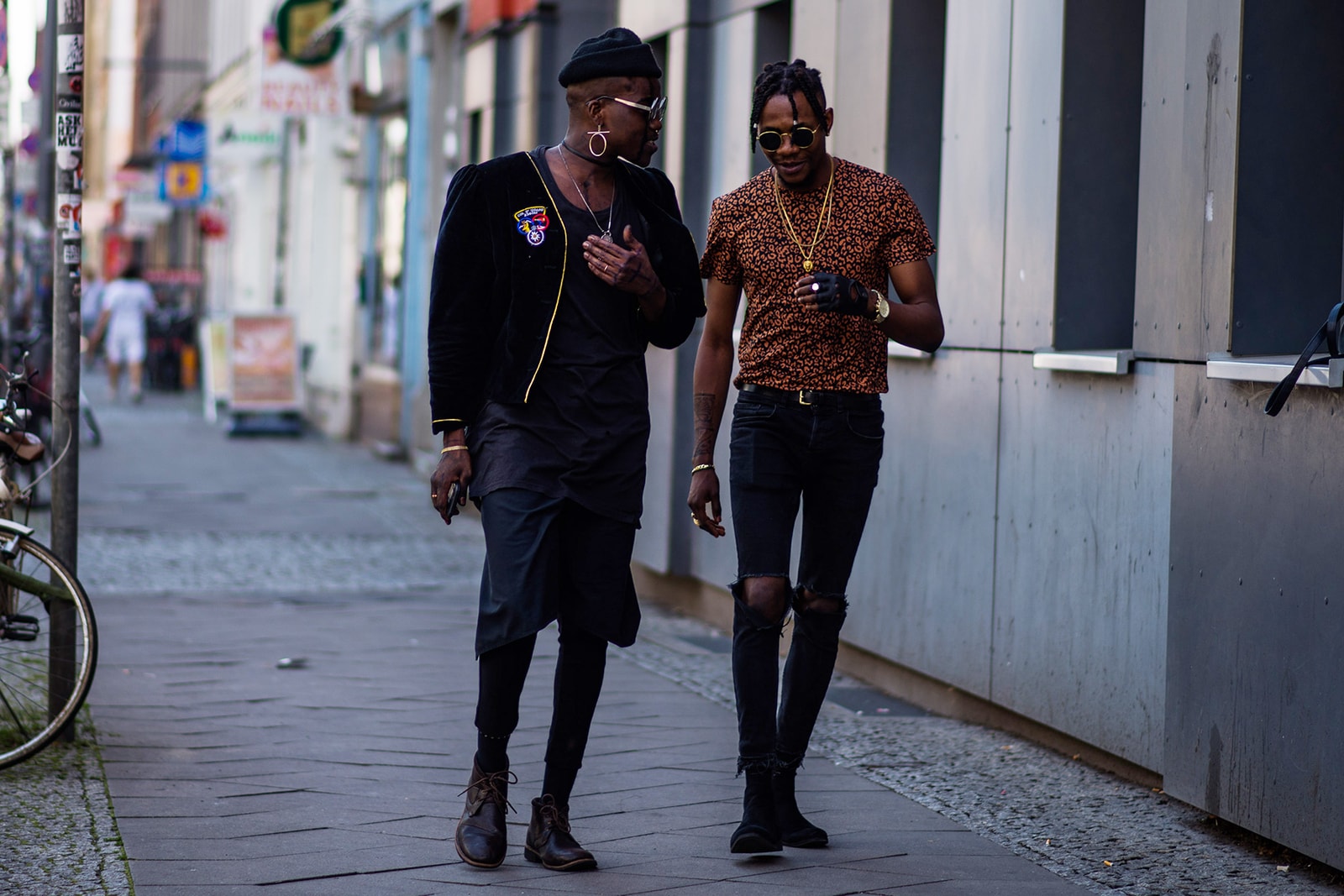 Here are two non-basic twists on an all-black look and a standard tee and jeans combo. The outfit on the left riffs on proportions and layering by wearing a velvet cropped jacket on top of a long tunic shirt over black pants. Gold accents at the earrings, glasses frames, jacket hems and bracelet accentuate the look by adding slim, subtle delineation. The look on the right simply pairs a black ripped jeans with an orange print T-shirt. Gold accessories, a black biker leather glove and round sunglasses elevate the simple ensemble.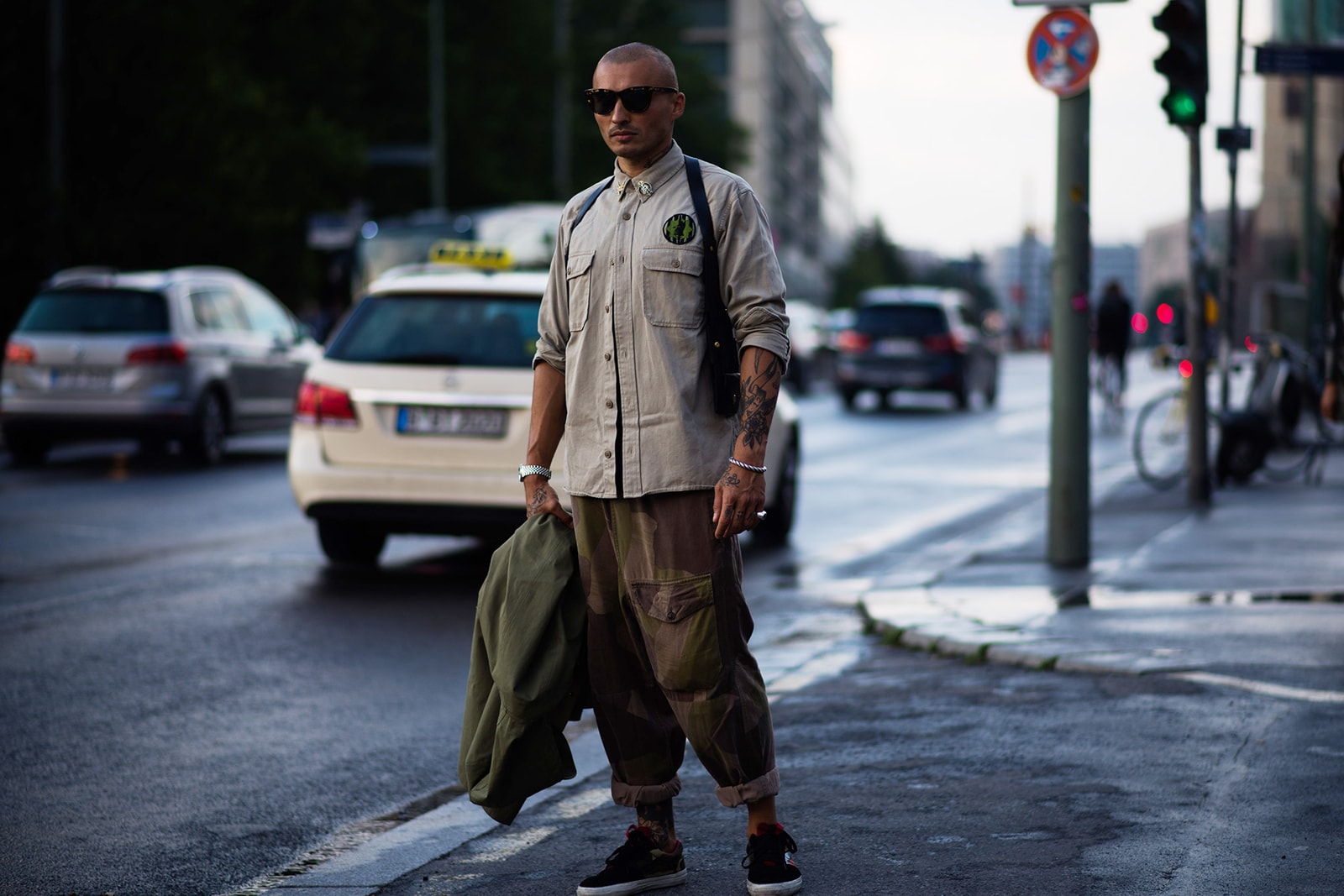 A workwear-inspired outfit that sees a flexible color palette of olive, tan and brown. Loose fitting cargo pants featuring a subtle camo print are a versatile and understated taple for summer, while patches and pins add some detailing to an otherwise basic tan button-down. The outfit's neutral hues can accommodate many different colors and make for an easy canvas for accessories.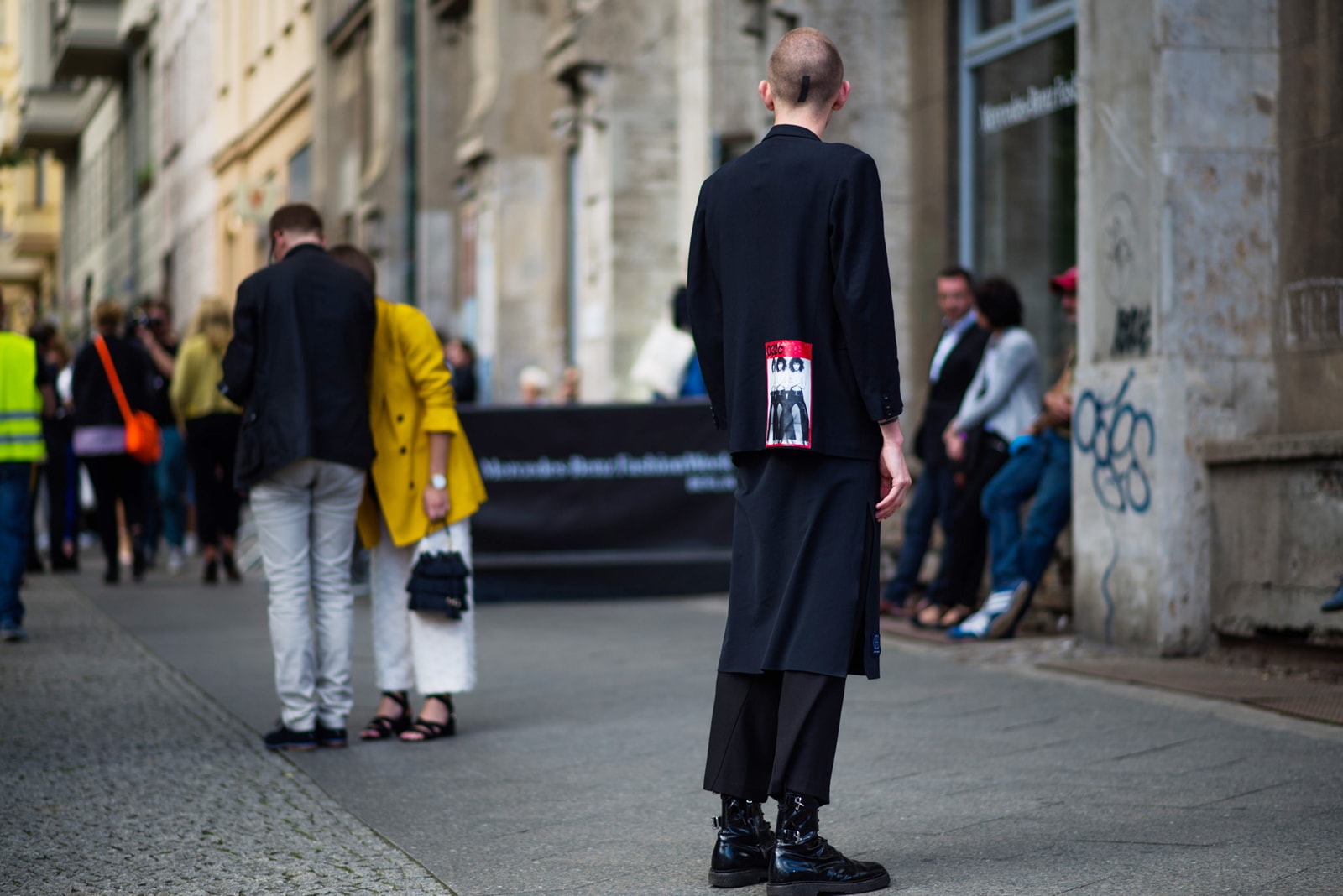 When you keep an outfit all-black, you can be more experimental with bold cuts. This sleek outfit sees a blazer from Berlin-based imprint 032c worn over the ever popular tunic-over-pants combination. Patent, high-top combat boots and a vivid red 032c graphic add a subtle but intense contrast to the achromatic look.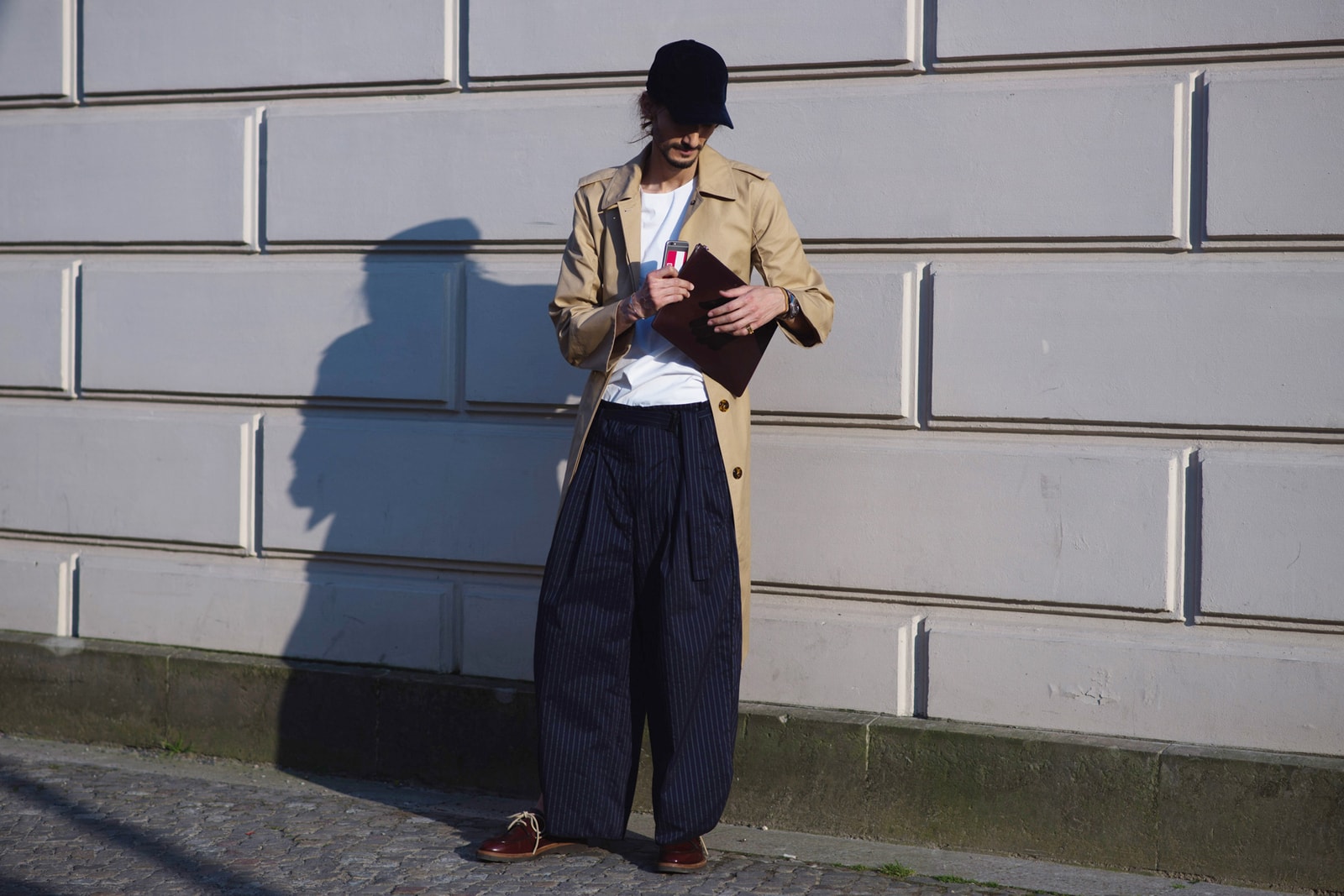 A clean and modern look where each piece makes for a versatile staple in any closet. A classic camel trench coat is worn over a crisp white tee and a pair of oversized pinstripe trousers in navy. Leather shoes, a minimalist black cap and a sleek leather pouch round out the essential, everyday fit.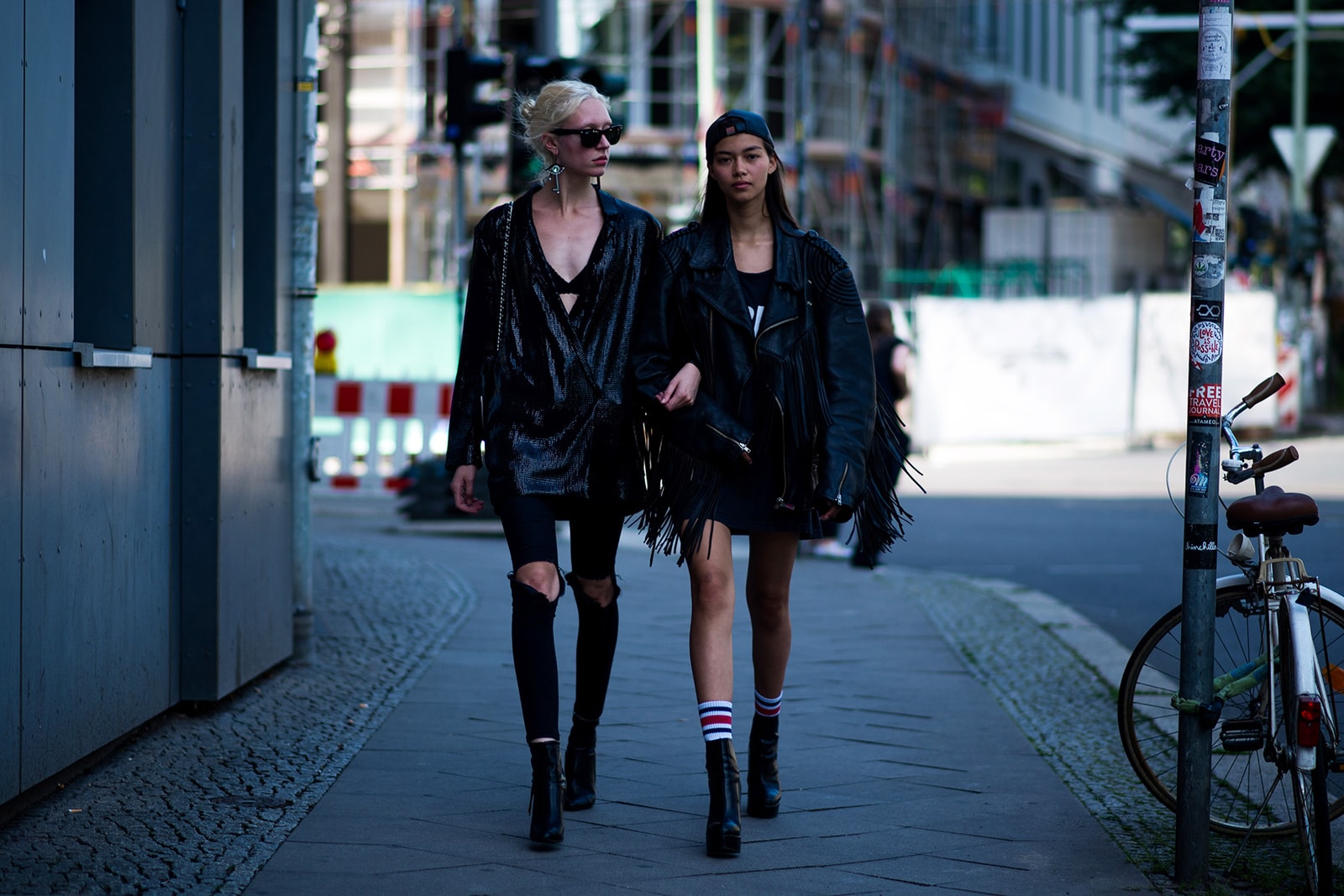 Another instance of all-black outfits making room for other bolder elements. This time, the outfit gives the stage to striking textures and textiles such as sequins and leather fringes. The look on the right combines an oversized leather moto jacket with sports-inspired accessories such as crew socks and a baseball hat.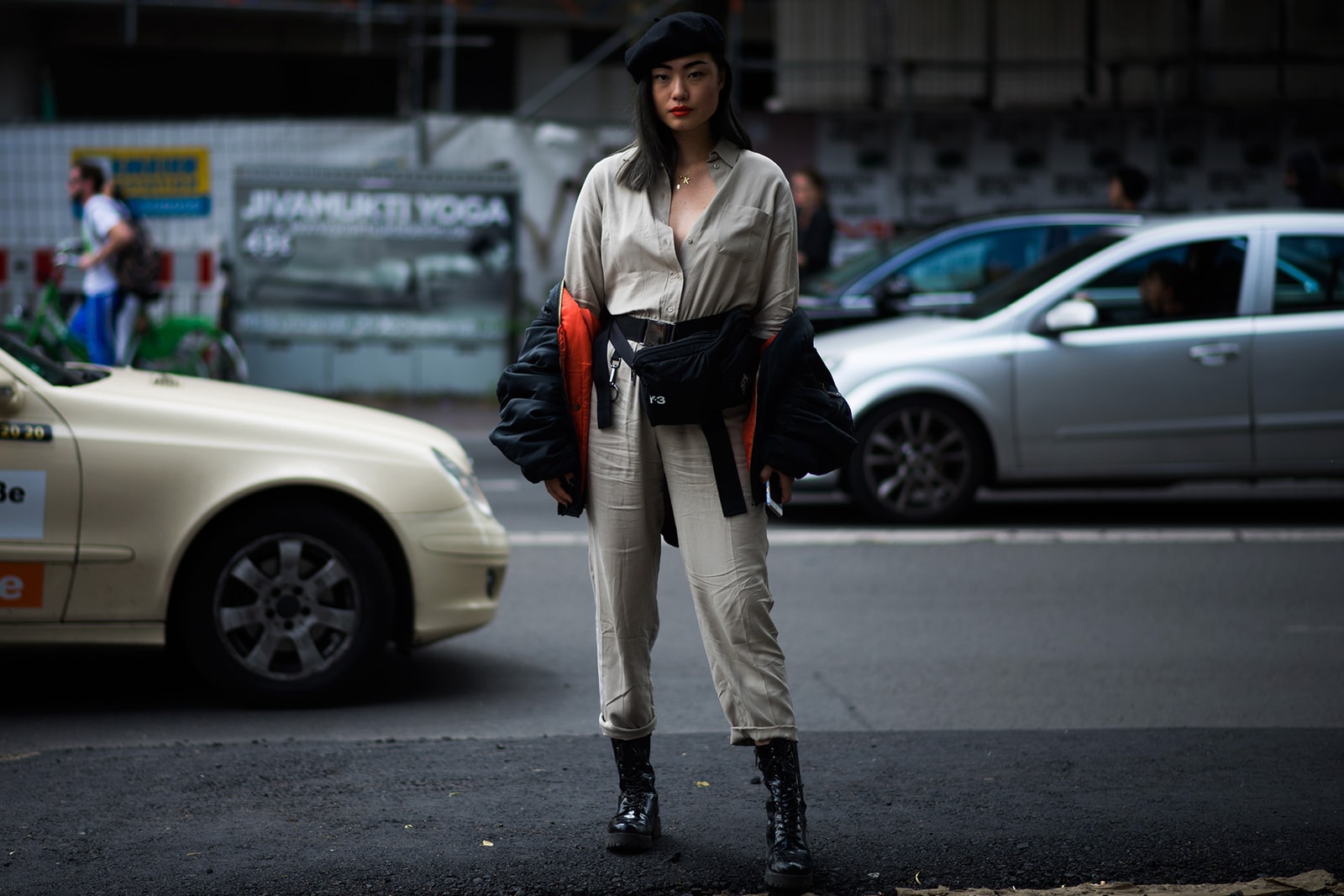 Perhaps the most trend-forward outfit of this week's selection, this ensemble features a camel, workwear-inspired jumpsuit, a utility canvas belt, a Y-3 waist pack, a nylon bomber with orange lining and a beret. Finally, a pair of patent combat high-top boots rounds out the compound medley of styling elements.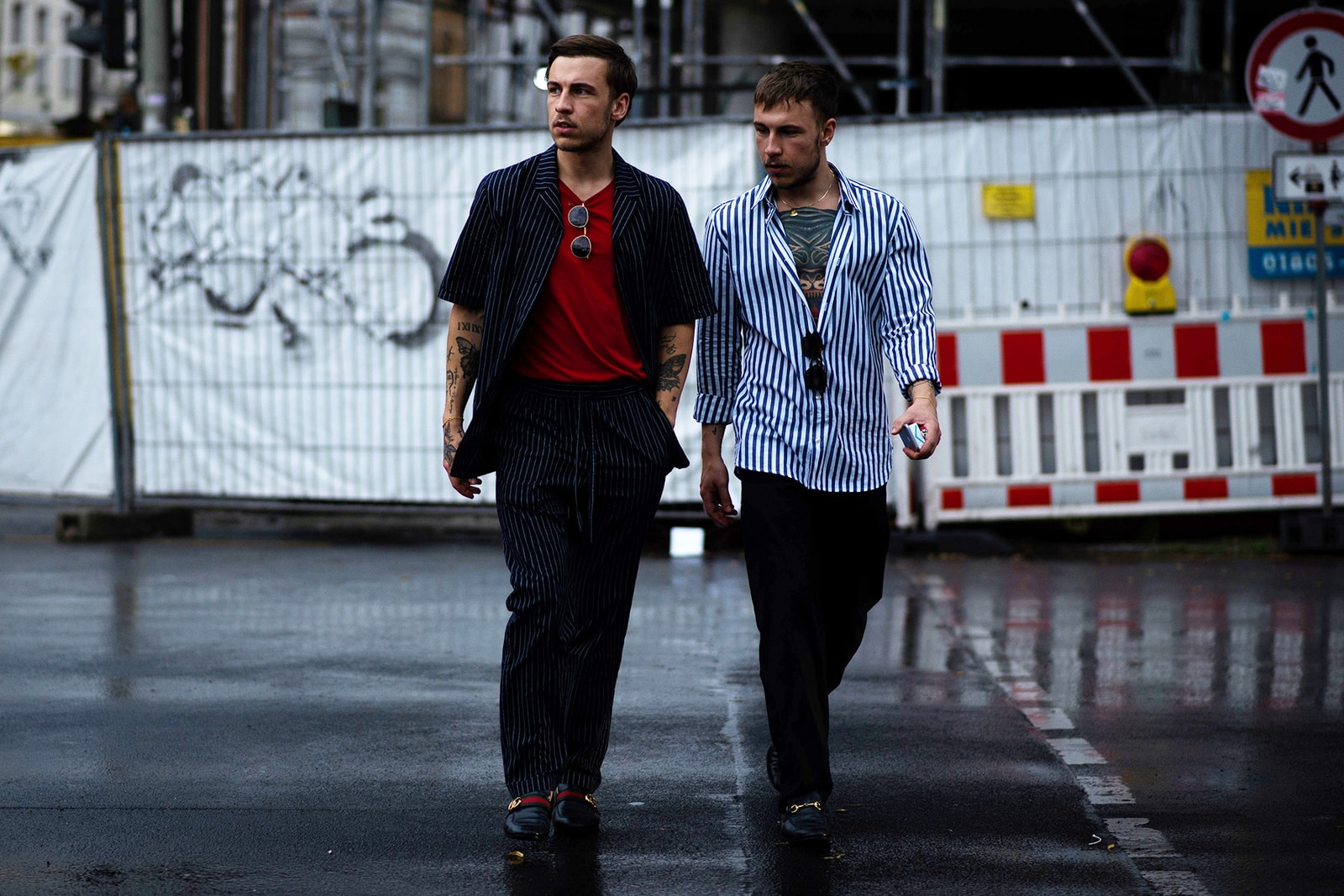 Two looks that incorporate similar pieces to different effects. The look on the left is a more subtle use of stripes in grey and black, while a red shirt corresponds with the red stripe on the Gucci loafers on the feet. On the right, the same stripe pattern is much bolder in white and black, while a different pair of Gucci loafers and solid black pants keep it a simple and easy look.