Here Are the Iconic Raf Simons Shows A$AP Rocky Referenced in His New "RAF" Video
Paying homage to the Belgian fashion designer.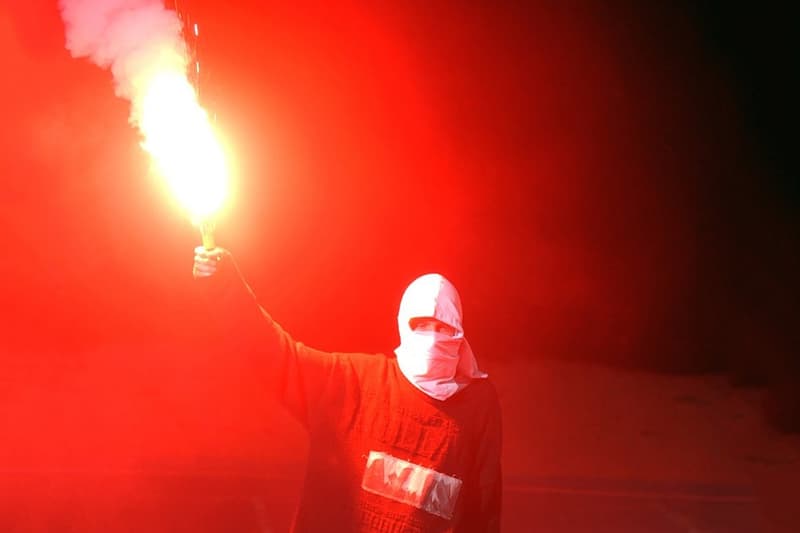 After years of expressing his adoration for Raf Simons, it was no surprise when A$AP Rocky paid homage to the Belgian fashion designer by releasing a track titled "RAF" featuring Playboi Carti, Lil Uzi Vert, Frank Ocean and Quavo. The Harlem rapper has undeniably served a pivotal role in helping Raf Simons become a lauded name in streetwear despite the designer and label's unique high fashion roots. But A$AP Rocky took his love for Raf one step further when he recently released the visual for the track, referencing some of the Belgian fashion designer's most iconic shows.
Kicking off the "RAF" video, A$AP Rocky displays a clear reference to Raf Simons' 2002 spring/summer, titled "Woe on Those Who Spit on the Fear Generation…. The Wind Will Blow It Back." Lighting a red road flare like a model from the 2002 spring/summer show, Rocky is seen sporting a white head garb and "Kollaps" sleeveless hoodie look from the collection. As the track picks up Rocky, Playboi Carti and Quavo parade back and forth laced in archive Raf pieces sourced from Grailed in front of a backdrop inspired by Raf Simons' inaugural 1995 fall/winter show. Throughout the video, while showcasing highly sought after pieces, the rapper's replicate the iconic show that launched Raf's youth culture centered label informed by subcultures and alternative music. Take a closer look at references found in the "RAF" visual and let us know what you think about Rocky's homage to the Belgian fashion designer.
Also, make sure to check out our look at streetwear's obsession with Helmut Lang and Raf Simons.