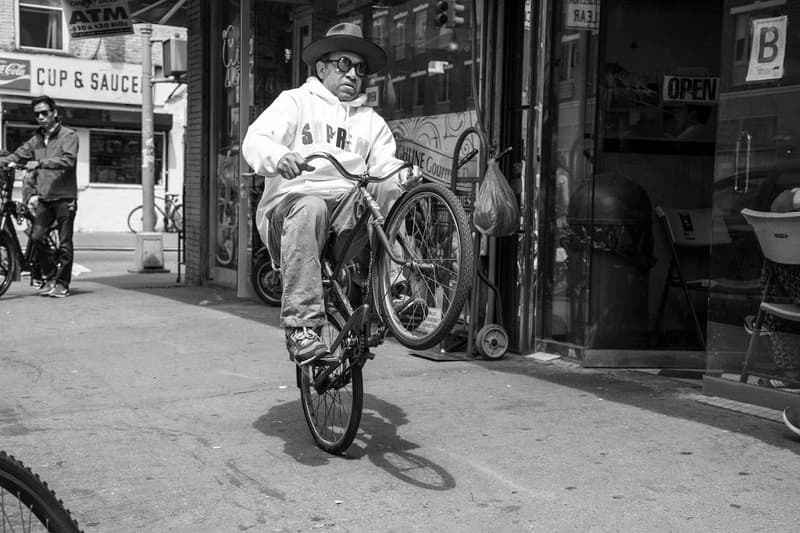 The Legendary Mark Gonzales Breaks Down His Formula for Happiness & Success
There's a method to the madness.
---
Skating and art legend Mark Gonzales opens up and shares some knowledge for an in-depth new GQ feature. Sitting down with GQ's Noah Johnson at his Canal Street studio in Chinatown, Gonzales discusses his approach to skating, his lack of connection to modern technology and social media, creative processes, the balancing act he maintains to ensure a happy and productive life, and more. "There's always more to learn, but I've always found that if you want to learn something new you have to research it. You have to understand where it came from," Gonzales tells GQ. "If you want to do something new you have to look at the past. You have to see."
You can check out GQ's entire Mark Gonzales piece here while an excerpt appears below. In recent months, the Gonz has been incredibly busy: the 48-year-old has a new exhibit in Los Angeles, worked with Snoop Dogg and adidas, and even released a limited edition capsule collection.
Do you have a routine? What's a typical day like for you?
I kinda have a routine, I take my daughter to school. That's my duty. She's three. I do that every day. And then after that I get some time to do art. It's less skateboarding now, I wish it was more skating. As I'm getting older. Skating is a lot of fun but after doing it as long as I have—you have to see a unique spot or have a desire. It's competitive. Like: This other skater who's a little bit older than me, he's someone I looked up to, he's done a trick where he slides around the bowl. It's similar to a street skating trick because he slides so far, and he slides around the whole bowl. It looks so fun so I want do it—but I don't want to do it the same way as him. I want to do it frontside, which to some seems more difficult, to me I think it'd be easier. That's what motivates me, just to try to outdo him.

Who is it?
Steve Caballero. He's been winning all the contests too—the seniors contests. But I don't want to enter a contest. I just want to nail him with that one trick.

So healthy competition keeps you motivated?
Well, yeah, or a unique spot. The closest bowl that's pretty good is in Bay Ridge, so I go out there. That's why it's a little difficult. I'll be in the mood to do a super long boardslide at like four in the morning. I can't go out to Bay Ridge at four in the morning. It's a bit different. If I have an art idea or a drawing or a story or something I want to convey that's not skating it's a little easier to do.

Do you often find that inspiration strikes you at four in the morning?
Oh, for sure. Everybody's asleep. That's when you're allowed to be creative. Because when people are awake, you know, there's people watching you. No matter where you are. You might think that you're in a private area and there's still somebody that can see your shadow and say, what's that shadow doing. Once everybody's asleep, it's a creative person's sanctuary.