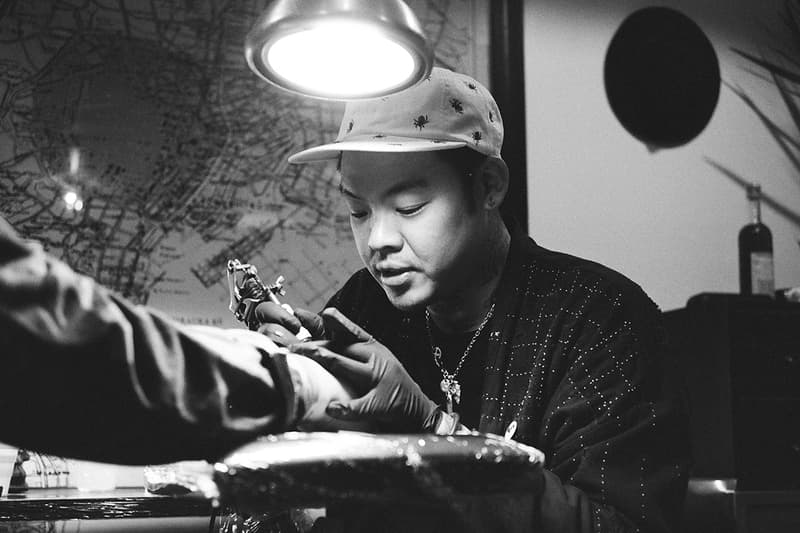 Dr. Woo Talks Art, Social Media and His New Secret Studio
In conversation with Union Los Angeles.
---
Union Los Angeles recently tracked down Dr. Woo's secret studio in the Roosevelt Hotel in Hollywood to catch up with the tattoo artist. In the interview, topics that get covered include the importance of social media to Dr. Woo's interest in art, his plans for the future, an upcoming collab, and how he curated his new space. Read some excerpts from the interview below and head over to Union's site to read the full conversation with Dr. Woo. You can also read our interview with Dr. Woo from last year.
On his new space:
"I think this space was mostly that I didn't want it to be super elitist or over thought and contrived. It was just kind of "I'm going to get stuff that I like". It doesn't have to all follow a certain thing. I like a lot of industrial motifs and then modern and the mid century."
On how important social media has been to his tattooing:
"It definitely makes it available. Not necessarily getting tattooed but the information is so available about the work, the brand and the ideology of what this aesthetic is. I think its just accessible, everyone can see it. The net is wider. Even though I still feel the key following are people that really fuck with what I like and what I do is still very niche and it's not a representative of a big number."
On the future:
"This year I have a collab with converse coming out, that will be for the holidays, which is really cool. I've been pretty reluctant on collabing with a big commercial project but they have such a good team and converse is such a staple to my childhood. It is such a key part on a more historical scale, its more of a heritage brand which is cool."