Best Sports Highlights of the Week
Russell Westbrook continues on his meteoric rise and backboards were shattered.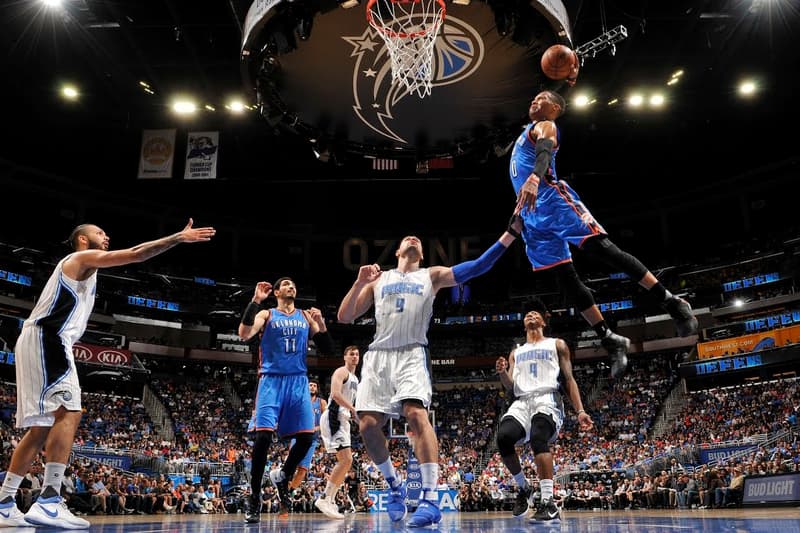 This week in the sports world, the hardwood continues to light up with some impressive records being broken… and literal backboards too. OKC's Russell Westbrook is still on his rampant road to perhaps becoming this year's MVP, having shattered another triple-double record. Speaking of MVP, James Harden became the first player to both score and assist on 2,000 points, while LeBron James surpassed Shaq on the all-time career scoring list. A couple of buzzer beaters and a backboard shattering rounded out this week's basketball achievements. In football, Brazil and Chile both stunned as they make their way through the World Cup Qualifiers. Make sure to check out some of the best sporting moments you might have missed during the past week below. Get ready to be inspired and amazed.
Russell Westbrook Shatters Another Triple-Double Record
Westbrook continues his dominant play this week having made NBA history yet again by recording the highest-scoring triple-double ever against the Orlando Magic. Westbrook scored 57 points, grabbed 13 rebounds, and dished out 11 assists during Oklahoma City's 114-106 overtime win against the Magic. He broke a record previously held by James Harden and Wilt Chamberlain, who both recorded 53-point efforts during a triple-double game. To top it all off, Magic fans were even shouting "MVP!"
LaVar Ball Playing Basketball Video Surfaces
Currently claiming the title as most loathed sports dads ever is LaVar Ball. Trying to expose his game… er lack there of, a video of LaVar playing ball was recently released, and boy is it funny. Check it out above.
Andri Ragettli Claims the World's First Quad Cork 1800 in Skiing
18-year-old Swiss skier Andri Ragettli completed the world's first quad cork 1800. Doing five rotations while simultaneously dipping his head under his body four times, Ragettli was able to land the trick unharmed at 35 meters above ground, adding a great accomplishment to his roster.
Alexis Sanchez Scores a Free-Kick Beauty Against Venezuela
After losing to Argentina last week, Chile got its 2018 World Cup campaign back on track with a 3-1 win over Venezuela. The biggest moment of the game was Arsenal forward Alexis Sanchez's unstoppable free-kick into the top corner of the net, helping to break the deadlock.
LeBron James Passes Shaquille O'Neal for 7th on NBA's Career Scoring List
Cleveland Cavaliers superstar LeBron James passed Shaquille O'Neal for seventh place on the NBA's career scoring list during Thursday's game against the Chicago Bulls. Have bagged 28,573 points in 14 seasons with Cleveland and Miami, James only needed 23 points to surpass Shaq. Dallas' Dirk Nowitzki is currently sixth with 30,181 points.
Hassan Whiteside's Buzzer Beater Win
On Tuesday night, the Miami Heat took until the final moments of the game to beat the Detroit Pistons with a killer buzzer-beater tip-in by Hassan Whiteside. With just seconds left in the fourth quarter, James Johnson missed a shot with six seconds to go, and the Heat grabbed the rebound. With a failed try from Goran Dragic, Whiteside's magic moment came.
James Harden Becomes the 1st Player in NBA History to Both Score and Assist on 2,000 Points
Houston Rockets guard James Harden earned a special place in NBA history during Tuesday night's match up against the Golden State Warriors. With his skilled playmaking, Harden assisted on his 2,000th point this season, making him the first NBA player ever to score 2,000 points and assist on 2,000 more.
Philippe Coutinho & Neymar Score Stunners as Brazil Beat Paraguay
As one of the favorites to win 2018 World Cup, Brazil beat out Paraguay 3-0 during the South American qualifiers. Liverpool's Coutinho scored the opener, followed by Neymar's stunning solo goal. Rounding out the third was Real Madrid's Marcelo.
Kentucky vs. North Carolina's Crazy Back-and-Fourth Game
An incredible South Regional Championship in Memphis saw Kentucky and North Carolina going back-and-forth all afternoon long. It wasn't until Luke Maye's jumper with 0.3 seconds left that the top-seeded North Carolina held off Kentucky 75-73 to earn the Tar Heels' second straight trip to the Final Four and 20th all-time.
Bastian Schweinsteiger Gets Asked If He Can Lead the Chicago Fire to the World Cup
In a recent press conference for his latest MLS team the Chicago Fire, 2014 World Cup Champion Bastian Schweinsteiger was asked if he believes he can lead his new club to World Cup victory. The confusion is priceless.
High Schooler Gabriel Hubbard Shatters Backboard With Vicious Dunk
Gabe Hubbard, a senior guard at Hamilton High School in Los Angeles, viciously shattered the backboard during a practice dunk. Watch the dude as he completely destroys the backboard.
Hawks Fan Throws Down Crazy Trampoline Dunk
During the Nets vs Hawks game in Atlanta, a crazy fan threw down some impressive moves. Coming out of the stands, he pulled off an impressive trampoline dunk right in front of everyone. The Hawks ended up losing to the Nets 107-92, but this fan was the definite winner of the night.