Karl Lagerfeld Literally Launched a Rocket at Chanel's Fall/Winter 2017 Show
"I'm a rocket man, rocket man burning out his fuse up here alone."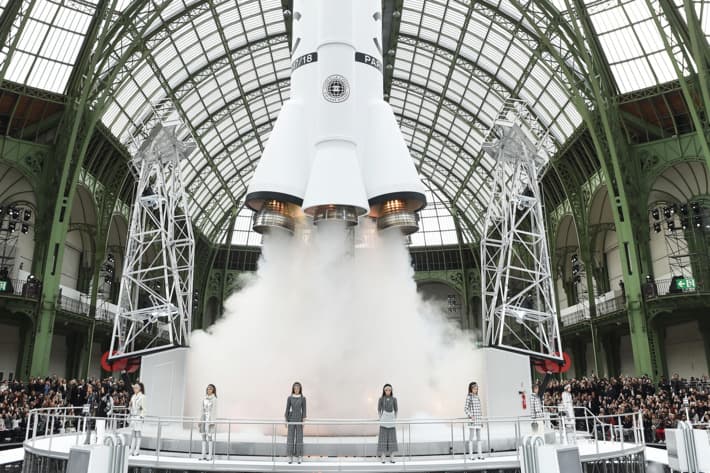 Karl Lagerfeld is no stranger to lavish, elaborate set designs. In years past, for example, the eccentric creative has staged his fashion shows inside of a grocery store and presented a resort collection in Cuba. For his latest trick, Lagerfeld went one step further, turning the runway into an elaborate approximation of a space program, complete with a rocket that launched during the show's finale. The launch was accompanied by a soundtrack of Elton John's "Rocket Man" and a prerequisite hashtag, #ChanelGroundControl. The set design complemented a collection inspired by outer space: dresses were built of metallic spacesuit material, while models' sported elaborately coiffed hair—think Jane Fonda in Barbarella.
Chanel's show is just the latest in a line of shows and presentations inspired by the ideas of space exploration and travel—Yohji Yamamoto's Y-3 imprint recently completed a capsule built for Virgin Galactic passengers. Meanwhile, art fans might note the Ground Control presentation's similarities to contemporary artist and bricoleur Tom Sachs' Space Program performances.
What do you make of Lagerfeld's out of this world set design? Sound off in the comments below.