Y-3 Is Developing the First Ever Apparel Collection for Space Travel
Inside the collaboration with Virgin Galactic at the highly secret SPACEPORT America.
Virgin Galactic, the brainchild project of Sir Richard Branson and his Virgin corporation of travel, is set to give the "general public" the opportunity to do the impossible — travel to space. With the help of the vessel combination that would propel its occupants up into the outer atmosphere, VG are prepped to provide dream experiences that include the grueling separated ascension, an absolutely breathtaking view of Earth that very few have ever seen, true zero gravity weightlessness and a re-entry procedure akin to that you see in heroic sci-fi films.
Such a journey would thus require the expertise, technology, science and precision in equipment, manufacturing and implementation before a project of this magnitude could be endeavored. Virgin Galactic's engineers and technicians took hold of the vehicle hardware, while the apparel and garment technology for the passengers and pilots is to be developed by a seemingly surprising third party supplier: adidas' associated Y-3 by Yohji Yamamoto.
Having an activewear/sports-oriented apparel brand like Y-3 at the helm spoke volumes of what would be needed for such a journey, and they, alongside Virgin Galactic, seemingly had a lot to tell. Therefore, we were given an exclusive invitation to the unveiling of their collaborative project, its progress, a secret behind-the-curtains look at Virgin Galactic's never-before-seen SPACEPORT where the extraordinary WhiteKnightTwo and SpaceShipTwo were housed, and a garment sample walkthrough necessary for what is considered the first stepping stones to true, accessible space travel.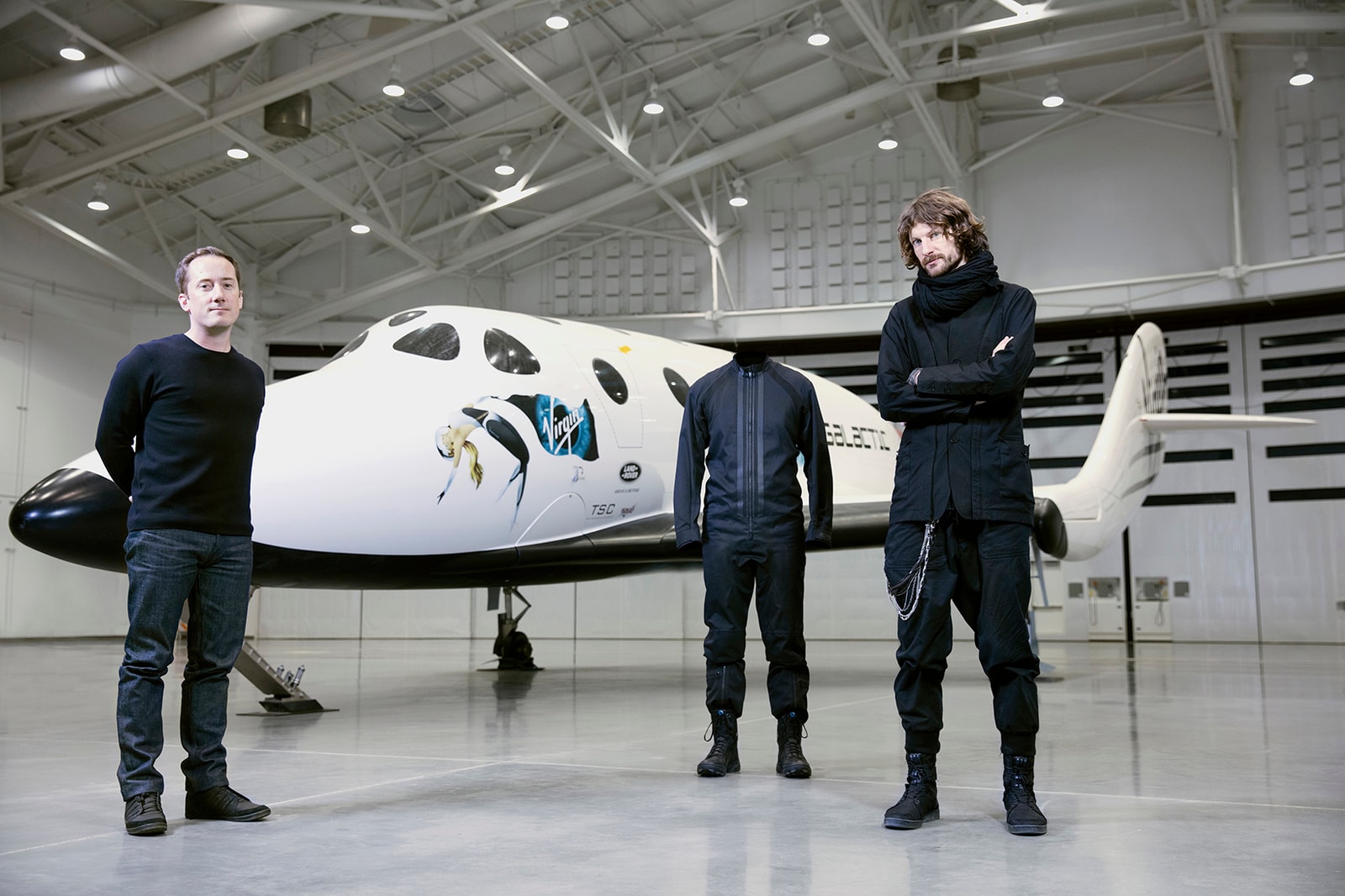 On the morning of the unveiling, us very select members of press congregated in a remote airport in the Mojave desert, where security and cautionary regulations had already run its course of action before even arriving. A small presentation introduced the project to the press members before meeting with the chief designer for Virgin Galactic Adam Wells, the chief pilot Dave Mackay, along with chief members of both Virgin Galactic and Y-3. A quick walkthrough of the development area gave us a first look at WhiteKnightTwo — a supplemental, dual fuselage aircraft that carries its center-mounted vessel SpaceShipTwo into space. A simulator provided insight into how the vessel is actually set to launch its passengers upward; basically, WhiteKnightTwo flies itself and SpaceShipTwo into the outer atmosphere where SpaceShipTwo is then unmounted and fired upward into space, where it then lingers and provides the experience of zero gravity for roughly four minutes and is then returned to Earth via a traditional aircraft landing. From Mojave, the second leg of the journey began with a private charter flight that would ultimately bring us to SPACEPORT America, the future starting point for commercial space travel that's located in a highly secure and very distant location deep within New Mexico.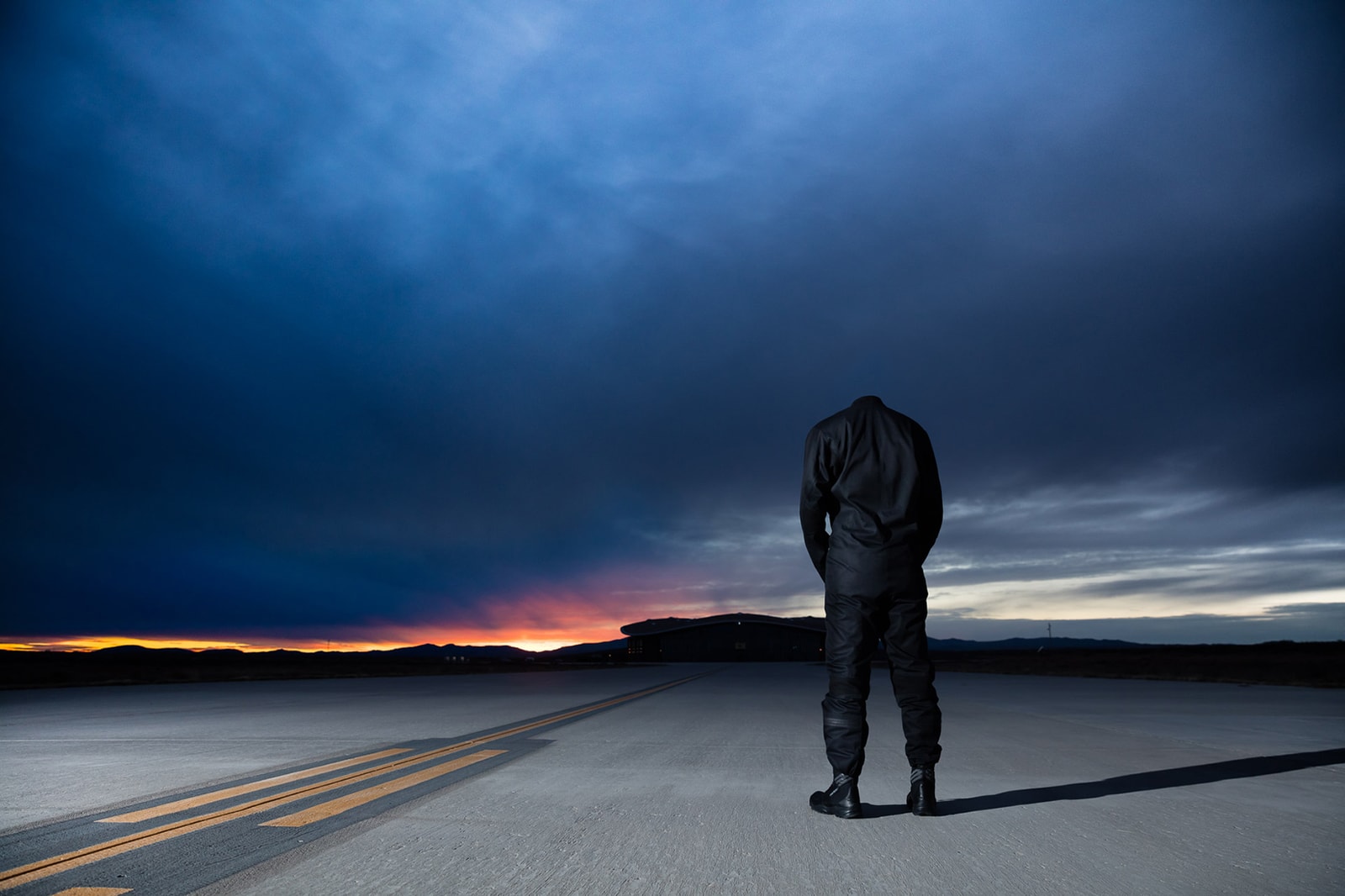 Once landed, security measures were again taken into consideration and we were ushered via private escort vehicles to SPACEPORT America. Housed in a facility that resembled more of a hidden bunker from the front entrance and expands to a three-story large hangar towards the rear, the Virgin Galactic team took us into the facility through a small entrance, where we were finally able to get our first glimpses of the project — a replicated 1:1 mock-up of the SpaceShipTwo in the lower hangar, a prototypical pair of flight boots that would be worn by the seven pilots including Dave Mackay, and in-development samples of the pilots' flight suits, the latter two of which are designed by Y-3.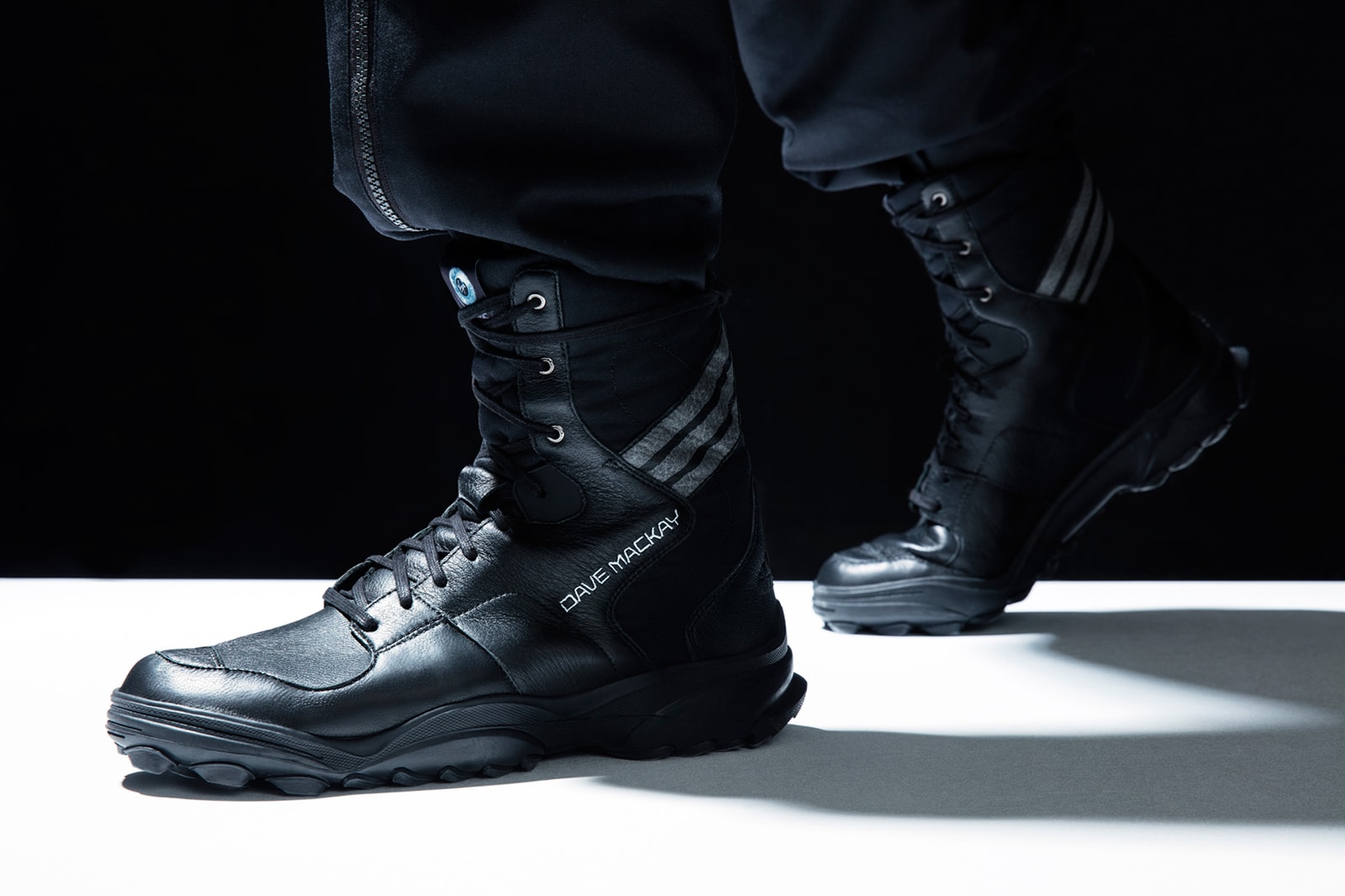 Upon first look the all-black flight boots look simply technical and utilitarian to a pilot but once examined closer, small details that catered to both flight and a bit of style presented itself. The calf-high boot utilized a mixed palette of leather, rubber and synthetic fibers that as a whole almost resembled gear for a snowboarder or athletic hiker. The outer TRAXION™ sole was incredibly rugged — sharp lugs protruded at multiple angles that looked as if it were meant for walking on the moon, while the leather accenting and rubber around the toe box felt familiar and very terrestrial. The interior was lined with NOMEX, a synthetic fiber found in racing suits that carried both lightweight, breathable attributes along with a fire resistant quality for safety. Styling-wise, the pilot's name is embroidered along the laterals in a contrasting white, while a black-on-black Y-3 embroidery was also found at the lower heels in bold font, and adidas' iconic three stripes wrapped the rear in what appeared to be a reflective material. All in all, the boot as a whole is not something you'd find in the streets of SoHo, but looked and felt stylish and highly advanced simultaneously.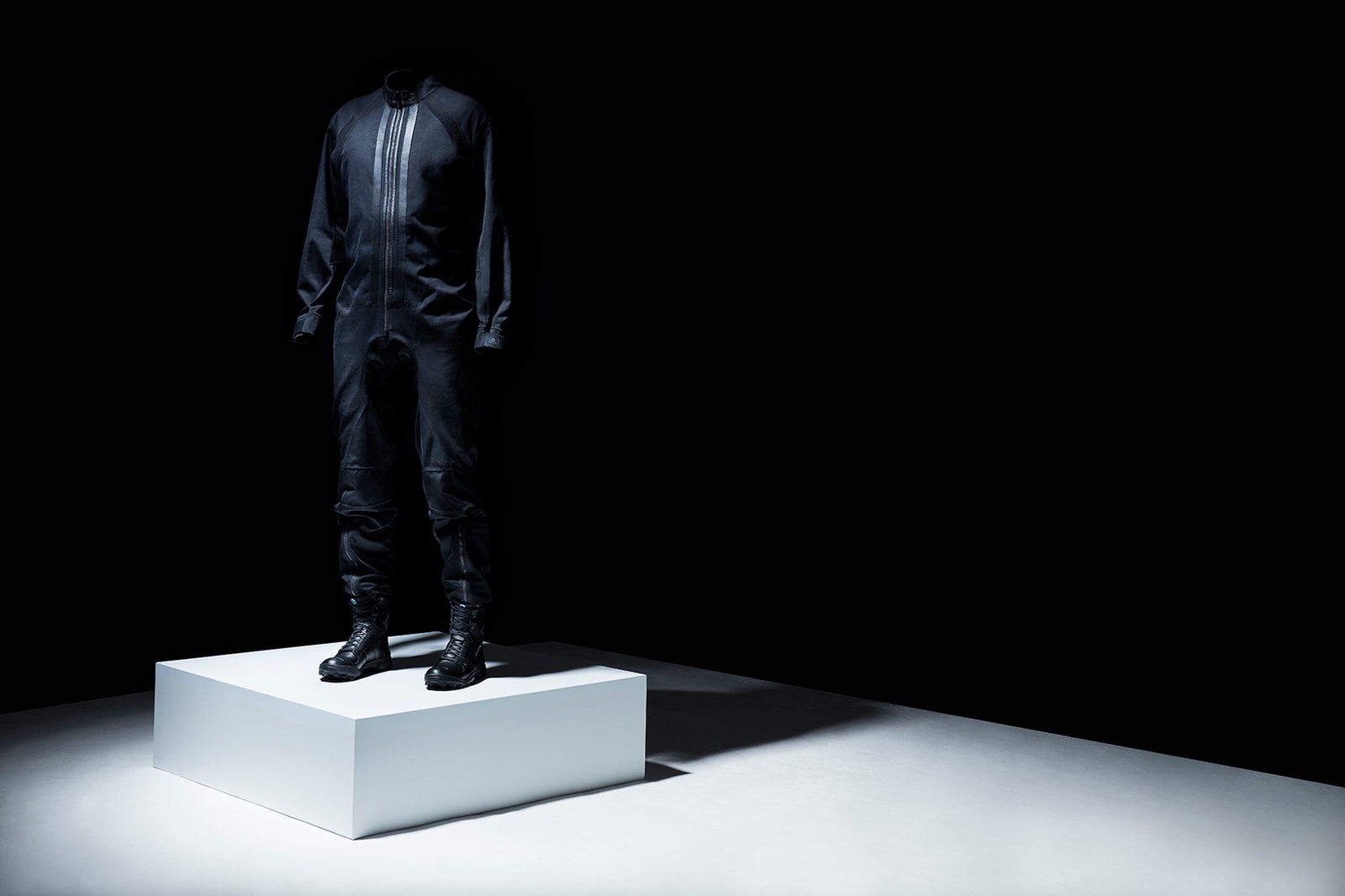 After the boot, we were then presented with the flight suits which, in contrast to the boots, gave off a sense of science fiction. Departing from the white, bulky space suits synonymous with NASA and space travel both past and present, the Y-3 x Virgin Galactic flight suits were slim, synthetic one-piece garments that were reminiscent more of a wetsuit than one fit for space. Each garment is custom made for each pilot that would be responsible for its mission to space, and are thus measured to the exact measurements of each for the best fit possible. The sample prototypes were hung and presented to show a natural progression of the as-of-yet-unfinalized design for the pilot flight suits — one of which was traditionally stitched, another with stitching and taped seams (much like a waterproof shell's interior), and even one with seamless, bonded panels that was both impossibly smooth to the eye and touch. Each suit also showed different detail attributes such as pocket placement, zipper access, flaps, velcro cinch points and more, some of which were more optimal than others.
Once granted closer inspection, extremely subtle Y-3 styling cues were discovered — adidas' three stripes hidden as the cuff's velcro fitment, contrasting fabrics along high-action flex points behind the knee and at the armpits, and the all-black-everything overall aesthetic with even the taped seams almost invisible unless viewed at an angle against the light. When asked why the suits took on such a dark departure from the traditional white arrangement found in space travel garments, Lawrence Midwood — senior director of Y-3 — remarked that the suit needed to possess the qualities of a "hero" figure, one to whom the passengers could look up to and rely on; the suit did so almost immediately to all members in the room once announced. While the attendees were not able to try on the suit for obvious reasons, an overall feeling of lightweight and durability could be sensed, as well as a overall aura of security — conditions the suit needed to convey and had done so successfully, even in its present early stage.
The experience of witnessing humanity's evolution of travel, one that would now include its first steps towards the infinite, was breathtaking to say the least. Having every detail looked over and painstakingly "scienced" to bring those steps forward is truly remarkable, and it's amazing to have a brand like Y-3 at the forefront of such a technological advancement. Coming from its roots at adidas and seeing the advancements Y-3 has made with its footwear and activewear, the "seemingly obvious" next step would be the progression of these products made to perform at heights we've yet to reach. While many may overlook the simplicity of the garment as compared to the complexity of the vessel hardware involved, the science behind every stitch and panel of clothing was made abundantly apparent and is not to be looked down upon — its hard to imagine any other brand than Y-3 that could pull off such a project and it's very exciting to see what's possible for space travel, and thus space apparel, in the very near future.