'More Life' Is the Best Mess Drake Has Ever Made
The playlist stands as a glorious mish-mash of the artist's inspirations.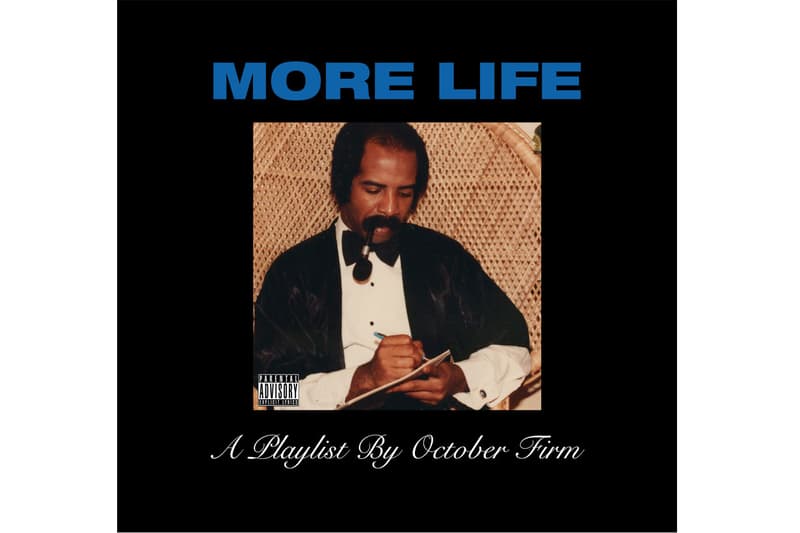 Spring is the season of reincarnation: ice melts, flowers bloom, warmth returns and with it, so does life.
It makes sense, then, that Drake would deign it appropriate to drop More Life just two days before the start of spring. As a project, More Life is all over the place: formally and sonically ambitious, schizophrenically sequenced. Formally, it is innovative and sprawling. Creatively, it's a bit of a mess.
Drake is a master of the loosie. His remix of iLoveMakonnen's "Tuesday" gave the Atlanta croon-rapper's career an inimitable boost; his SoundCloud single-turned-James Blake remix "0 to 100/The Catch Up" was nominated for a Grammy and then there's the titanic success of "Hotline Bling"; a song that, despite its radio-friendliness, was largely ignored in the wake of the final nail being slammed into Meek Mill's coffin.
More Life is another formal left turn in that it's not an album. Hell, it's not even a mixtape, like If You're Reading This It's Too Late. Instead, More Life is a playlist, meant to soundtrack the listener's life and times. It's also an uncanny business strategy — playlists were recently made eligible for the Billboard Top 100 chart, after all. This formal noodling does double-duty in measuring expectations (how exactly does one review a mixtape?), while also giving the Canadian some much-needed artistic license and curatorial breathing room.
Over the past year, many have lampooned and mocked creatives like YesJulz and their ilk for describing their job as "directing vibes." With this project, Drake finds himself in executive control of a vibe and he takes his duties here very seriously. Many of the playlist's best moments are when Drake himself is notably absent: "Skepta Interlude" is a return to form for the grime emcee, a "Shutdown" redux that makes a more compelling case for the genre than the majority of Konnichiwa did; "Jorja Interlude" puts the soulful British chanteuse at center-stage. If anything, Jorja should've been given a leading role on "Get It Together" as well. Nowhere is the OVO general's curatorial savvy on better display than on "4422," a heart-rending mantra by a solo Sampha, without so much as a bar from Heartbreak Drake.
For a rapper who once boasted that every song on the radio sounded like "Drake featuring Drake," Aubrey Graham makes a strong case for himself learning from his peers and contemporaries. Other artists drop by More Life to lend their services, to varying degrees of success. Quavo and 2 Chainz, for example, continue to make a serious case for Atlanta as rap's new bonafide capital. Meanwhile, Young Thug's vocal performance on "Ice Melts" channels Wyclef Jean and could've lived just as well on the Atlanta rapper's JEFFERY project. With its recorder-heavy beat and a left-turn when Travis Scott enters, "Portland" is practically a paint-by-numbers banger in 2017. While Drake's infatuation with grime and UK music has been a boon for both parties, when UK rapper Giggs drops in, it's usually to deliver room-clearing punchlines in his tired-and-true "Whippin Excursion" flow. Giggs' contributions are so take-it-or-leave-it that it makes one wonder whether all the back-chat about Drake pinching flows from rap's resident problem child XXXtentacion may have been a waste of words. After all was said and done and the dust settled around the think pieces, "KMT" lands with a loud thud. The Kanye West collab, "Glow," errs much closer to West's oeuvre than Drake's own, and it's all the better for it. We can only hope that the two put their political differences aside and make more music going forward.
There are plenty of Drake album tropes that are so predictable at this point that you could set your watch by them: voicemail interludes from friends and family, collaborators and co-conspirators like Lil Wayne, Baka and UK phenom Dave. Drake's mother, Sandi Graham, even stops by to lecture Drake on the edge that has crept into his voice as of late and to offer a wizened word of advice: "When others go low, we go high." There are myriad references to celebrities, pop culture, dates and places: January 21 and February 10; 21 Savage dropping by Kendall Jenner's 21st birthday party in the Hidden Hills. Serena Williams's engagement to Reddit co-founder Alexis Ohanian seems to have gotten under Graham's skin, as it plays a crucial part on "Nothings Into Somethings." The very next track, "Teenage Fever," continues Drizzy's musical love affair with Jennifer Lopez, interpolating Jenny from the Block's "If You Had My Love," to chilling effect. Despite all this, More Life manages to somehow come across less petty than VIEWS.
More Life is, if anything, more paranoid than its predecessor: instead of rifling through girls' bags while they're in the bathroom, Drizzy hears clicks on his phone-lines. Despite this, Drake's bars are Instagram-caption ready. In many ways, Drake makes music like a student on their semester abroad, code-switching and sampling from various exotic locales and islands. If VIEWS was a love letter to Toronto; More Life is Drake's passport, laid open with all of its stamps on display. Many of the stamps overlap—Drake is a traveled man, after all—and the end result is sprawling to the point of being bloated. There is plenty to love and plenty to leave, as there was with Views, but More Life benefits from its formal novelty. It's not an album, not yet a mixtape, but it is very much a Drake Project, complete with all of the international sounds, collaborators, and flaws we've come to know and expect from Drake.