Here Are 12 Waist Packs That'll Complete Your Look
From Supreme x Louis Vuitton to BAPE x PORTER, which one would you add to your wardrobe?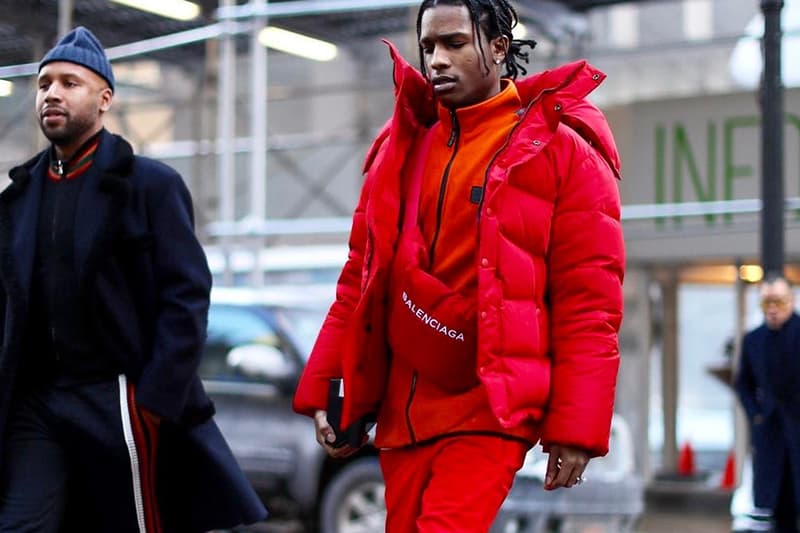 We've all at some point over the past few years come across articles/trend reports preaching the sartorial relevance of the so-called fanny pack. While many cringed at the mere sight of its return, others turned a blind eye realizing the inevitable full court press the high fashion world would take in trying to restore the item to its once former glory. At some point though, something has to give. Something grand enough to warrant the due attention many feel it now deserves.
A practical accessory that rose to prominence in the mid '80s, the man pouch proved essential for the traveling tourist and avid outdoorsman — effectively storing belongings while allowing them to move about handsfree. Up until that point "manny" packs served a functional role, though, carried no weight stylistically — be it in any fashionable genre. At the turn of the early 90s, the nifty strap holder emerged within the urban community as was styled alongside a stream of sportswear staples — think head-to-toe Nike tracksuits for one. Although generating enough noise to warrant a second and third look, it proved not nearly strong enough for a full-fledged return. Fanny packs surfaced once again in the mid 2000s with such brands as The North Face and Nike pushing its agenda, not to mention the unmistakable Gucci monogram pouch that reverberated within the streetwear arena. Again, taken with a grain of salt.
Which brings us up to speed with the present. Still a hallmark for its practicality, such carryalls can handily store all handheld essentials, from keys, cigarettes and money, not to mention items like smartphones, cables, chargers and really everything else that keep us Instagram ready. However, its recent push stylistically is what have most perplexed — declaring what the fashion world at large really thinks of this once ridiculed piece. For possibly the first time in fashion's storied history, designers and brands in the realms of streetwear, activewear, high street and luxury all seem to stand in unison in reference to this man pack.
For an alternate look, check out the clip below of none other than Travis Scott clowning around in one of Heron Preston's creations.
With the curious consumer in mind, we thought to construct a list highlighting some key styles from some of the industry's most relevant tastemakers. From the traditional waist strap iterations to more contemporary cross-body styles, let's take a closer look at some specific models for your consideration hitting a wide spectrum of price points along the way.
A-COLD-WALL* Utility Holster
1 of 2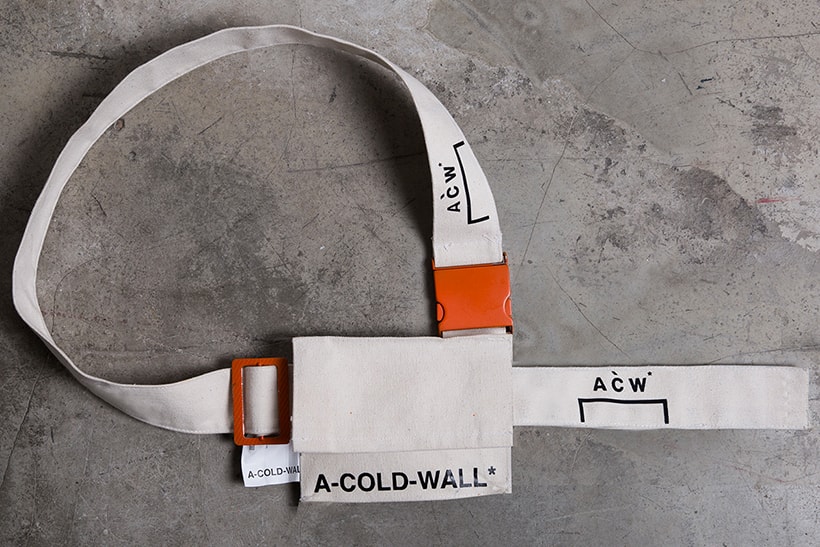 2 of 2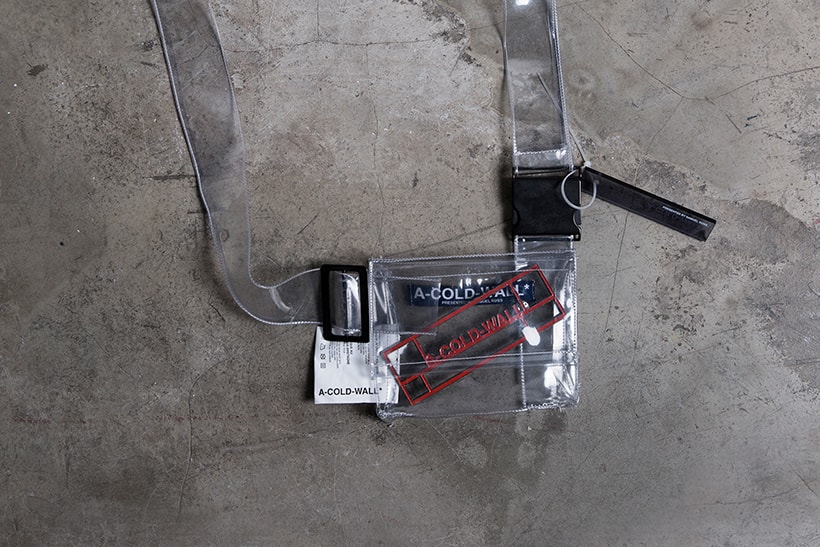 Since first breaking out onto the scene just a few short years ago, Samuel Ross and his nascent A-COLD-WALL* label have done well to attract attention as it ever-so steadily climbs up the streetwear ranks. Hitting the runways of London Fashion Week, a creative take on a cross-body holster model was revealed in various off-white canvas iterations as was a clear acetate version. Equipped with steel fastening hardware, each is further enhanced by the logo branding found on the pouch and strap.
Price: $157 USD
4DIMENSION® Shoulder Bag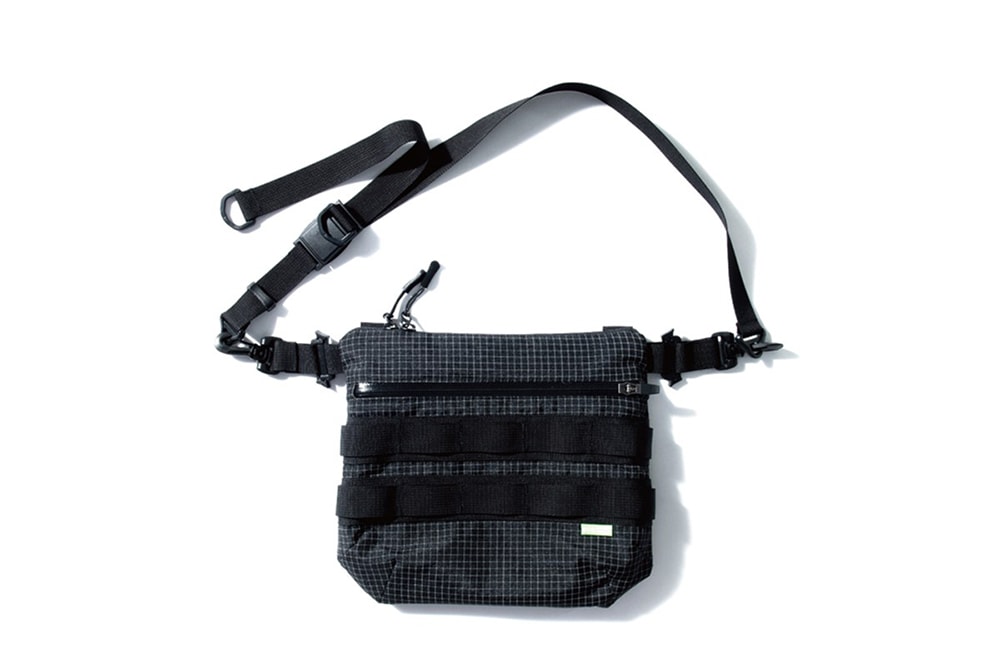 Joining forces to create 4D-ML, 4DIMENSION® and DeMarcoLab look ahead to the spring/summer season with a street ready capsule collection bridging together technical outerwear alongside athletic wear staples. The duo also pay homage to these carry packs designing a reflective shoulder bag model. Fashioned from a DWR water-repellent/ripstop construction, the pouch features a Duraflex® detachable buckle clip, high density webbing and two main compartments with one hidden at the back.
Price: $195 USD
BAPE

x PORTER Camo Waist Bag
1 of 2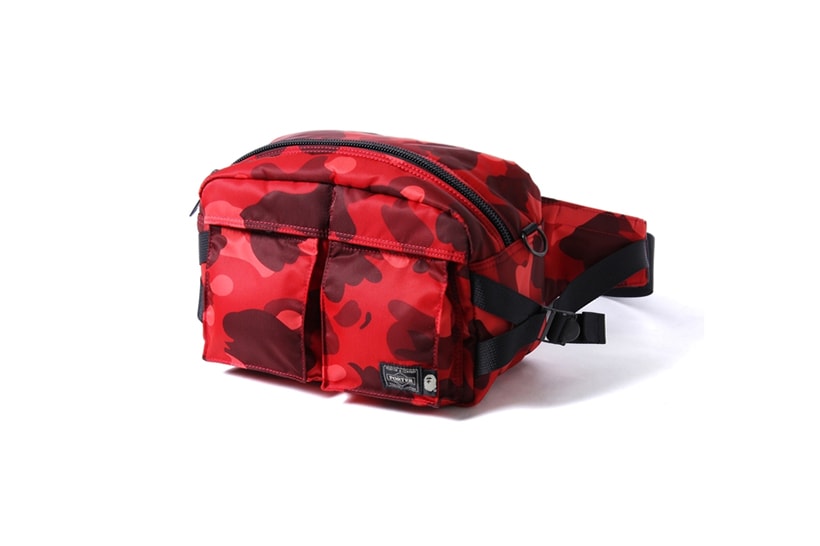 2 of 2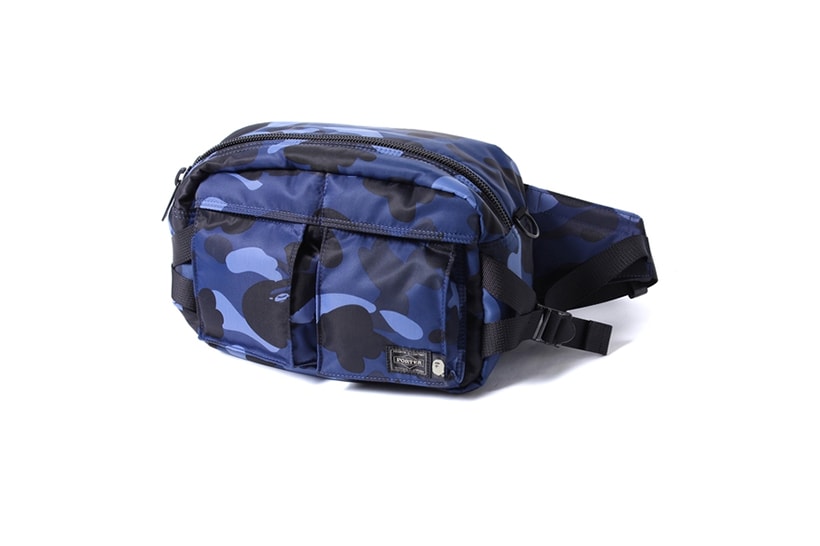 Adorned in tonal red and blue camo prints, BAPE and PORTER once again link up to create a range of luggage staples. The bumbag designs feature adjustable straps, a functional buckle fastener, a central zip compartment on the top with two smaller pocket-style sleeves housed on the frontside.
Price: &175 USD
NEIGHBORHOOD Mil-Wb / N-Waist Bag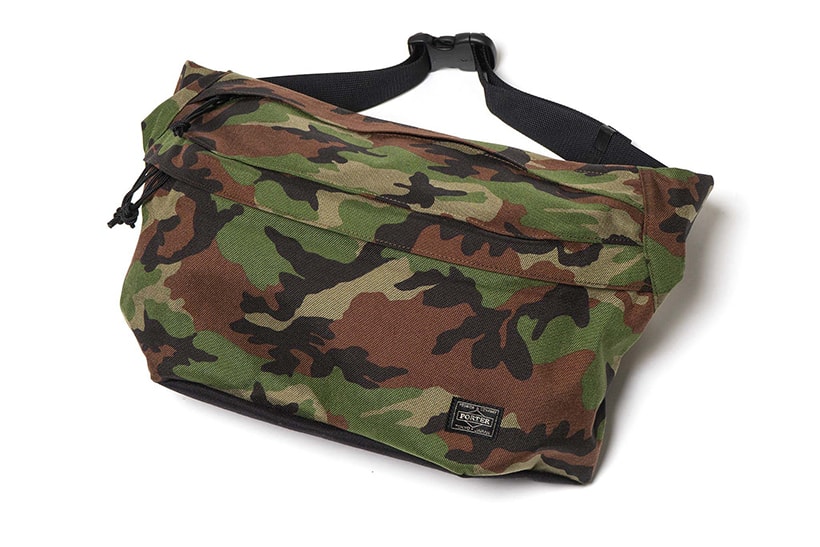 Enlisting the industry expertise of none other than PORTER, NEIGHBORHOOD release the Mil-Wb / N-Waist Woodland Camo bag in part of its most recent accessories range. Constructed from durable nylon, the carrying pouch features a buckle fastened carrying strap, a main zippered compartment and a front facing pocket.
Price: $254 USD
PEEL&LIFT Pocket Apron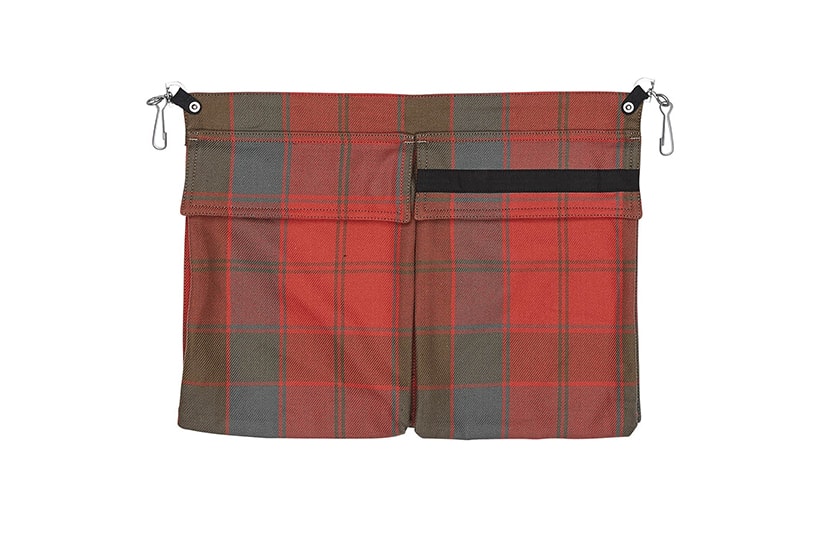 Designer Takeshi Hosoya and his punk-inspired PEEL&LIFT label offer up its own take on the trending bumbag with the Pocket Apron. Fashioned from 100 percent cotton, the red-tinged tartan-printed accessory features a pair of frontside pockets and a metallic hook used to clip on to straps, belts and other sturdy enclosures.
Price: $56 USD
F/CE No Seam Waist Bag
Part of its 2017 spring/summer collection, Japanese-based label F/CE have recently unveiled its DRY Line. More than just a clever name, all pieces in the seasonal range are completely waterproof and features AIR Texture Yarn, which has been twisted and woven intricately throughout. Crafted from a 500 Denier-coated CORDURA® Nylon fabric, items seamlessly tow the line between durable, lightweight and fashionable.
Price: $132 USD
HEAD PORTER x HAVEN Mil X-Pac New Waist Bag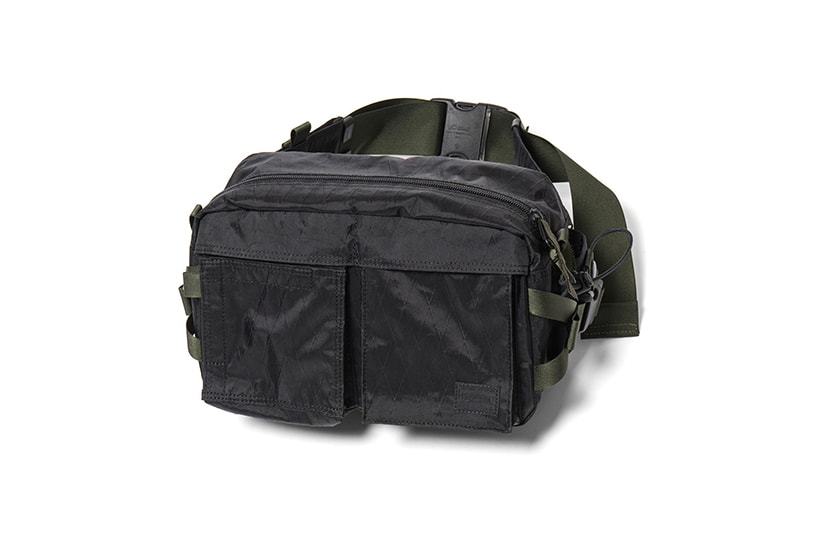 HAVEN alongside HEAD PORTER create a lightweight, abrasion resistant and water repellent pouch iteration fashioned from a durable laminated ripstop textile. Featuring a raised "X" pattern throughout, the main exterior sports a clean black colorway with contrasting olive-hued straps for an intended military-inspired appeal. Proving form in line with function, the bag can be worn around the waist or over the shoulder.
Price: $295 USD
MEANSWHILE

Waist Bag
1 of 3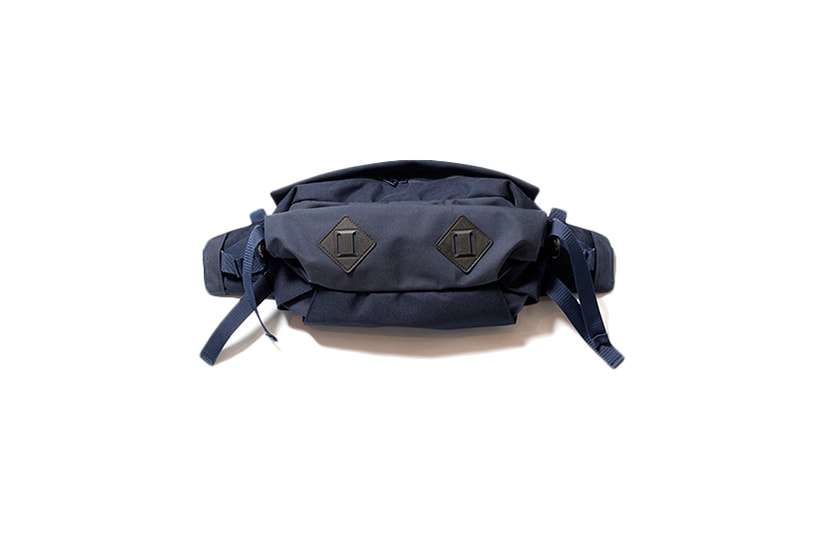 2 of 3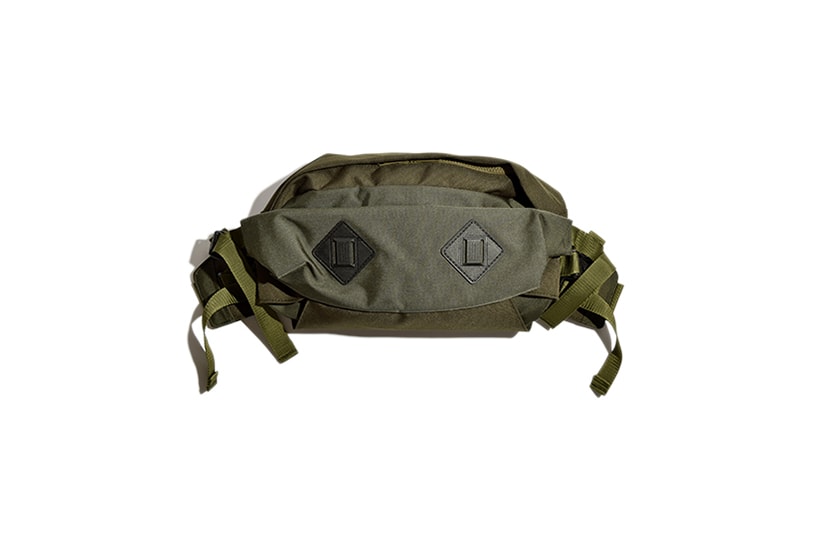 3 of 3
Renowned for creating utilitarian-style garments ideal for the great outdoors, Japanese-based brand MEANSWHILE designs a fanny pack bag in part of its "Outside" collection. Available in a myriad of colorway options, each pack is fashioned from a durable CORDURA® Nylon construction — perfect for standing up to all sorts of travel itineraries.
Price: $245 USD
OFF-WHITE C / O

VIRGIL

ABLOH

x PORTER Waist Bag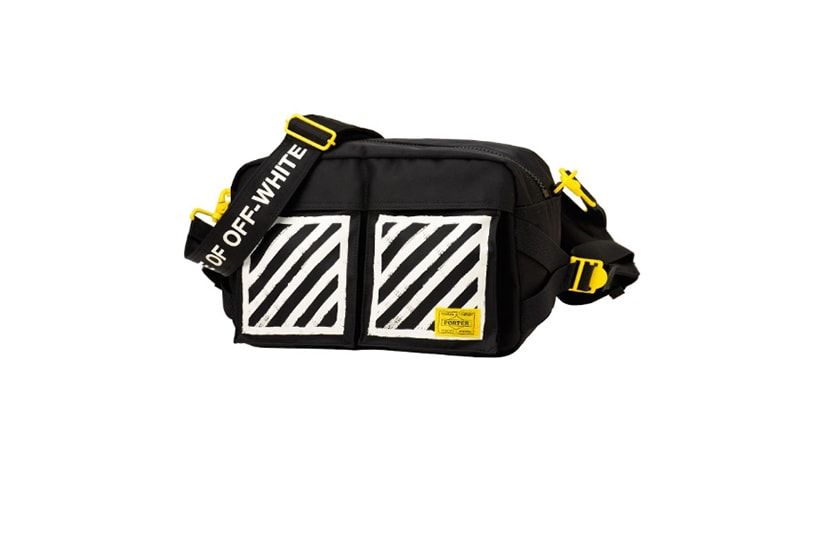 Yet another acclaimed designer to enlist the mastery of PORTER, is Virgil Abloh and his OFF-WHITE imprint. In part of PORTER's historic 80-year anniversary line up, the duo design a waist bag featuring dual branding on the front side, highlighting Abloh's "CARE OF OFF-WHITE" branding on the sleeve. The bag itself comes equipped with a central zipped compartment with two frontside pockets.
Price: $343 USD
UNDERCOVER Waist Bag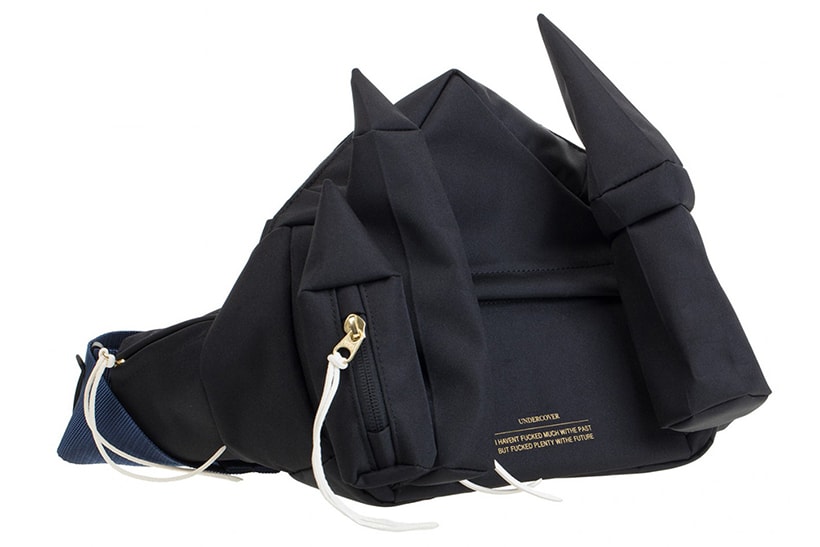 Above aesthetics and functional sensitivities, UNDERCOVER's castle shaped bumbag also pays tribute to the music world. Highlighted in gold-toned text is a quote from legendary singer-songwriter Patti Smith as an added stylistic feature. Crafted from a sturdy nylon construction, the pouch itself features several zipped compartments with a grosgrain belt fastening.
Price: $954 USD
Supreme x Louis

Vuitton

Waist Bag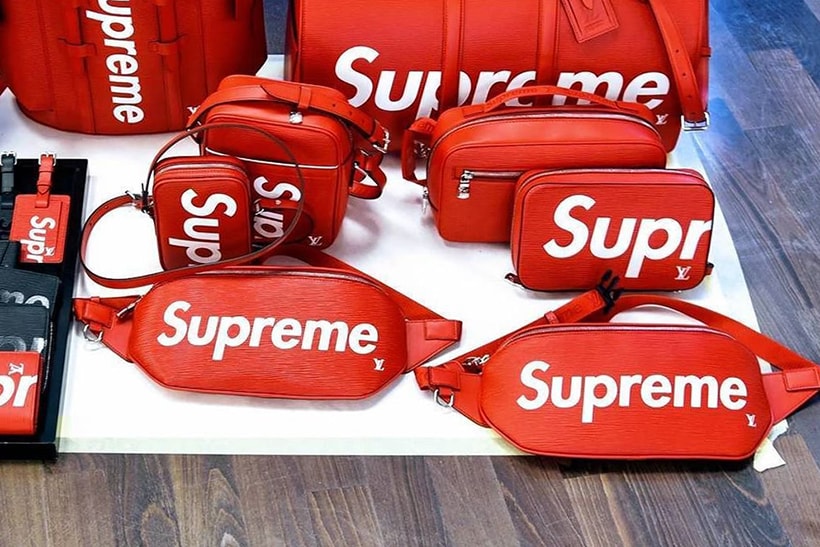 Creating quite the commotion earlier this year was the sight of acclaimed streetwear imprint Supreme and high fashion luxury house Louis Vuitton linking up on the runways of Paris Fashion Week. The heavy-hitting collaboration gave way to a wide assortment of designs — fanny pack pouches and all. As reported by Kim Jones himself via Instagram, a selection of bags from the collection can now be pre-ordered at various LV storefronts.
Price: $1,690 USD – $2,310 USD
What to Read Next
His debut 'NØTÇW' EP drops March 30 via Def Jam.
---
Not the first and most definitely not the last.
---
Four different ways to style the streetwear label's newest line.
---
---
It took more than 20 hours to make.
---
An homage to all things American with a vintage feel.
---
Watch the 'Nightcrawler' teaser here.
---
More ▾
Help us serve you better
We appreciate your support in allowing HYPEBEAST ads, where we can share contents from the latest fashion, to those culturally relevant. By adding HYPEBEAST to your ad blocker's whitelist, ads on our sites will show while you continue to browse.