A-COLD-WALL*'s Samuel Ross on the Role of Streetwear in the Age of Brexit & Trump
The fashion wunderkind comes to terms with his cynicism, black Britain, and the universal language of design in HYPEBEAST Magazine Issue 17.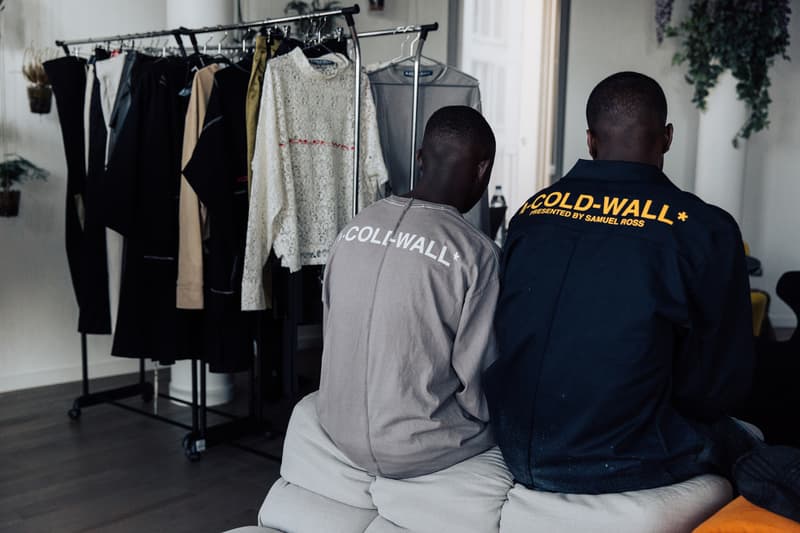 If there's one material which has defined A-COLD-WALL* founder Samuel Ross's life above all others, it is the exposed aggregate concrete that was poured and shaped in the inner cities and outer boroughs of Britain on a scale the world had never before seen, as part of an ambitious post-war project to house the burgeoning middle class. Embodying the naive utopianism of mid-century European modernism, these council estates would – only one generation later – have morphed into dens of crime, prostitution and poverty, towering eyesores that were a constant reminder of the spectacular failure of these experiments in social engineering. The very same concrete walls that their architects had envisioned as bastions of a new society had instead become barriers to progress, hemming its inhabitants into a downward spiral of addiction and powerlessness.
Hailing from a working-class family, the young Ross was all too familiar with the inner workings of these council estates. Their concrete walls bore witness to his induction as a young teen into the estate's gangs; his first forays into fashion at age 15, selling fake Nike and adidas clothing to friends; the founding of his first label, 2wnt4, with longtime collaborator Ace Harper; and later on, his career-launching stints at OFF-WHITE, Hood By Air and DONDA. When Ross's anomalous upward trajectory eventually culminated in the founding of A-COLD-WALL* in 2015, he would name his self-funded label as an homage to, and a reminder of the walls that he had long ago left far behind.
As much as Ross tackled issues of class divisions in his designs, A-COLD-WALL* transcended those barriers within the fashion establishment by presenting a wholly novel aesthetic that incorporated industrial materials such as PVC, tech nylon and deconstructed canvas within designs that faintly echoed of a hyper-Thatcherite dystopia. In creating a new discourse apart from the well-trodden Northern route of Three Striped tracksuits and Fred Perry polos, Ross brought a new post-industrial sensibility to menswear that resonated all the louder in the current age of austerity.
Thus, his creative vision was catapulted in a mere two years into the likes of Barneys New York, and to London Fashion Week Men's for his inaugural fashion show for the 2017 fall/winter season. But these latest milestones come at a particularly poignant period against the backdrop of Brexit and the rise of Trump, whose groundswell of nativist sentiment bubbled up from within the very same concrete walls that birthed Ross's transcendent aesthetic. To that end, his genre-bending designs play an invaluable role in razing traditional barriers in a world that finds itself increasingly vulnerable to the dangers of the categorizations of race, religion and culture.
In anticipation of the repercussions of these unprecedented political shifts, we reconnected with the 25-year-old designer following his fashion show on the newfound significance of education in combating ignorance, the resurgence of the design polymath, and why the term "streetwear" is obsolete.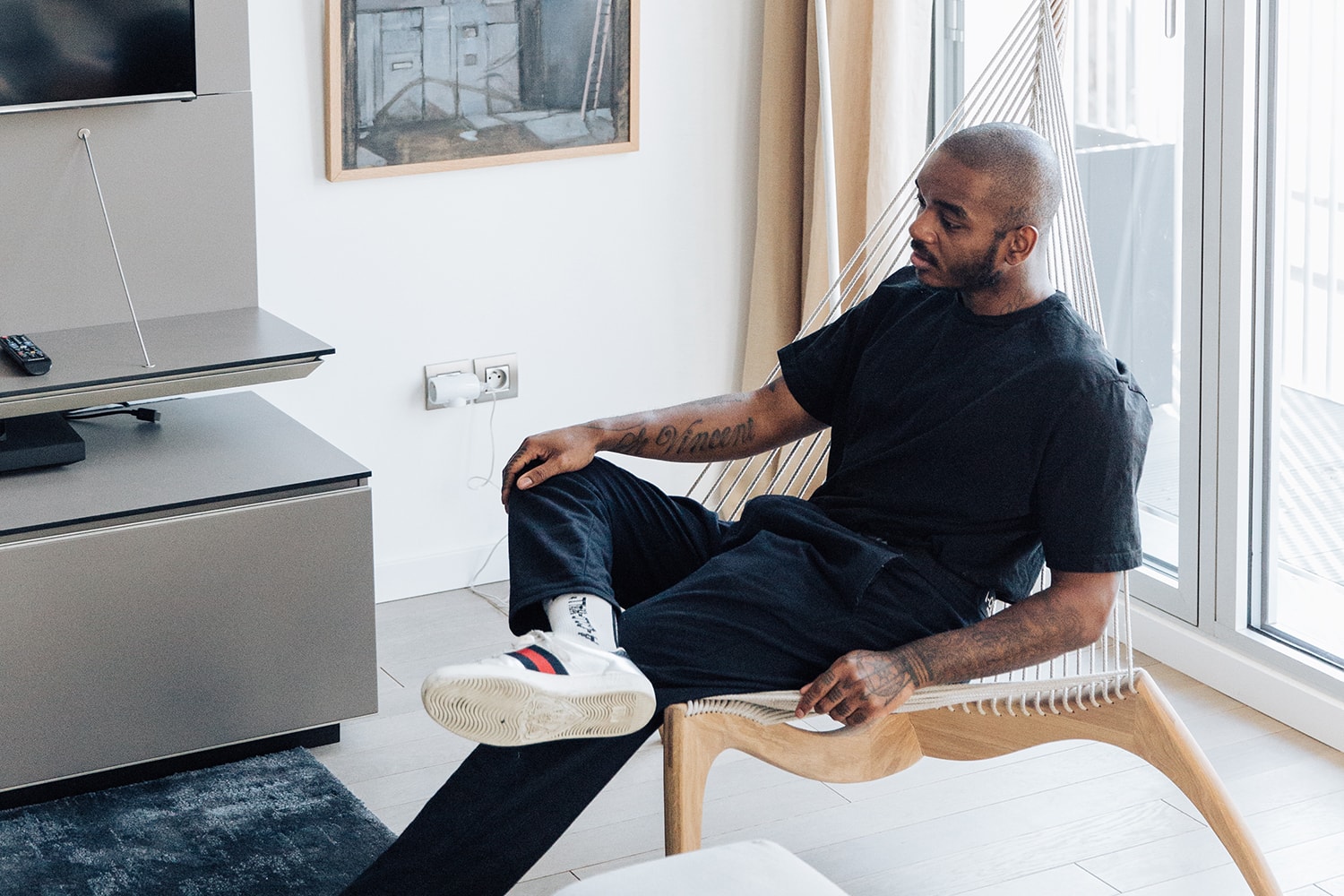 You've been traveling around quite a bit, right?
This year's just been manic. The window at Barneys was crazy but it kind of went over everyone's head because my stuff from A-COLD-WALL* is moving away from the initial kids, who don't really know the reverence of Barneys, but they know it's cool. It's a weird time where I'm really in between both worlds.
What I'm trying to do with A-COLD-WALL* is to slow time down a bit, so I'm posting way less, giving people more time, or forcing people to absorb one image for longer.
We're at an intersection where music, sports and streetwear are blending with high fashion, and it seems like A-COLD-WALL* is at the center of it all. How have you brought together different cultures and translated your experiences into design?
It has a lot to do with education. It's almost like a displacement of how black people are perceived and how classes and intellect are deemed to be quite separate as well. My dad studied at Central Saint Martins and got first-class honors. This was in the '80s, when a black guy doing that in the middle of nowhere itself is a rarity. He left with me an appreciation of art and education. My mum ended up being a sociology and psychology tutor and lecturer, but at the same time I grew up working class with no money. Because I didn't grow up learning about fashion in school, the only thing I knew was about art and education and the value of it. And those two things came into play ultimately to allow me to move across different fields.
Education is usually accessible and handed to the middle and upper classes who tend to lead the creative industries. So that's also the reason why [my] viewpoint hasn't been explained before, whereas it's been told from a white working class background in the case of Alexander McQueen. Right now, it's like a zeitgeist moment where grime is coming to the forefront. Visually, there's a physical phase of black Britain which allows me to explore the rise of grime globally, because without those grime artists and what they're doing, it would just be a random black kid in England with no community or an association of black people or any real representation. Music has a big part, as a parallel, even if I'm not a musician myself all round.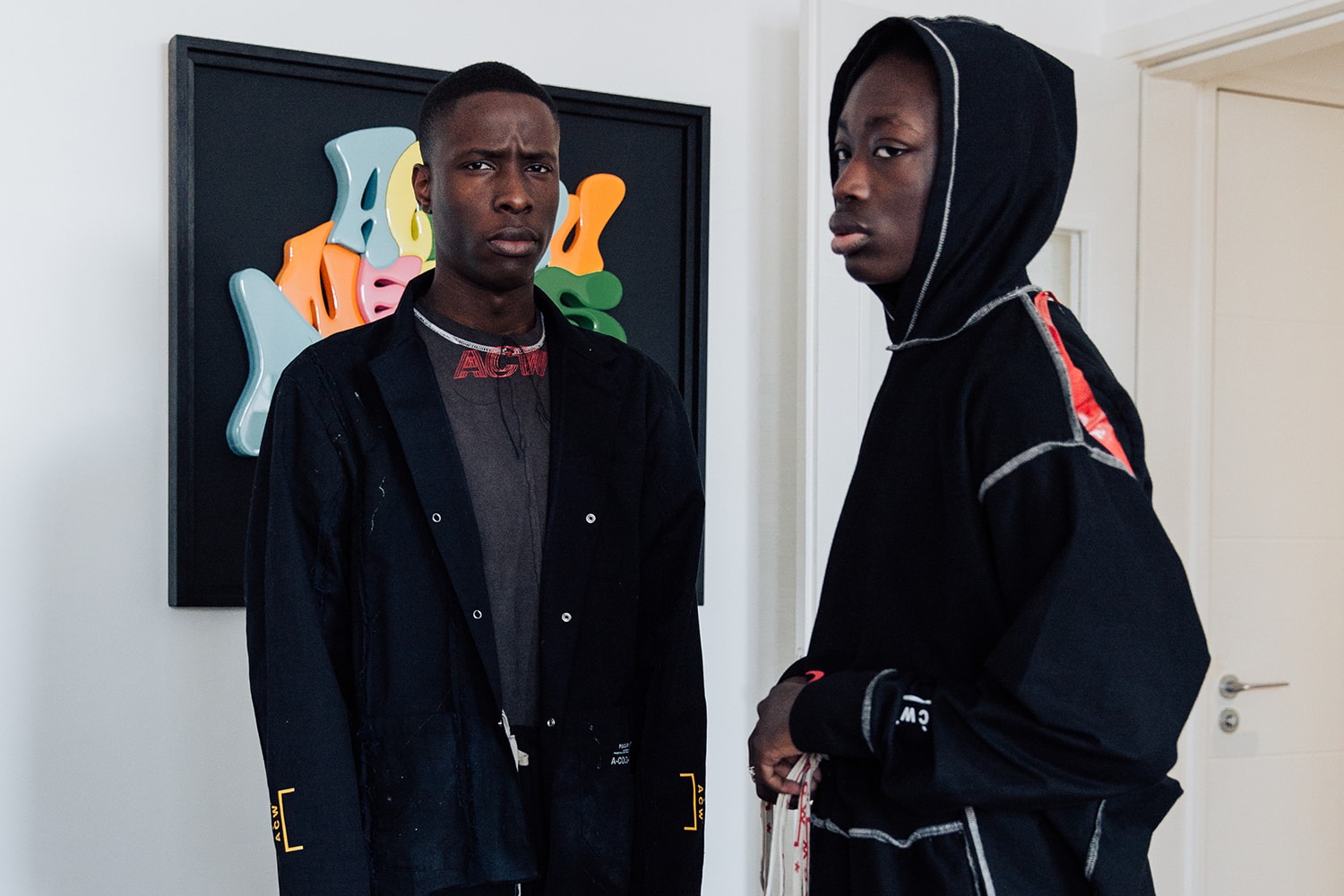 Everything in our culture is fusing together, but then at the same time we have Brexit and the rise of Trump which seems like two polar opposites. What are your thoughts on that?
Unfortunately Brexit was always a reality because I grew up outside of London in the same working class areas as the majority of Brexit voters. A great example is Wellingborough where I went to school, which had the second highest Brexit vote for a town in the United Kingdom. So these are realities that were already there that I was aware of. It's just a shame to know that it wasn't a cynicism that, in my own mind, that led to the ultimate decision in terms of it becoming a reality. Once again it comes down to the lack of education and lack of resources. For example, there wasn't a decent college in my town – there was a college that taught basic craftsmanship, but there wasn't a college you could go to to learn about psychology, sociology, performing arts. Through lack of education and a lack of reasons to be interested in that, ignorance just continues to circulate.
It's just like strange times we're living in.
It is, but you have to look at where these votes come from… There are all these melting pots that are hotbeds for new ideas and collaboration and cultures correlating, the good sides of one another. But if you leave any major city, there is no reason for there to be serious investment to educate or push people forward. The people who voted for Trump are middle America, who live in the middle of nowhere. That's the same as the people who voted for Brexit. These towns are all across the country and they're invisible because there's no investment being thrown at them, or industries have been stripped back.
Has any of that influenced you or your work in any way?
A lot of the cynicism and down-trodden war words of A-COLD-WALL* is based off these experiences of growing up in Brexit areas, pre-Brexit. I can think back to being 15 years old and getting my head getting kicked about by skinheads who were grown adults. Moments like that don't just go away – they leave a mark on what is to come in terms of my output. There's almost a sense of short-sightedness in my work because you really only have what's in front of you or you risk being absorbed.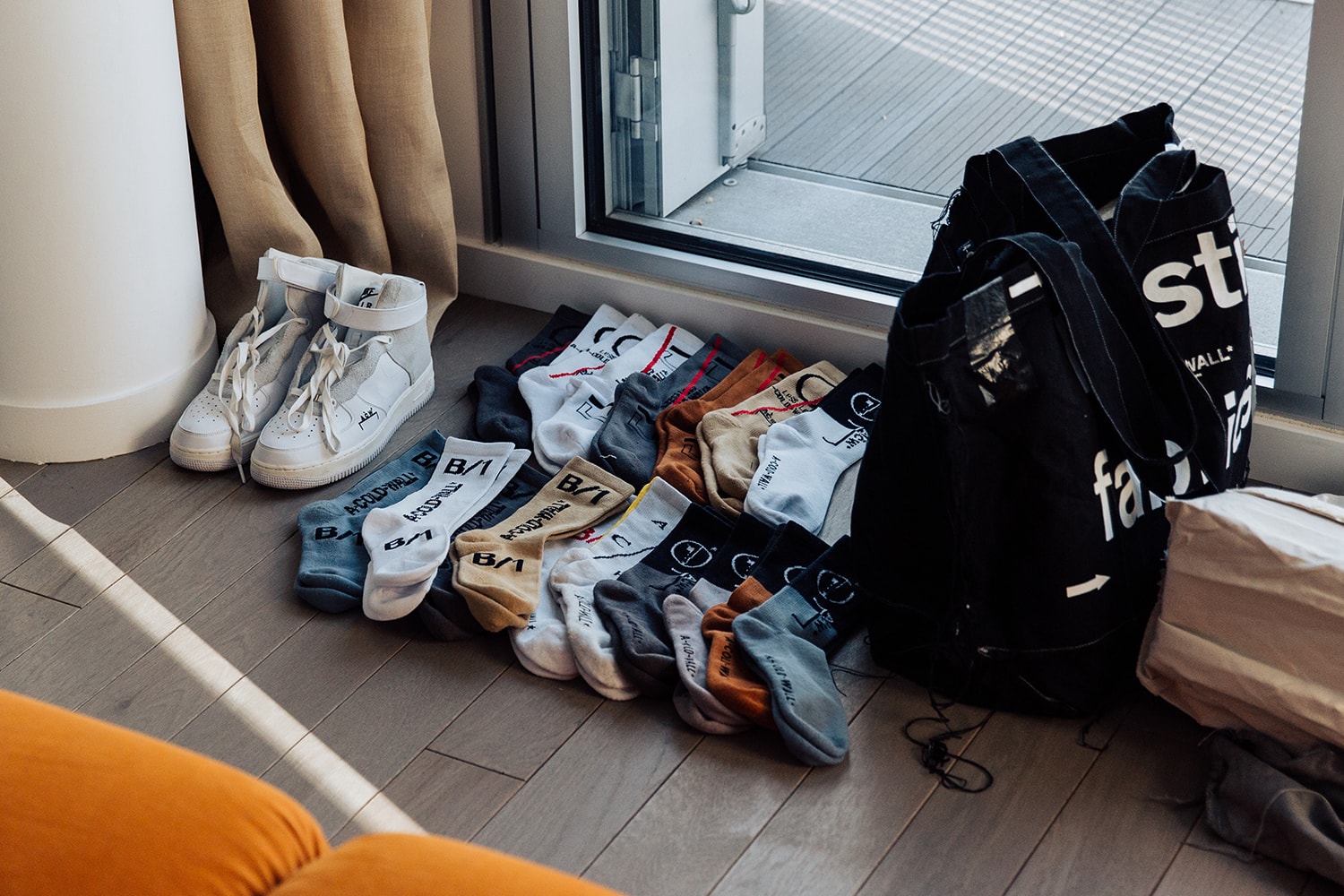 So you never expected to come to this point?
I remember being 20 and thinking, there's no great black artists or designers from England that I can name that have influenced me. None have risen to such a level that they can be quoted on the same level as McQueen or Massimo Vignelli or Wolff Olins. So in noticing that void, I decided that I'm going to hit that level myself. When I was working heavily for other brands and building great relationships, there maybe wasn't a place for me in that structure to reach the highest level. But, internally I knew that I was going to get to this point. It's like being on the bottom floor of a high rise building and you can't get to the penthouse, so instead you just take a ladder and put it on the side of the building rather than go through every single floor. The ladder can get kicked down, but you have to take the risk.
You took the risk, otherwise you'd never find out.
There's no investment in this, I literally flipped it on my own. All of this started from a one month T-shirt sale 19 months ago.
A lot of people don't understand that it takes a lot of work to get to this point.
I guess A-COLD-WALL* fits so perfectly with that story because it is an anomaly itself, in the way it's presented, the fabrics used, the installations, and my own story as well. It fits so well into what's happening right now. It's the working class voice, it's just not the voice of Trump or Brexit. A-COLD-WALL* is birthed in the same physical locations as well.
How would you define streetwear?
What the fuck is streetwear anyway now, man? The British Fashion Awards called it "urban luxury." I prefer urban luxury to streetwear. It's impossible when you have Juicy Couture doing collabs with like Vetements. You can't put that in the same room as a XLARGE T-shirt with the ape on the front. It just doesn't make any sense. Streetwear is like, a weird term. Why are fashion designers called fashion designers and why are others called streetwear designers? A lot of it comes down to where you studied too – Virgil, GEO and I studied, but none of us studied at a fashion school, we studied at a design school. Unless you have that fashion degree, it's gonna take a little longer for you to get set as a fashion designer, and that's just the system that's been around for a long time. So I'm not like angry at that.
I do feel like there are fundamental laws of design that are like so interwoven into every aspect of design – almost like an interchangeable language – so if you can understand how to build x and y, you can understand how to build a and b. To a certain extent, they're almost one and the same – how to build beautiful objects or objects of interest. Objects of interests are not exclusive to a fashion degree. They're part of the design language and canon, and that can be picked in like a typographic degree or by a filmmaker.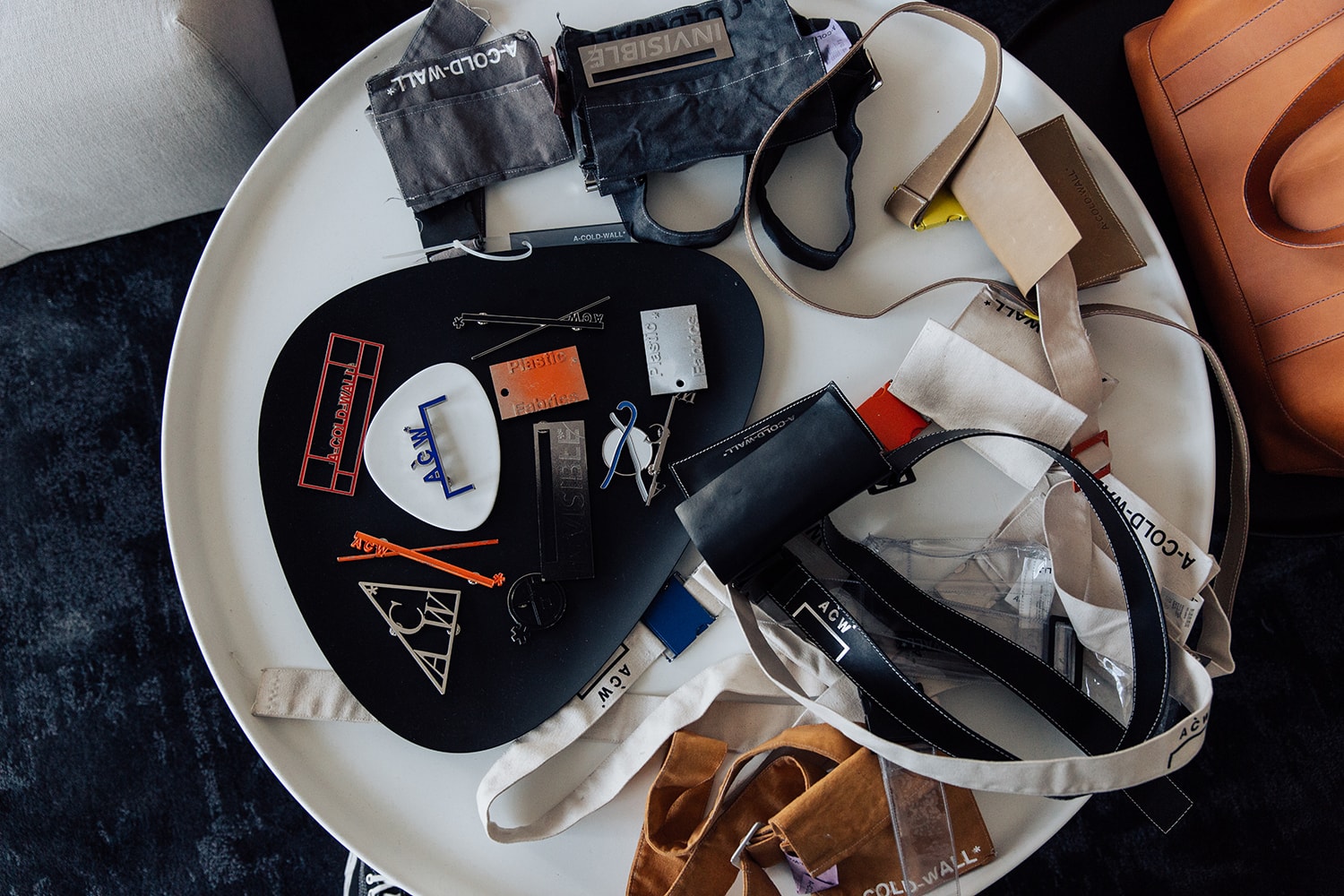 The fundamentals can translate into different mediums as well.
And that's how all of us quote Massimo Vignelli and say that designers won, because he was one of the first to ever do this when he moved to New York in the '50s and designed the entire New York subway key. He also did a lot of work on kitchenware and clothing as well as ad campaigns. We're just seeing this multidisciplinary phenomenon come back again. Some of us are coming through streetwear right now.
Where do you want to steer A-COLD-WALL* in the future?
As much as I'm steering A-COLD-WALL*, it's steering my career as well. The label is one thing that I do, and it's incredibly important, but there's also a lot of other things I've been testing through A-COLD-WALL*, such as art installations and furniture design. I'm going to spend more time learning how to make furniture – finding what materials are best to build objects from outside of the context of fashion. These are things that are going to come alongside with the growth of A-COLD-WALL*.
Tell us about your new project, POLYTHENE*.
A-COLD-WALL* was born as an expressive project, and I formed it into a company. With POLYTHENE*, it's a brand, so I'm not trying to build that on my own. It's still very important to me, but it's not as heartfelt in a sense. POLYTHENE* is going to fill a void that the kids are missing out on, because A-COLD-WALL* takes a lot of time to make, and it's quite expensive as I funded it all by myself too. With POLYTHENE* I want to be able to offer that to a wider market at a lower price point, and it's not going to be avant-garde or as obscure as A-COLD-WALL*. I'm not rushing, so that's why I haven't shown too much about it. I'm just waiting for the right time. I just want people to know that it exists.
This story was featured as part of HYPEBEAST Magazine Issue 17: The Connection Issue. Find out more online here.