LVMH Did Not Buy Supreme for $500 Million USD
True connections in the industry shoot down the claims.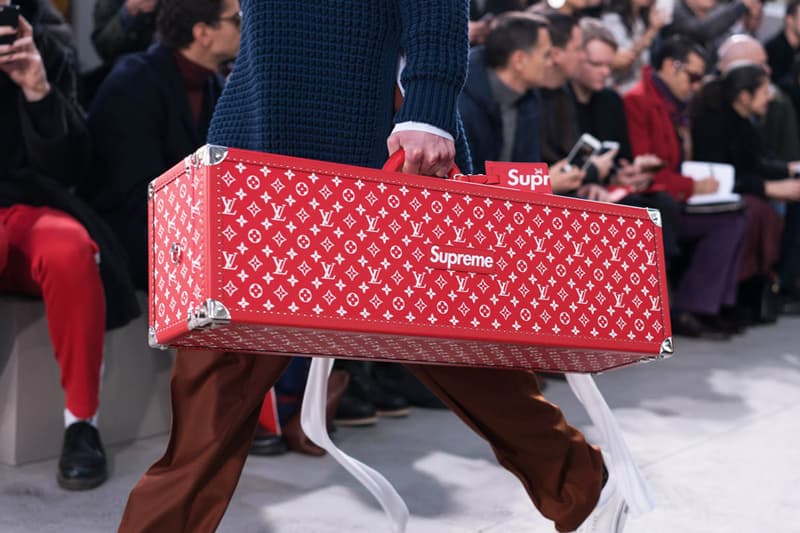 Rumors of LVMH, the congomerate company owning Louis Vuitton, purchasing New York streetwear imprint Supreme spread like wildfire when it was announced. As fast as it reached fashion industry eyes and ears, the quicker the response came from those in-the-know that the rumors, were just that — rumors and had no factual basis. The original source claimed their "connections in the industry have come through with something far, far juicier: LVMH, the luxury conglomerate that owns Louis Vuitton, just bought Supreme for $500 million USD."
According to Business of Fashion, "sources close to LVMH said that the report was an unfounded rumour and denied a possible deal between the French luxury conglomerate and the cult streetwear label." BoF reached for a comment directly from an LVMH spokesperson, but had no response. As for Supreme, its spokesperson went on to say that the purchase announcement was a "rumor that was started online."
Other respected industry figures were also quick to chime in. Vanessa Friedman of The New York Times and INYT simply put, "this is not true" on Twitter. Matthew Schneier, style reporter of The New York Times also tweeted that he "spoke to Jebbia, Supreme founder/owner," and that the rumors were "not true." In addition, also according to BoF, Kim Hastreiter, co-founder of Paper magazine and friend of James Jebbia captioned an image of the source's headline with "Rumour racing around. Likely not true (yet)." So interpret Hastreiter's caption however you want.
Conclusively, LVMH purchasing Supreme isn't so farfetched. The Supreme x Louis Vuitton collaboration that was revealed during Paris Men's Fashion Week is prime evidence of both brands placing themselves in an advantageous position. Both LVMH and Supreme would undoubtedly draw consumers from the worlds of streetwear, skate and high fashion. Plus, Supreme has already made products with Italian luxury house Loro Piana (an LVMH brand) and opened its last store in Paris, the central hub of luxury shopping and the base of operations for LVMH.
In the end, we'll all just have to now wait and see if LVMH will even react to the rumors. Maybe the loud rumblings around the internet caused by the unfounded announcement will persuade them to actually purchase the iconic New York skate brand.
Before everyone gets too excited about @LVMH buying Supreme — this is not true.

— Vanessa Friedman (@VVFriedman) February 9, 2017
Rumors of LVMH buying Supreme are roiling the Fuccternet today. Sorry to burst bubble: I spoke to Jebbia, Supreme founder/owner. Not true.

— Matthew Schneier (@MatthewSchneier) February 9, 2017
To refresh your memory, take a closer look at all the collaborative items Supreme and Louis Vuitton worked on here.