Kevin Love Plays "Boxers or Briefs" at His SAXX Underwear Capsule Launch
The All-Star talks about his underwear collaboration, Jordan influences, Obama going commando, Shaq wearing a sock, and more.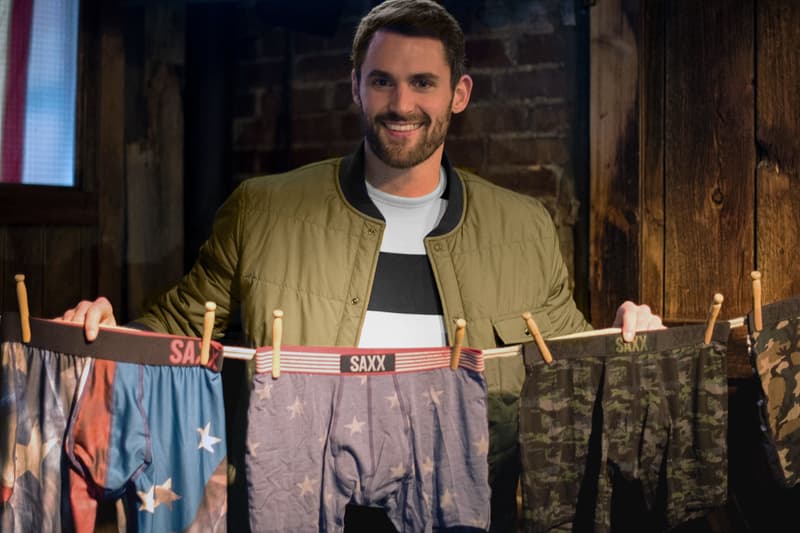 At first glance, it may not make much sense as to why athletes chose to endorse underwear brands, or rather why we should even trust their advice on the matter. From MJ and his lucrative Hanes partnership that goes back more than 25 years, to Cristiano Ronaldo launching his own label, CR7 Underwear, just a few short years ago; it seems as if all of the top male athletes across the globe are joining the circus. Yet, shouldn't they just stick with what they know best, performance-based apparel?
If you're using that kind of logic, than who better than pro athletes to tell you which base layer brands perform the best? When it comes to shopping for underwear, socks or even T-shirts, men are thinking about the simple things: comfort, durability, breathability, ability to wick away moisture, and so on, all of which are paramount to an athlete's game-time performance. So if MJ thinks these boxer-briefs are good enough for him, then they're damn sure good enough for my morning dog walks and evening workouts.
The latest star athlete to partner with an underwear brand is Cleveland Cavaliers forward Kevin Love, who just launched his first capsule collection with SAXX this past weekend. SAXX Underwear prides itself on its catcher's mitt-inspired BallPark™ Pouch, which to be honest, feels like nothing I've ever worn. But don't take our word for it; we sat down with Kevin at his launch party in New York City on Friday night to talk about the collection (due out April 15), the awkward conversations with his teammates about underwear, the comparisons to MJ (in the underwear game, that is), why President Obama may be going commando these days, and much more.
This interview was first featured on Friday, February 3 via Facebook Live.
What made you go with underwear as your first foray into fashion collaborations?
A year into the partnership with SAXX, we decided to get together on a collaboration. We got on a call for about 30 mins and put together all of our thoughts and ideas: you know, what I love, what I grew up with and what I'm into. It started with an Americana vibe, as you can see here, which goes with the camo as well. This one is the Eastwood; I'm really into spaghetti westerns, old western movies, gunslingers. This here is kind of like the poncho he [Clint Eastwood] wears in A Fistful of Dollars, For a Few Dollars More, and The Good, the Bad and the Ugly. So you can see that in the minor details.
Actually it's funny that Michaela [of Excel Sports] is sitting here; I had this inspiration folder on my phone, and I pull from HYPEBEAST, Instagram, and different feeds on my phone, and throw them into my inspiration folder. I sent that to Michaela, and she sent that to SAXX, and it just kind of became this line. It was good to put it all on paper, for a lack of a better term, and this is what came of it.
So what do you think of the final product?
They're great! I already know how they fit, and they're comfortable. It's cool to see, even with the photoshoot we did in September, it's cool to see everything that we talked about and worked on for months here in the flesh.
I guess being my first time going through it, you never know what's going to happen. But seeing and wearing their product, I knew it was going to be great.
Why SAXX as a brand partner?
I seen different guys throughout the league or in various sports with different underwear brands, so when SAXX approached me, it was a no-brainer. I never worked with or put on the product before, but once I did, it was a no-brainer. I saw where they wanted to go, and I know underwear is, I guess taboo isn't the word, but it's not something people talk about, but it's been great working with SAXX.
So after reading about the brand, I discovered the founder came across this underwear epiphany so to speak while on a fishing trip in Alaska. Did you have a similar 'epiphany' when you tried SAXX on?
I know, for me, it's the only thing I have on in bed and waking up in the morning. I know it's funny to say but you want to sleep in something that's completely comfortable to the point you almost feel as if it's not there. I'm not lying; it's so funny, everyone that I talked to will flash me their waistline or they tell me the ballpark, the mesh, it really keeps me guarded. It's just funny to have grown men come and say that to me.
I guess not really an epiphany, but it's great.
We all know MJ has had a longstanding partnership with Hanes: did he inspire you to make this partnership at all?
I wouldn't say MJ was top of mind when I thought about it, but now hearing that, he obviously had a long and fruitful partnership with Hanes. And I look at, at least on my team, Kyrie has his underwear brand and we kind of go back and forth: he was like "welcome to the extended family."
Did Kyrie, LeBron, or even your former college teammate, Russell Westbrook, offer any advice or input for the collection?
No, and I think that's the beauty in this. Creating this "open road" concept and putting my fingertips on it, that's something that not every guy gets to do. That's one of the main reasons this partnership works, because I trust the brand and what they're putting forth, and at the same time, you get to work with them on a collaboration and put your personality on it. It's fun
Do you have an do's and don'ts, or a buying guide for SAXX underwear?
Just put them on. It's as simple as that. It's funny because I gifted them to a number of people, from my dad, all the way to some of my best friends and trainers. The response is always the same: "these are the best things I've ever put on." I also did a stocking stuffer for Christmas and gave them to all of my teammates, and the response was really funny. They were like "I might wear these to work out" and stuff like that.
Comfort is huge. I'd say that's definitely number one. You never want, especially being so big, you never want anything riding up. If you're going to sweat or be wet, you want something that'll wick away moisture. Also style wise: it's that first layer, so that's a big component
Before you gifted these out, was there anyone on the squad that was in desperate need of an upgrade?
It's not like I'm checking out their underwear (laughs), but obviously my thought goes to our rookie, like he needs help. He's just coming into the league and finding his way, but it's not like I'm pulling him aside and saying "Hey, Kay [Felder], listen, your underwear, you need a little upgrade on that." I'm not saying that to him. It's tough to say. Now, if you're talking about our training, strength and conditioning staff, that's a different story.
A few months ago, Channing Frye was trolling your SAXX photoshoot on Instagram; are your teammates still roasting you?
We all do. We have a group of guys where no one is safe. That was just easy for Channing, but I guess out of all the guys on the team, he probably gets roasted on the most.
Do you have any friends who still wear basketball shorts under their jeans? As if they're ready for a spontaneous basketball game to break out at any minute.
Absolutely. Still some of my best friends back home in Portland do that, and I'm like "what are you doing."
Ok, let's play a quick game of boxers, briefs, boxer-briefs, or other, with a few names, starting with President Barack Obama.
He'd probably wear the Fuse; He's wearing the coolest, most comfortable pair you can imagine. He's a boxer-briefs guy.
I'd bet he goes commando every now and then.
Well, he was just on Branson's private island, right? With the backwards cap? He was probably commando there.
Gregg Popovich
He's a speedo. (Laughs) No, I'm kidding. I'll tell you what he wears: he'd wear the camo pair. He's definitely that guy, highly respectable.
Shaq
Maybe nothing, or just a sock. That's a story I guess: the Lakers practice and something about a sock. It's like a folklore. They'll look it up.
Charles Barkley
He fits more of the wrestling prototype.
Tom Brady
He has the Uggs, always has nice hair. He's a tough one. Probably boxers. Of all the people, he's pretty straightforward.
Draymond Green
He's probably going boxers too.