Here Are the Best Plays and the MVP From the 2017 NBA All-Star Game
What went down at the Smoothie King Center.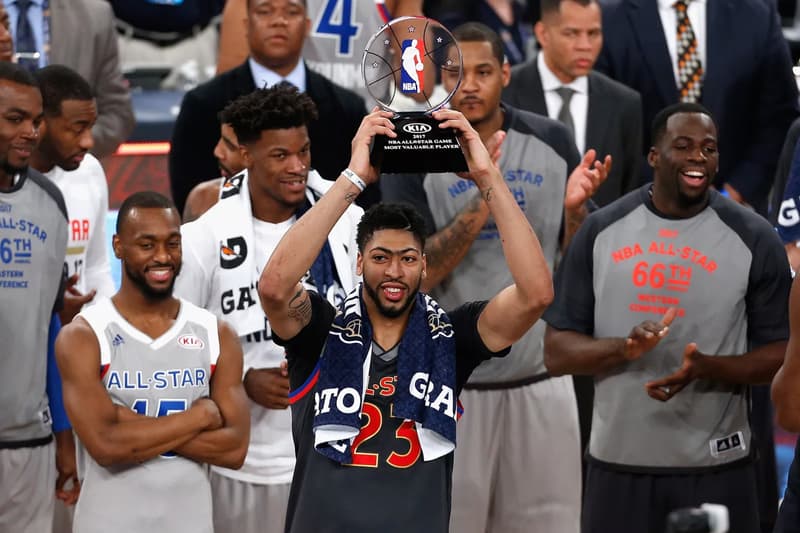 Another NBA All-Star Weekend has come and gone and of course it was a weekend filled with basketball bliss. From Pacers forward Glenn Robinson III winning the Slam Dunk Contest to watching Westbrook and Durant interact, these are the memories that will live on in the hearts of basketball fans. Taking place for a second time in New Orleans, the NBA All-Star Game saw the best players from the Western Conference take on the best from the Eastern Conference, all heating up the Smoothie King Center. With a final score of the West beating out the East 192-182, Pelicans' Anthony Davis set an NBA All-Star Game record with 52 points — surpassing Wilt Chamberlain's All-Star Game record — and was aptly named MVP. Check out some of the best plays during the All-Star Match below.
And if you missed out, the Golden State Warriors were heavily roasted on social media for it's All-Star photo shoot.
G R E E K F R E A K pic.twitter.com/52e0ds6DtT

— Complex Sports (@ComplexSports) February 20, 2017
This looks familiar.#KyrieIrving to #LeBronJames!#NBAAllStar pic.twitter.com/RgjAqD5HQX

— NBA (@NBA) February 20, 2017
#KevinDurant up top for #RussellWestbrook for #TeamWEST!#NBAAllStar @NBAonTNT pic.twitter.com/lXDtN6hIfu

— NBA (@NBA) February 20, 2017
It's a dunk fest at the 2017 #NBAAllStar! ? pic.twitter.com/xdzX3NQycX

— NBA TV (@NBATV) February 20, 2017
#RussellWestbrook shows #DeAndreJordan he has a new way to do #LobCity ?#NBAAllStar @NBAonTNT pic.twitter.com/xc8VW2mjfs

— NBA (@NBA) February 20, 2017
#LeBronJames out here pulling up from the logo ? pic.twitter.com/A2hKGHQoFW

— NBA TV (@NBATV) February 20, 2017
Ayo someone start a petition to get LeBron in the dunk contest pic.twitter.com/388Y9jGaN9

— gifdsports (@gifdsports) February 20, 2017
Steph Curry wanted nothing to do with that Giannis dunk lmao pic.twitter.com/VSA5xWIpdC

— gifdsports (@gifdsports) February 20, 2017
Giannis put Steph Curry on a poster #Shouldhavelaiddown pic.twitter.com/Lkx0B8aggA

— gifdsports (@gifdsports) February 20, 2017
Another angle of the Greek Freak dunk on Curry's head with DeAndre Jordan reaction pic.twitter.com/cT4UqrIlk8

— Steve Noah (@Steve_OS) February 20, 2017
With this alley-oop slam, #Anthony Davis (44p) has now passed Wilt Chamberlain's record for most points in the #NBAAllStar Game! pic.twitter.com/U95pQrADQv

— NBA TV (@NBATV) February 20, 2017
Your #NBAAllStar Kia MVP with a record 52 points… pic.twitter.com/SIpSwdLrYb

— NBA.com (@NBAcom) February 20, 2017