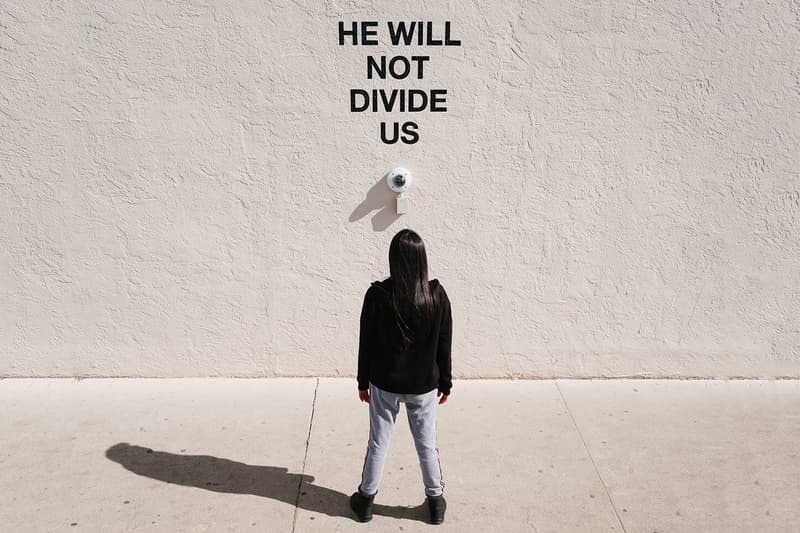 Shia LaBeouf's Anti-Trump Exhibit Is Back on, Moves to Albuquerque
After getting shut down in NYC.
---
After getting shut down earlier this month in New York City, Shia LaBeouf is taking his "He Will Not Divide Us" project to Albuquerque, New Mexico. On the exhibit's website, LaBeouf and his collaborators Nastja Säde Rönkkö and Luke Turner have accused NYC's Museum of the Moving Image for demonstrating a "lack of commitment" to the project.
The project was launched on Inauguration Day, consisting of a white wall with a continuously live-streaming camera mounted to it. Visitors were encouraged to stand in front of the camera and recite "He will not divide us" as the stream played live on the exhibit's website. Though initially a hit, the museum shut it down, stating it had become "a flashpoint for violence." LaBeouf even got into an altercation with someone and ended up in jail.
As of Saturday, the exhibit has moved to the El Rey Theatre in downtown Albuquerque. LaBeouf was reportedly on hand for the opening of the new location. The trio released a joint statement, via LeBeouf's website:
From the outset, the museum failed to address our concerns about the misleading framing of our piece as a political rally, rather than as a participatory performance artwork resisting the normalisation of division.

In fact, the museum demonstrated a spectacular lack of judgement—and courtesy to us as artists—by neglecting to consult us when they staged a political rally at the site of our artwork on January 29, 2017.

On numerous occasions, we voiced serious concerns to the museum about hate speech occurring at the site of our project, and requested that the museum act responsibly in moderating this and providing the public a means of reporting such incidents. Our requests were not even acknowledged, let alone acted upon.

Nonetheless, there had been no incidents of physical violence at the site of our project that we are aware of, nor that we had been informed of at any stage by the museum.

It is our understanding that the museum bowed to political pressure in ceasing their involvement with our project. We were only informed of the museum's capitulation in an email from their attorney, Brendan O'Rourke—a lawyer who we note also represents the current president.

It is clear, therefore, that the Museum of the Moving Image is not fit to speak of our intent as artists.

As of February 18, 2017, we are proud to be continuing HEWILLNOTDIVIDE.US at the El Rey Theater, Albuquerque.