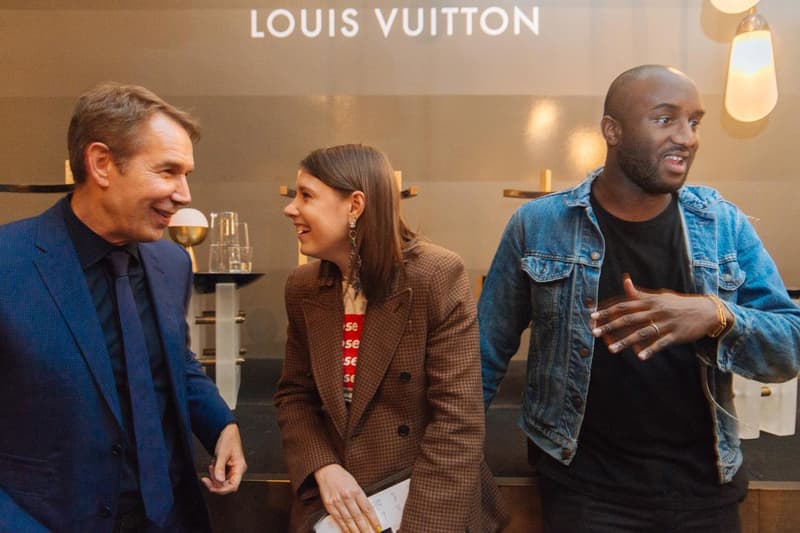 Virgil Abloh & Jeff Koons Participate in Live "Art Talks" Discussion
Touching on inspiration, collaborations, music and more.
---
Both Virgil Abloh and Jeff Koons — throughout their storied careers — have each sat at the epicenter of modern pop culture — impacting the realms of fashion, style, and art in ways unlike most others before them. Although specializing in different genres, while also evolving from within completely separate eras, the pair readily embrace a multifaceted approach to the arts — a framework that runs central to both figures. Masterful at translating their mood and materiality to the contemporary world, the duo continues to impact creative expression in a myriad of different ways. Koons, for example, best known for twisting conventional objects such as balloons and stainless steel articles into imaginative installations, has also crossed over into the world of high fashion previously working alongside Louis Vuitton. Abloh, on the other hand, aside from pushing forth his Off-White™ imprint, has also tinkered with restaurant design and music — seemingly popping up here and there to drop hip-hop-tinged DJ sets.
Virgil Abloh and Jeff Koons recently took part in GARAGE's inaugural "Art Talks" moderated by curator Piper Marshall. Marshall, herself is a master at her own craft — she was tapped to organize the 2017 biennial for nonprofit Brooklyn gallery A.I.R. and brought four solo shows by female artists to New York gallery Mary Boone. In the sit-down, Abloh and Koons took time to address subjects such as historical works, inspirations, future projects, amongst a host of others.
One of the first topics touched on was the process of collaborations and how each approaches such a task. "If I'm asked to collaborate with somebody, it would be than some way we enjoy similar things, maybe we enjoy similar responses to subjects. In the case of Louis Vuitton, the appreciation I think in material and what you can do with material came up, so there would be a likeness in at least some reference to our worlds," Koons chimed in with. When touching on how iconic imagery affects his work, Abloh countered with, "My work communicates with the tourist and the purist at the same time. I'm interested in people that have an acute understanding of fine art, but also in the demographic that art doesn't speak to. Later adding, "I come from a strain of our movement called streetwear. Like, I can take a New York Yankees shirt and make it more interesting by taking the logo and turning it upside down. That means it not only speaks to those who know the universal symbol of the Yankees, but to this finite group, who, since skateboarding and graffiti, have learned that they can affect the existing world."
With both artists having forged memorable works with some of the industry's most celebrated musicians, the conversation naturally gravitated towards the subject of creating within that specific space. "Different times in my life I would listen to different music. Patti Smith, I listened to a lot in my early banality forms of work, like my equilibrium tanks. I would listen to Bob Dylan a lot, my early inflatables would have been the New York Dolls," as Koons recollects the early stages coming up. In addressing the same topic, Abloh stated, "When given an opportunity to work with a music artist…it's about exploring and testing ideas that can ultimately educate."
See the poster for the event below and to take another look at "Art Talks," visit GARAGE online for more.