The Relationship Between Fashion and Food: Designers Who Have Opened Restaurants
What do the likes of NIGO, Ralph Lauren and Virgil Abloh have in common?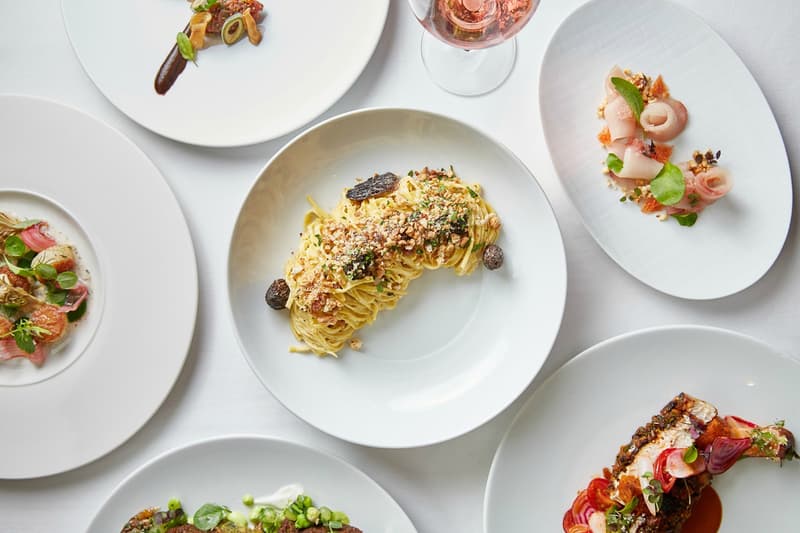 The relationship between fashion and food is a rather complex one to say the least, however, in recent years the marriage between both of these cultural elements can no longer be bypassed with a simple shrug. Not long ago, media in general helped perpetuate this illogical idea of supermodels refusing to eat in order to maintain their coveted, yet highly superficial image of beauty. Whether fact or fiction, this sentiment has in large part taken a back seat to the recent boom of today's culinary landscape. It's also important to note, the industry's major fashion weeks is now as much about the trendiest dining spots as is the shows themselves. With a brighter spotlight now cast on those who create opposed to those who wear, designers in all of their artistic ingenuity are opting to flex more creative muscle — turning more frequently to gastronomy. Some point to the seasonality and marketability of trends each element is driven by, while others still allude to designers finding other avenues in which to express their distinct imagination. What better way to accomplish this than food?
For those designers who stage eateries in their very own retail set ups, do so to not only enhance the shopping experience but also take aim at increasing dwell time for its patrons. It's no secret, men spend much less time browsing in stores than their female counterparts, so such added luxuries provide another reason to stick around. Others still choose to establish entities separate from their retail space, yet still branded under the creative umbrella. The offering of refreshments presents an added sensory experience for patrons — showcasing another means in which to demonstrate impeccable artistry. It's one thing to feel gratification from trying on creative craftsmanship, it's a whole other thing to taste it.
Let's take a look now at some noted design personalities who have tried their hand at food and beverage.
CHICKEN KITCHEN
1 of 4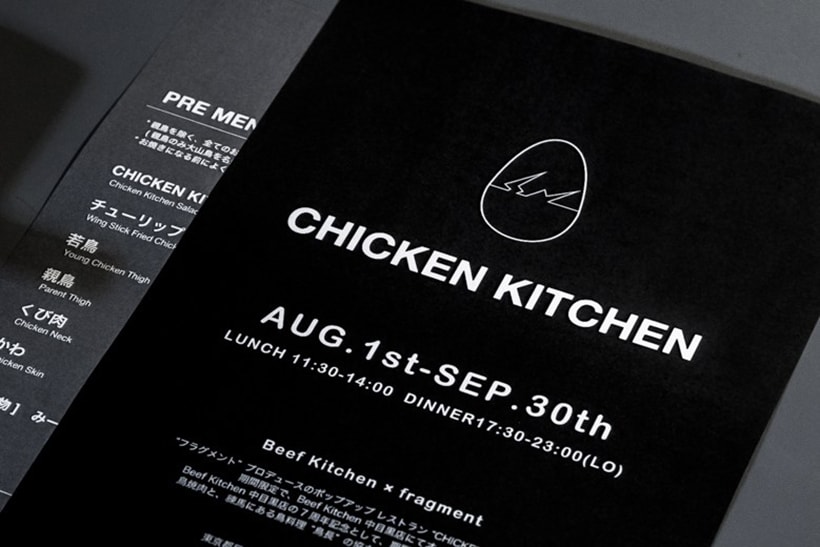 2 of 4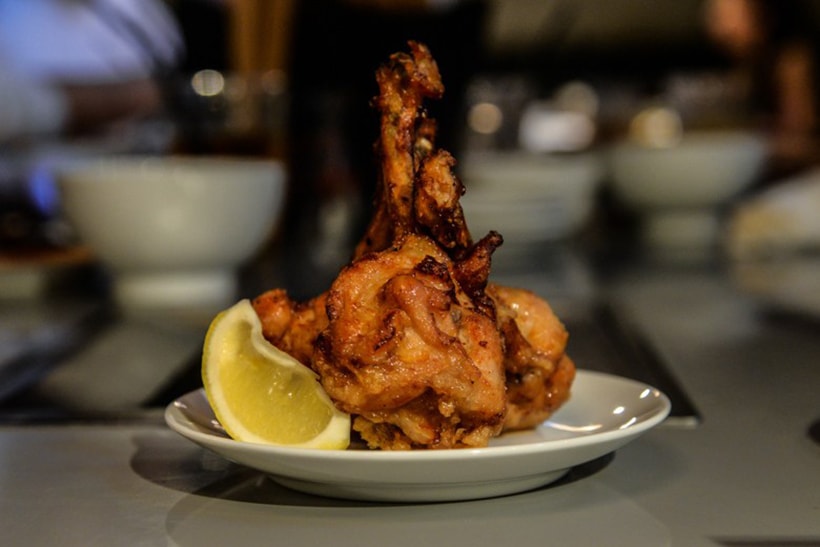 3 of 4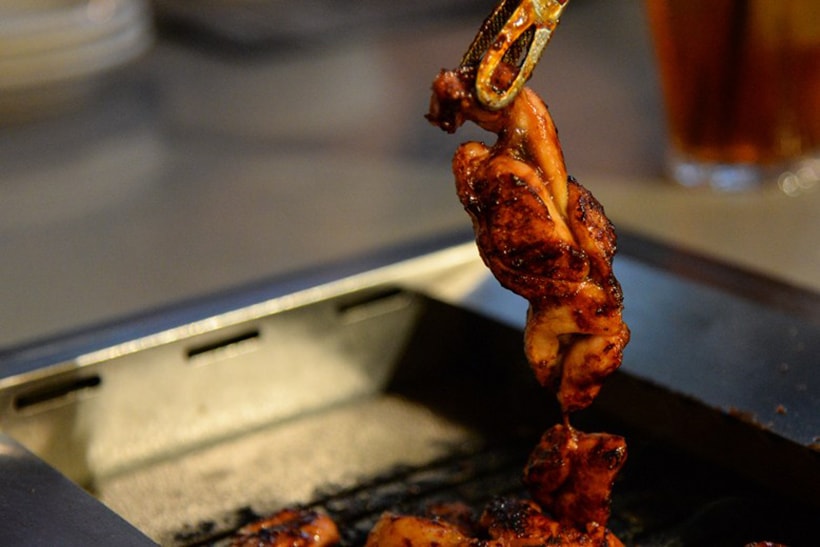 4 of 4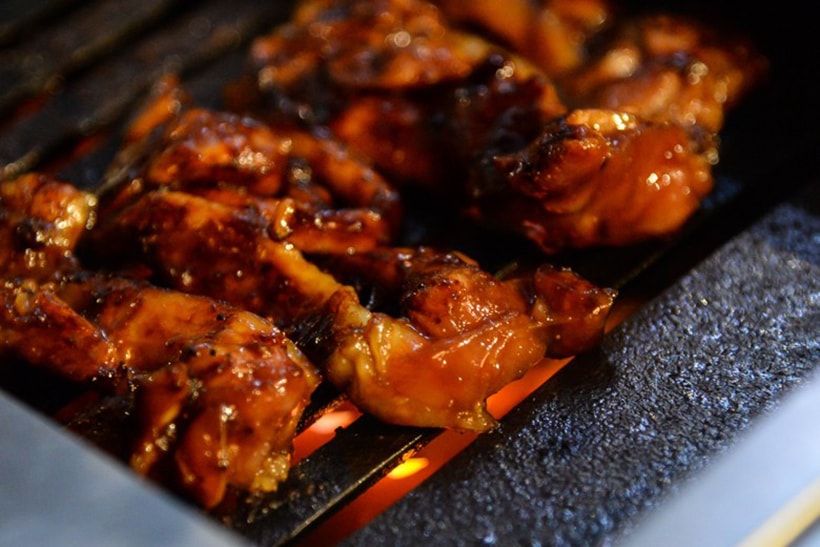 Iconic musician, producer and designer, Hiroshi Fujiwara was born and raised in Ise, Mie — a quaint region outside the hustle and bustle of Tokyo. Here he gained a deep appreciation for countryside inspired chicken-based offerings, which spawned the creation of CHICKEN KITCHEN. Meant to pay homage to the wildly popular Beef Kitchen in Tokyo, Fujiwara along with his fragment imprint did well to implement their very own interpretation. An imaginative fusion of nostalgic delicacies along with modernized design cues, the pop-up installation served up a plethora of bird dishes in various techniques namely, ramen noodle dishes, a chicken katsudon bowl and tulip kaarage nuggets to name but a few, all within the confines of a minimally furbished setting.
CHICKEN KITCHEN
2-44-8 Russia Casa Kamimeguro B1F
Kamimeguro, Meguro-ku, Tokyo
Curry Up
1 of 5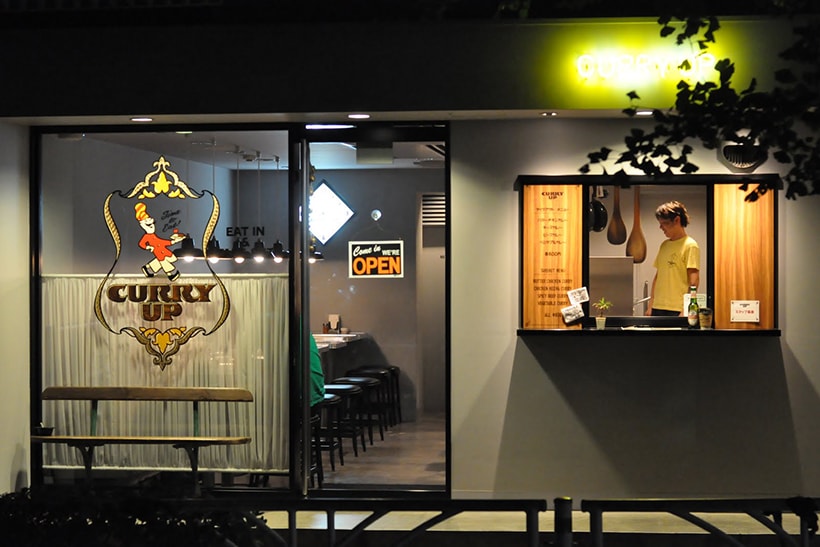 2 of 5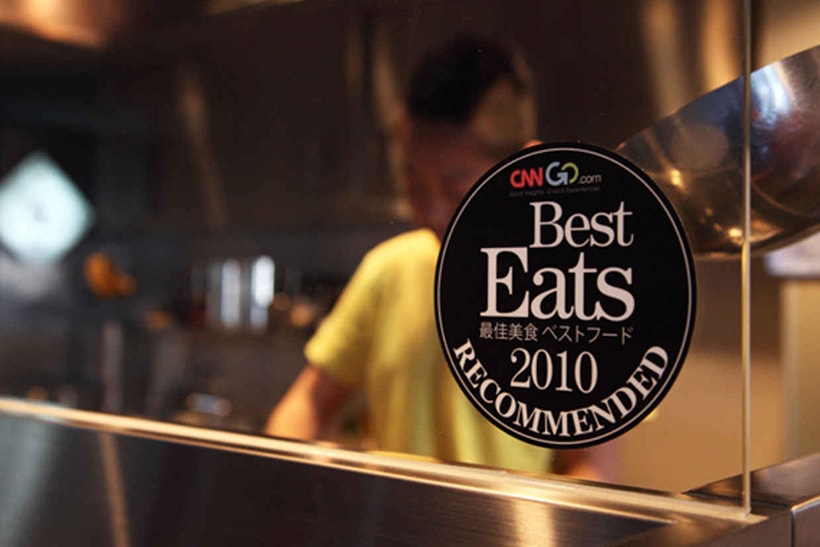 3 of 5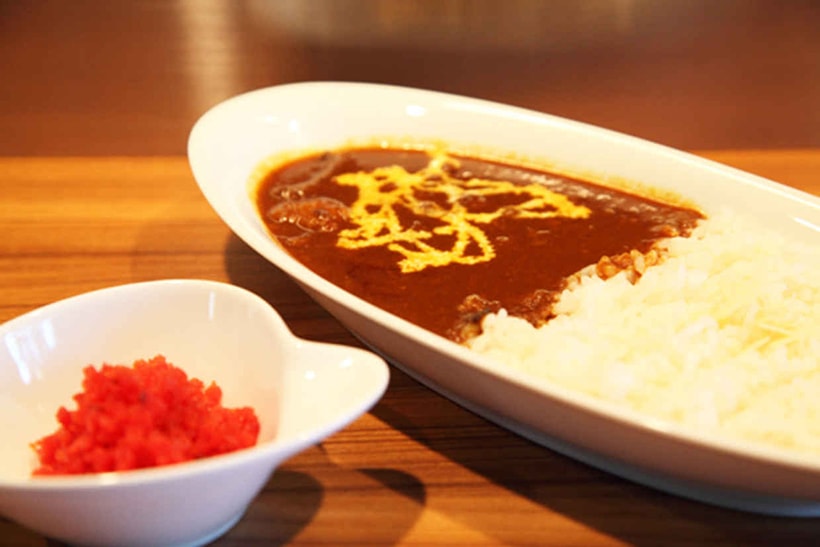 4 of 5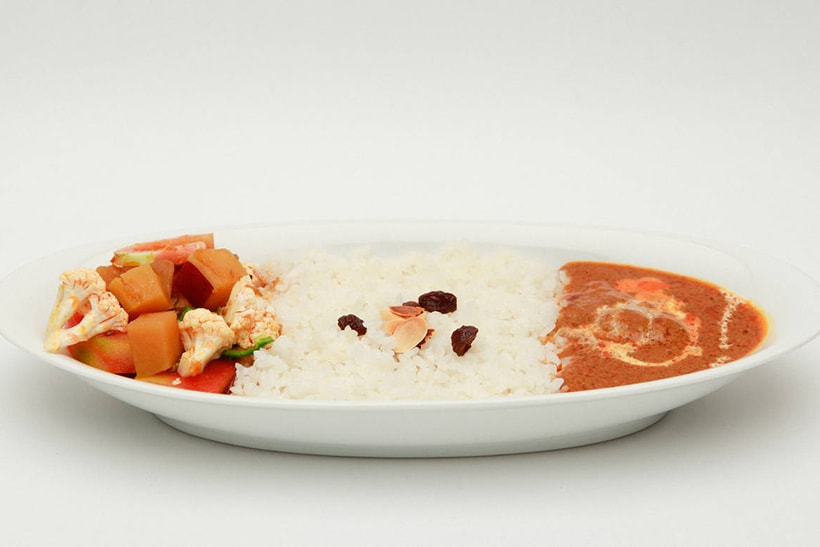 5 of 5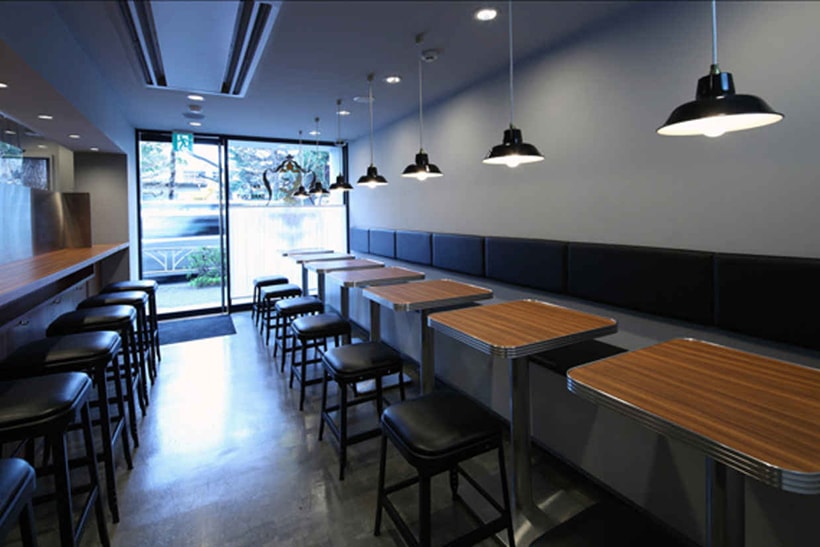 NIGO is another such Japanese-based creative who has carved out his very own niche in the streetwear landscape with the coming up of such brands as BAPE, BBC and more recently Uniqlo's UT brand. With a couple of culinary ventures under his belt, NIGO first started out with CURRY UP, serving up, you guessed it, variations of curry. Located in the Shibuya-ku district of Tokyo, the set up has been met with great fanfare and was even named to "Best Eat" on CNNgo.com. His second stint named 2-5 Café is another casual style space, placing cakes, coffees and a Pharrell-created burger of all things, on the menu.
CURRY UP
2-35-9 Jingumae
Shibuya-ku, Tokyo
Honey's
1 of 2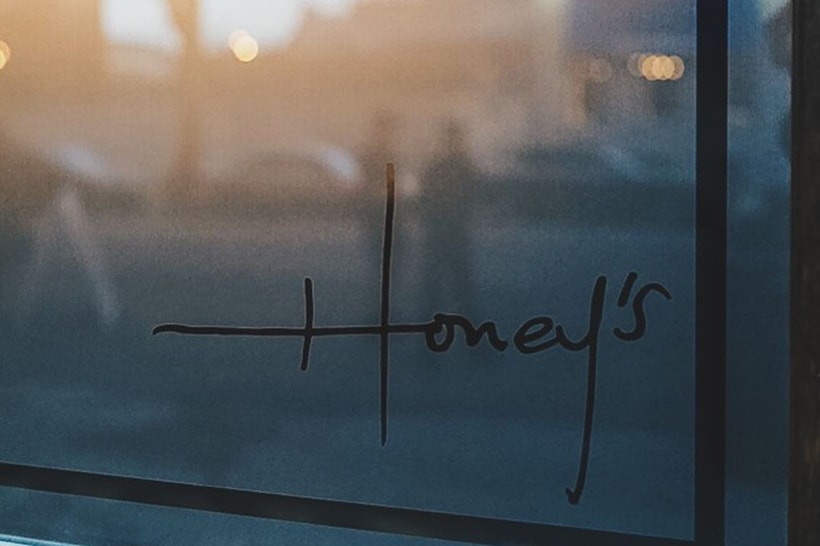 2 of 2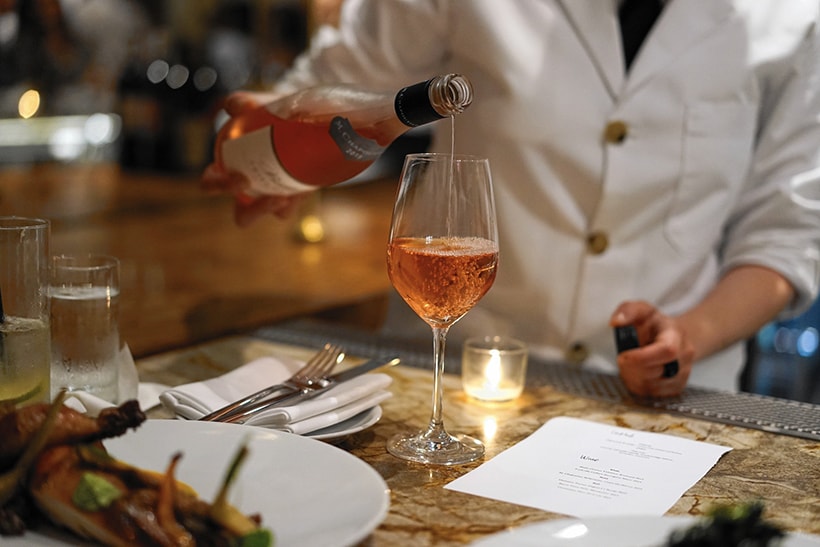 West Loop, Chicago's very own Honey's was Virgil Abloh's first foray in the culinary landscape. As a vested partner, OFF-WHITE's creative mastermind was slated to do what he does best — creative direct and design, which he accomplished in its minimalist design concept. Resembling a chic urban apartment, the space combines elements of black leather bankets, lace curtains and antique mirrors to go along with a rustic wooden bar. Considered as contemporary American fare, the menu lists such items as seafood, handmade pastas, grilled meats and seasonal vegetables.
Honey's
1111 W Lake St
Chicago, IL 60607
STUSSY Livin' GENERAL STORE
1 of 3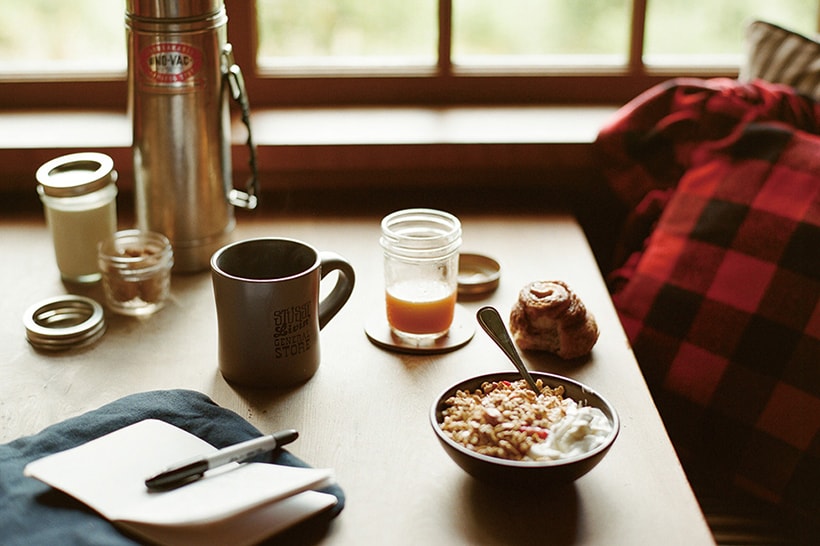 2 of 3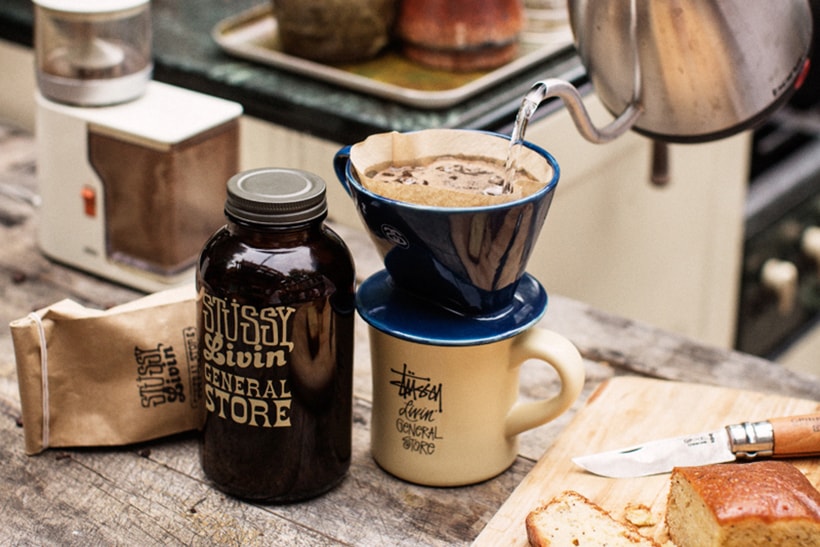 3 of 3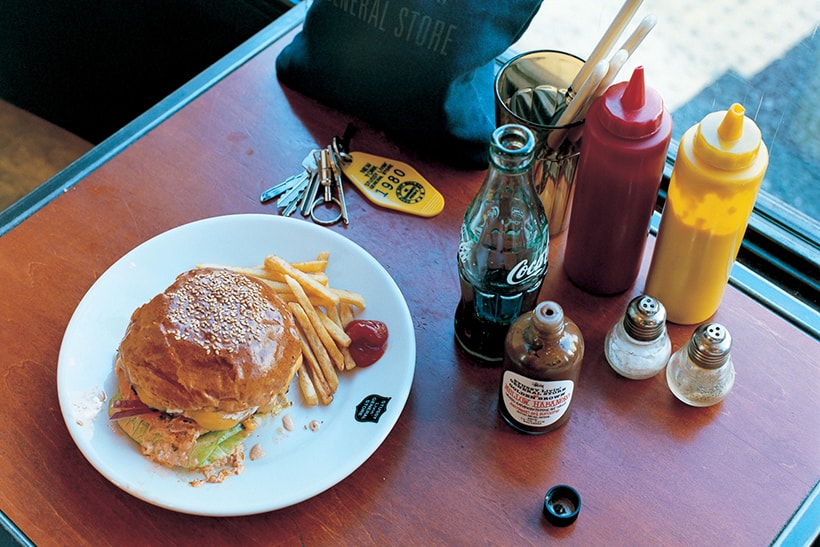 Part of its lifestyle driven STUSSY Livin' GENERAL STORE concept, the California-based streetwear mainstay have been known to partner up with select restaurants in offering full-on food experiences. In its pop-up installation hosted in Shibuya's Sizzle GAZZLe, various sweets such as logo branded pancake squares served alongside chocolate fondue and seasonal fruits hit the menu along with Stussy's very own coffee blend.
STUSSY Livin' GENERAL STORE
21−1 Shibuya Hikarie
150-0002 Tokyo, Shibuya
Chrome Hearts x Ladurée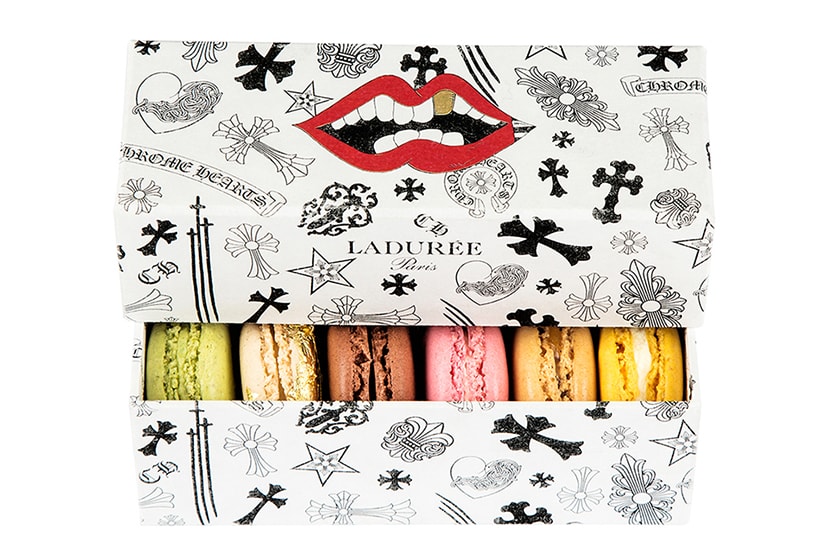 Revered accessories brand Chrome Hearts recently linked up with luxury French macaron shop, Ladurée in establishing a pop-up cafe ahead of last year's Art Basel festivities. Featuring a host of dishes exclusive to the space; salads, club sandwiches, ice cream, milk shakes, teas and jams lined the menu with a collectible box starring as the main draw. The box articled illustrations from Chrome Hearts' Pete Punk Offspring line and could be filled with an assortment of various macaron flavors.
Chrome Hearts
4025 NE 2nd Ave
Miami, FL 33137
Bar Luce
1 of 2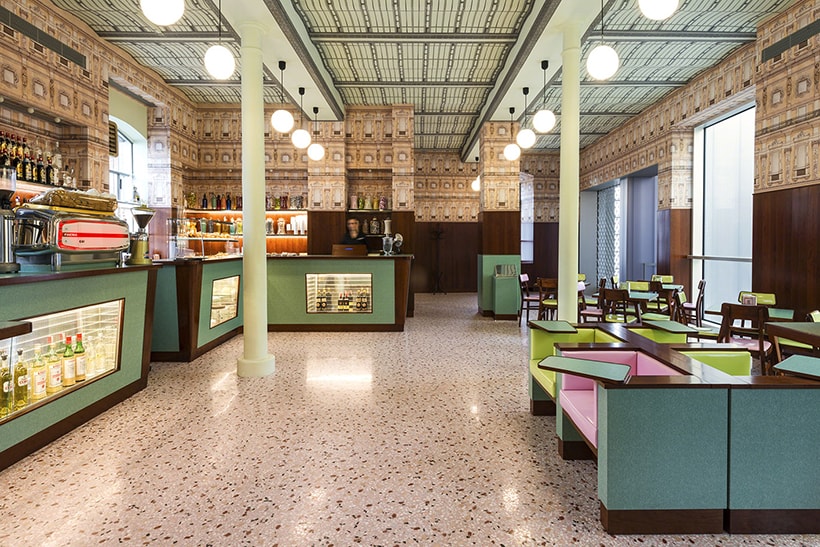 2 of 2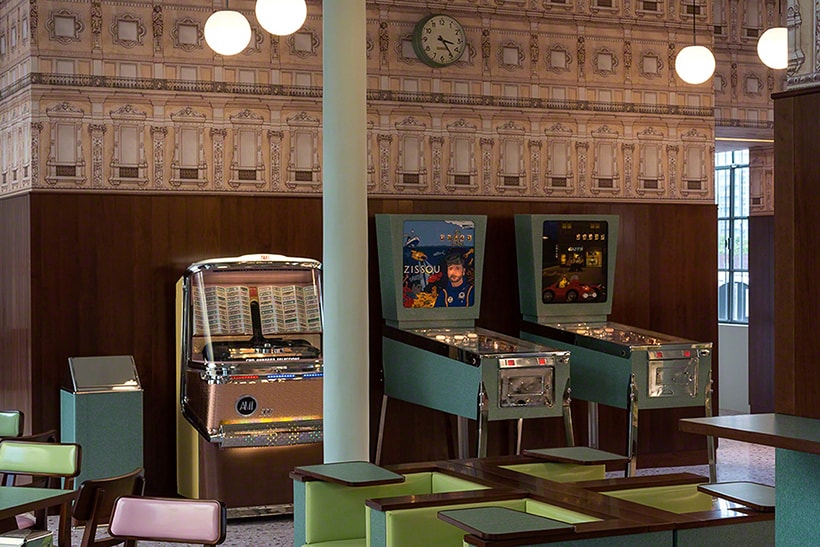 Designed in collaboration between PRADA and acclaimed Hollywood film director Wes Anderson, Milano-based Bar Luce aims to recreate the atmosphere of a typical Milanese café. Details from the original structure have been carefully preserved, which when teamed alongside an aesthetic reminiscent of early Italian pop culture prevalent in the '50's and 60's, we are presented with a space expressive of an earlier era. Serving a veritable mix of coffees, cold beverages, pastries and gelati's, Bar Luce is a superb representation of the region in which it presides.
Bar Luce
Largo Isarco 2
20139 Milano, Italy
Thomas's Cafe
1 of 2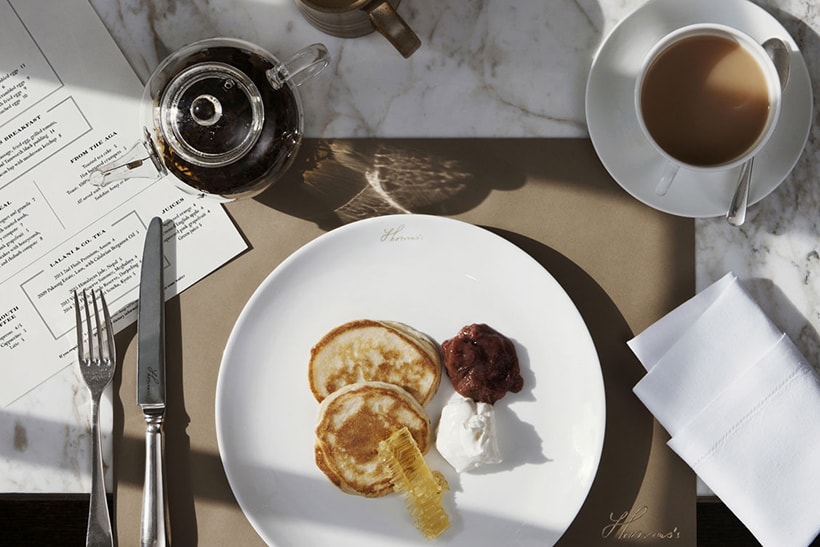 2 of 2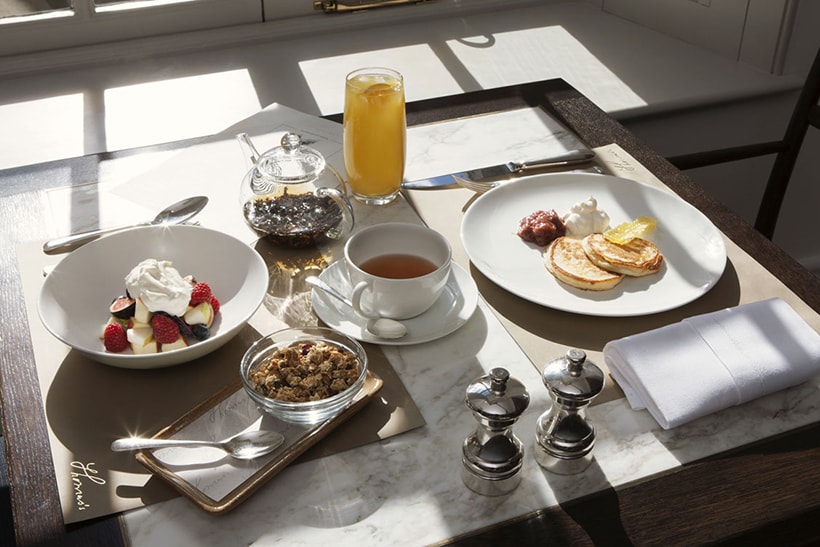 Quintessentially British is what you can come to expect at Burberry's Thomas Café. A quaint set up consisting of sparsely scattered dining tables, proves a great place to relax from a day of shopping. Cakes, pastries and other baked goods are made using an Aga, an age-old lump of cast iron often found in countryside style homes, while other classic British fare such as Shepherd's pie, scones, crumpets and salt cod fishcakes also make appearances on the menu.
Thomas Café
5 Vigo St
London W1S 3HA, United Kingdom
Armani Ristorante
1 of 3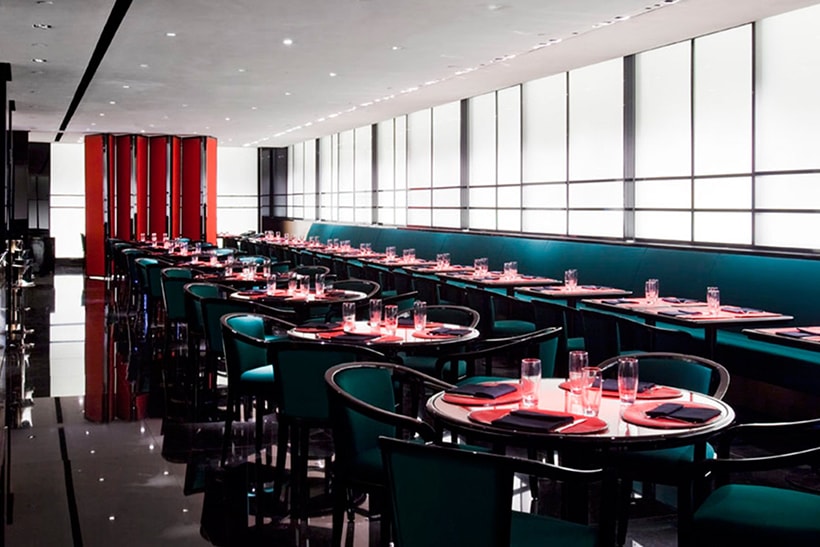 2 of 3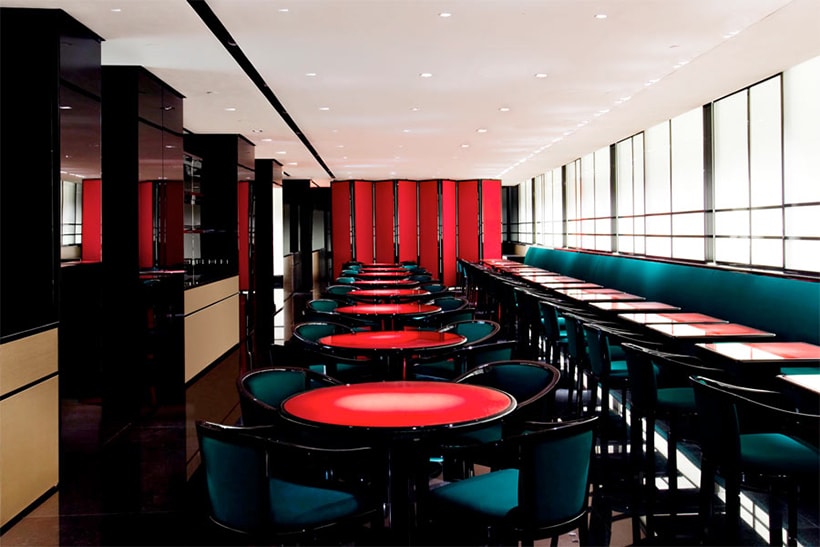 3 of 3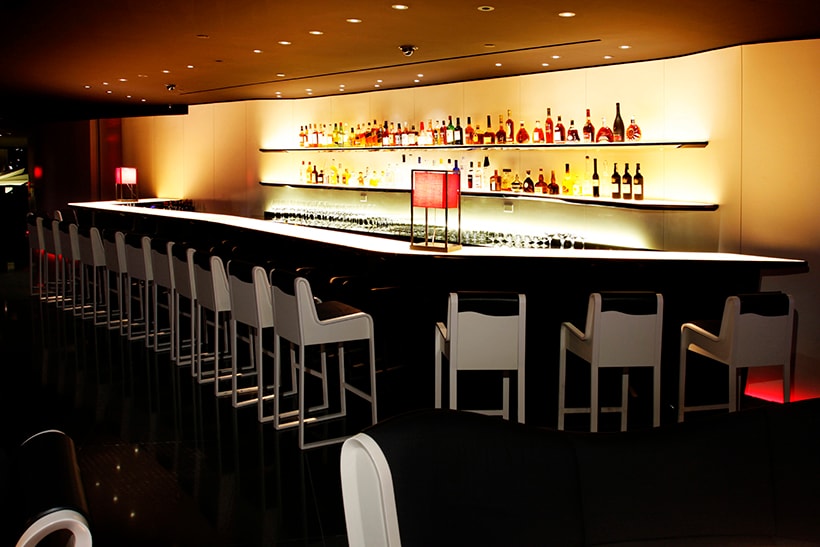 Located in the heart of NYC you can find Giorgio Armani's fine dining concept Armani Ristorante. A fine dining experience through and through, the seasonal menu does its part to highlight classic takes on Italian favorites, such as risotto's, salads, seafood and pastas, though, presented in a contemporary modernized fashion. Spacious and sleek, the interior boasts an interplay of clean, elongated lines and curvy booths in a color palette heavy with blacks and reds.
Armani Ristorante
717 5th Ave, New York
NY 10022, United States
Ralph's Coffee
1 of 2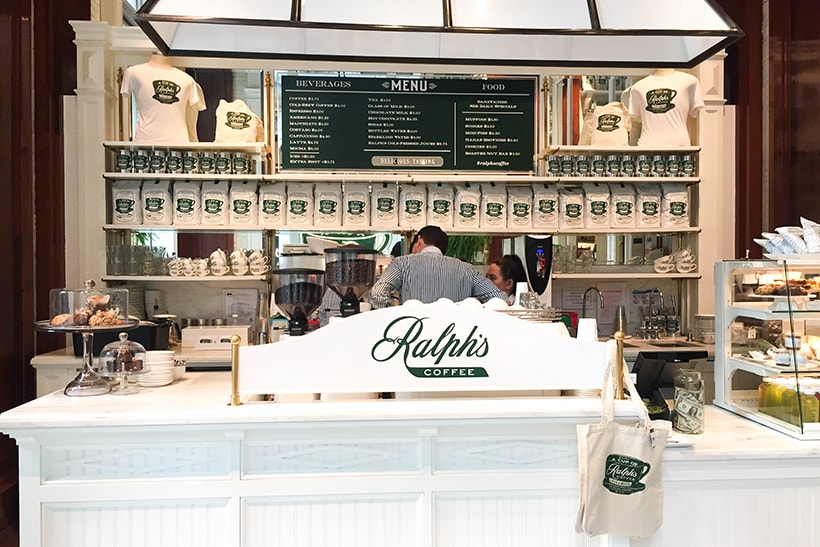 2 of 2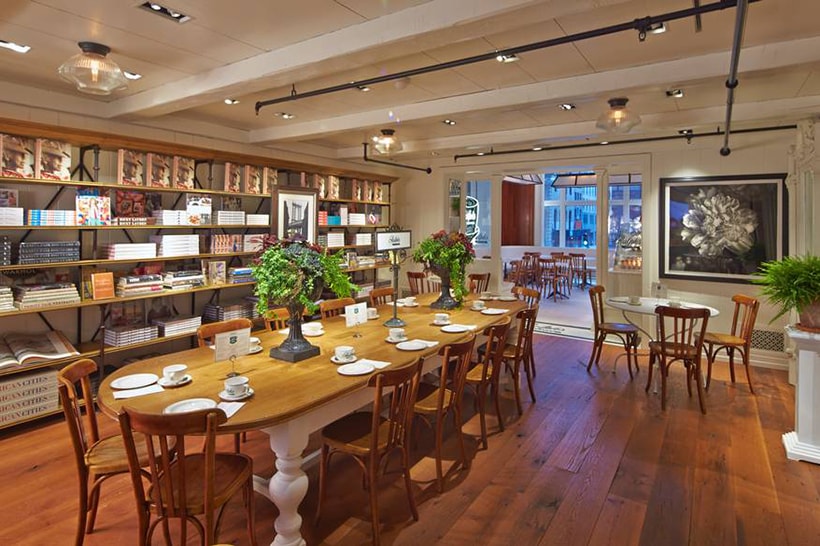 With Ralph's situated in Paris, a classic Americana food destination serving up eclectic combos like cheeseburgers and Champagne, famed designer Ralph Lauren can also add coffee connoisseur to his ever expansive portfolio. Located on the second floor of his Fifth Avenue flagship store, patrons can find Ralph's Coffee. Part diner, part cafe, part bookstore, the peculiar set up offers a wide assortment of drip coffees, espressos and bags of branded beans.
Ralph's Coffee
2nd Floor, 711 5th Ave, New York
NY 10022, United States
Juicyyy Lab/The Centaur
1 of 5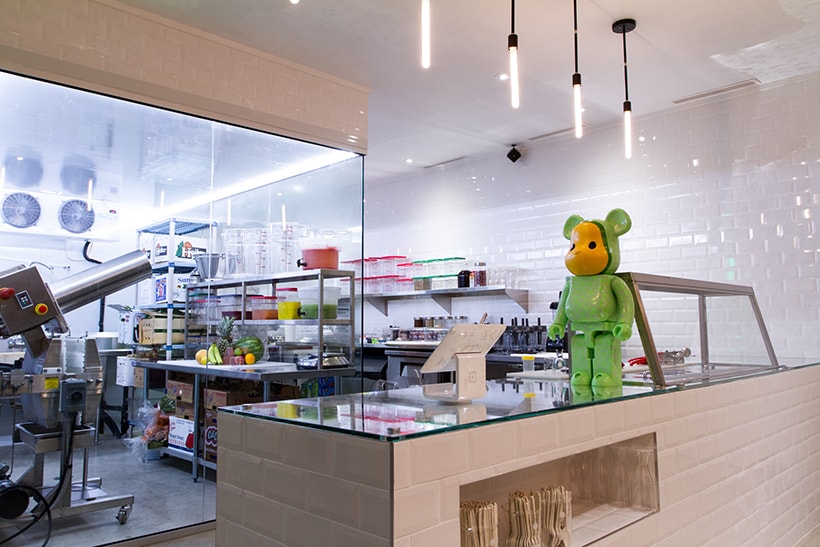 2 of 5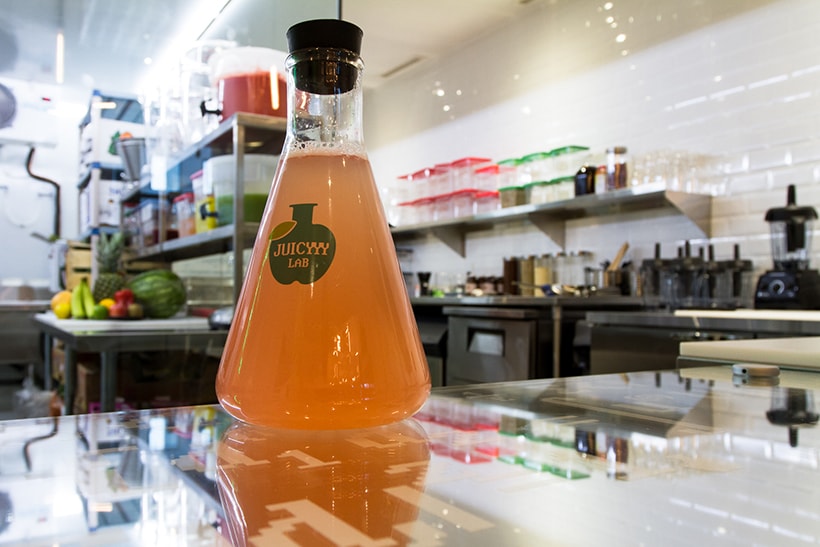 3 of 5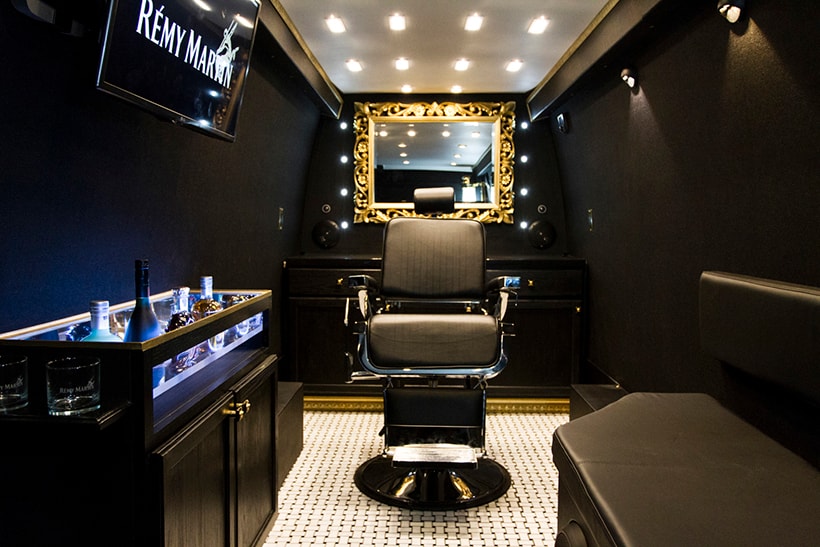 4 of 5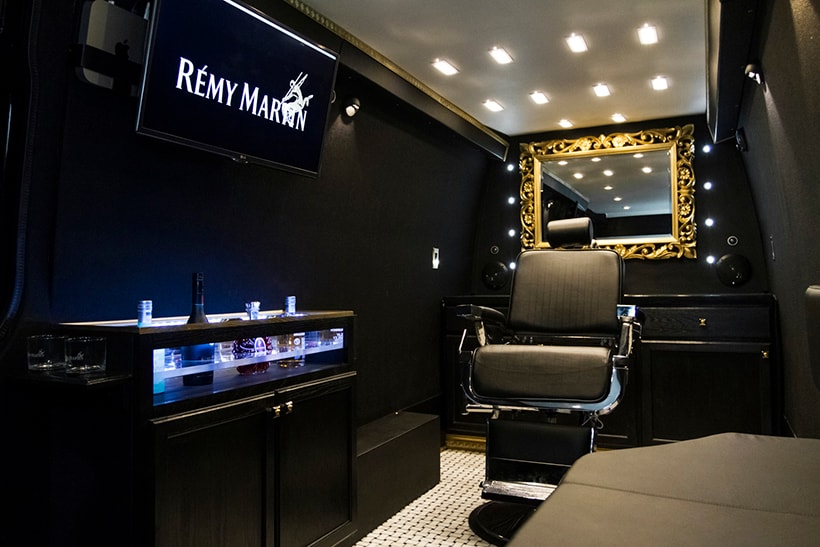 5 of 5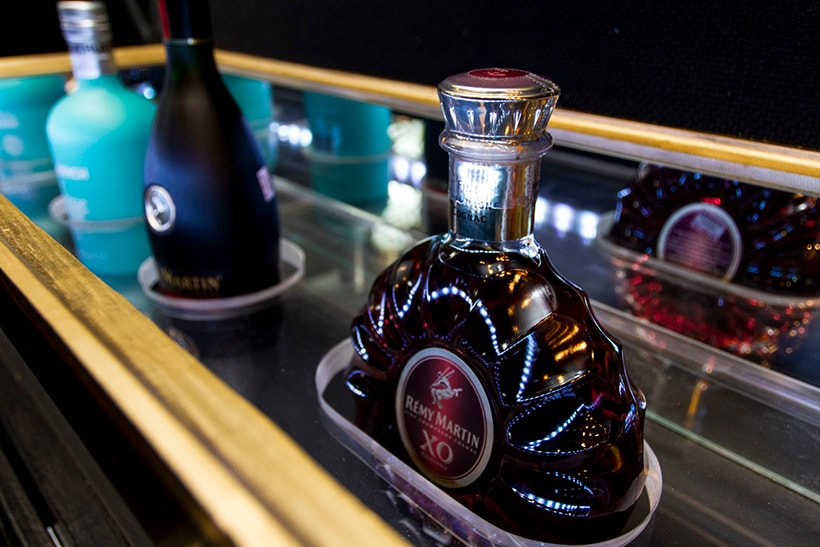 Corey Shapiro and his crew over at Vintage Frames Company for the better part of 10 years now have been pioneering the highly sought after vintage eyewear movement, supplying and consulting to some of the culture's brightest stars. Now in the juicing game, Juicyyy Lab, a respectful salute to the "Notorious B.I.G.," features a transparent fridge providing its customers a clear visual of what they can choose to ingest. The Centaur on the other hand is an innovative mobile barbershop bar created alongside Remy Martin. This rolling VIP section comes equipped with a top shelf Remy Martin bar along with a state of the art sound system.
Juicyyy Lab
4289 Rue Notre-Dame O
Montréal, QC
H4C 1R7, Canada
Why is it that those trained and dedicated to a life of fashion design seamingly out of nowhere crossover to the world of food? Maybe a desire to extend trend beyond what one wears to what one can taste while presenting another way to oblige the masses — pushing the notion to live a stylish life to the absolute fullest. If there is one thing that will never go out of fashion, it's good food.