The Best Films of 2017
We break 'em down by category.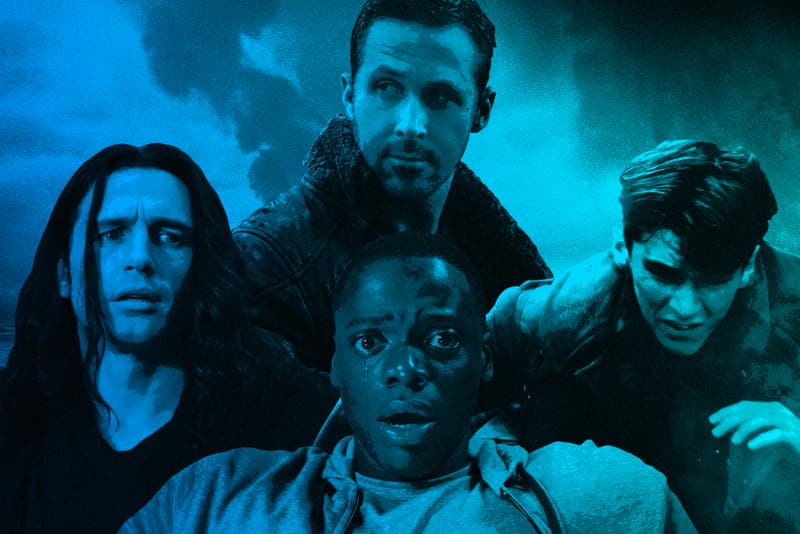 As 2017 quickly dwindles down and we start to think about our 2018 resolutions and to-do lists, the year wouldn't be complete without looking back at what the last 12 months had to offer. Just like the years before this, 2017 wouldn't be complete without an end-of-the-year examination. As we begin to look back on the best-ofs, let's first take a look at the best films from the past 12 months.
Though 2017's cinematic ventures were a bit lacklustre compared to previous years, there were more than a few gems that made its way into the hearts of cinephiles worldwide. Complied below are some of the best films by category that have captivated audiences, from big blockbusters and dramas to indies and documentaries, this year's list includes everything from Get Out and Good Time to Baby Driver and The Disaster Artist.
Though of course we all have our own cinematic tastes, we hope you find this list useful for picking up some of the more under the radar films you might have missed over the past year.
Best Academy Front Runner – Call Me By Your Name
If last year's Oscar winner Moonlight was any indication, the Academy Awards is no longer shying away from crowning an LGBT film with the top honor. One such film garnering a lot of Oscar buzz this year is Luca Guadagnino's luxurious adaptation of André Aciman's novel about the trill of first love and the gutting pain of its loss. Armie Hammer and Timothée Chalamet play the young lovers who fall into each other's arms during a sun-baked summer in rural Italy. Packed with moving monologues on love and two new Sufjan Stevens songs, this stellar work of art triumphs in both direction and performance.
Best Musical – Baby Driver
Edgar Wright's pedal-to-the-metal crime caper, in which music-addicted getaway driver Baby (Ansel Elgort) gets wrapped up in a complex heist in an effort to break free from his domineering crime boss (Kevin Spacey), is a whole new kind of musical. Though the characters don't sing and dance such as that of a traditional musical, Baby Driver stitches the music into the fabric of its high-octane scenes, and the characters are very aware of it.
Best Comic Book Movie – Thor: Ragnarok
After producing hit after hit, the Marvel Cinematic Universe definitely has a strong hold in the film franchise. Acting as the third act in the Thor trilogy, Thor: Ragnarok may just be one of the better — and comedic — films in the MCU, thanks to acclaimed director Taika Waititi, who breathed new life into the franchise. Ragnarok sees Thor (Chris Hemsworth) and the Hulk (Mark Ruffalo) pinned against each other in a gladiatorial battle all while Thor tries to save his home from the deadly Hela (Cate Blanchett). The film features Thor flexing his comedic muscles and spell-binding, fun action sequences; everything a blockbuster should be.
Best Foreign Film – Thelma
Norwegian director Joachim Trier's films Reprise and Oslo, August 31st have appeared on numerous critics' end-of-year top 10 lists, so it shouldn't come as any surprise his latest film Thelma makes our cut. Moving away from reality-based characters, Trier's supernatural Thelma is a frigid little fairy tale — which alludes to the classic tropes of Hitchcock and De Palma — about a disturbed young woman who leaves her home and overbearing parents to attend university in Oslo. She soon finds her life turned upside down due to her burgeoning — and only semi-controllable — supernatural power. With that, Thelma delivers a sinister chill that's hard to shake.
Best Animation – Coco
Coco is the latest project from Pixar and Disney, and looking back at their successful past hits, the film is sure to follow down the same route. The ornamental film centers around a young Mexican boy with a love of music as he navigates his way through Mexico's Dia de los Muertos (Day of the Dead) in search of his idol, legendary guitar player Ernesto de la Cruz. Injected with interpersonal relationships and Pixar's usual attention to engaging characters, Coco may just be the most artfully-animated film of the year.
Best Science Fiction – Blade Runner 2049
Though the lavish sequel to Ridley Scott's cult classic Blade Runner — considered to be one of the greatest science fiction films of all time — was a "flop" at the box office, there's no denying the film is a visual masterpiece (in thanks to cinematographer Roger Deakins). Coming 35 grueling years after the original, Denis Villeneuve's vision on the Ridley Scott classic not only matched his predecessor's style, but Villeneuve was able to continue its mystery while widening the scope of Blade Runner's dystopian future.
Best Comedy – The Disaster Artist
The hype surrounding the James Franco-helmed The Disaster Artist — an entertaining film about the worst film ever made — is real. After a rapturous debut at this year's South by Southwest Film Festival in March, Franco's latest directorial effort around the life of filmmaker Tommy Wiseau and his bad cult film The Room has been gathering Oscar buzz ever since. In signature Franco style, the artist not only directs the film but also stars as Wiseau himself, delivering one of his most electric roles — and impeccable impersonations — to date; so it should come as no surprise should he find himself listed as a dark horse throughout awards season.
Best Horror – Get Out
Jordan Peele's directorial debut Get Out has found an enormous amount of success this year. Along with becoming the boldest and most important studio releases of 2017, the film went on to break box office records and be crowned the highest grossing debut film for an original screenplay. With that, it's no wonder Peele's film has achieved something so extraordinary; seamlessly being able to blend comedy with horror, helping to craft Get Out as one of today's most culturally relevant films. Not forgetting to mention that Peele's satirical take on the race is flat-out fearless, flipping stereotypes on its head and injecting an intelligent flair; a masterpiece tailor-made for America's current climate.
Best Documentary – Visages Villages (Faces Places)
Directed by 89-year-old Belgian filmmaker Agnès Varda and hip young French street artist JR, the part road documentary and part essay-film, Faces Places — created to celebrate both art and its community — follows the unlikely pair as they travel around France putting up different works of art and installations. Along their journey, the pair find the well-hidden graves of Henri Cartier-Bresson, visit goat farms, and talk with various French people about life and art. Varda's soul-stirring Faces Places is a good-hearted movie that packs a surprising emotional punch.
Best Indie Flick – Good Time
Set in the grungy streets of New York City, rising superstar directors Benny and Josh Safdie's manic-paced bungled-heist thriller Good Time delivers one of the most unforgettable characters of the year: Constantine Nikas. Brought to life by a committed Robert Pattinson, the character is arguably one of the best performances of his increasingly dynamic career. The film follows Nikas as he embarks on a twisted adventure through the city's underworld trying to free his brother from prison after a botched robbery. With Safdies' up close and personal shooting style, viewers are engulfed into Nikas's world and begin to descend into violence and mayhem along with him.
Best Action – Dunkirk
After a decade spent in the sci-fi and fantasy realm, writer/director Christopher Nolan has placed his talents on the historical drama Dunkirk. Set in World War II during Operation Dynamo, Nolan's latest project is perhaps one of the most intense films from start to finish, which is of course aided by Nolan's signature directorial moves and Hans Zimmer's musical magic. Intricate yet simplistic, Nolan effortlessly weaves three different time frames and perspectives — land, sea and air — into one mesmerizing, maddening, and often isolating experience, literally keeping viewers at the edge of their seats.
Best Fantasy – The Shape of Water
Only recently hitting theaters, Guillermo del Toro's R-rated fantasy has already scored some early award season wins. Taking place in the Cold War era America in the 1960s, The Shape of Water is a mashup that combines old Hollywood with science fiction. Sally Hawkins's performance as a mute custodian who falls in love with a sea creature is the film's anchor, which is supported by standout performances from Michael Shannon (as the film's villain) and Richard Jenkins (as Hawkins's confidant). The film looks to follow suit with del Toro's past works such as Pan's Labyrinth and The Devil's Backbone, both of which display an unmistakable level of passion and craft.
Best Small Screen Blockbuster – Okja
From the directer who brought us Snowpiercer and The Host, Joon-ho Bong returns with a delightfully mad sci-fi satire about a South Korean girl and her genetically enhanced superpig, Okja. One part satiric critique of the corporate food industry and one part comedy about transcending cultural boundaries, Okja's cross-species friendship will have viewers second-guessing their eating habits and their ecological footprint. Indebted to the spirit of both Steven Spielberg and Hayao Miyazaki, along with top-notch performances by Tilda Swinton and Jake Gyllenhaal, Okja has booted Joon-ho Bong into one of the world's best filmmakers.
Best Fashion-Related Film – Phantom Thread
The last great films of 2017 comes way of Paul Thomas Anderson's Phantom Thread which stars his There Will Be Blood muse and beyond-brilliant actor Daniel Day-Lewis, in what is also rumored to be his final role. Set in the posh world of 1950s London fashion, Day-Lewis plays a top designer whose world is rocked by a revolution in style and by a young muse (Vicky Krieps) who refuses to answer to his every command. Filled with twisted scenes and elevated by Jonny Greenwood's lush score, if Phantom Thread is truly the end for Daniel Day-Lewis, he's going out on a high note.