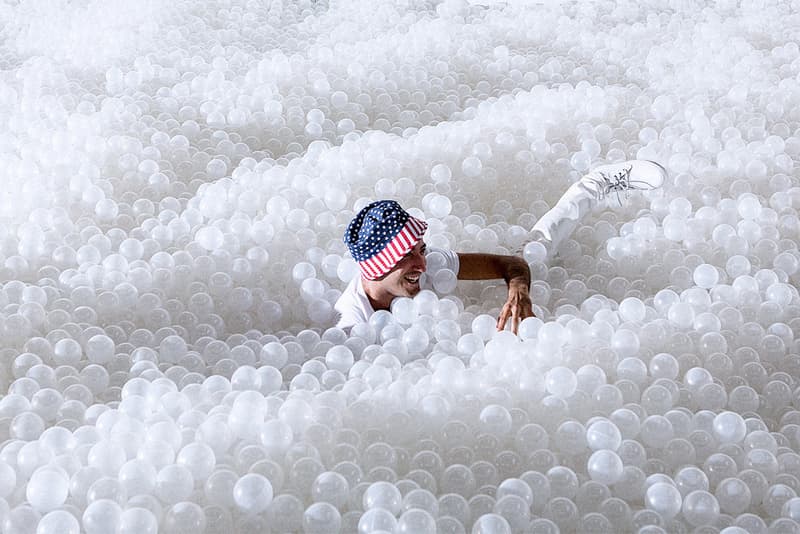 UPDATE: Everything You Need to Check out at Art Basel 2017
Workshops by Angelo Baque, talks by Daniel Arsham, immersive experiences and more.
---
Each year, people from across the globe travel to Miami Beach in Florida to catch the renowned Art Basel fair. The most-anticipated showcase is set to launch this week with over 268 galleries from approximately 32 countries setting up booths inside the Miami Beach Convention Center. Acclaimed art institutions such as Gagosian, Lehmann Maupin, Perrotin, David Zwirner, Honor Fraser, and more will have new pieces on display by their resident artists. Accompanying Basel is its sister event, Design Miami/, that spotlights the latest in contemporary design.
A slew of celebrated gallerists, collectors, artists, and designers will be available to meet firsthand including must-see shows outside of the convention center by fashion houses and leading figures in the creative industry. For example, Angelo Baque will host a special retail experience with exclusive items up for grabs. Not to mention, Daniel Arsham will helm a panel discussion alongside new media artist Anne Spalter on "How New Technologies Influence Artists & Creatives."
Art Basel 2017 will officially launch this December 6 up until December 10. Check out our list of major shows arranged by date below and let us know if you're paying a visit.
The LOEWE Foundation Introduces Third Exhibit Of "Chance Encounter" Series
The LOEWE Foundation has gathered diverse artists for the third edition of its ongoing "Chance Encounter" series. The new lineup features artworks by Sara Flynn, Richard Smith and Lionel Wendt which are already displayed at the LOEWE store at the Miami Design District. Regarding the works, J.W. Anderson expressed in a statement that "art and craft are always at the center of my creative process and these exhibitions are an exciting way of exploring artists that are important to me. I love the unexpected things that happen when people from completely different worlds are brought together."
"Chance Encounter" is currently open to the public until February 4, 2018.
LOEWE Miami
110 NE 39th Street
Miami Design District
WWD & Shutterstock Team up on Massive Photo Exhibit
WWD has joined forces with Shutterstock on a major photo exhibit that aims to blend art with fashion. The showcase spotlights approximately six million fashion-related photos culled from WWD's extensive archive "to showcase how fashion and art is a continued conversation over time," as stated in a press release. "The Art of Fashion" exhibit is currently open to the public at the Paradise Plaza Event Space up until December 7.
Paradise Plaza Event Space
151 NE 41st Street, 3RD Floor
Miami Design District, FL 33137
Chrome Hearts to Launch Multi-Artist Installation
Seasoned photographer Laurie Lynn Stark and gallerist Theo Niarchos have curated a special exhibition for Chrome Hearts. Titled "MIAMI from An Outside Perspective," the show will feature artworks from both emerging and establish artists from across the globe. The exhibit will officially launch this December 5 up until December 10. Visit Chrome Hearts' official website to learn more about the show.
Chrome Hearts, Miami
4025 NE 2nd Avenue
Miami Design District
Isabel Marant to Spotlight New Artwork by Arnold Goron
Isabel Marant recently opened her first store in Miami's Design District. To commemorate the Art Basel 2017 festivities, the acclaimed designer will feature new artwork by Parisian sculptor Arnold Goron. More precisely, Goron will create a new series of his signature masks that are described as "optimistic and joyous portraits," as stated in a press release. Accompanying the artworks is Marant's latest collection which will be available for purchase at the store. The opening reception is scheduled for December 5.
Isabel Marant
175 NE 40th Street
Miami Design District
White Cube Will Present Solo Exhibit by Artist Ibrahim Mahama
Leading contemporary art gallery White Cube is set to launch a solo exhibit of Ghanaian visual artist, Ibrahim Mahama. The highlight of the show is a huge installation piece titled Non-Orientable Nkansa that is comprised of approximately 2,000 wooden shoeshine boxes. Accompanying the installation is a new selection of Jute sack paintings by Mahama. The exhibit will open this December 6 up until December 10 at the City View Garage in the Miami Design District.
City View Garage
3802 NE 1st Avenue, #109
Miami Design District, FL 33137
Jeffrey Deitch and Larry Gagosian Present "ABSTRACT/NOT ABSTRACT" Exhibit
Leading gallerists Larry Gagosian and Jeffrey Deitch are set to launch their third thematic showcase entitled "ABSTRACT/NOT ABSTRACT" during Art Basel 2017. The new exhibit will analyze new and unconventional painting methods of abstract art. "To make a fresh abstract painting today, following all the remarkable achievements of the School of Paris and New York School, is daunting and challenging," said the gallerists in a statement. "Yet through the use of varied technologies, techniques, and approaches, this generation of artists continues to make astonishing and complex work with fresh innovations of the abstract tradition." Collectively, the exhibit will spotlight iconic works by living contemporary artists.
"ABSTRACT/NOT ABSTRACT" will launch this December 5 up until December 10 at Céline's boutique at the Miami Design District.
Céline
191 NE 40th St.
Miami, FL 33137
Angelo Baque to Host "Social Studies" Pop-Up Experience
Angelo Baque of Awake NY and Baque Creative will launch three unique pop-up experiences titled "Social Studies" for this year's Art Basel. The extensive presentation will offer an enthralling series of panel discussions, workshops, and limited edition garments from Off-White™, Union Los Angeles, 032c Magazine, No Vacancy Inn, Some Ware, ELECTION REFORM!, Odwalla1221, Awake NY, Shaniqwa Jarvis, and more. The talks will center upon themes of art, music, fashion, and design. Furthermore, Virgil Abloh will helm one of the workshops in which participants will be granted the opportunity to create one-off editions. Sign up here.
"Social Studies" will take place at Paradise Plaza starting December 6.
Paradise Plaza
151 NE 41st Street, #123-125
Miami Design District, FL 33137
Tech Discussions: Daniel Arsham's "Redefining Cultural Impact" & Minted's "The Art of Data"
Art Basel and Design Miami are launching a series of talks throughout their respective, annual showcases. A common thread throughout this season's offering is a focus on the influence of new technologies on art. One of the discussions will be led by Daniel Arsham alongside new media artist Anne Spalter titled "Redefining Cultural Impact: How New Technologies Influence Artists & Creatives." The discussion will explore how new technologies affect today's artworks. Meanwhile, exploring the influences of crowdsourcing and data, art and graphic design platform Minted will host "The Art of Data: How The Crowd Challenges Perceptions of Who Can be an Artist." Head over to Design Miami's official website for more information.
Daniel Arsham and SNARKITECTURE will also present a live art installation at 1800 x SoundCloud's BLANKCANVAS Art Basel exhibition made in collaboration with Nick Thomm. Acclaimed musical artists Dave East and Mick Jenkin will also be performing as the exhibition aims to show the balance of raw edge with refined sophistication. The event will launch this December 8 at 8 p.m. in a venue located in Miami's Wynwood district.
BLANKCANVAS Art Basel Exhibit
2600 NW 5 Ave
Miami, FL 33127
The Institute of Contemporary Art Opens in Miami
The Institute of Contemporary Art is set to open its doors this December 6 at the Miami Design District. One of the inaugural exhibits includes an exploration of renowned artists studios such as Pablo Picasso, Roy Lichtenstein, and Bruce Nauman by The Everywhere Studio. Moreover, a slew of solo shows by Edward and Nancy Kienholz, Senga Nengudi, and Hélio Oiticica will be on view. The Institute of Contemporary will be open to the public starting December 6.
The Institute of Contemporary Art
61 NE 41st Street
Miami Design District, FL 33137
adidas Skateboarding & Juxtapoz Join Forces On The Showcase Global Creators Series
adidas Skateboarding has teamed up with Juxtapoz on a group show that consists of 14 international artists from Asia, Latin America, Australia, Europe, and United States. The global showcase aims to raise awareness for emerging artists in the skateboarding culture, putting on a grand display of diverse pieces. Exhibiting artists include Ivonne Alcatara Sanchez, Trihumph, Maximilian Mueller, Spacegoth, Sid Tapia, Fabian Fredrick Fuchs, Lukas Goller, and more. Moreover, celebrated artists such as Lucy Sparrow, Jean Julian, Conor Harrington, Ron English, and many others will have their work displayed as well. Conclusively, a separate indoor skatepark alongside an outdoor space and mural will be located just a block away from the venue.
The large-scale exhibit is set to commence this December 7 up until December 10 at the historic Walgreen's building. Visit Juxtapoz's official website to learn more.
Historic Walgreen's Building
200 East Flagler Street
Miami Beach, FL
"CAUTION" Exhibit by John Margaritas and New York Sunshine Install Team
Multidisciplinary artist John Margaritis and his New York Sunshine Install Team are hosting a solo exhibit titled "CAUTION" for Art Basel 2017. The large-scale presentation is comprised of five concrete tanks that each weigh 7,000 pounds alongside new pieces under his 2016 Water Box series. Visitors are asked to "maintain a comfortable distance from the work as tanks may shift and fall."
Take a look at photos from the exhibit above which is currently open to the public until December 10.
New York Sunshine
187 NW 27 Street
Miami, FL 33127
Soundwalk Collective & David De Rothschild to Launch "JUNGLE-IZED" Interactive Installation
Soundwalk Collective and celebrated British adventurer David De Rothschild have joined forces on a multi-sensory art installation and film titled JUNGLE-IZED. The large-scale work aims to immerse visitors into the Amazon Rainforest as a way to raise awareness of the global climate crisis. The installation will be located along the 80th meridian West which links Miami with the western border of the Ecuadorian and Peruvian Amazon.
"In experiencing the installation, one will have the sensation of stepping out of time, of disconnecting with the ephemeral sense of time and pace of the city, and re-syncing with the eternal time format that we carry within ourselves as human beings; the pace of Nature. The film is shot in the heart of the Amazon Rainforest, and reveals the invisible energy source that exists in the animals, in the air, in the trees, in the voices of the tribal inhabitants of the Amazon," said the organizers in a statement.
JUNGLE-IZED was made in collaboration with The Analogue Foundation with Amazon rainforest sound environments provided by Francisco López. The interactive installation will launch this December 7 up until January 15, 2018.
The American Civil Liberties Union Partners With Artists & Designers For "Speak up" Campaign
The American Civil Liberties Union has connected with The Standard on a campaign entitled "Speak Up." The project centers upon a pop-up retail experience with renowned artists and designer offering limited-edition t-shirts, sweatshirts, tote bags, pins, and more. Collectively, "the goal of the initiative is to further awareness and mobilization around our rights and freedoms, with a focus on protecting the 'Dreamers' – young immigrants at risk of deportation from the only country they know as home," said the organizers in a statement.
All proceeds from the campaign will be donated to the ACLU. Prices of the products range approximately between $50 USD to $85 USD. The project will launch this December 7 up until December 10 at The Standard Spa at Miami Beach.
The Standard Spa, Miami Beach
40 Island Avenue
Miami Beach, Florida 33139
Street Artist Kaï to Display New Artwork for Markowicz Fine Art Gallery
The Markowicz Fine Art Gallery has tapped renowned street artist Kaï for a special exhibition. Kaï's signature collection of "Modern Relics" will be on display that consists of sculptures, paintings, and mixed media. Furthermore, the artworks of Reine Paradis, Metis Atash, and Jonathan Delmas will also be on view at the gallery.
Markowicz Fine Art Gallery
110 NE 40th Street
Miami Design District
Dior Collaborates With 10 Celebrated Artists for Special Collaboration
Dior is partnering up with 10 acclaimed artists from across the globe for a group show. The exhibiting artists include Lee Bul, John Giorno, Hong Hao, Friedrich Kunath, Namsa Leuba, Betty Mariani, Jamilla Okubo, Jack Pierson, Spencer Sweeney and David Wiseman. All of the artists have reimagined the iconic Lady Dior bag alongside limited-edition items. The event will officially launch this December 1.
Dior
162 NE 39th Street
Miami Design District.
Spanish Artist Coco Capitán Creates a Large-Scale Mural for Gucci
Gucci has once again enlisted Spanish artist Coco Capitán to create a large-scale mural at Miami's Design District. The piece is an extension of the Gucci Art Wall project which made its debut in New York City's SoHo neighborhood as well as Milan's Largo la Foppa in the district of Corso Garibaldi. Additionally, a limited edition yellow drawstring backpack and belt bag will be available for purchase exclusively at the venue.
Gucci
139 NE 41st Street
Miami Design District
Carsten Höller Teams up With Fondazione Prada on Two Unique Experiences
Milan-based arts institution Fondazione Prada has teamed up with conceptual artist Carsten Höller to create two juxtaposing experiences at The Prada Double Club Miami. The installation is comprised of an internal club inspired by a 1920's film studio complex and an outdoor tropical garden. Collectively, the nightclub will put on live music acts from international DJs while the tropical garden will spotlight performers from the Caribbean, South America, and Miami. Visit the Fondazione Prada's official website to learn more.
The Prada Double Club Miami
71st, NW 14th St
Miami, FL