The Five Biggest Trends from Seoul Fashion Week Spring/Summer 2018
Balenciaga Triple S sneakers everywhere.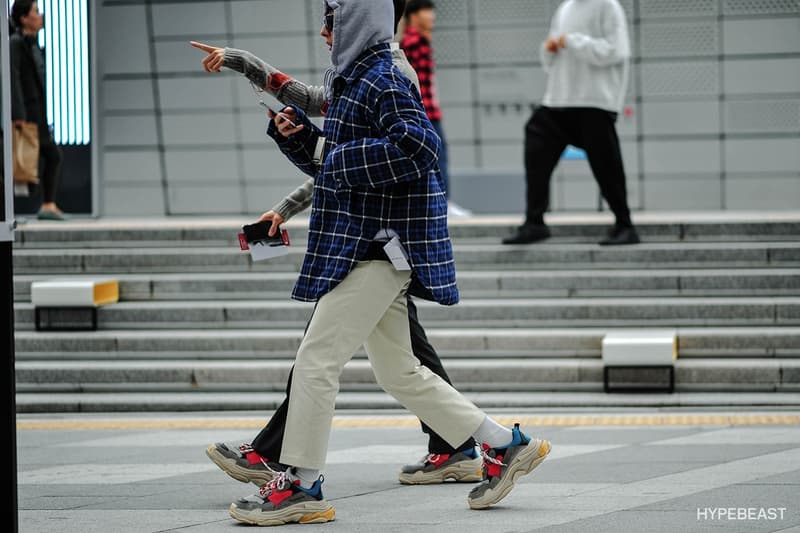 We're all familiar with the usual peacocking antics that occur during the "Big Four" fashion week circuit (Paris, Milan, London, New York), but these pale in comparison to the style parade that is Seoul Fashion Week. For Koreans, street style isn't merely an opportunity to flex your finest fit during a globally recognized fashion event — it's a ritualistic ceremony that involves everyone from K-pop stars, editors and buyers, to students, bloggers and even toddlers.
Last week, Seoul's most brazen fashionistas flooded the parameters of the Zaha Hadid-designed Dongdaemun Design Plaza for the city's annual fashion week. A raucous affair to say the least, Seoul Fashion Week has become an emerging point of interest for global industry folk in recent seasons thanks to its promising array of local designers, sprawling retail scene and, of course, visually stimulating street style.
If there's one thing that Koreans excel at over any other major fashion city it's personal style, and judging from the amount of detail they put into their looks, it's safe to say that the rest of the world has a lot of catching up if they even want to be considered as competition.
Here are five of the biggest street style trends from Seoul Fashion Week Spring/Summer 2018.
Balenciaga

Triple S

Undoubtedly the most hyped sneaker of the season, the streets of Seoul were rampant with Balenciaga's Triple S trainer. Nearly every colorway of the clunky, dadcore sneaker was spotted throughout the week — some attendees even swapped pairs with their friends midday to coordinate with whatever outfit changes that had planned (which were many).
Colored Hair
From shocking pink to scarlet red to electric blue, many attendees showcased Manic Panic dye-jobs, which makes sense given their penchant for colorful graphics and fetishistic/punk accessories.
Blazers
Reworked business casual (or "Biz Casual 2.0" as some call it) was a huge Fall/Winter 2017 runway trend earlier this year, so now that we're fully in-season, it wasn't surprising to see the trend-savvy Seoul style set rocking every kind of blazer variation under the sun. Whether pastel-colored, striped or patterned, the common denominator for every suit-y outerwear worn throughout the week was that they were oversized and boasted bulky shoulders.
Oversized Dress Shirts
Continuing the aforementioned resurgence of formal-tinged attire, ill-fitted dress shirts were absolutely everywhere this season. Each shirt was styled untraditionally and unpolished with sleeve cuffs peeking out of jackets, collars unbuttoned and popped and bottoms untucked, as well as disheveled — think less American Psycho and more Office Space.
Checkered Prints
Plaid, tartan, checkered — whatever term you call them, square-patterned prints were the go-to pattern for shirts, trousers and jackets. Some opted for a more Hot Topic vibe with bold red/black or white/black getups, while others chose a slightly more sophisticated option that spanned blue, beige and yellow.
Stayed tuned for more coverage from this year's event by following Seoul Fashion Week.