McDonald's McRib Sandwich Is Back
Dip it in some reserved Szechuan sauce.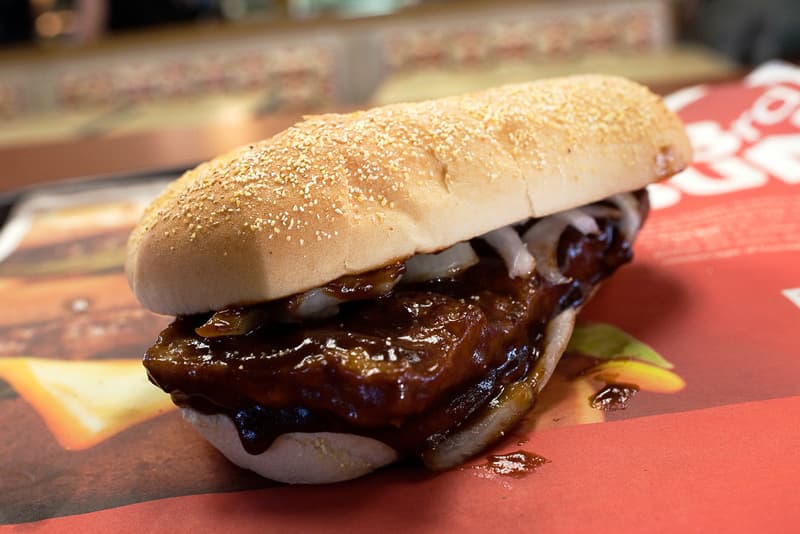 The original hyped item at McDonald's – long before Szechuan sauce entered the pop culture lexicon — is returning. The fast food chain is bringing the controversial McRib sandwich back in all its boneless pork glory to certain locations across the U.S. starting early November. "There's a lot of mystery around why the McRib comes and goes, but to be honest it's a local option based on consumer demand," the main McDonald's account tweeted last week.
The McRib's appeal stems from turbulent customer response, profuse press coverage that it garners, and the hunt to find the limited item in the first place. This year, the fast food chain has a McRib locator on its site, which is the best way to find one near you, although areas like Buffalo, New York, Texas, Missouri, Oklahoma and New Mexico have had sandwich spottings. Check out a few satisfied customers below.
PSA THIS IS NOT A DRILL THE MCRIB IS BACK I REPEAT GOD HAS COME BACK FOR US pic.twitter.com/WmUN0nNARr

— Ted Allen (@GregKolbbb) October 29, 2017
@realDonaldTrump 1st step to making America Great Again should be demanding @McDonalds make the Mcrib available year round! #McRibSolidarity pic.twitter.com/PdMOmSvAvO

— Andrew Meyer (@UpPlayer) September 30, 2017
@mcriblocator this is real!!!! Hello heaven @McDonalds my love has returned #mcrib pic.twitter.com/OKBdMvZ2Sn

— Christopher (@Topher_Pappas) October 31, 2017
It's McRib season n***as ???????????????????????????? pic.twitter.com/gTjW4Ejz2H

— Toby :) (@chipz_dipz_) October 31, 2017