This Limited Edition Tostitos Bag Tells You When You're Drunk & Requests an Uber Ride
Made especially for the upcoming Super Bowl.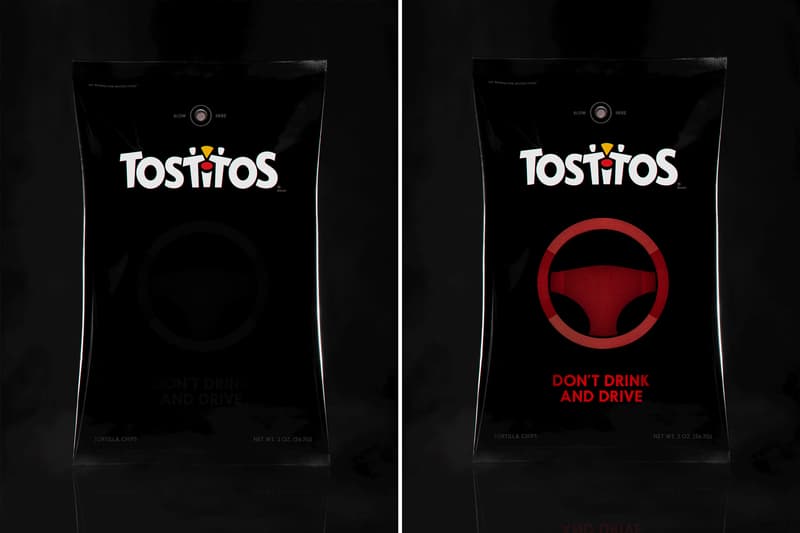 Frito-Lay and ad agency Goodby Silverstein & Partners have joined forces on a limited edition Tostitos bag that can hail Uber rides for folks after they've had a night of heavy drinking. Dubbed the "Party Safe" bag, the product is fitted with sensors that can spot alcohol on your breath. A steering wheel graphic located in front of the bag will turn red if detects too much blood alcohol content with an accompanying text that reads "don't drink and drive." Conversely, the pictogram will turn green if you're entirely safe to drive home. Moreover, the bag boasts NFC technology which easily allows you to tap it with your phone to request a ride from the ride-sharing company.
Uber has partnered up with Mothers Against Drunk Driving (MADD) on a $10 USD ride discount during the upcoming Super Bowl this February 5th. To get the credit, you will need to enter the UPC code from a Party Safe bag into the Uber app. "Our goal is to remove 25,000 cars from the roads that Sunday evening," chief marketing officer of Frito-Lay, Jennifer Saenz told AdWeek. "Whether watching the big game at a friend's house or at a local bar, a safe ride home is just a few easy taps away."
See it in action below and then let us know your thought.
.@Tostitos' new party bag knows when you've been drinking and will even call you an Uber: https://t.co/6YGXE5x3EO pic.twitter.com/Q0mO2bo22h

— Adweek (@Adweek) January 24, 2017