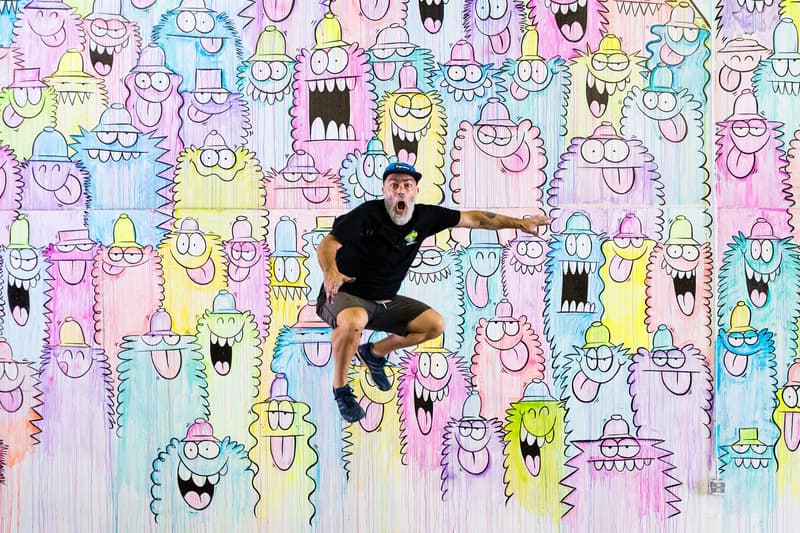 POW! WOW! Hawaii 2017 Will See a Slew of Masterpieces From Artists Across the Globe
Concerts, live art installations and more.
---
After storming through the city of Long Beach, California, POW! WOW! artists from across the globe are getting ready to envelop Hawaii's commercial district of Kakaako with their striking artwork. Since 2011, founder and Hong Kong artist Jasper Wong has been wrangling a bevy of acclaimed international artists to network with local artists in order to foster creativity, collaboration and, of course, exposure in these events. Not to mention, 2017 marks the seventh year for the renowned function to take place in The Aloha State.
Visiting artists include Kevin Lyons, James Jean, Cinta Vidal, OG SLICK, Dan Witz, Careaux and more. Local creators span Beak, Ckaweeks, Dak1ne, Devour, Gavin Murai and Hoven, to name a few. As a whole, the event will feature live art installations, exhibitions, concerts and panel discussions. As far as music appearances go, Steve Aoki, ILoveMakonnen, Autoerotique, Max Styler, and other special guests are set to take the stage.
Take a look at key calendar events below and expect POW! WOW! Hawaii 2017 to take place from February 11 through February 18.
POW! WOW! Hawaii 2017:
TUESDAY, FEBRUARY 14, 6-10PM:
• 5TH ANNUAL 1XRUN X POW! WOW! PRINT EXHIBITION.
Limited edition print exhibition presented by 1xRun. Located at Lana Lane Studios, 327 Lana Lane.

WEDNESDAY, FEBRUARY 15, 7-8PM:
• JEFF HAMADA OF BOOOOOOOM TALKS WITH MR. JAGO.
Jeff Hamada of Booooooom has an in-depth conversation with a POW! WOW! artist. Held at the Kaka'ako
Agora, 441 Cooke Street.

THURSDAY, FEBRUARY 16, 7-9PM:
• SAVING BANKSY" PREMIERE AND Q&A.
Premiere of the "Saving Banksy" documentary and a Q&A with the creators of the film. Located at Kaka'ako
Agora, 441 Cooke Street. Hosted by Olukai.

FRIDAY, FEBRUARY 17, 6PM-LATE:
• ART TO THE PITCH.
"Art to the Pitch" an art inspired soccer match by Kicks to the Pitch, Paradise Soccer Club and participating POW! WOW! artists. Located at Wade Warehouse, 449 Cooke Street.

FRIDAY, FEBRUARY 17, 6-11PM:
• SHADOW STYLES ANNUAL BREAKIN EVENT.
A break dance battle with the UDEF crew. Located at the Kaka'ako Agora, 441 Cooke Street.

SATURDAY, FEBRUARY 13, 10PM-2AM:
• ELECTRIC PALMS, DIM MAK, AND POW! WOW! PRESENTS THE DIM MAK 20TH ANNIVERSARY TOUR WITH STEVE AOKI.
Electric Palms, DIM MAK, and POW! WOW! presents the DIM MAK 20th Anniversary Tour with Steve Aoki, ILoveMakonnen, Autoerotique, Max Styler, and Special Guests.