Watch Matt Mooney Skate the Iconic Timberland Field Boot in Downtown NYC
The New York skateboarder also shares his favorite shops, and places to hang out in the city.
Timberland holds a place in the NYC streetwear hall of fame. Embraced by all walks of New Yorkers, Timberlands have become recognizable sights on stages, outside of fashion shows and in studios. Born and raised in the Little Italy and Chinatown neighborhoods of Manhattan, skateboarder Matt Mooney is part of the NYC scene that helped elevate Timberland footwear to its current cultural status. Matt also represents the generation of downtown city kids that brought skateboarding to the forefront and gave rise to brands like Supreme and Fucking Awesome. Merging both skate, urban fashion and a typical New York disregard for convention, Matt hit the skate park to practice his tricks in the Timberland Field Boot. The newest iteration of the boot is 100% waterproof and has been equipped with Timberland's Anti-Fatigue footbed providing enough cushion to keep even skateboarders comfy. Check out the session above and read an interview with Mooney below to learn about the best places to skate, hang out, and buy some gear in New York.
1 of 3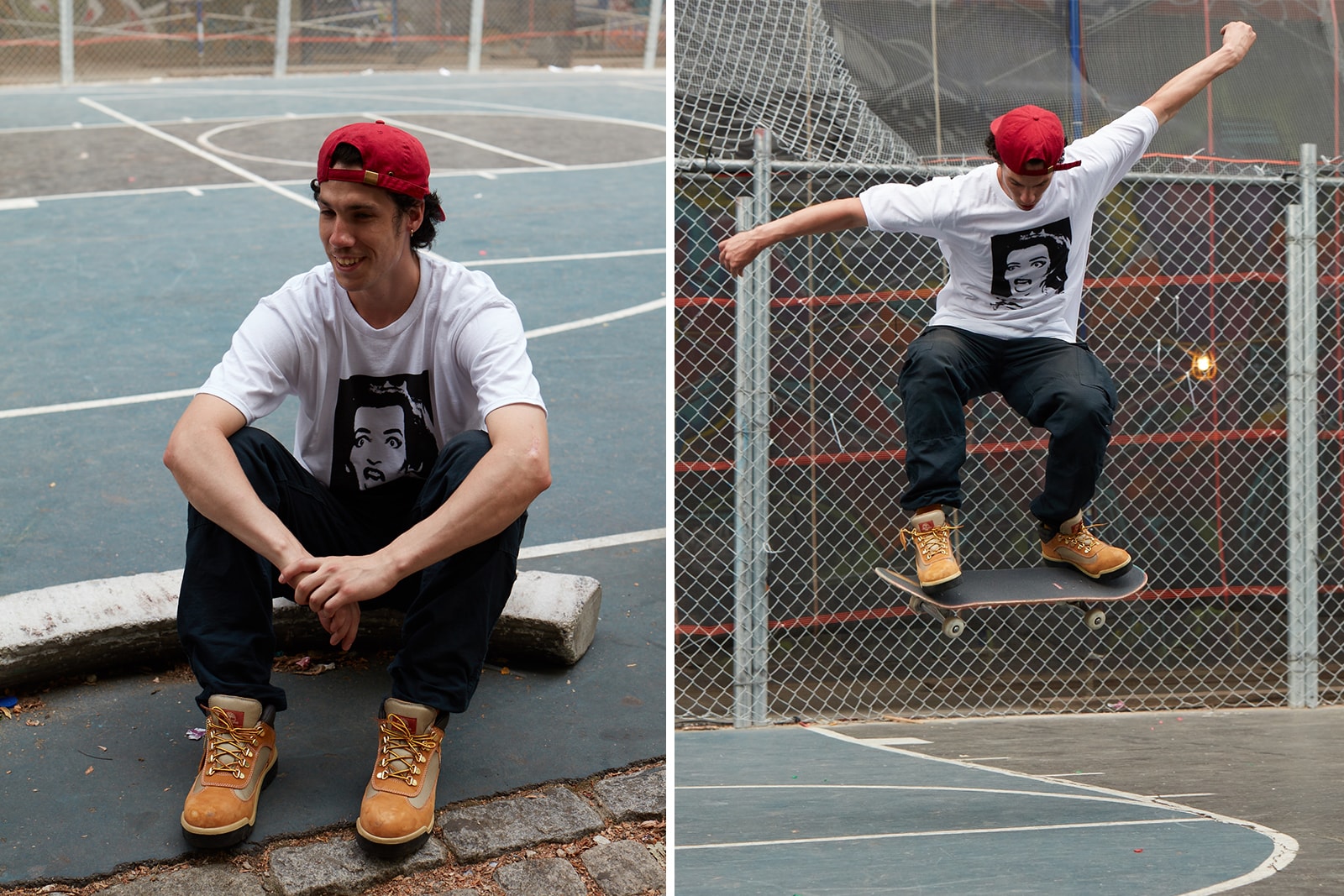 2 of 3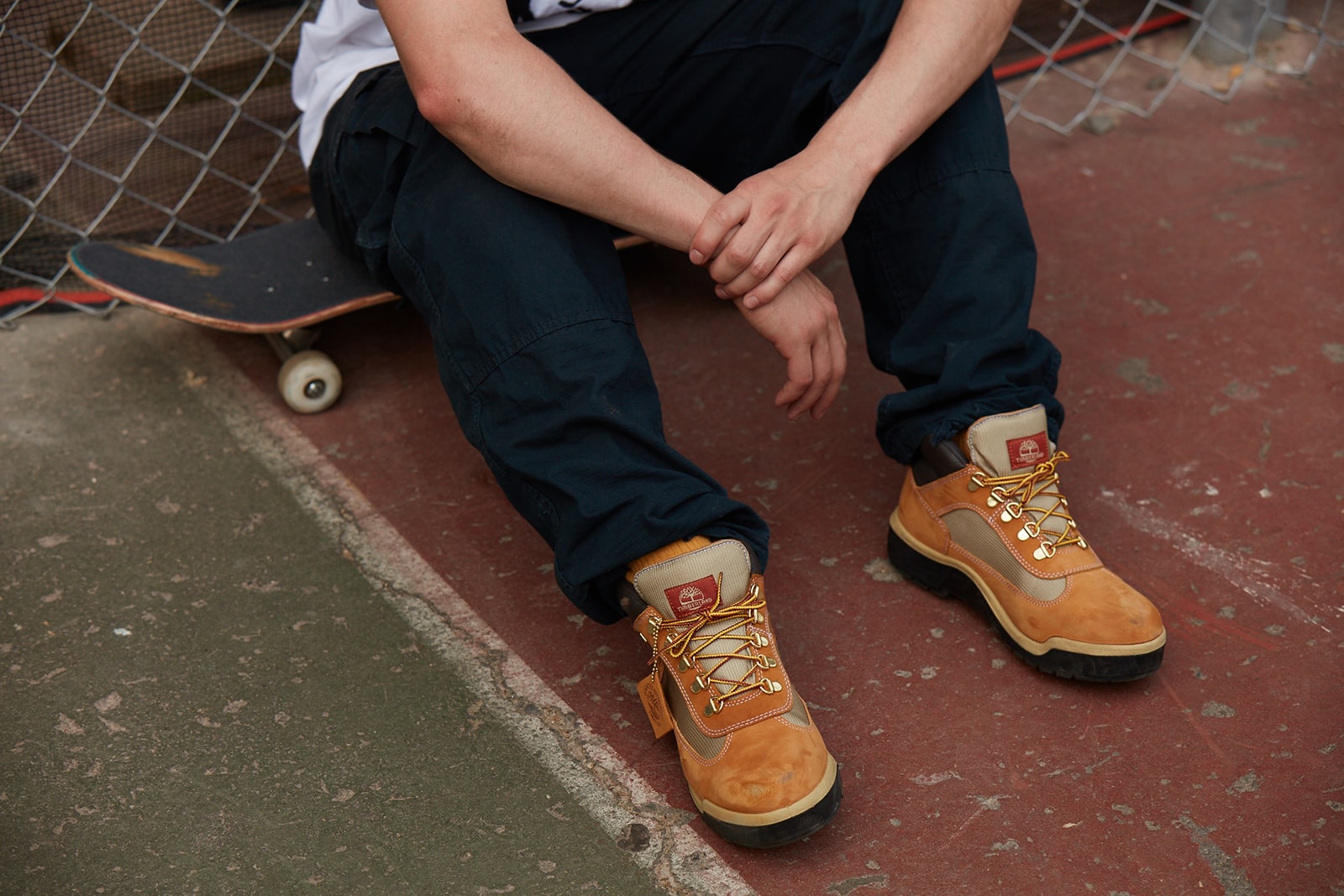 3 of 3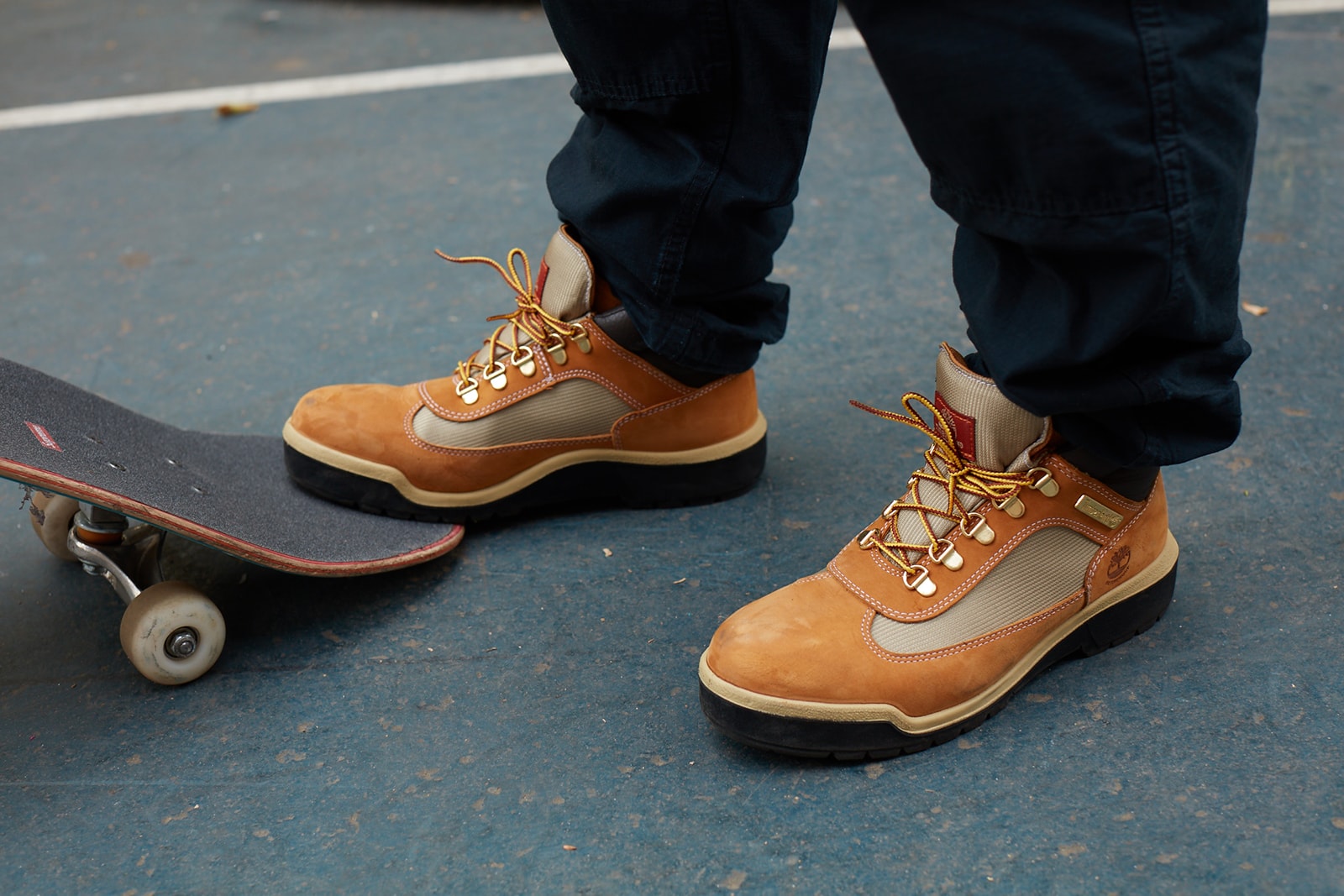 How did you get into skating?
My brother worked at Stüssy and Supreme and all those places in the 90's. I was always around it but never really cared about it until I beat Tony Hawk's Pro Skater 2 with Rodeny Mullen and unlocked his video part. Then I unlocked all the video parts and was fiend for skate footage. I just so happened to get my hands on the Rodeny vs Daewon 2 on VHS which I still have. Also, the first skaters I ever met were Huf and Dill and Dill did a triple kickflip in front of me. We're still very good friends, it was at the park on Spring Street.
How has skate culture in NYC changed over the years?
There are more skate parks and skating is "cool" now. When I was younger it was the opposite. That has changed the scene a lot.
What are your top 5 skate cities?
My top 5 cities to skate: LA, Mexico City, New York City, San Fran, Tokyo (even though I've never been)
Do you have a favorite NY skateboarder?
Keenan Milton and Huf are the best skaters to come out of Manhattan. I wish Ryan Hickey had more footage. For new guys — Tyshawn Jones. Shout out FA.
Where are your favorite places to grab a bite or a drink after a skate session in the city?
The best thing about NYC is the food. So you're gonna find something good anywhere. Beverly's is the best bar in the city right now.
How do you feel about fashion's appropriation of skate culture?
Some pros and cons about fashion's appropriation of skate culture: skating being cool and accepted is kind of the opposite of what skating is about. BUT, skating is what u make it. If you want to be a core skater and rock Emericas or some shit go ahead. If you like girls… well that's a pro. Cons are they bite a lot of our shit. A lot of sick pro skaters have to have side jobs like bartending and that's insane to me. That's like seeing a current bench NBA player make you a drink. Skating is hard af. 
Tell us about your favorite local skateshops or brands.
There are two skate shops: Supreme and Labor. They're both cool. I'd tell dudes to buy Fucking Awesome stuff. Bronze is cool too. I love both crews but FA first. 
What advice do you have for skaters visiting NYC from out of town?
Go to Tompkins Park or LES skate park and meet people. Not everyone is a dick here. It ranges. It's NYC we have every kind of character.
How did you get involved with Drake and the Revenge pop-up? What was that experience like?
The Drake pop-up was down the street from my house. I walked in and Tommy said I could work there. I love temporary odd jobs. There was a big line every day, so it was busy every second. I got paid, got some gear, and saw drake front row so it was chill. Thanks Tommy. 
What are you working on next?
I just want to travel. Might go to Mexico City for the 4th time for some video I'm in. Shout out Dull Boys. I really, really, just want go to Japan. That's the goal.