Nike Will Stifle Under Armour's Rise With Kevin Durant Going to Golden State
Move over UA, The Bay Area has a new sheriff in town.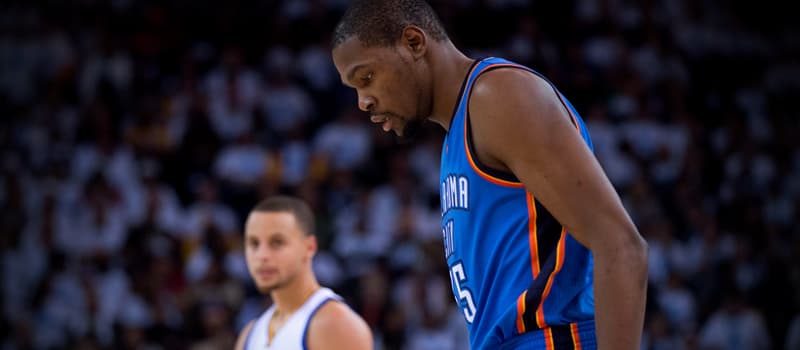 Yesterday, Kevin Durant took to The Player's Tribune to first-handedly announce his signing with the defending Western Conference champs, the Golden State Warriors, inking a two-year deal worth $54 million USD. KD leaves behind a stellar, albeit championship-less career in Oklahoma City, one that spanned eight seasons (plus one in Seattle), an MVP award, four scoring trophies, seven All-Star selections, and one conference title.
Durant has done just about everything for Oklahoma City, from creating a basketball culture literally out of nothing, to being the centerpiece in its rise to the top of the NBA. But the top has always been just out of reach for KD and the Thunder. During his tenure, OKC went 1-4 in the Western Conference finals, with that one win ending in a 4-1 lost to the Heatles in the 2012 NBA Finals.
There's a common saying: "you should never leave a job/occupation until the opportunity of progress no longer exists." At times, it's obvious; other times, you have to follow your gut in determining your career's future. It's safe to assume that Kevin thinks he has hit the proverbial wall in Oklahoma and the best chance for attaining that one elusive accolade is joining the aforementioned wall, and signing with the GSW.
Whether or not this is the right move for everyone involved — we're rooting for Russ – Nike is posed for a possible upheaval in market share, and at the expense of surging rival, Under Armour.
At times, it's obvious, other times, you have to follow your gut or instinct in determining your career's future.
Since the Wall Street Journal reported in January 2015 that Under Armour has officially overtaken adidas for the number two spot in the U.S. sportswear market, the Baltimore-based brand has experienced exponential growth accompanied by a healthy balance sheet. While it sponsors superstar athletes like Cam Newton, Bryce Harper, and others, much of UA's success can be attributed to the unprecedented play of marksman point guard, Stephen Curry, and his likable, even relatable, personality.
With the best player on arguably the best team sporting its logo, Under Armour has become a household name all over the world, including the Chinese market where it is projecting $400 million USD in revenue for 2018, up from 2014's $30 million USD. However UA has enjoyed this promotional ride without having to share the spotlight. With Klay Thompson wearing ANTA and Nike's Draymond Green far from a marketable player, Under Armour has become the face of this dynasty, and subsequently the new NBA.
Until now.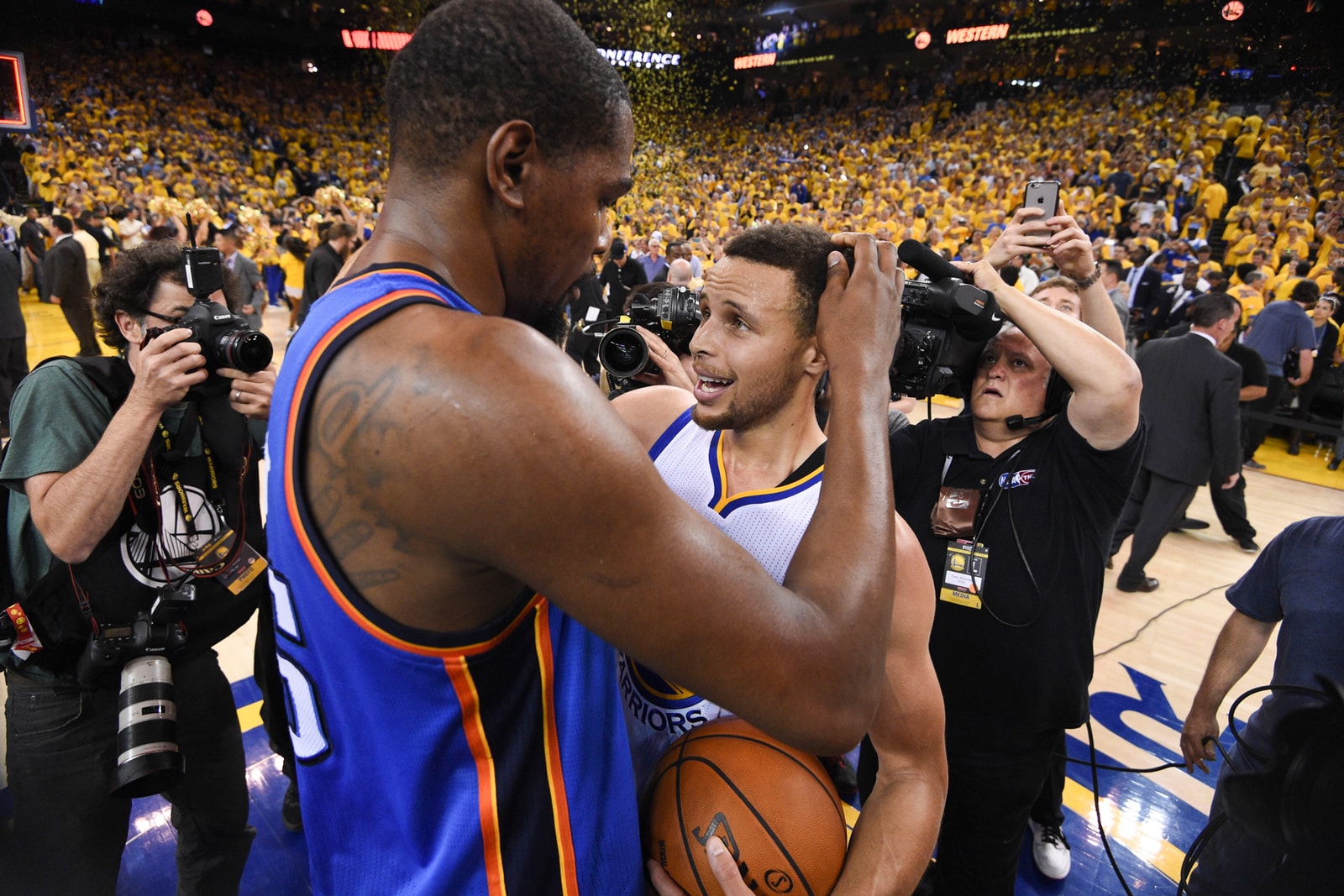 A month ago, we speculated why Nike wants Kevin Durant out of OKC. Once the rising star in the signature sneaker market, falling right behind LeBron James in early 2014, sales for KD's line are down more than 50%, with Curry running away with the number two spot, hot on Bronny's heels. The Swoosh knew if its superstar was to stay in OKC that growth for his brand would be tough, and would rely heavily on whether or not he can win a title there. However a move to a new city would be a welcomed facelift, one akin to LeBron's exodus from and return to Cleveland.
So while Nike is certainly excited for Kevin Durant's departure and soon-to-be resurrection, that excitement only multiplies knowing that it now has the opportunity to steal some spotlight from it's biggest competitor, Under Armour.
There's no doubt that Nike will be throwing marketing budgets towards Kevin's signature line, especially now that Kobe has retired, likely touting the 27-year-old as the savior, the missing link in Golden State's unsuccessful 2016 title run. UA will be doing the same, however its job will be to convince the world that Stephen Curry is the same player that won back-to-back MVP awards, and not the 28-year-old who had a mediocre playoff run this past year, and subsequently tainting his team's record-breaking 73-win season.
This is not to say that Nike will be facing an uphill battle. Stephen Curry is a beloved superstar in a city that adores him, while Kevin Durant will have to prove a lot to himself and the Bay Area, doing it as the league's newfound villain, similar to LeBron in 2010. Nevertheless, that won't stop Nike from plastering his name around the city, from massive billboards to its industry leading retail experiences.
UA's job will be to convince the world that Stephen Curry is the same player that won back-to-back MVP awards, and not the 28-year-old who had a mediocre playoff run this past year.
Even if Curry excels and leads GSW to a Larry O'Brien Trophy next season, Nike will be right there behind Under Armour, taking advantage of every team accomplishment and milestone, and with more money to burn.
While Under Armour and Nike have yet to comment on the move and how it relates to their competitor, NBA insider Adrian Wojnarowski confirmed the 'Battle of the Bay' on Twitter stating, "For Nike, this is a coup: It wanted to slow Under Armour's momentum with Steph Curry and Warriors. Now, KD promises to impact Curry's star."
Lastly, and maybe this is the conspiracy theorist in us, but how will Tim Cook's recent appointment to Nike's board of directors impact this battle of sportswear brands in The Bay, if any? With Apple in Silicon Valley, which is in the southern portion of The Bay, will we see the tech giant coming to the aid of the Swoosh, and how would that partnership even happen?
There's a lot of unanswered questions surrounding this move, but there's no doubt that Under Armour stands to lose the most.