Ducati Unveils Limited Edition 1299 Panigale S Anniversario
The Italian motorcycle manufacturer celebrates its 90th birthday with this special roll out.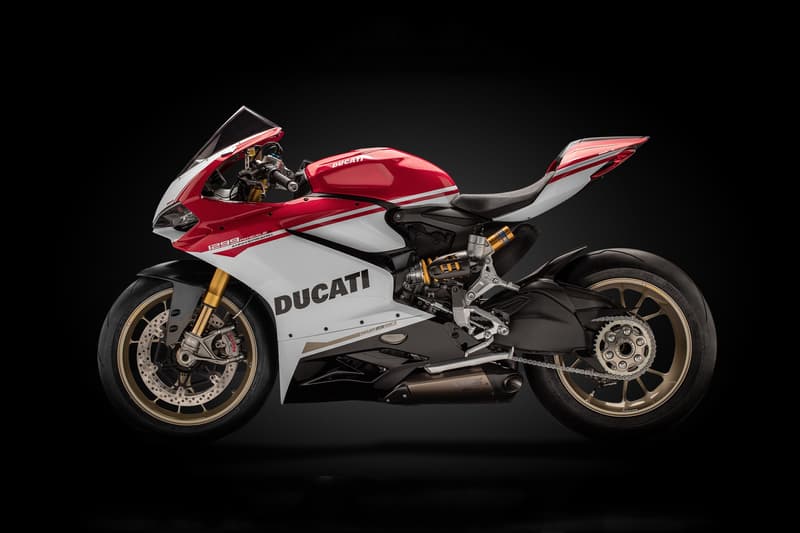 To celebrate its 90th birthday this year, Ducati recently debuted a new limited edition 1299 Panigale S Anniversario. Drawing inspiration from the brand's racing team, the Italian motorcycle company gave the Anniversario a red, white and black body, and sleek gold wheels for an impressive finish. The bike also features top triple clamp and steering-head inserts that were made with aluminum to mimic the chasis motif on the Panigale R, another renowned model amongst die hard Ducati fans. Furthermore, the ride is adorned with heel guards, a shock-absorber, and rear mudguard—all made with carbon fiber.
As a whole, the Anniversario is tricked-out with all the latest mechanical enhancements needed to make it a truly special machine. Its Bosch Cornering ABS, Öhlins Smart EC, Ducati Electronic Suspension, and the newest EVO versions of the Ducati Wheelie and Traction Control will help riders manage its 1285-cc, 205-horsepower twin-cylinder engine.
The bike is slated to hit dealers at the end of July with only 500 to be distributed globally. Head over to Ducati's official website to find more information here.