Champion's Lead Designer Speaks on the Brand's Collaboration With Vetements
"We realized quickly they weren't trying to bastardize the brand, they're actually complimenting the brand."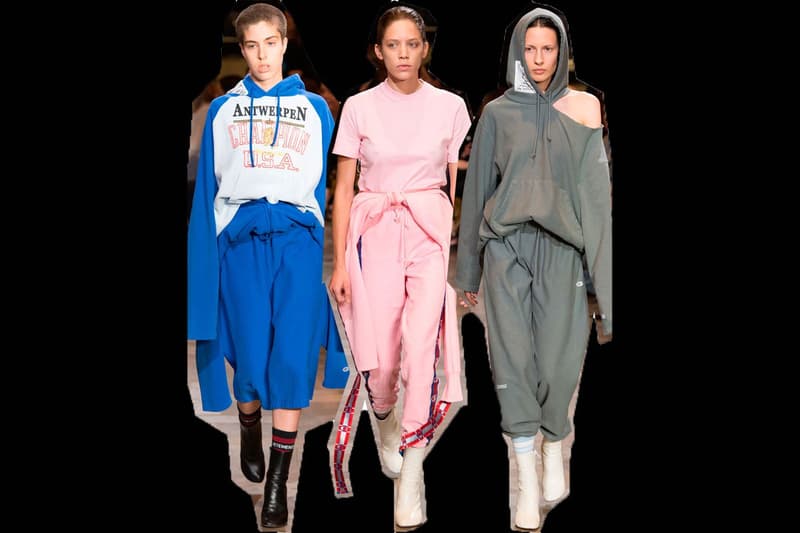 Vetements's latest collection was an unprecedented take on the haute couture presentation: the notoriously subversive design house debuted pieces in collaboration with 18 brands, many of which were labels unrelated to the world of high fashion. The reasoning behind these pairings: Vetements sought out brands that best embodied individual garments. Champion was one of the those selected, primarily for its sweats. Previous Vetements collections offered distorted takes on the American heritage brand's signature reverse-weave fleece hoodies and crewnecks, even going as far as twisting the iconic Champion logo; however, instead of hitting the Gvasalia brothers with a cease-and-desist letter, Champion and HanesBrand Inc. reached out to the Georgian-born brothers to formalize a collaborative relationship.
HanesBrands' Chief Global Design Officer, Ned Munroe, spoke to Racked about the Vetements Effect and how the relationship blossomed. Take a look at some choice quotes from the interview below:
Racked: In its debut collection, Vetements produced a hoodie that riffed on the classic Champion style complete with twisted logo that cost close to $1,000. It was all over street style blogs and stars like Selena Gomez. What was your reaction when you first saw it?

Munroe: Champion Europe [which is in the process of being acquired by Hanes Brand International] and I collaborate very closely in terms of product strategies, collaborations and aesthetics and it was funny because I saw it at the same time as their team and we were both like, "Hey wait a minute. Who is this? What's going on?" I knew of the Vetements brand, but it was the first time that we had seen the Champion logo twisted like that.

Did you reach out to them immediately?

We did. First of all, anyone who messes around with our logo, of course we're going to contact them. But once we talked to them and we understood the strategy and why they did it, we realized quickly they weren't trying to bastardize the brand, they're actually complimenting the brand. They were recognizing that Champion is an iconic athletic brand and we do the best fleece out there. So once we understood that, that's when the conversation [about possibly collaborating] started. We said to them, we love your strategy and we love your positioning but you can't [use our logo] without us being a partner.

And that's how the collaboration, which debuted at Haute Couture Week, came about?

That started the conversation. I'm thrilled about it; it's a very exciting concept. To have both of our brands—Hanes and Champion—partnering with Vetements on this collaboration makes it even more exciting.

What was it like working with the Vetements team?

They're a great group of people—very talented and very respectful to both of our brands. Getting the product to where it needs to be has been a lot of fun. It was definitely a new challenge and it was a very creative challenge (we manufacture performance styles, after all). But their team was very respectful in twisting these iconic styles in a way that's right for their brand as well as ours.

Tell me about the process.

Well, for instance, Hanes is all about the iconic tee. So it was about taking the classic crewneck silhouette and figuring out how you put it into their design aesthetic, interpreting the Hanes classic in a way that felt true to the Vetements brand in neckline, shape silhouette, and overall aesthetic. We had to use different resources to get it done, and a different factory for some of the styles, but it's still Hanes fabric. It still has integrity.

What about for the Champion products?

Champion is known for its fleece. So the challenge was: How do you manipulate the fleece in such a way that it's a modern interpretation? We played with a couple of different fabrications that really go back to the iconic heritage pieces of the brand. We did a version of the iconic Champion hoodie—and then it was figuring out, okay, what's the bottom of that? So we made track pants, a track suit.

What's the benefit, then, of partnering with Vetements?

Vetements has a more modern aesthetic. It's connected to designer and to streetwear, it's tapping into this amazing influencer in street culture right now, and that's super important.