5 Kimono Styles Reinterpreted in Streetwear This Season
Supreme, maharishi, and others rework the Hanten, Noragi, Samue and Dou Zinbei.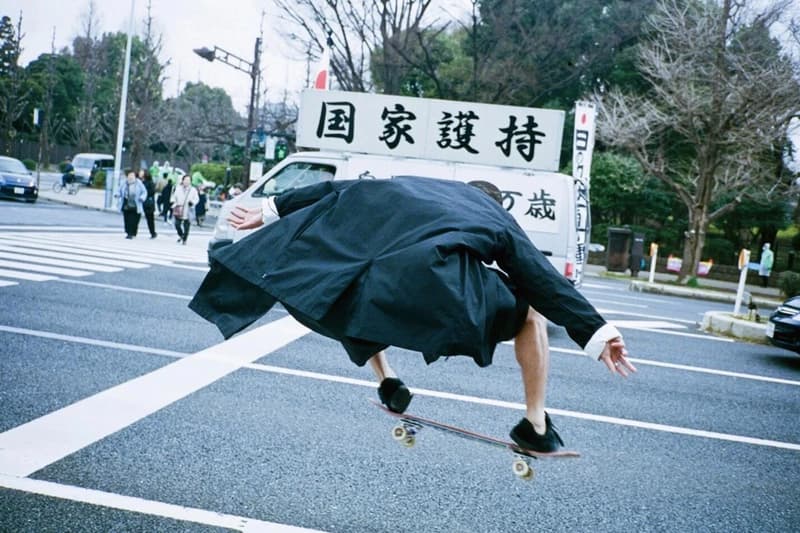 From the Japanese souvenir jacket to the ubiquitous MA-1 bomber, some of streetwear's most loved outerwear silhouettes draw inspiration from historical clothing styles. This season has seen an influx of pieces borrowing from an even more storied traditional garment: the kimono. The formal robe first appeared in Japan as early as the 5th century AD, and was—in its original form—influenced by Han Chinese clothing. It wasn't until the Edo period (1603–1867 AD) that the sleeves became longer in length and the obi (belt) became wider; since this incarnation, the basic shape of both men's and women's kimonos has stayed virtually the same. More than just a piece of clothing, kimonos are often regarded as works of art, especially those that are crafted from fine materials or by any number of the renowned artisans preserving the centuries-old construction techniques. In their more contemporary, adoptive forms, kimono style garments offer wearers an ornate yet wearable alternative to a blazer, jacket or overcoat. Here are five of this season's standout kimono styles from a gang of new and old streetwear favorites.
Supreme x Sasquatchfabrix. Hanten Jacket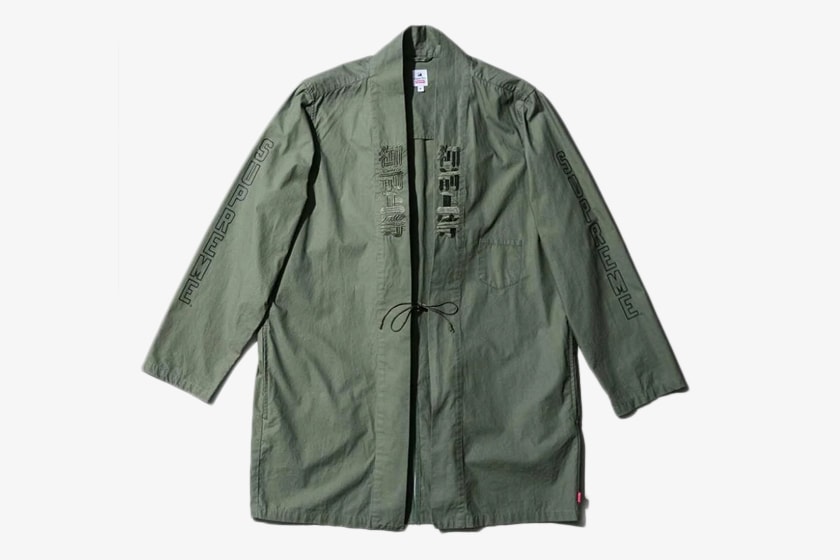 Supreme always has a few surprises up their sleeve when it comes to seasonal collaborations, and this season got tongues wagging when they revealed an unexpected collaborative collection with Sasquatchfabrix. Founded in 2003 by Daisuke Yokoyama, the cult Japanese label has become known for mashing up avant garde with street, integrating unique textiles, elements of skate and graffiti culture and traditional Japanese production techniques. These sensibilities were strong throughout their entire collection with the NYC-based kings of hype, and especially so in this Hanten jacket. The Hanten (袢纏) is a jacket that became popular during the Edo period and was, in its traditional form, a worker's jacket and was often padded for extra warmth and featured shorter sleeves as to not interfere with one's working hands. The Edo period (1615–1868) was one of great cultural blossom in Japan, as economic development contributed to the birth of the middle class, meaning that there were a new class of citizens who could afford such luxuries as clothing for fashion versus just practical wear. However, there were laws which prevented ostentatious display of wealth by all but the warrior caste. Many jackets including the Hanten and the similar Haori were fashioned with discreet designs, and if they did have any additional, more lavish details they were often hidden in the lining. The Supreme x Sasquatchfabrix. version came in army green or black, and featured classic elements like an embroidered lapel and tie closure, offset by contemporary elements like a fishtail back and bold Supreme branding on the sleeves.
Guerrilla Group: EYES & SINS Noragi Jacket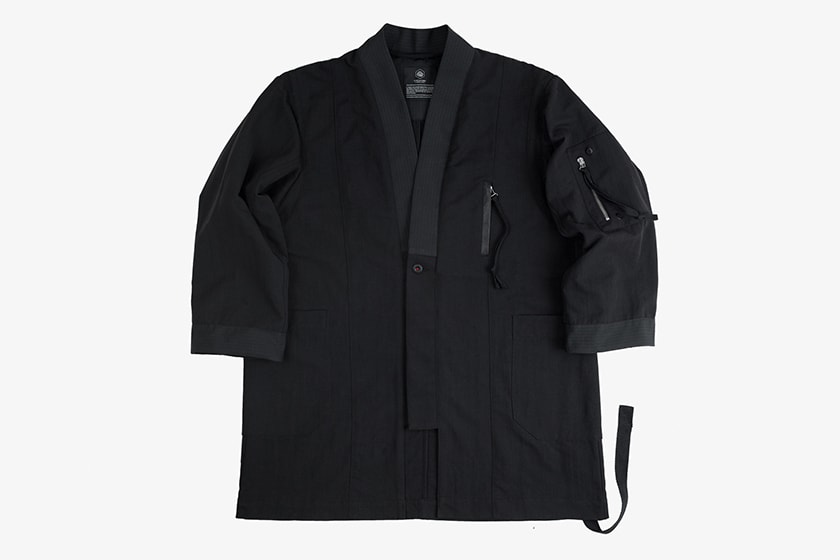 Guerrilla Group's sublabel EYES & SINS is known for producing pieces that would be at home in any dystopian, modern science fiction film, marked by a muted color palette and heavy military style cues. The Noragi jacket is one of the more striking pieces from its most recent collection, featuring chunky zipper details that nicely update the traditional kimono silhouette. The Noragi (野良着) is actually one of the more traditional examples of Japanese workwear. Originally worn by the working class including farmers, the Noragi is marked by a loose, unstructured fit that makes it easy to wear and move about in. The jacket is sturdily constructed using ECOYA ® and EAGLETEX®, ensuring both waterproofing and breathability making this a fashionable and functional addition to any wardrobe.
MEANSWHILE Cotton Birds Eye Monk's Samue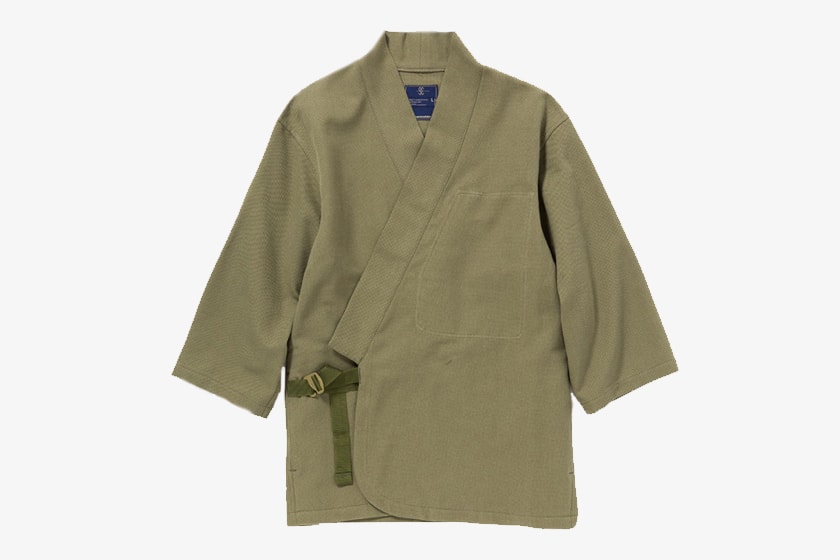 MEANSWHILE may only be about three years old, but in that time has developed a reputation for wearable, practical garments that spare nothing when it comes to character or whimsy. This season the Japanese label offered up its own interpretation of the samue (作務衣), a traditional jacket worn by monks of most Japanese Buddhist factions when engaged in the act of samu. Samu refers to physical work that is done as a simple, practical and spiritual practice and may include activities such as cleaning, cooking, gardening, or chopping wood. Samu is popular in Zen monasteries, particularly as a means of maintaining the monastery and as practicing "mindfulness" at the same time. Traditional samues were made from cotton or linen and often dyed brown or indigo as to distinguish them from more formal, embellished garments. In modern times, the samue is still a popular choice as a piece of casual or work wear; Shakuhachi players are also often seen wearing samue, because of the instrument's historical association with Zen Buddhism. MEANSWHILE's design closely mirrors a traditional samue in cut and color, albeit with an adjustable nylon strap and modern buckle added for comfort and convenience.
The MEANSWHILE Cotton Birds Eye Monk's Samue is available here.
maharishi 8046 MA Oversized Monk Coat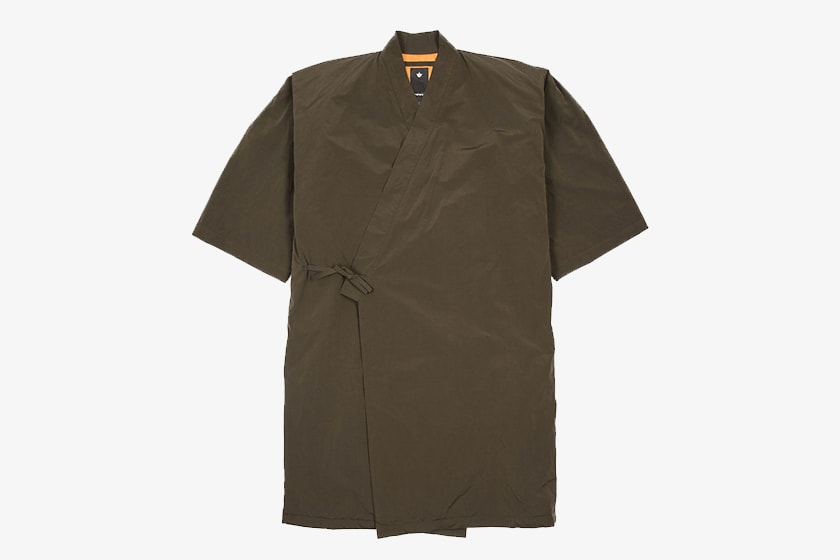 London's maharishi is one of the pillars of modern military-style clothing, and are masters at reimagining tried-and-true styles for a contemporary audience. It only makes sense that they chose one of the most traditional kimono styles in Japanese culture for this SS16 piece. As the name suggests, this overcoat was inspired by robes worn by Buddhist monks in Japan. Buddhism originated in India where temperatures are much warmer, so monks needed only one outer garment, the traditional kasaya or kesa (袈裟) in Japanese — an outermost robe usually worn draped over the shoulder as an symbol of faith versus protection against any elements. However as Buddhism spread to the cooler climates of Japan and China, other garments were needed for additional protection, and Buddhist robes in these countries evolved to encompass layered robes in addition to the kesa. Over time, Japan's many Buddhist sects developed their own distinctive kesa styles. maharishi crafted this adaptation from sturdy Italian Venetian nylon into a more elongated silhouette, and added some additional updated details including reflective accents, underarm vents, hidden side pockets and contrasting orange, quilted interior.
The maharishi 8046 MA Oversized Monk Coat is available here. 
ALK Phenix Dou Zinbei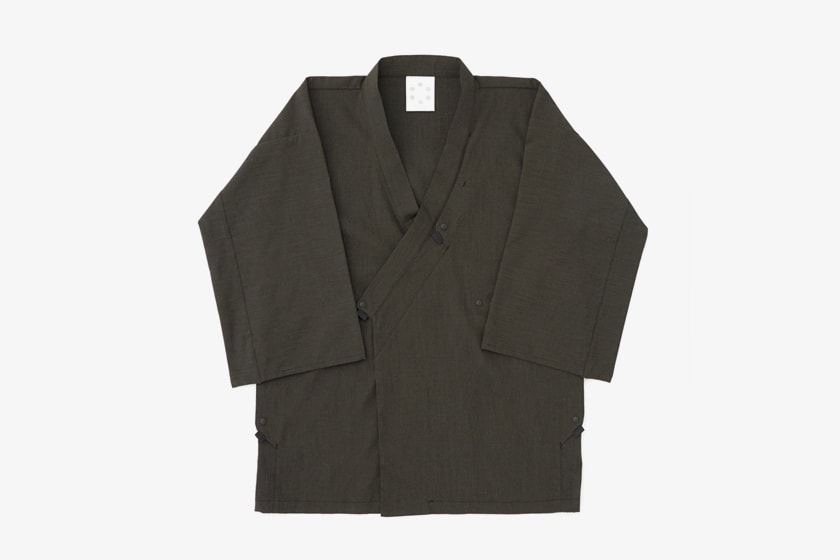 Japanese brand ALK Phenix is lesser known in the Western world, but is becoming one to watch for its standout pieces, especially when it comes to outerwear. For SS16, it offered its own version of a lesser-known kimono style in the zinbei (甚平), which was actually traditionally worn in Japan as a form of sleepwear or house wear. The zinbei was sometimes worn outside of the home, but only to perform tasks or errands that fell within close proximity, and featured loosely woven seams to allow for ventilation during hot weather. Traditional zinbei were usually made from lightweight materials including hemp or cotton whereas ALK Phenix flips the script by crafting its version from durable Kevlar, known mostly as the material from which bulletproof vests are made, which instantly gives the classic silhouette a rugged, modern utilitarian update. The jacket also features a hidden pocket built into the lapel.