A Breakdown of 10 Luxury Cars Rappers Recently Rapped About
From ultra-luxury foreigns to all-American vintages.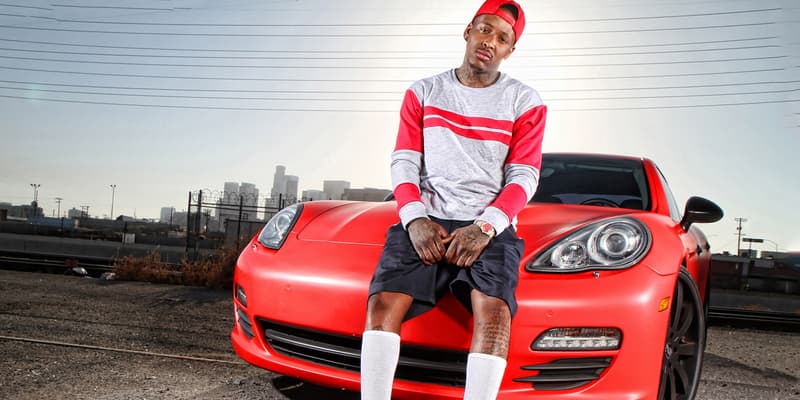 Glorification of materialism and wealth has always been a part of rap music. The music offers a message of resistance, empowerment and other socio-political issues since it derives from socially and economically impoverished urban settings in America. At the same time, an adoration of wealth and having fun is promoted with an equal amount of passion. One of these is rap music's love affair with automotives, because owning a luxury car is a straightforward way to flaunt one's financial prosperity and high-caliber taste. Although certain models and brands became trendy over the years — Jeeps in the 90s, Hummers and Escalades in the 2000s and European supercars in the 2010s — others, like old-school American brands remained relatively chic throughout the decades. Below, we've provided a breakdown of ten luxury cars that rappers have recently mentioned in notable songs.
Bentley Mulsanne
Notable songs: The Weeknd in "Starboy"; ScHoolboy Q in "THat Part (Black Hippy Remix)"; Future in "Purple Reign"
Production: 2010-present
Top speed: 190 mph
Horsepower: 530
0-60 time: 4.8 seconds
Base price: $335,600 USD
The Weeknd shows that he's a fan of luxury sedans and '90s R&B music in "Starboy": "I'm in the blue Mulsanne bumping New Edition." Other than sports cars, rappers are known to talk about four and five-seaters. Although the Bentley Mulsanne was a performance luxury car produced by from 1980 until 1992, the model rappers usually refer to is the new version unveiled in 2009, as a successor to the Bentley Arnage. Each car takes nine to twelve weeks to produce and its 6¾ litre (512PS) engine takes nearly 30 hours to build. The Mulsanne is the first flagship car to be independently designed by Bentley Motors in almost 80 years. The last automotive was W.O. Bentley's 8 liter model in 1930 — most Bentleys shared the same platforms with Rolls-Royce cars afterwards. T.I., Meek Mill, The Weekend are proud owners of this car.
Buick Regal
Notable songs: Swae Lee in Rae Sremmurd's "Black Beatles"; Lil Uzi Vert in "Enemies"; Kendrick Lamar in "Alright"
Production: 1973-1977 (First generation)
Top speed: 107 mph (1973)
Horsepower: 150 (1973)
0-60 time: 11.5 seconds (1973)
Base price: $3,470 USD (1973)
"I'm a f*ckin' black Beatle, cream seats in the Regal." Rae Sremmurd's No. 1 hit is somewhat of a tribute to The Beatles, so it makes sense that they're riding in an old-school whip to match the aesthetic. While contemporary foreign luxury cars are highly talked about this decade's rap music, pimped-up vintage automotives have been and still are a staple in rap music. The Buick Regal is one of these, and its an upscale mid-size car introduced in 1973 model year. For certain model years, the Regal shared bodies and powertrains with the similar Buick Century; Regal interiors were often more luxurious than Century models, featuring woodgrain trim, and velour or vinyl upholstery. Other than the Century, the Regal competed against Chevrolet's El Camino, Malibu and Monte Carlo, Oldsmobile's Cutlass and Pontiac Grand Am and Grand Prix.
Ferrari 488
Notable songs: Lil Uzi Vert in Travi$ Scott's "Ra Ra"; Young Dolph in "If"; Curren$y in "Grown Up"
Production: 2015-present
Top speed: 205 mph
Horsepower: 661
0-60 time: 2.9 seconds
Base price: $245,400 USD
The 488 is Ferrari's 2015 successor to one of rap music's favorite automobiles, the 458. After Young Dolph copped his 488 back in June, he made sure his listeners knew about the upgrade in his song "If": "I made them n*ggas take them old ass 458s back / Pulled up in that 488, I'm all fresh at the trap." Named "The Supercar of the Year 2015" by car magazine Top Gear, the 488 is a bang for your buck just like its predecessors. Its engine produces 661 hp at 8,000 rpm and 561 lb·ft of torque at 3,000 rpm; it's specific power and torque outputs are both records for a Ferrari car. At its price range, it's guaranteed to be the best bang for the buck in terms of power, performance and aesthetic.
LaFerrari
Notable songs: Tyler, the Creator in "What the F*ck Right Now"; Pusha T in "Got 'Em Covered"
Production: 2013–2015 (Coupé); 2016–present (Aperta)
Top speed: >217 mph
Horsepower: 963
0-60 time: <3 seconds
Base price: $1,300,000 USD; $3,400,000 (Aperta)
LaFerrari is Ferrari's flagship car and is the Italian brand's first hybrid. The successor to 2003's Enzo has the highest power output of any Ferrari and decreases fuel consumption by 40 percent. Its creation is based off of findings from testing of the Ferrari FXX and only 500 units have been constructed. In 2016, a limited, 209-unit version of LaFerrari called Aperta was produced, which features a removable carbon-fibre hard top, a removable soft top and various different upgrades. The LaFerrari and the Enzo have similar top speeds of 220 mph, but it is capable of reaching 60 mph in less than 3 seconds. No rapper is known to have a LaFerrari yet as it is extremely difficult to get your hands on one, but Justin Bieber reportedly owns one.
Lamborghini Aventador LP 750-4 SuperVeloce
Notable songs: The Weeknd in "Starboy"
Production: 2015; 2016 (Roadster)
Top speed: 217 mph
Horsepower: 750
0-60 time: 2.8 seconds
Base price: $495,000 USD
One of the most mentioned cars in rap lyrics, the Lamborghini Aventador is a mid-engined sports car that succeeded the ever-popular Lambirghini Murcielago in 2011. The Aventador is named after a fighting bull, in line with Lamborghini tradition, and its shape is based off of their limited-edition Reventón. By early 2016, Lamborghini had built 5,000 Aventadors, and the base price for each ran $393,695 USD. Lamborghini built an upgraded version of their Aventador called LP 750-4 Superveloce in 2015, which increases its horsepower from 700 to 750. A Roadster version of the LP 750-4 SuperVeloce was unveiled at the 2015 Pebble Beach Concours d'Elegance and goes at a base price of US$530,075. Car and Driver dubbed the Aventador as "the best Lamborghini ever" and Motor Trend described it as "the friendliest V-12 supercar in the world." The Aventador has the fifth fastest time ever recorded on the Top Gear test track, beating the Bugatti Veyron Super Sport, the Ferrari Enzo and the Porsche 911 GT3.
McLaren P1
Notable songs: The Weeknd in "Starboy"
Production: 2013-2015; 2016 (GTR); 2016 (LM)
Top speed: 217 mph
Horsepower: 903
0-60 time: 2.6 seconds
Base price: $1,150,000 USD; $3,700,000 USD (LM)
The McLaren P1 is a limited-production plug-in hybrid sports car that is considered to be the successor to the F1. Although it utilizes hybrid power and Formula 1 technology, it does not have the three seat layout of its predecessor. This flagship model is the main competitor against the LaFerrari and the Porsche 918, and in order to maintain exclusivity, only 375 units were produced. A track (GTR) version of the P1 was unveiled at the 2015 Geneva Motor Show and only owners of the P1 were invited to purchase one. The P1 currently holds the the lap record for production car at Circuit of the Americas, Algarve International Circuit, Anglesey Coastal Circuit and Silverstone National Circuit. Even if you have the money, it's extremely difficult to get your hands on this exclusive. The Weeknd, however, is one of these lucky owners.
Mercedes-Maybach S600
Notable songs: YG in "Why You Always Hatin'?"; Gucci Mane in "Maybach"; Action Bronson in "The Rising"
Production: 2015
Top speed: 130 mph
Horsepower: 523
0-60 time: 4.7 seconds
Base price: $190,000 USD
Rolls Royce, Bentley and Maybach are the primary trifecta of luxury sedans mentioned in rap music. Rick Ross even named his music empire after the German car manufacturer. In 1960, Maybach was acquired by Daimler-Benz and since has been an ultra-luxury car brand of Mercedes-Benz. In 2015, Mercedes brought the Maybach names back as a sub-brand of the Mercedes lineup, and the first model produced was the Mercedes-Maybach S-Class. It's competitor is the Bentley Mulsanne and Rolls-Royce Phantom and is available as S500 (V8 engine) and S600 (V12 engine) models. The S600 is essentially a Mercedes-Benz S-Class with added technology, size and luxury. At a starting price around $190,000, the S600 is of much greater value in comparison to previous Maybach models — the 57 cost approximately twice as much and the 62 was even more expensive.
Oldsmobile Cutlass
Notable songs: Kodak Black in French Montana's "Lockjaw"; Freddie Gibbs in Young Thug's "Old English"; NxWorries in "Kutless"
Production: 1961–1988; 1997-1999
Top speed: 106 mph (1961)
Horsepower: 185 (1961)
0-60 time: 8.7 seconds (1961)
Base price: $2,640 USD (1967)
The Oldsmobile Cutlass is a unibody compact car produced between 1961 and 1988, and it's undoubtedly been a staple in rap music. It was introduced as the top tier level in Olds' compact F-85 line but eventually evolved into a line of its own and birthed numerous variants like the 4-4-2 muscle car, the premium Cutlass Supreme and the Hurst Olds. The experimental sports coupe was designed in 1954 and its platform was starkly similar to the later F-85, which did not come into production until seven years later. In addition to Chevrolet Impalas, Pontiac Trans-Ams and Buick Regals, modded Cutlasses are common in the hood, especially in southern states like Florida. Common ways to trick out the car include the addition of hydraulic systems and suicide doors, getting it candy painted and having it sit on large rims. Even young rappers like Kodak Black appreciate this timeless vintage: "Slidin' in the Cutlass and you know I paint it candy."
Pontiac Trans-Am
Notable songs: Lil Yachty in "No Hook"; Action Bronson in "Actin' Crazy"; Rich The Kid in "Plug"
Production: 1969-1981 (First/second generation)
Top speed: 112 mph (1979)
Horsepower: 186 (1979)
0-60 time: 8.2 seconds (1979)
Base price: $6,500 USD (1970)
The Pontiac Firebird was introduced the same year as the automobile maker's platform-sharing model, the Chevrolet Camaro. It's release coincided with 1967 Mercury Cougar's, which shared the same platform as the Ford Mustang. The Pontiac Trans Am is an upgrade package for the Firebird, with improvement on handling, suspension and horsepower. Four distinct generations were made between 1969 and 2002, and like the Chevrolet Camaro, they were made on the F-body platform. The car was featured on several movies like Smokey and the Bandit, Hooper, Rocky II, Smokey and the Bandit II, Smokey and the Bandit Part 3 and Alphabet City. KITT and KARR of the popular 1980s TV series Knight Rider, is a modified third-generation Trans Am. Nelly is probably the most notable cosigner of the Trans Am, repping a 1978 version of the car in his classic "Ride Wit Me" music video.
Rolls-Royce Wraith
Notable songs: Drake in "Back to Back"; JAY Z in DJ Khaled's "I Got The Keys"; Meek Mill & Tory Lanez in "Litty"
Production: 1938–1939
Top speed: 85 mph
Horsepower: 25
0-50 time: 16.4
Base price: $2,200 USD (1938)
Rappers talk about old-school cars from the '60s to '80s all the time, but true aficionados like JAY Z bring it all the way back to the '30s. The Rolls-Royce Wraith, meaning "Ghost" or "Spirit" in Scottish, was built at the car manufacturer's Derby factory from 1938 to 1939. An upgraded version called the Silver Wraith was the first post-war Rolls-Royce, produced from 1946 to 1958. The Silver Wraith has been the Irish Presidential State Car since 1947, the Brazilian Presidential Ceremonial State Car since 1952, the Royal Dutch State Limousine in 1958, the Royal Danish Ceremonial Car "Store Krone" (Great Crown) in 1958 and Royal Greek Ceremonial Car (Silver Wraith Hooper version) in 1959. In the video for 2007's "Blue Magic," Pharrell and JAY Z rode through the city in vintage Rolls Royce Silver Wraith and Rolls Royce Corniche II. The Wraith is also shown in the music video for DJ Khaled's "I Got The Keys". The Wraith was resurrected in 2013 as a four-seat coupé based on the chassis of the Rolls-Royce Ghost.