NFL's Most Exciting Player Is A... Punter?!
Marquette King tells us how he became an NFL punter with "swag."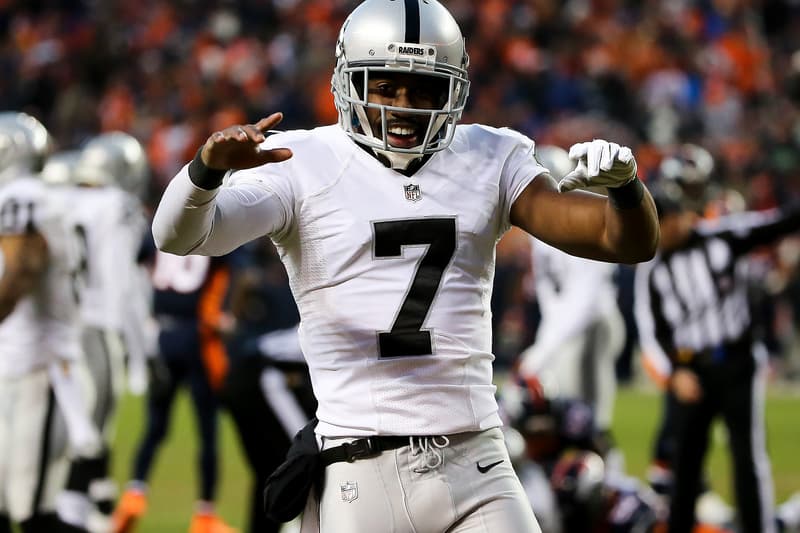 If you caught last night's game between the Broncos and Raiders you may have noticed an excited punter on Oakland's side. His name is Marquette King, a five-year man out of Fort Valley St. in Georgia. He's currently ranked in the top 10 for punts, gross punting yards, yards per punt, punts inside the 20, and celebrations. Seriously, this guy loves the game, and it truly shows. In a time when celebrations are more of a hot topic than ever before, it's refreshing to see a player, a punter of all positions, having fun and not getting penalized for it. Well, at least he hasn't yet.
Not only is he an exceptional punter and dancer, he's also the only punter of color in the league, which is ironic considering the league is mostly made up of black players. In today's Players' Tribune piece, King opened up about the first time he punted in the NFL, explaining the Cowboys return team thought it was going to be a fake punt because, well, he's black.
I'm standing back there getting ready for the snap, and I'm so nervous. Then the Cowboys are getting set to rush the punt, and all of a sudden I see one of their linebackers looking at me funny.

He yells out, "Yo, what is this?"

He's pointing at me. Then he's waving to his teammates. I'm just confused.

Then he yells, "A black punter? It's a fake! Yo, it's a fake!"

I just start laughing. That kills all my nerves, and I finally relax and boom it 57 yards for a fair catch.

I can still see the faces of those Cowboys players, looking at me like, What's up with this dude? Where'd he come from?
The Georgia native continues on to explain how he developed his powerful leg by kicking those big, red kickballs before, during and after school, just to impress his classmates.
Recess was chaos. There was no organization. We didn't play kickball. We played "kick the ball." There was no object to the game other than 20 kids trying to kick it as high and as far as possible. Whoever could kick it the hardest always got the most tries, because all the kids wanted to watch the ball get clobbered and go flying. You didn't get points for it or anything. It was just cool to see a ball get kicked real high. (Again, this was the '90s.) If you managed to kick the ball both high and far, you might get all 20 kids to look up in the sky and go, "Oooooooooh!" all at once.

That was my whole motivation when I was 10. I gotta wow these kids.
From there, King tells us about Jason Bourn-ing his college stadium's fuse box for late night practices by himself, having "swag" and the burden of his position. Check out the Marquette King-written piece here.