10 Recent Unexpected Music Collaborations
Drake meets 21 Savage, A$AP Rocky meets Mura Masa, Lil Uzi Vert meets Steve Aoki and more.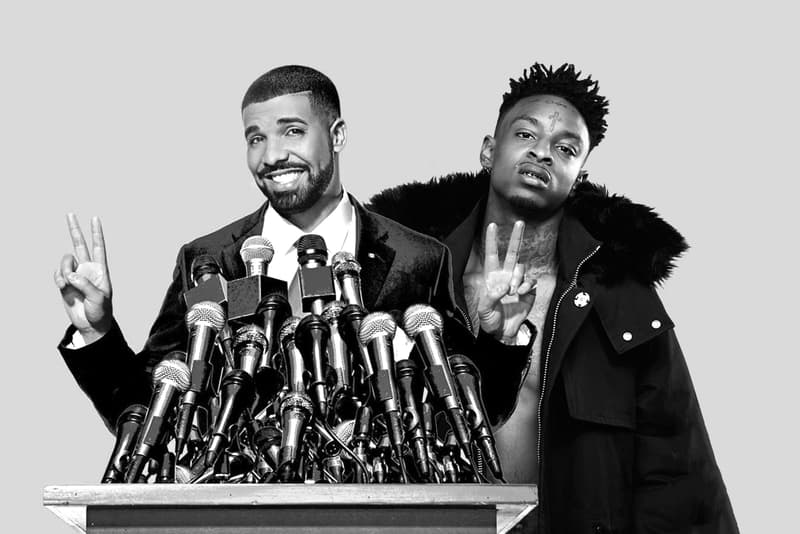 Music in this day and age is more fluid than it has ever been. Categorizing sounds by pre-made genres have become a fatigue way of marginalizing an artist's output. One way in which artists push the boundaries to there given genres are through collaborations. It's even more intriguing when these artists happen to come from very different sonic and cultural backgrounds. Collaborations break stigmas, opens up new lanes, and help the artists branch out to uncharted territory. We've collected 10 recent unexpected music collabs from the past two months for your listening pleasure; Drake worked with 21 Savage, A$AP Rocky linked up with Mura Masa, Lil Uzi Vert met with Steve Aoki and more. Check them out below and let us know which one you're feeling the most.
Cashmere Cat x 2 Chainz, Tory Lanez & Starrah
Song: "Throw Myself a Party"
Over the last few months, Cashmere Cat has been unleashing singles off of his forthcoming debut studio album, Wild Love. While they all featured unlikely collaborations (The Weeknd and Francis and the Lights on the title track and Selena Gomez and Tory Lanez on "Trust Nobody), the third single, "Throw Myself a Party," topped them off as most unexpected with a 2 Chainz appearance. Afterall, Cashmere's rise to popularity was partially due to his remix of 2 Chainz's "No Lie" back in 2012. (Since the song is not officially released, listen to "Trust Nobody" below.)
Charli XCX x Lil Yachty
Song: "After the Afterparty"
Late last month, Charli XCX released her new single "After the Afterparty," which features none-other-than the "1Night" mastermind, Lil Yachty. Produced by FRED, Stargate and SOPHIE, the track will appear on Charli's forthcoming album. On the 31st, the pop star unleashed a Halloween-themed visual for the track and the clip stars Charli, Yachty and friends as zombies who eat human flesh.
Drake x 21 Savage
Song: "Sneakin'"
Two weeks ago, Drake announced a new playlist project called More Life during an episode of his Beats 1 show OVO Sound Radio. During the segment, he premiered three songs that will be on it — one of them is titled "Sneakin'" and features 21 Savage. The week after, the Atlanta rapper took to Instagram and revealed that the 6 God had purchased his fellow October baby a Ferrari 488 for his birthday. Sure looks like the beginning of a long friendship to come.
Lady Gaga x Tame Impala's Kevin Parker, Mark Ronson & Bloodpop
Song: "Perfect Illusion"
Tame Impala mastermind Kevin Parker is known for his introverted songwriting style; he creates each of his songs with very little to no help or assistance from others. Therefore, it came to a surprise to everyone when it was revealed that Lady Gaga's leading Joanne single "Perfect Illusion" was co-produced by Parker, Bloodpop and Mark Ronson. The song started off as a demo called "Illusion" which Parker came up with and presented to Gaga and Ronson after flying from Australia to the US.
Mura Masa x A$AP Rocky
Song: "Love$ick"
Mura Masa came up as a bedroom producer and in 2015, dropped a solo instrumental song titled "Lovesick F*ck." At the end of September, the 20-year-old producer dropped a brand new rendition of the track featuring a verse from A$AP Rocky. The track is retitled to "Love$ick" and the collaboration happened when Rocky stayed in London for a few days. The two met in Abbey Road's Studio 2 for a couple of hours to knock the song out.
Ryan Hemsworth x Nebu Kiniza
Song: "In The Sky"
Ryan Hemsworth, a producer known for his solo material as well as collaborations with established rappers like Tory Lanez, dropped a track early last month titled "In The Sky." The song features Nebu Kiniza, a rapper from Atlanta who is best known for his 2015 viral hit "Gassed Up." Ryan laced floating synths, mystical flutes and hard-hitting trap drums while Kiniza delivered his signature sing-songy raps.
Steve Aoki x Lil Uzi Vert
Song: "I Can't Lose"
While many of Lil Uzi Vert's hits are crafted by producers like Don Cannon and Atlanta regulars like Metro Boomin, Zaytoven and others, the Philadelphia rapper continued to expand his musical vocabulary by tapping the electronic music scene. Uzi Vert dropped a new track titled "I Can't Lose" back in September and it's produced by electronic music guru Steve Aoki, and as expected his melodic rap style pairs perfectly with Aoki's festival-friendly touch. Learn more about the collab in our interview with Steve Aoki here.
T-Pain x Lil Yachty
Song: "Dan Bilzerian"
T-Pain is hands down the most important artist in Auto-tune's history. Late October, the Nappy Boy teamed up with fellow Auto-tune user Lil Yachty for a collaborative track titled "Dan Bilzerian," named after the infamous social media figure. The T-Pain-produced track is an ode dedicated to all the haters and finds both artist delivering catchy melodies.
Wyclef Jean x Young Thug
Song: "I Swear"
Young Thug paid homage to Wyclef Jean by naming on of the tracks off of his latest project, Jeffery, after the former Fugee. Earlier this week, the Atlanta rapper connected with Jean once again for the Caribbean-infused track "I Swear." Thugger will also be featured on Celf's forthcoming J'ouvert EP.
Zeds Dead x Pusha T x Weezer's Rivers Cumono
Song: "Too Young"
Early last month, Pusha T and Weezer frontman Rivers Cuomo finally dropped a song together. The song "Too Young" is featured on Zeds Dead forthcoming album Northern Lights, which will be out October 14 via Deadbeats. Other artists to be featured on the upcoming LP are Elliphant, Twin Shadow, Jadakiss and Styles P, Atlas and others.