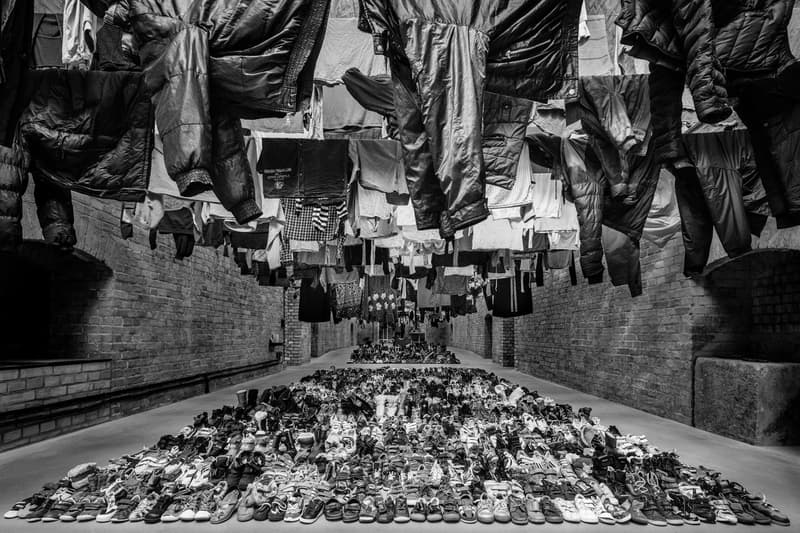 Ai Weiwei's "Laundromat" Exhibition Spotlights Thousands of Syrian Refugee Garments
Currently on display at NYC's Deitch Projects gallery.
---
Ai Weiwei recently launched a whopping four exhibitions in New York City that center upon the Syrian refugee crisis. Of the four, the Chinese artist's "Laundromat" exhibit in Deitch Projects is perhaps his most monumental. The massive presentation pays homage to a refugee camp in Idomeni, Greece, culling an overwhelming amount of garments worn by approximately 15,000 men, women and children who found shelter in the small village this past spring. Alongside the sprawling number of shoes, shirts and jackets are personal keepsakes such as photographs that remind gallery-goers of the ongoing plight of these families and their harrowing experiences thus far.
The artist told designboom that the refugee project started in 2011 when he was arrested in Beijing. Having added that his "passport was confiscated and I was prohibited from traveling outside of china. Although I could not leave the country, I was able to stay engaged globally through the internet." The aforesaid predicament has been Ai Weiwei's catalyst for his extraordinary exhibitions in the Big Apple:
I decided to follow the refugees' path. I went to the Idomeni refugee camp. It had become a bottleneck when the flow of refugees entering europe was completely shut off. Before, the refugees would travel through Idomeni on the so-called Balkan route to reach Europe. Once the Macedonian government closed the border, the camp swelled to over 15,000 refugees.

I started to take many photographs, to try to record the moment. The harsh reality can act as evidence and make us reflect on these conditions. This is a condition many people refuse to see, or try to distort or ignore. Many willfully believe this isn't actually taking place. When you see so many children out of school, 263 million children worldwide, you can easily predict what our future holds.
Describing his experiences in Idomeni and how he decided on the name for the exhibit:
Once the refugees were forced to evacuate to different camps from Idomeni, many of those possessions were left behind. Trucks came in and loaded these items up to take towards the landfill. I decided to see if we could buy or collect them so they would not be destroyed.

With a truckload of those materials, including thousands of blankets, clothes and shoes, all impossibly dirty, we transported them to my studio in berlin. there, we carefully washed the clothes and shoes, piece by piece. each article of clothing was washed, dried, ironed, and then recorded. our work was the same as that of a laundromat.
Ai Weiwei's "Laundromat" exhibition is currently open to the public until December 23.
Deitch Projects
76 Grand St.
New York, NY 10013
United States