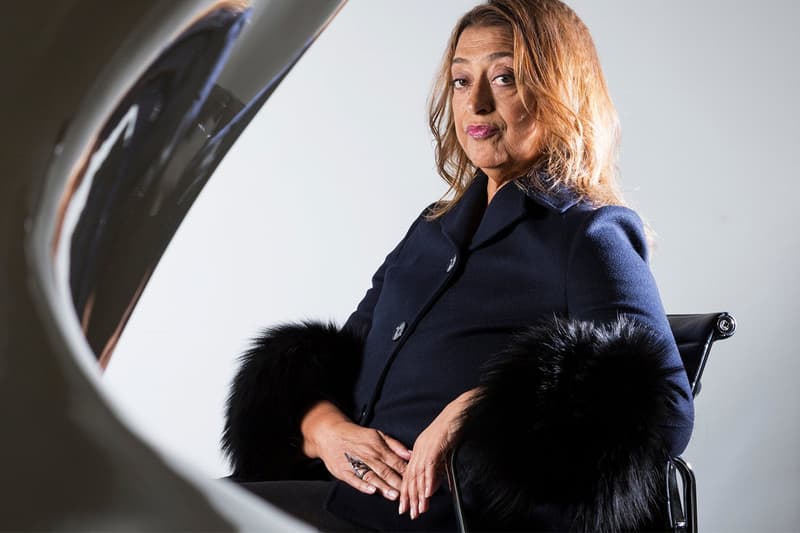 Zaha Hadid's Notebooks & Paintings to Be the Subject of a Traveling Exhibition
With stops at Hadid-designed buildings across the globe.
---
Before her unexpected death in March, iconic and world-renowned architect Zaha Hadid had been hard at work with London's Serpentine Galleries on a retrospective exhibition highlighting her rarely seen notebooks. Thankfully, despite Hadid's passing, Serpentine is pushing on with the exhibition and is planning to open the display this December. As The Guardian points out, the idea for the exhibition came about when Hans Ulrich Obrist, Serpentine's artistic director, attended her RIBA lecture in February and got a glimpse of her remarkable sketches. "I was completely transfixed," said Obrist. "I had never seen such notebooks. I wanted to see her to discuss what we could do. An exhibition? A book?"
Naturally, the resulting exhibition will hit Serpentine's Sackler gallery, which opened in 2013 in Kensington Gardens following an extensive Hadid-helmed renovation. And Hadid's notebooks aren't all that's going to be on display. Joining the sketches are her early paintings, the majority of which were inspired by geometric abstract art pioneer Kazimir Malevich and the early Russian avant-garde movement. Said Obrist of the paintings:
They are not known enough, they are not known to a wider audience and we want many people to see them beyond the art and architecture world. She is one of the great visionaries of our time, she is a historic figure and this is also why we feel this work has to be seen now and why it is so urgent. There could not be a more wonderful connection, to show it in her own building, the only structure in central London of hers.
The currently untitled Hadid exhibition goes on display this December before hitting other Hadid-designed venues — including, potentially, the likes of Rome's MaXXI National Museum of XXI Century Arts and Seoul's Dongdaemun Design Plaza — in 2017.