The Companion App Makes Sure You're Safe Walking Home at Night
Never walk home feeling unsafe again.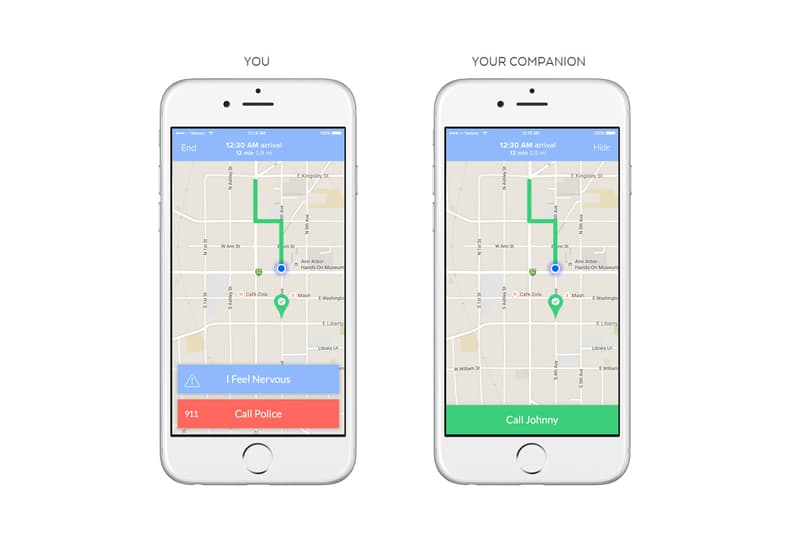 We continue to see new apps invented that help assist us in our everyday life. Next on the list is one which makes sure we're safe walking home late at night. Introduced by five students from the University of Michigan, the Companion app enables users to request for a friend or family member to keep them company virtually, tracking their journey to their next destination via a GPS or online map. Whoever the user chooses to be a companion doesn't need the app installed — just contact information will suffice and the companion will receive a hyperlink to virtually see where the user is.
The app can detect movements if the user strays from their path, falls, is pushed over, starts running, or has their headphones pulled out. If these movements are detected, the screen then asks whether the user is OK. A button on the screen can be tapped, but if it isn't within 15 seconds the app will automatically notify the companion (who can then choose to call the user or the police), and transforms the user's phone into an alarm projecting loud noises in an effort to dissuade the culprit. Companion was originally conceived to aid students walking home alone at night across university campuses. If the user calls 911, the app will automatically notify the campus police as well. While the campus police notification is U.S.-only, the app can be used worldwide by simply entering the chosen companion's country code and phone number. According to co-founder Lexie Ernst, a senior at the University of Michigan, "We've had a lot of people outside the US downloading the app. Since we launched, we've had dozens of emails from people in the US, as well as many other countries like the UK, Belgium, France, and Norway."
In addition to its basic functions, the app also has a button to let users note when they "feel nervous" in certain areas. The Companion team plans to collect this data to provide information on which areas might be more unsafe than others, providing them to school officials. Moreover, users will be able to note why they feel unsafe in certain areas in the future, to keep the dialogue open between students and campus security. This app has the ability to keep a lot of people feeling safe, and campuses even safer. However, this app isn't only directed to students. "Both men and women from all demographics have emailed us saying they'd love to use the app. Lots of parents want to use the app for their children, and some people want their elderly parents to use it, too, to make sure they don't get lost," says Ernst.
Would you try this out? Learn more about it here.