Football's Coming Home: Why adidas Is Taking Football Back to the Streets
Football on the streets is more appealing than on the field for many.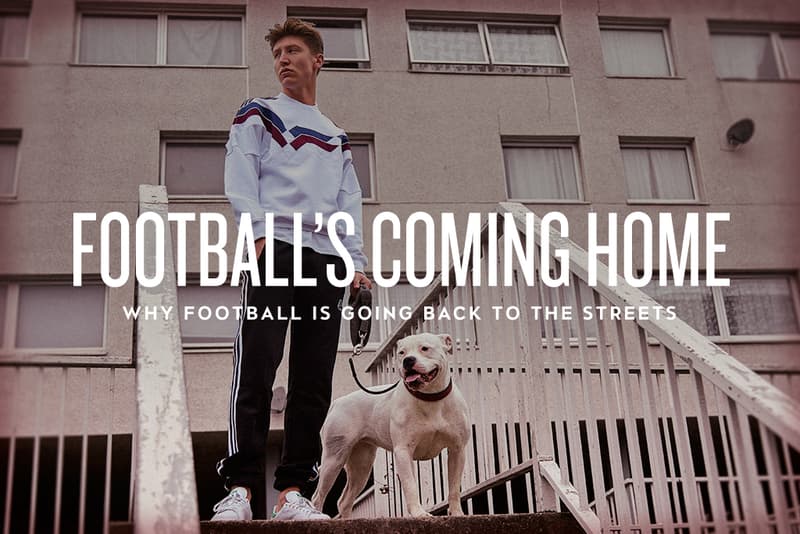 In spite of the recent scandal relating to FIFA corruption charges, which then led to Sepp Blatter standing down from his presidency, the beautiful game continued to take the spotlight in Berlin for the Champions League Final. While all eyes were upon Juventus and Barcelona to battle it out for Europe's most prestigious prize in football, adidas also had its eye on another market that has the same competitive appetite: the streets. With the timing coinciding with the final, the German sportswear giants constructed a huge footballing base with two football pitches inside. This base would stay there for at least 18 months to give back to the community, aiming to tap a demographic that plays its football with different rules. Rather than scoring goals and keeping track of assists, street football has a difference in its fundamentals, where embarrassing your opponent and attitude reigns supreme. To understand what adidas sees in the streets, we investigate the different areas that have intrinsic links to the game.
---
Skateboarding
Our starting point takes us to skateboarding. Last summer, Brazilian-born skateboarder Bob Burnquist celebrated his home country's national sport by incorporating football with his expertise on a skateboard. Integrating the two sports, Burnquist took to a grand skatepark to perform a slew of mind-blowing tricks which included shooting at goals while skating ramps, a 360 pipe, and hanging from a helicopter. While Burnquist's deftness on the four-wheeler is always compelling, the effortless combination of two sports that rarely share the same sentence was the most captivating. Skateboarding might seem to be completely disconnected with football, yet this stunt proved that the two didn't have to be mutually exclusive. In fact, on closer inspection, the two complement each other in more ways than expected.
In 2012, London skateboarding imprint Palace collaborated with longstanding football label Umbro on an adaptation of England's 1990 football shirt. While the two seemed unlikely companions, both shared a passion for football and classic design. "I saw Umbro and thought it'd be a good collaboration to do. [They're] English and we're English, you know? It felt right," said Palace founder Lev Tanju. While Tanju and his Palace cohort are proud football fans, the label's priorities have always been set — skateboarding first, clothing second. Earnings made from the brand support Palace's skate team. Its authentic approach has garnered the attention of sporting giants like Reebok and adidas. This brings us onto our next subject: fashion.
---
Fashion
1 of 4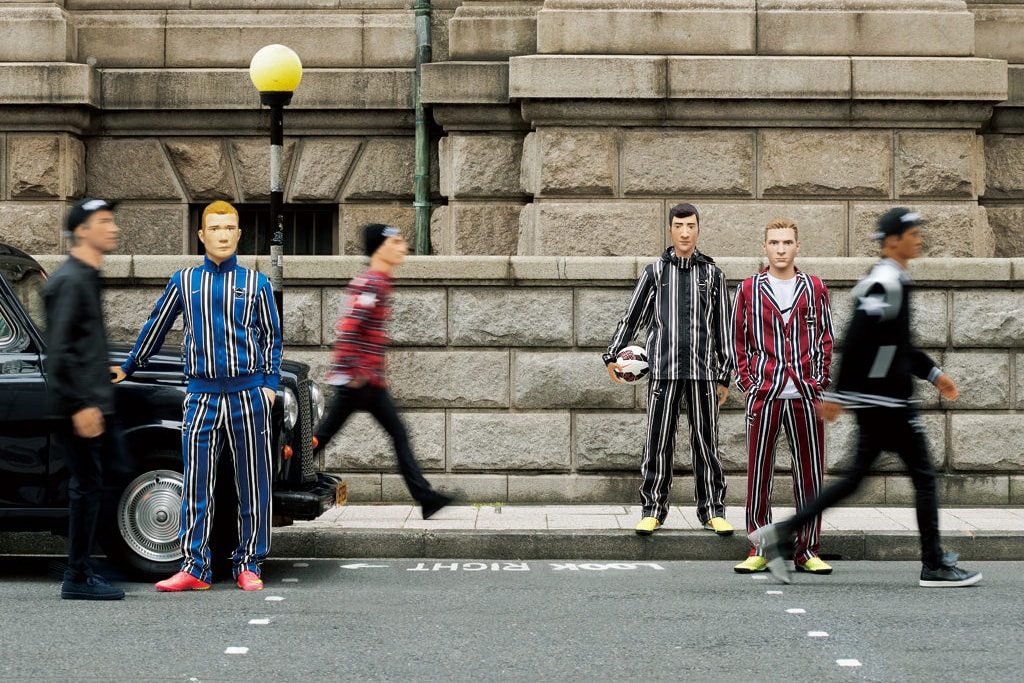 2 of 4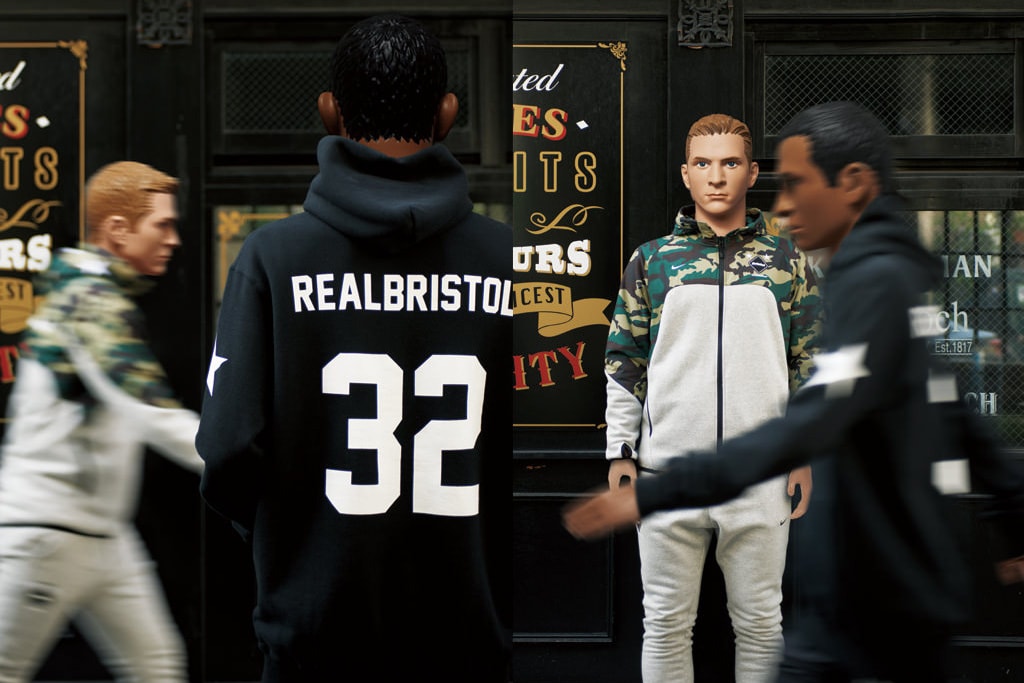 3 of 4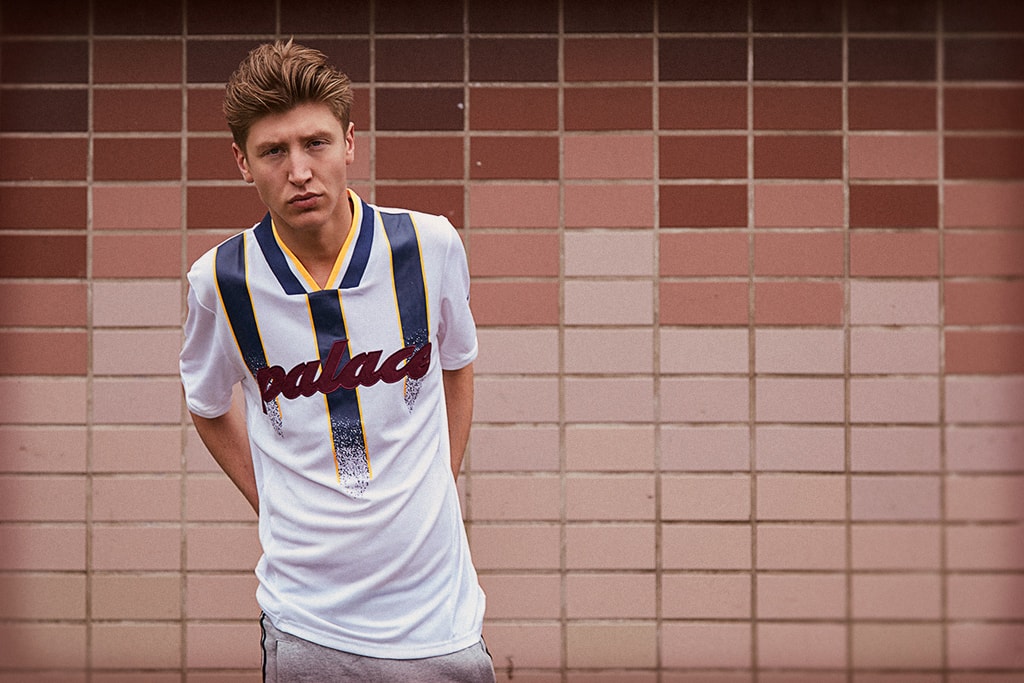 4 of 4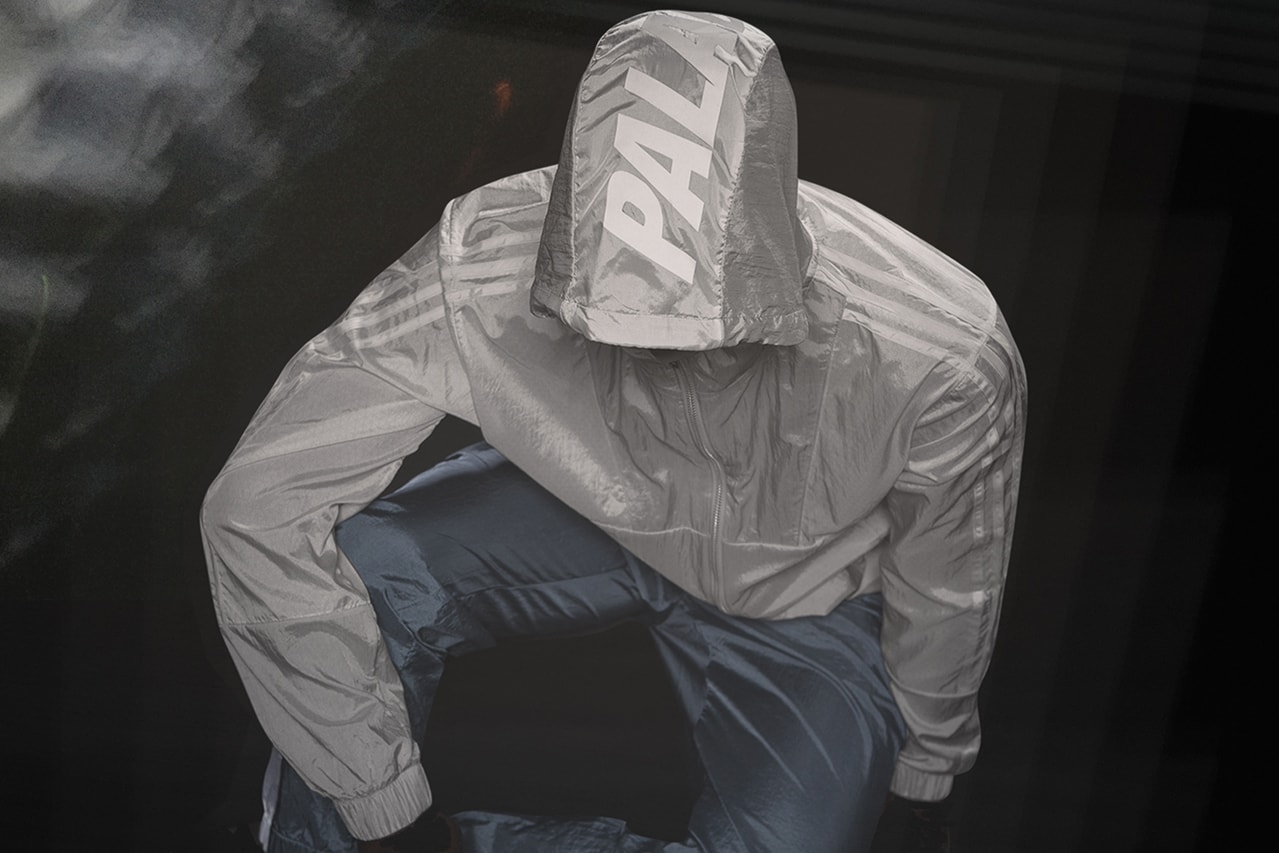 Alongside the cultural aspects, football inevitably gravitated towards the fashion side of things. Maybe it's because of how modern footballers portray themselves, and with millions of children closely following their favorite players, style comes into play. Nike's collaborative effort with SOPHNET. produced the F.C.R.B. line which takes a more fashionable approach through its patterns and designs. It is also this integration of fashion and function that makes the apparel so appealing.
Similar to Umbro, the Palace 2013 Reebok footwear collaboration and both the 2014, as well as the 2015 adidas apparel project were fitting ventures, all showing tribute to the respective brands' athletic roots and influence in British street culture. Such collaborations allowed for long term football aficionados like Palace to pay homage to the sport that, much like skateboarding, has been embedded in its growth. For the football world, the association with skateboarding is something that lends it authenticity and cred — at least when it's done well. On the flip side, a decent amount of skateboarders have always had at least a peripheral interest in football. These collaborations introduce skateboarding to the football realm and are byway beneficial to the corporate sporting brands who would otherwise spend large marketing budgets to reach more grassroots and independent sectors. "Skateboarding is one of the coolest sports in the world. Today's fashion brands are dying to extract cues from skateboarding," says Pep, photographer and skateboarder.
---
Footwear
1 of 4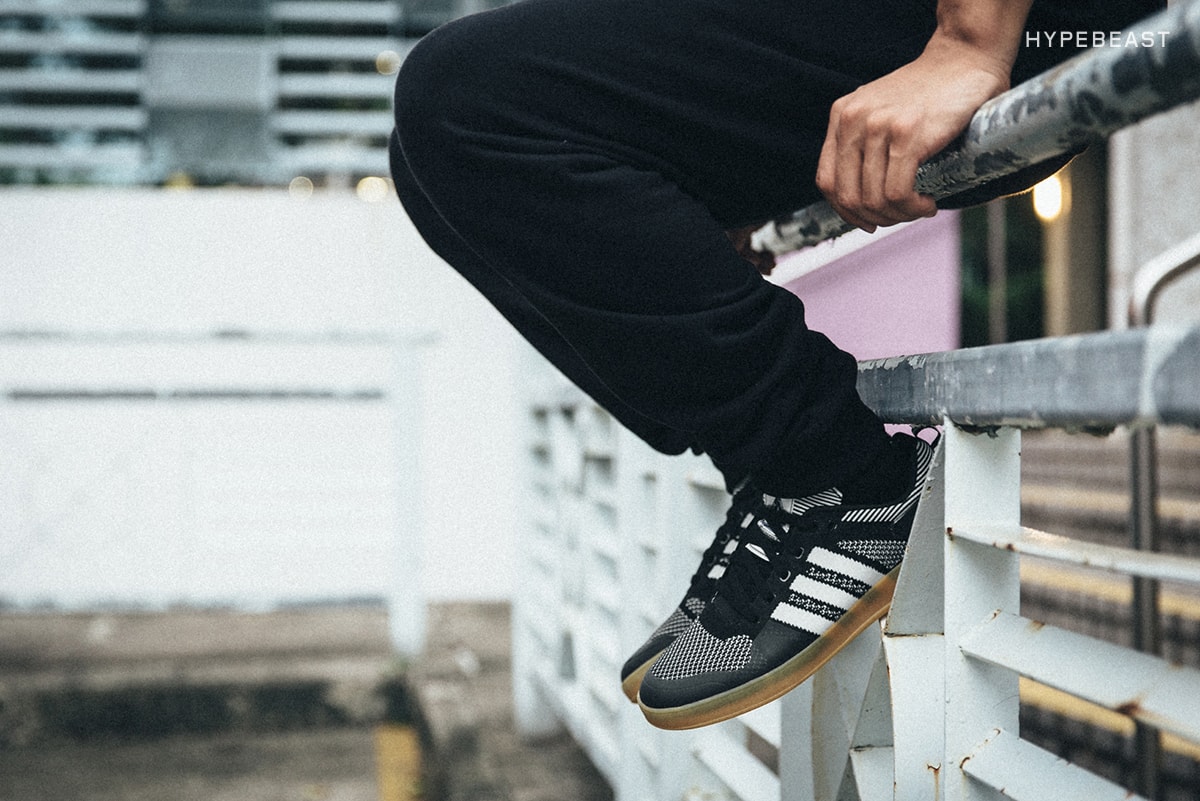 2 of 4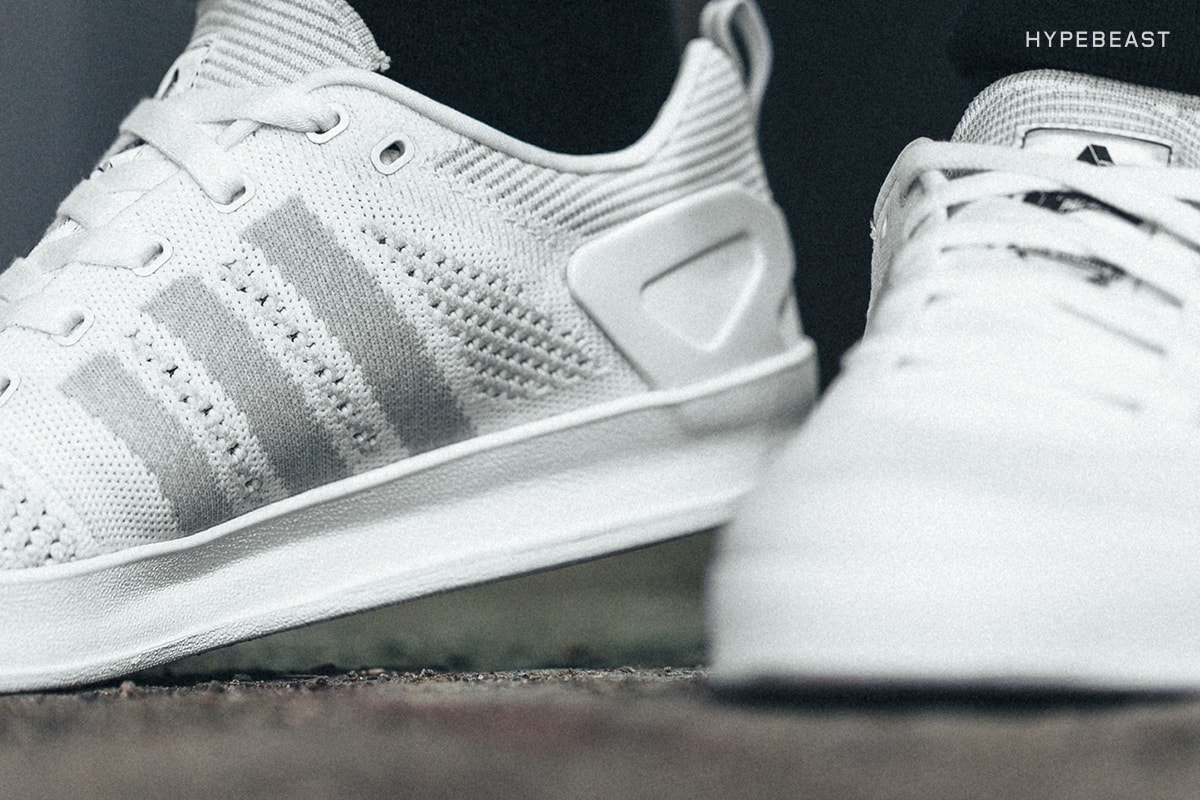 3 of 4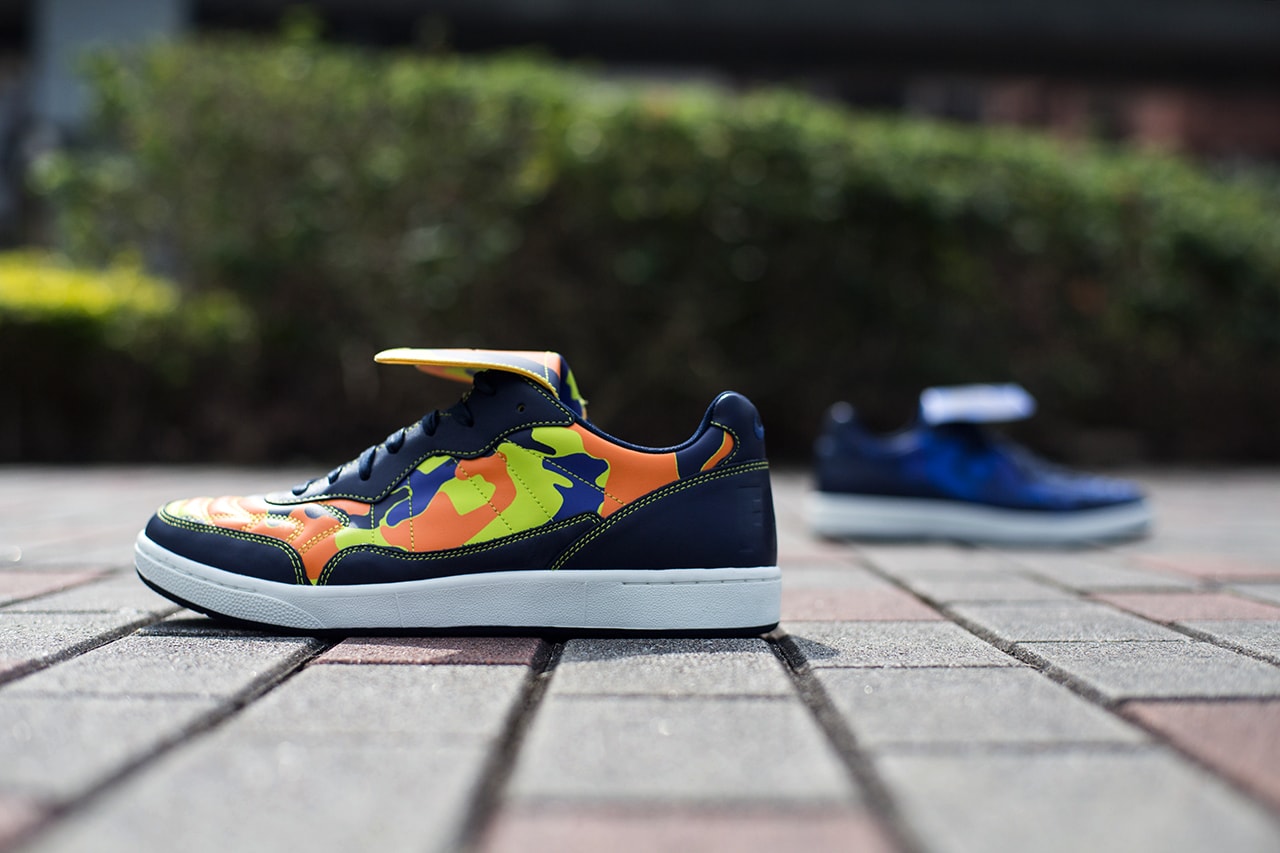 4 of 4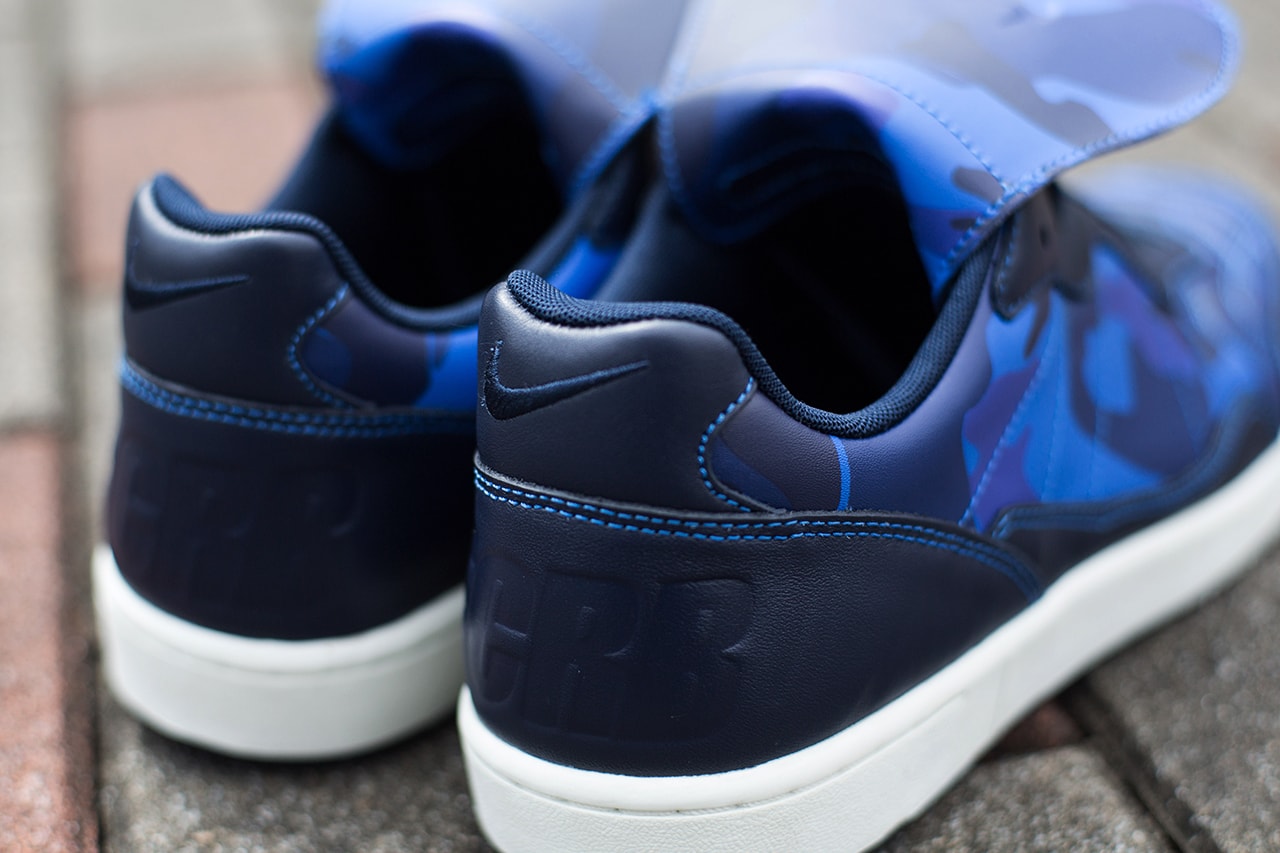 Another intersection can be seen in footwear. Both skateboarding and football have a high level of injury, so the right protective gear is necessary. While skateboarding footwear is a genre in its own, skateboarders have long adopted designs from other sporting realms. In the '80s, Lance Mountain and other skaters wore Air Jordan 1s. In the early '90s adidas Gazelles and Superstars were also popular. New York skateboarder Gino Lannucci wore Air Force 1s before adopting Nike Dunks towards the later part of the decade — which then saw him launch the Dunk Low Pro with Nike SB — as an alternative to the chunky tech style silhouettes. In 2004, Lannucci released a signature shoe dubbed Nike SB Air Zoom FC "Gino" — a football-inspired silhouette that interpolated themes from a football boot onto a cushioned skate-friendly sneaker. Nike recognized that both sports require the same needs for resistance, support and comfort, merging the best qualities from both sides in the Nike SB Air Zoom FC. More recently, Nike launched Brotherhood of the Feet, a project which saw the debut of the Tiempo 5 Legend alongside its skateboarding counterpart the Nike Tiempo '94 OG. Fitting for everyday as both a lifestyle and performance shoe, Nike continues to celebrate the alignment of both sports via the launch of the SB Lunar Gato last year. The sneaker came as an extension of the Gato Leather which was designed as a lifestyle alternative to the initial football boot, the Lunar Gato.
adidas has also embraced the crossover appeal by delving into its archive to create the adidas Busenitz Pro and Ronan, designs inspired by legendary indoor football shoes like the Samba and Gazelle. In terms of design, football boots also go through a rigid design process making them stylish and futuristic. There's no surprise skateboarding shoes can borrow build from such motifs in their own toned down renderings. A football shoe's toned down styling attracted Chinatown Soccer Club, who collaborated with adidas on a customized Top Sala in 2008. "We opted for the then relatively little-known Top Sala model because they look good, yet are functional and low-key. Yes you could play soccer in them but they're also stylish on the streets or indeed on a board" said Gerald, manager of Chinatown Soccer Club.
adidas, who started as a sporting brand serving football has since expanded its foray with its many lifestyle and sporting subsidiary labels. In light of last year's World Cup, the German label formally extended its partnership agreement with FIFA, holding the official partner, supplier and licensee right for the World Cup. The mammoth event resulted in an extensive campaign, one of the most cohesive adidas has undertaken with its in-house brands. "This is the first time that we have pushed as a whole brand with product stories related to the event." said Jamie Lugo, adidas's Senior Concept Manager for the FIFA World Cup. Originals, Running, Outdoor, Y-3 and Skate all created stories that connected to the World Cup campaign. The adidas Skate Copa collection merged its football heritage with contemporary trends on a street-centric skate range. The collection consists of six jerseys and six matching skate decks centered around the Copa skate team who represented their country and respective skateboard alliance. The lineup consisted of Benny Fairfax with Palace for England, Lucas Puig with Cliche for France, Mark Gonzales with Krooked for the USA, Rodrigo TC with DGK for Brazil, Lem Villemin with Cliche for Germany, and Raul Navaroo with Western Edition for Spain.
---
How adidas Fits In
1 of 5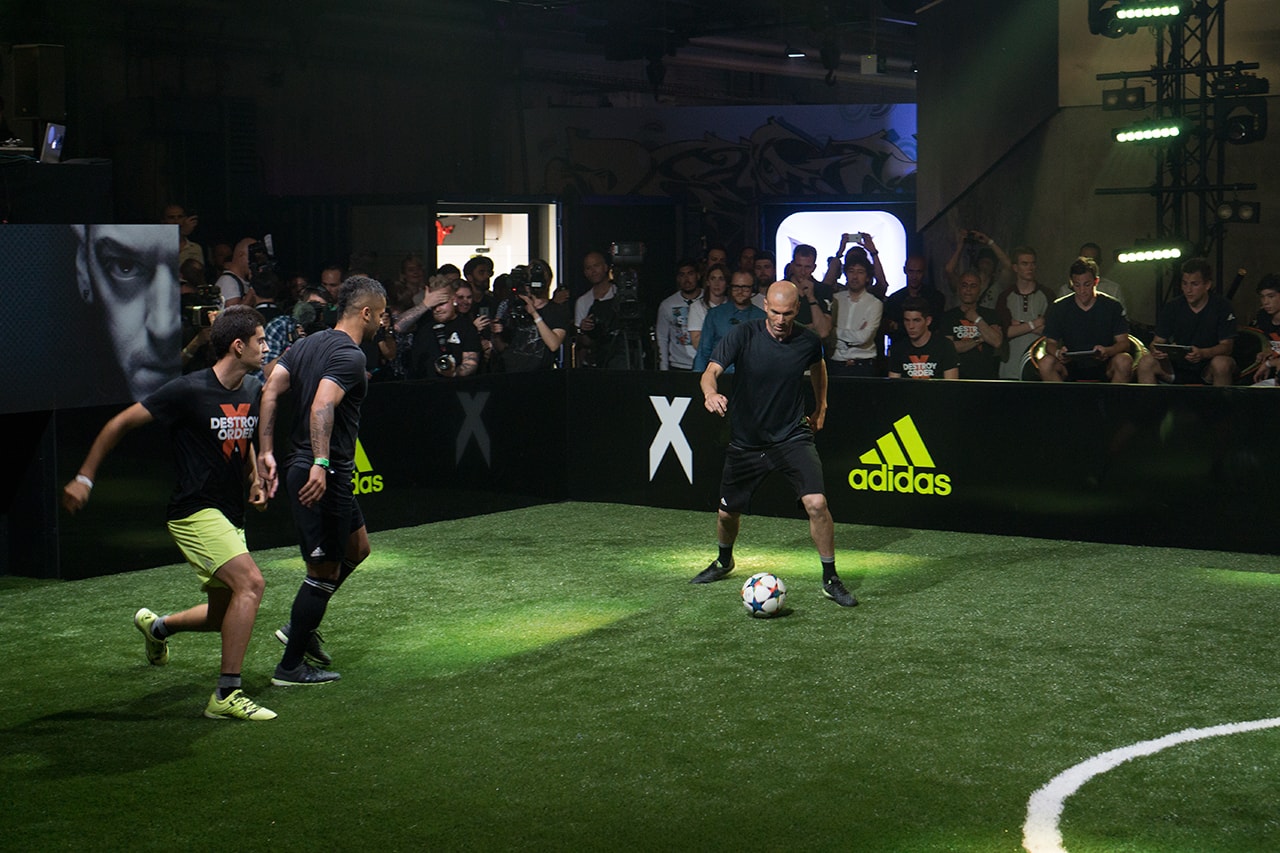 2 of 5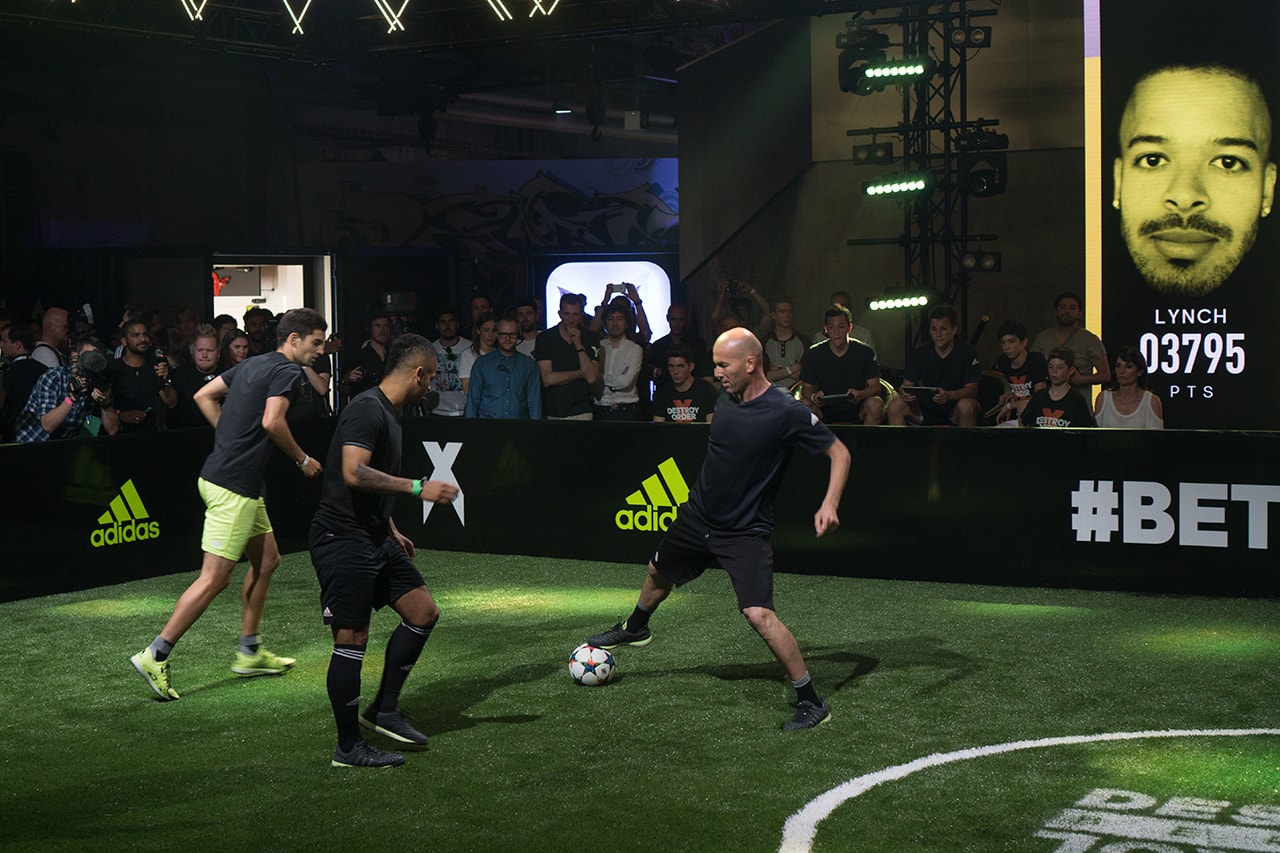 3 of 5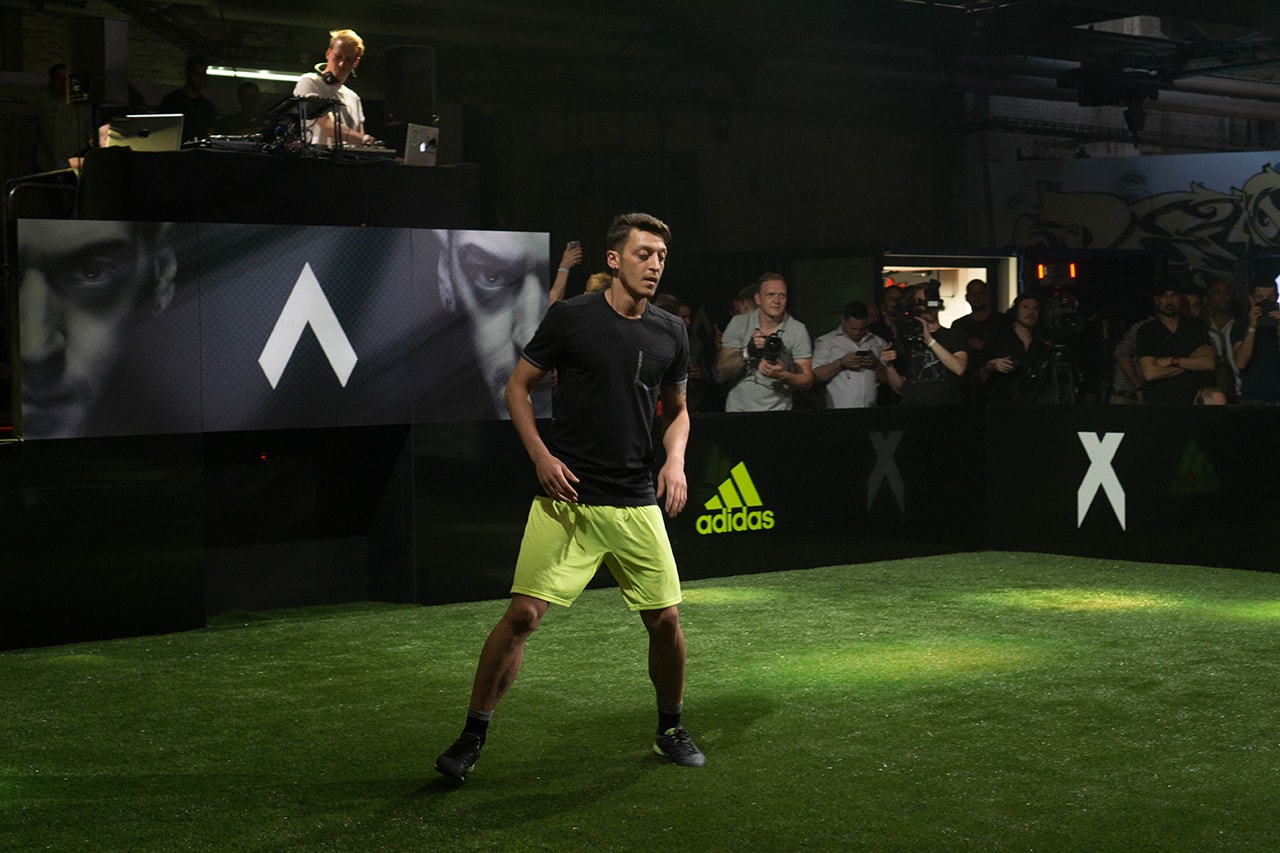 4 of 5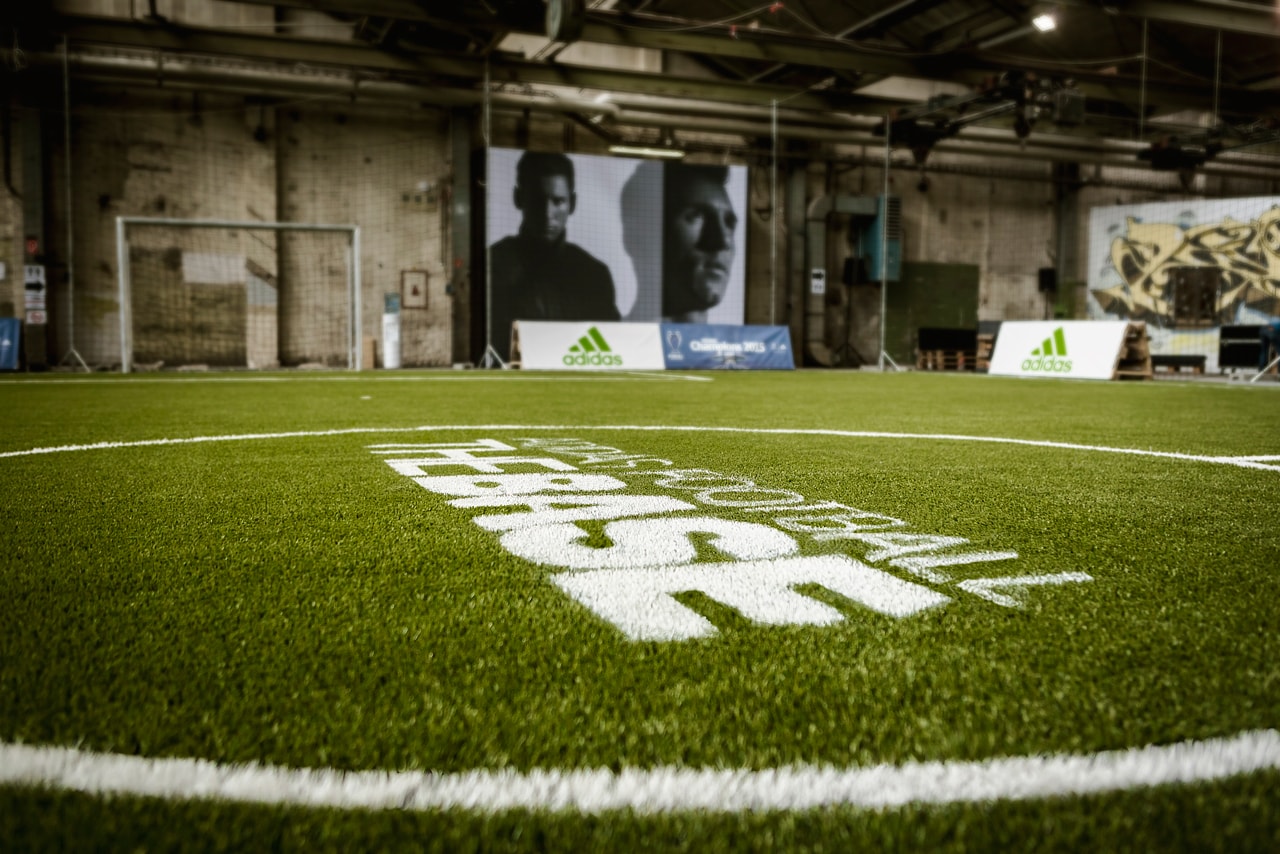 5 of 5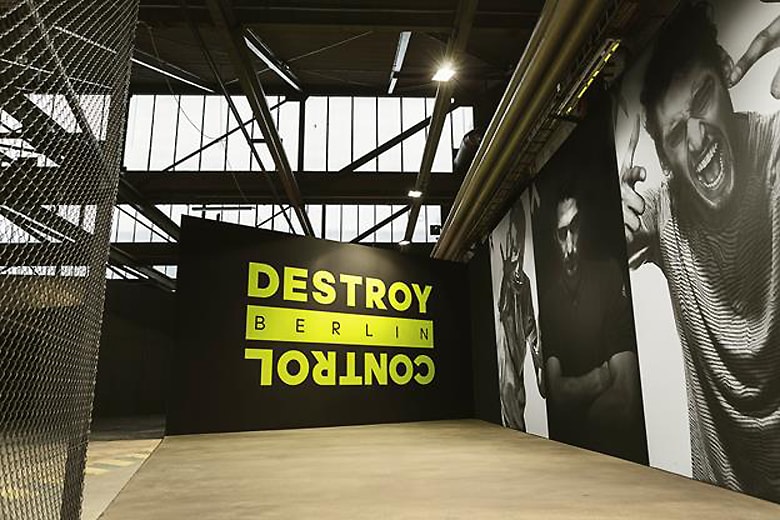 While football has always been a game that dabbles between technical ability and breathtaking flair, adidas has comprehended this with its latest lineup for releases and campaigns. The X model was aesthetically designed to create a strong visual impact, befitting of urban environments that play football in its pure, raw form on the streets. Where a single spotlight can be shone on a player and his abilities to dazzle. adidas's #BETHEDIFFERENCE initiative brought together stars from past and present such as Zidane, Ander Herrera and Mesut Özil to its semi-permanent football base in Berlin to Kickstart the message. The footballers played in exhibition matches of 2v2 with a number of freestylers and it brought home the message that football is not just played on grass, turf or concrete — football can be played anywhere.