POLLS: What Will Kobe Do After Retirement?
We're hoping for a return of K.O.B.E.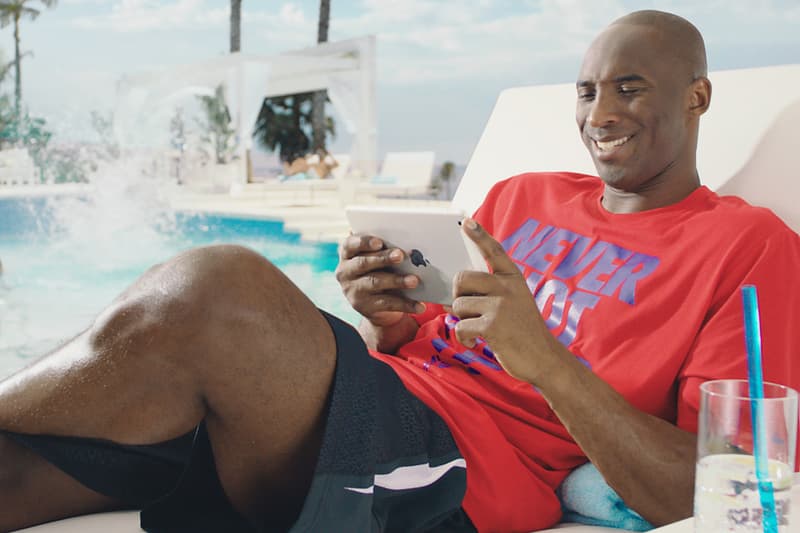 On Sunday, Kobe Bryant took to The Player's Tribune — where he is the Editorial Director – to officially announce his retirement following the current 2015-2016 season, one that has been a tough one to witness for all parties. Now that the pressures to perform like the Kobe of old have been lifted from his shoulders, the future hall-of-famer can now have fun and enjoy the remaining 64 games, as evident by his 31-point effort against the Wizards on Wednesday night.
Even with the biggest question mark entering this season finally answered, part two of the query remains: what will Kobe Bryant do after retirement?
Whatever he chooses to pursue, it will have to be something he's passionate about, something that will allow him to channel his fiery competitive nature into being the very best. But what could that be?
Baring his personality in mind, coaching seems very unlikely. Although, Kobe has one of the greatest minds to have ever played the game, he doesn't have the greatest reputation as a teammate. But he could always join the likes of his idols Michael Jordan, Magic Johnson and Larry Bird among others, and take a front office seat or ownership stake at an NBA franchise. After recently being asked about a possible post-retirement job with the Lakers, the 17-time All-Star said in an LA Times report, "It would be an honor to help them make that transition and help them try to get back to the top."
Forbes has also reported this week, that Kobe will retire with a record of $680 million USD in career earnings. Not a bad chunk of change to grab a percentage of an NBA team.
Or maybe Kobe will focus on his obscure production/multimedia/investment company, appropriately named Kobe, Inc. His first project under the Kobe, Inc. umbrella was his 2015 documentary Kobe Bryant's Muse. In August, he inked a deal with Alibaba to release the film, alongside a series of Kobe-branded products throughout China, where he has a very large and loyal following.
Additionally, Kobe, Inc. invested millions into the emerging sports drink BodyArmor early last year. When this investment was announced, Kobe told Forbes that "Kobe Inc.'s mission statement is to own and grow brands and ideas that challenge and redefine the sports industry while inspiring the world."
ESPN has also reported that Kobe, Inc. "filed to trademark "HeroVillain" and a "HV" logo, which stands for hero/villain as well as a "KB20" mark, symbolizing Bryant's 20 years in the NBA with the Los Angeles Lakers.The intention of Kobe Inc. filing for the "HV" logo, which plays on his polarizing draw, is to use the mark for everything from trading cards and action figures to books and shot glasses."
Then there's the very slim chance of seeing Kobe suit up elsewhere, be in the NBA's JV division, the Eastern Conference, or maybe overseas. Both seem unlikely, as it's hard to imagine Bean in anything other than a Lakers jersey and playing against anyone other than the best talent in the world. He also blamed his body in his farewell letter for the reason he's hanging it up. But after scoring 31, although against a star-struck 1-19 76er's team, he may have more life left in those legs after all.
We should note however that Kobe was asked earlier this week if we would return to Italy and play professionally. He grinned and responded, in Italian, "No, impossible. My body can't. I would like to, but impossible."
And what about a gig as an analyst or in-game commentator? Maybe even going full circle and sitting alongside Shaq on the Inside the NBA set in Atlanta. Sure the Shaq and Kobe beef was squashed long ago and as mentioned earlier, Kobe is a basketball intellect, one we would love to hear talk basketball on the daily, but being on TV requires, well, personality, and Kobe was never known to be that guy. Kobe is, for the most part, quiet, reserved and a tad sensitive, so the heavy barrage of criticism from Barkley and The Jet may just be too much for him.
Considering all the above, and the last 20 years of basketball, what do you think Kobe will do after this season?
Poll
What career will Kobe Bryant Pursue after retiring?
Coach
General Manager
Owner
Kobe, Inc.
Play in the Eastern Conference
Play Overseas
Revive His Rap Career
TV Analyst
Family Man
Other