HYPETRAK Interviews Rick Ross: The Supreme Grind
Dade County's own Rick Ross is just a little more than a week away from releasing his second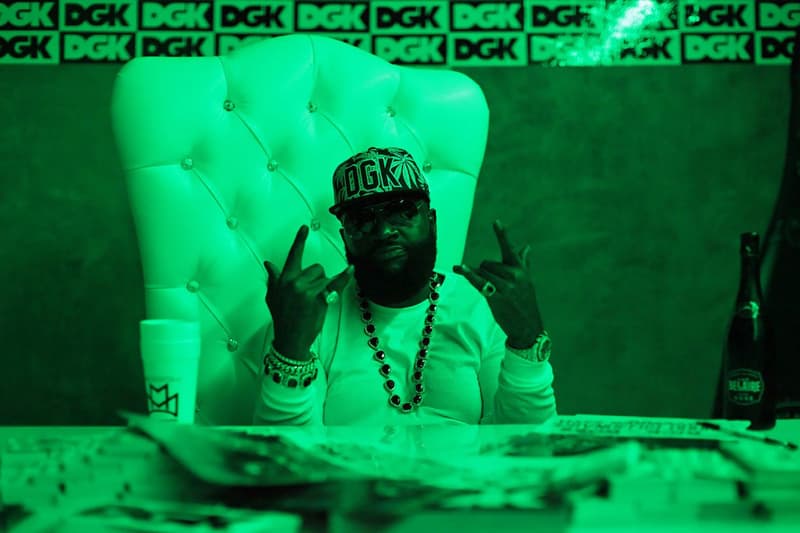 Dade County's own Rick Ross is just a little more than a week away from releasing his second full-length album of 2014 titled Hood Billionaire. Promising a feel-good album, the Maybach Music Group captain has enlisted the likes of R. Kelly, Project Pat, Yo Gotti, Big K.R.I.T., Snoop Dogg, French Montana and many more to complete his 18-track, seventh studio LP. While at DGK's brick and mortar in Los Angeles to promote his latest endeavor, Ross sat down with HYPETRAK to talk about his partnership with Stevie Williams' brand, his record label, and of course his new album. Head over to HYPETRAK to read the full interview.
This is your second meet and greet at the Kayo store this year involving DGK. Can you tell us how you linked up with DGK?

Yeah most definitely. I've just been a fan of the brand for the last few years. You know, a lot of my folks back then were just rocking their shit. So I came out here…I always came just looking for the best weed, looking for the best hats and they always was down, you know they print sh*t that I like and I just love what it represented, ya dig? Shout out to Stevie [Williams] and the whole click. Other than that I'm just doing what I do best, stayin' fly.

For sure, now in regards to your new album that's dropping, how did this all play out with respect to your Mastermind album that dropped less than a year ago? Is there any concerns of perhaps oversaturating the market?

Yeah, it definitely was on the back of my mind. I even mentioned it in a few interviews back when I was promoting Mastermind. I think we got to keep the culture exciting and we got to keep it fun. We gotta do different things and I just think it's dope, I just think it's live, nah mean? It's like this is what we should be doing. Let's keep producing and let's keep making dope music.

Makes sense.. now there's actually nice contrast of old and new school features on this Hood Billionaire project which is kind of interesting. Aside from the JAY Z feature, the Project Pat was one the names that stuck out to me, can you tell us how it was working with Pat?

Me working with Project Pat, I just felt that was a move within itself. You know, being from the South. It just says a lot about where I'm at right now. My sh*t ain't just about what's current and who's poppin'. I can go back and collaborate with legends like Three-6, Juicy J and Project Pat. You will want them to bring out new albums after you listen to the album.