Thundercat Is Never Going To Stop Touring
Returning to Tokyo for his first Japan shows of the year, the virtuoso discusses his life's work of being on the road, harnessing collaborative energy and why he'd never want to be the Jar Jar Binks of anime.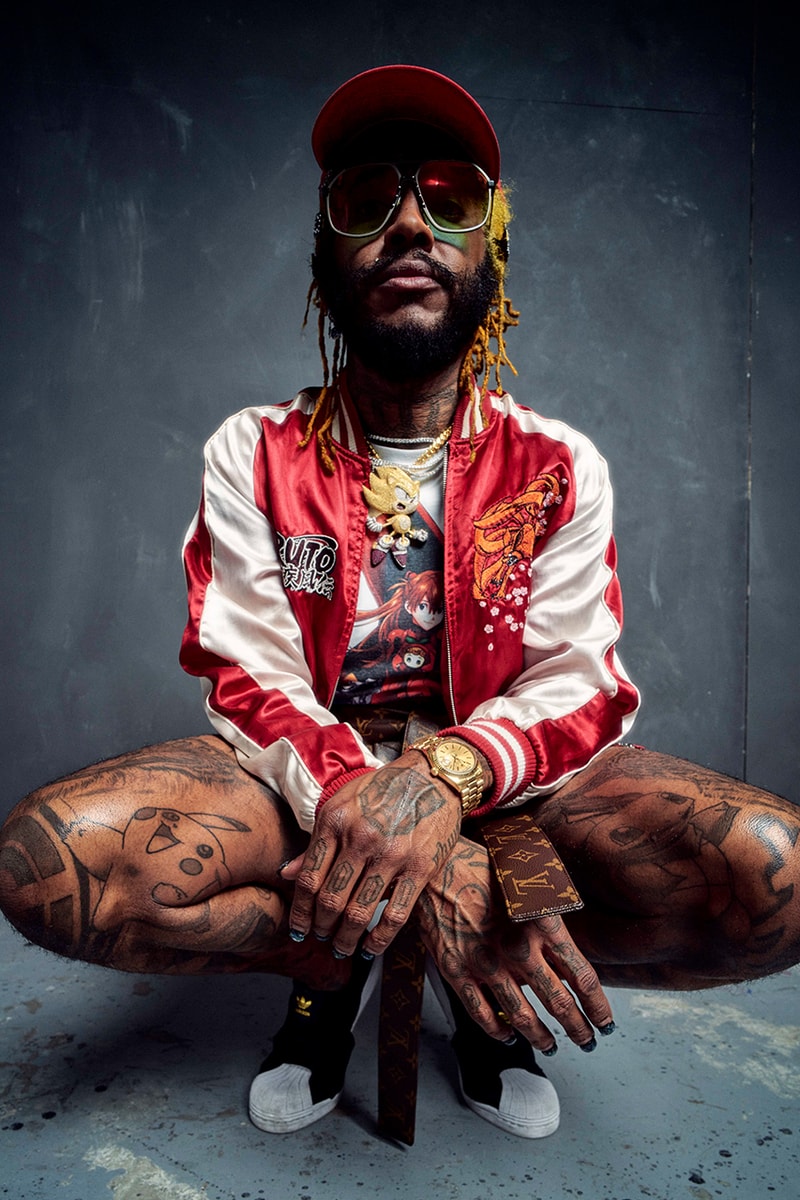 Thundercat Is Never Going To Stop Touring
Returning to Tokyo for his first Japan shows of the year, the virtuoso discusses his life's work of being on the road, harnessing collaborative energy and why he'd never want to be the Jar Jar Binks of anime.
Thundercat is in desperate need of coffee. It's a sunny Friday afternoon in Tokyo and the virtuoso is preparing to play three back-to-back shows over the weekend. Needless to say, caffeine with a vegan-appropriate dairy alternative is a necessity. "Nobody wants me to be happy," he grumbles lightheartedly as he watches someone else get served their coffee.
But even a busy schedule and the lack of coffee aren't enough to ruin Thundercat's first shows in Japan since 2022. He last performed a show here with half-COVID restrictions, when social distancing was still enforced and audience members weren't allowed to clap and make noise, and had to wear face masks indoors. "It was crazy but ultimately, it was fine. It was funny to me because there are still psychological effects from COVID happening and everybody's still mentally recovering from this," he recalls of the gig. For this trip, he's slated to play Sonic Mania at 10 p.m. tonight and two shows for Summer Sonic in Tokyo and Osaka on Saturday and Sunday. The Japan dates serve as a prelude to his first major tour since the pandemic, and he's made quite a few changes to his preparations since then. Physically, he incorporates exercise into his everyday routine (boxing is his workout of choice) and even brings a personal trainer with him. Mentally, psychologically and emotionally, he follows the mantra of his 2020 record. "I've been more forgiving of things I don't have answers to," he explains. "I mean, the album was called It Is What It Is, and I think I took it very literally."
In the three years between now and the release of the GRAMMY-winning album, he's been more focused on releasing collaborations. He joined Gorillaz for the title track of their latest project Cracker Island and teamed up with Kevin Parker of Tame Impala for the one-off single "No More Lies." Although he's a veteran collaborator with an untouchable arsenal of musical partnerships ranging from Flying Lotus to Kendrick Lamar and the late Mac Miller, he's found that the process of his recent joints have been more intentional. "I've always wanted to work with Kevin Parker since the very first album, but you don't know how these places will connect or the way your worlds will cross paths," he says. The way Thundercat sees it, the collaborative process is a reminder to artists that they need each other. When they put the complications of business aside to be fully open with each other, it paves the way for a mutual creation that memorializes the creative energy of that moment. "More than just the music," he shares, "this is how we grow."
Collaboration is second nature for the Los Angeles native, and even after doing this for more than half his life, it never gets boring. He feels the same way about touring, making him one of the few artists who love being on the road. It doesn't come as a surprise, however, seeing as he's been touring with a myriad of different artists since he was a young teenager. When he became his own artist, he made it a point to always be on the road, performing. "Touring has been my whole life," he says. "If I just stop touring, I stop living." He takes a minute to imagine how his music could be impacted if he quit touring, and he deduces that his music may never be the same if that were the case. "The only way you learn how to be a better fighter is by fighting. You don't learn how to be a better musician by not being a musician; you always have to be playing," he states. "If I wasn't touring as Thundercat, I'd be touring with Kamasi [Washington]. I'd be touring with Terrace Martin. I'd be with my friends. It's my life's work."
"I've been more forgiving of things I don't have answers to."
With the amount of time he spends on the road, one would think that each Thundercat tour is repetitive at this point. Luckily for the artist, he's cracked the code of touring and it's pretty simple: Just have something new. He believes that in music – as something that is always its own entity – there are different iterations of a spectrum of being a great artist, and his favorite musicians like Jimi Hendrix and Miles Davis didn't need elaborate choreography or lasers to be considered an all-time great. He acknowledges that music is in a different era now, but the way he sees it, it's the energy of a performance that will translate to people. Even when he has off days just like any other human, the one thing he can do for his audience is to give it his best every single time, and he considers that as one of the best parts about being a musician. Even Beyoncé, he says, who is considered as one of the greatest performers of all time, has slip ups, such as getting stuck riding on the on-stage horse. "Things go bad, but it doesn't mean that you stop. You know, you hit a bad note, you feel flat, you're not feeling like your ears are keeping up with your hands or something, it's all part of it," he reflects. "But I think that all in all, it lives and dies on stage with you. I don't think anybody really cared about Beyoncé not being able to get off the horse. Even if they slipped and fell and farted on stage, it would be like, 'Oh, that was crazy, but I was there to see it.'"
Each visit to Japan is always so surreal for him, despite the fact that he made his first visit two decades ago as an 18-year-old Stephen Bruner. "My friend found photos of us from the first time I came to Japan and all my friends looked like they were part of a street breakdancing team. I looked like I drove a Nissan Skyline," he chuckles, alluding to the famous "Godzilla" car. Thundercat's love for Japan and its culture is well-documented, but it's more than just an infatuation that he developed as an adult. If you asked about his childhood, many friends would describe him as that guy with a VHS of anime and clothing that definitely didn't originate from the West. He learned a lot about the culture, its principles and different spiritual aspects through anime, and it was clearly a driving force for him in many ways. Even when he started out illustrating, his favorite thing to watch and learn about was anime because they were some of the best drawings he'd ever seen. He adds that there's a major difference between Japanese and American culture, "[Americans] are really loud and make a lot of noise for nothing," he states, "but the level of care and respect that you experience here is so meticulous and different than where I come from." When he's here, he feels more comfortable when people walk up to him because there's such a strong sense of respect. "Back home, people just yell my name down the block and it's just like, why would you do that?"
"Japan's always been a love of mine," Thundercat reaffirms with a soft smile. "A lot of my happiest memories, my childhood memories and the joy that I find in my personal life were created in Japan."
"If I wasn't touring as Thundercat, I'd be touring with Kamasi [Washington]. I'd be touring with Terrace Martin. I'd be with my friends. It's my life's work."
Do you feel like your admiration and aspiration for Japanese culture extends to your fans?
Yeah, I think so. A lot of my fans, I feel like, are very similar to me. They love anime and it's a wide variety of fans. I see a lot of different characters in the audience, from older guys with Steely Dan shirts to the kids, girls and guys and everything in between, and furries. [laughs] I love it, because I'm happy that my music reaches to different places.
Do you have any advice for people who want to visit Japan for the first time?
Advice for people visiting Japan? No, because I like to gatekeep. You find it yourself. You did this to yourself, that's my advice.
No, just kidding. If I had advice for somebody coming to Japan, just prepare for such an experience different than you're used to. And be respectful.
Do you have any must-visit spots for people who have never been here?
If you haven't been to the Nintendo Center, the Pokémon Center or Shibuya PARCO, you have to go. The first time I went, I was hyperventilating and almost passed out because I've never seen so many plush toys. We had to ship all of them home.
If you could live in Japan permanently, why do you think you'd like to settle?
I'm from LA so I love being in the city. I don't necessarily like it quiet. Quiet to me still sounds like helicopters. It's like, "Wow, what a peaceful night and only one car crash." [laughs] I feel very at home in Tokyo, with how loud the Americans and Australians are here makes it feel like home. But I also think that Tokyo is very much like LA where they get everything first. Just like LA, Tokyo also sets the trends. When something new happens, it happens here first.
I'm like Ariel from The Little Mermaid: "I want to be where the people are." I didn't even watch it when I was a kid; I was more interested in Northstar. I don't even remember how I watched The Little Mermaid, but it had to be at somebody else's house. I was watching Dragon Ball at home.
Since you brought up Dragon Ball, do you have any new anime you're currently interested in?
Hell yeah. Hell's Paradise, I've been reading a manga called Dai Dark that was done by the creator of Dorohedoro. It's pretty funny.
"More than just the music, [collaboration] is how we grow."
Do you have a favorite genre of anime?
I mean, Shōnen is always fantastic. [laughs] I like seeing people get the shit kicked out of them. I like blood. And violence. And sex. And I like winning. I like crying too.
I feel like that's one of the things that I think is kind of weird about anime right now, because there's genre. I like genre-less anime, because there's a part where a lot of our favorite anime were very defining to genre. There's still stuff that I don't know, but I love the classics. The classics are so defining. I love genuine stories with really high level animation. One of my favorite stories is Rurouni Kenshin, but the original OVA. Yeah, the series is nice, but those original movies? It's so beautiful. Very poetic. One of a kind. There are some beautiful moments in Japanese animation like that.
If you could watch one anime for the rest of your life on repeat, what would it be?
Hokuto no Ken the movie. Either that or Cowboy Bebop. I think there's nothing better than Cowboy Bebop.
Did you watch the Netflix live-action version of Cowboy Bebop?
Nope. Hell no, I wouldn't wish that on somebody on their deathbed.
What are your general thoughts on a lot of these live-action adaptations, especially when they're made out in the West rather than in Japan?
When somebody gets a good idea to start putting sugar in bread, ultimately, it's really bad. I think that everybody's trying to take a gamble because they realized anime fans, we spend our money, so they rather take a chance and see if they can hit the jackpot. I think that it's so stupid. The reason why anime fans are anime fans is because we like animation. That's literally the name, like what part of this didn't you understand?
Any time there's a big franchise in anime, there's always plans to make a live-action. It's like, nobody asked for this. There's some that lend themselves to it like Pacific Rim — it was kind of a mock, lightweight Evangelion. Evangelion has these denotations, but the characters are so specific and you grow an attachment to the characters. You can really ruin that by creating a picture that takes away from the imagination of who this person is, because they were drawn by hand.
A good example would be Scarlett Johansson in Ghost in the Shell. Everybody immediately got mad because she was white, and it was kind of like, rightfully so.
We don't talk about Ghost in the Shell.
I do. I'll talk about that shit all day. No offense to Scarlett Johansson, but it was like one of those memes where like, "Nobody," and then it's like, "Let's do a cover," and then it's me, "No."
It's a slippery slope and every time they do it, they take a chance. Even the Dragon Ball one was horrible. It feels like whoever made it hates people. It's like making a car with no seatbelts. It's just like, "This is a great car, but there's no seatbelts. You'll be fine," like, no, you want me to die.
"A lot of my happiest memories, my childhood memories and the joy that I find in my personal life were created in Japan."
From your perspective, has there been any successful live-action adaptation?
There's been a few! The Rurouni Kenshin movie was good. There's also Gintama. There are some stories that you can do this, but the ones that are big? We love them. I would never want to see a live-action Inuyasha. No need.
You dove into acting and did a surprise cameo on The Mandalorian. Would you ever consider participating and maybe acting in a live-action anime?
That's right, I was in f*cking Star Wars! It was the greatest moment of my life. I keep saying that that's gonna be on my headstone. I don't think I'm even gonna put my real name on my headstone. "Here lies Thundercat. He was in Star Wars," then a logo.
But no, I would never. It would just be live-action, it wouldn't be animated. See? It would just be a regular movie. I casually refer to the guy that played Jar Jar Binks…
Oh no.
Yeah, that struck a nerve. [laughs] You know exactly where I'm going with this. I wouldn't do it.
You don't want to be the Jar Jar Binks of anime.
You'd have to get therapy after playing Spike [Spiegel]. "Guess what, guys? I decided to be in a live-action anime! Everybody hates me! I did this to myself!"